The Year in Review - 2022
Anne & Stewart French


523 Seeport Drive
Allen, TX 75013

972-390-0930
http://stewartanne.com
stewart.french@gmail.com
french.home@gmail.com
---

This year we have movies!

YouTube Videos
The Funeral March of the Marionettes
---
2022 has been a breath of fresh air.
The introduction of the vaccines last year has changed everything. Covid is abating and people are returning to normal. For the most part, everyone is mask free and back at restaurants and performances. We had a few close calls but our CVS and at-home Covid tests always came back negative. We've kept up with our boosters and so far neither of us have gotten Covid or the flu so 2022 has been a year of "standing back up".
We have been lucky to have lots of great-nephews over the years (Russell & Glenda's boys Everett and Auggie, Meredith & Tommy's sons Ben and Gabe, and Melanie & Brad's son, Charlie). Then Cliff & Tammy brought Evelyn and Ben & Christie brought Aurora into the family. Last year, Russell & Glenda had baby Sophie so the girls were catching up but this year, they tied the score. Ben & Christie had Waverly in August and Melanie & Brad had Robyn in November. Five boys, then five girls. Yay for the greats!
Our kittens Cooper, Marley, and SeaBreeze are now a year old. They have become our constant companions providing love and entertainment (and consternation sometimes!). We had heard about 'Tortitude' and our Tortoiseshell, Marley, is happy to provide examples, such as swinging from our dining room chandelier, grabbing a head with both front paws and biting/licking the hair, and occasionally screaming bloody murder while one of her triplet brothers (aka 'the yellows') chases her. Breeze is now 15 pounds of rock solid buff cat but is the first to shy at a stranger arriving or new shoes being worn. And Cooper is a redder yellow, light as a feather, floppy, laid back and sweet. The neighborhood girls ages 4 to 15 often come by to play with them and the first order of business is picking each of them up, even Breeze. It's amazing how gentle the cats are with these surprise visits, and the girls are careful to pick up the toys when they leave without any prompting.
We write these Years-In-Review before Christmas so they don't include that day. But in 2021 we were lucky to have niece Emily & Andrew and her sister Mia join us in Allen. It's a rarity to have visitors here on Christmas since our no-kid status made us the more mobile family members over the years. But we had so much fun, walking E&A's dog, Forrest, playing 10,000 and Spades, working a puzzle while Stewart played piano. It was the first time we had tamales on Christmas too and they were delicious!
Another fun late December happening was our gifting each other new bikes. Stewart's was 16 years old and Anne's 'new' bike was 10 years old. Both had skinny tires and caliper brakes so safety and stability triggered us to yearn for wider tires and disc brakes. Due to the pandemic supply chain issues, bikes were hard to come by, especially for Anne's 47cm frame size. Anne was able to find a 3-year old Trek Domane meeting her criteria while Stewart got a new one, same model.
Dallas had several Van Gogh immersive experiences this year. Last year, we attended one in Arlington at the old Texas Rangers baseball stadium. Then in January we went to the Dallas Museum of Art to see real Van Gogh with amazing historical and technical exhibits. It was so much better than the immersive thing and worth a call out.
With our new Pickleball racquets, we took a lesson at a local tennis center which has been converting several of its courts to Pickleball. It's fun but we haven't been able to squeeze it in to our schedules so far among the step classes, indoor & outdoor cycling and neighborhood walks.
We got invited in February by friends Maria and Samantha to attend a Dallas Mavs vs. LA Clippers basketball game at American Airlines Center in downtown Dallas. This was our first time at American Airlines Center. Neither of us had attended a basketball game in ages, since we both were in pep bands in high school and college. It was so much fun! We had great seats in a floor courtside section. Samantha had to explain the rules as we went, and the live entertainment was wild (never saw anything like the Mavs ManiAACs).
Niece Emily and Andrew came to visit for Stewart's birthday. After games of Rummikub and 10,000, and dinner at Two Rows Grill we bundled up and went to the Annette Strauss amphitheater to see Esperanza Spalding (jazz bass player). It got so cold that Stewart had to stuff towels into his coat to try and stay warm. We all stayed the night at the DoubleTree by Love Field in Dallas. Emily and Andrew drove back to Austin the next morning while Anne flew out of Love field for a Sister's Trip in Freeport, TX.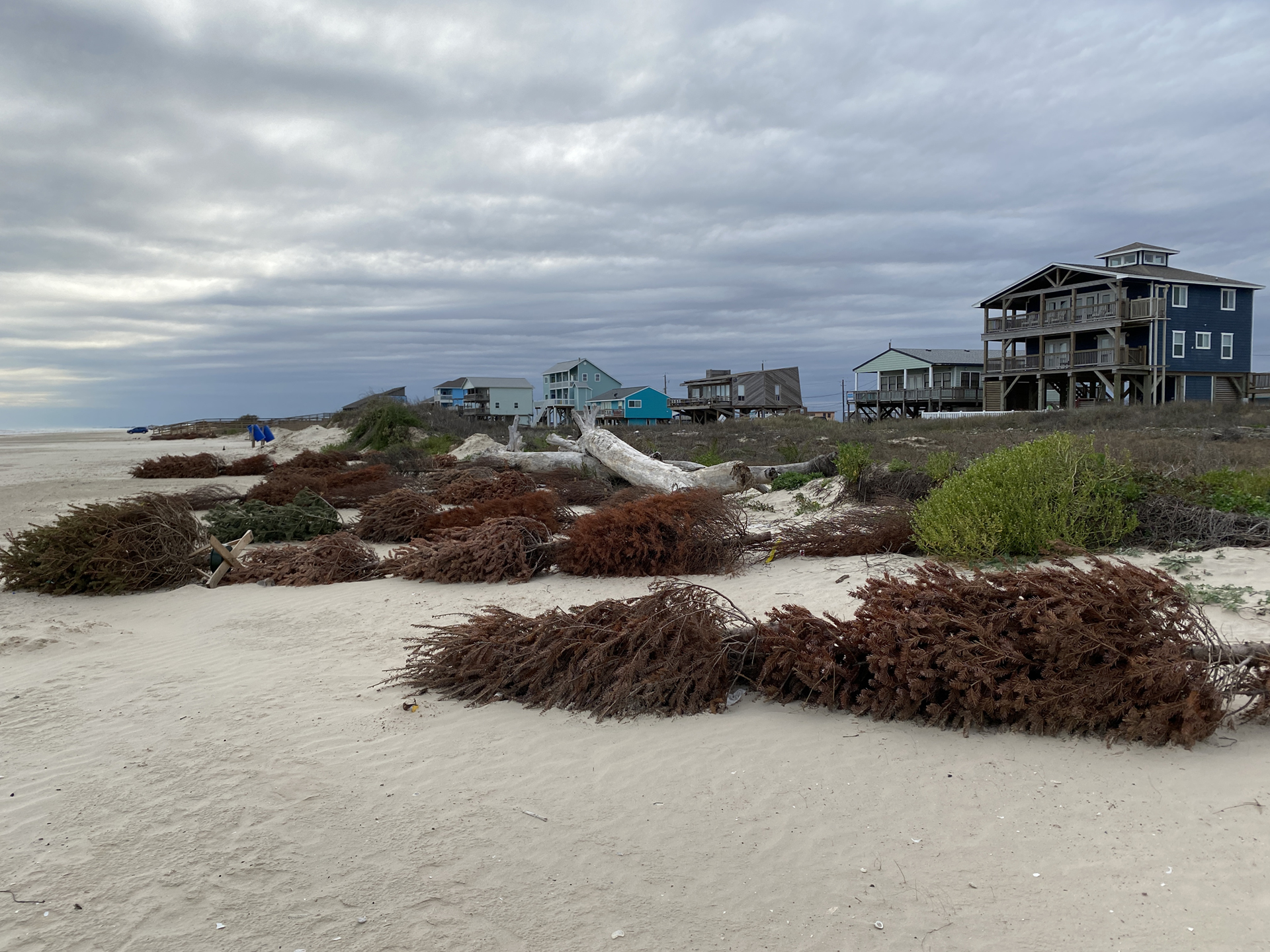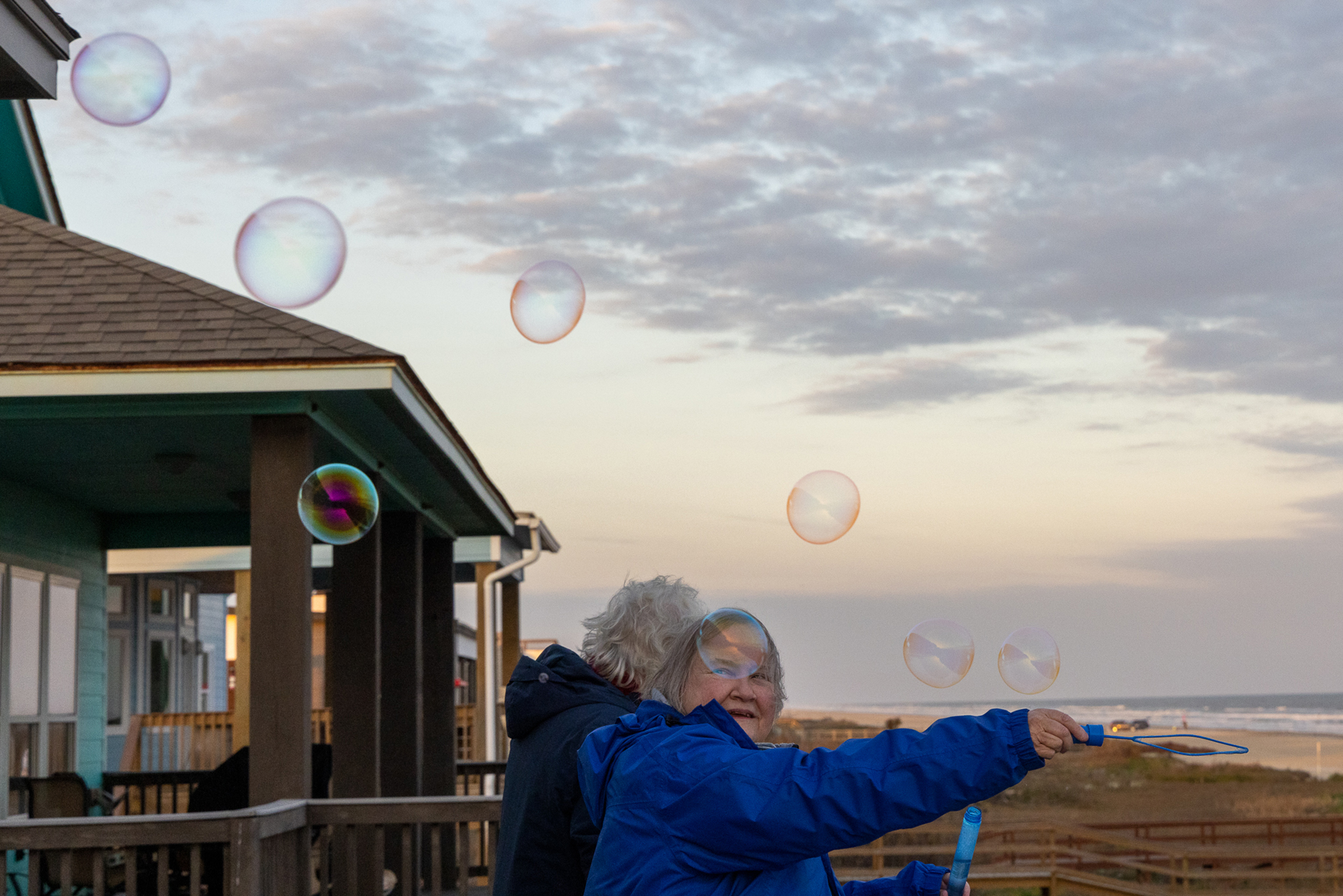 Anne met up with Trese & Kath at Houston Hobby, we got our rental car and picked up Trina at Doug & Manasi's house, along with the heavy lenses and tripod Anne had mailed ahead. Only an hour's drive got us to Freeport at our rental called YOLO (You Only Live Once), a fun stilted beach house looking directly at the Gulf of Mexico. We spent days exploring the San Bernard and Brazoria National Wildlife Refuges in rain and even hail, dodging muddy auto tour routes and finding all manner of amazing birds, including Crested Caracaras who posed at length while dining on roadkill, tens of deep pink Roseate Spoonbills, and lots of Teals, Ibises, Coots, Grebes and even a sighting of alligator eyes poking up out of the water. We explored through forests draped with Spanish Moss and along boardwalks lining the inlets. One particular lunch was a highlight as our server at Serenita's, a turquoise mermaid covered restaurant, ran out to our car to hand Anne her purse (thank the lord!). The next day, after stopping to photograph the many Tri-Colored and Yellow-Crowned Night herons along the roadside on our way out of town, we stopped to get selfies at Serenita's and the same server came out, took our photos, and asked Trese about her camera since she was considering taking up photography. The lightweight heavily featured Canon SX70 fit the bill and Trese delighted in explaining all about it.
Trese had accepted my invitation to spend a few more days with me in Allen, so we dropped off Kath at the airport, stayed overnight with Trina, visiting with Melanie, Brad and Charlie for dinner, then visiting Glenda and meeting Sophie at their new house on Friday morning. Back in north Texas, we did more birding up at the Hagerman NWR on Saturday, seeing tons of Snow Geese plus a Harrier, and lots of Teals and Yellow-legs.
Back in Allen, we joined Glenn & Mina for a belated Stewart's birthday celebration at Bazille in the Nordstrom's at Willow Bend. Great find! And again in June for Anne's birthday we met up at one of their favorite Hot Pot restaurants. Luckily, Mina knows how to run the show and helped us order, cook, and eat very, very well.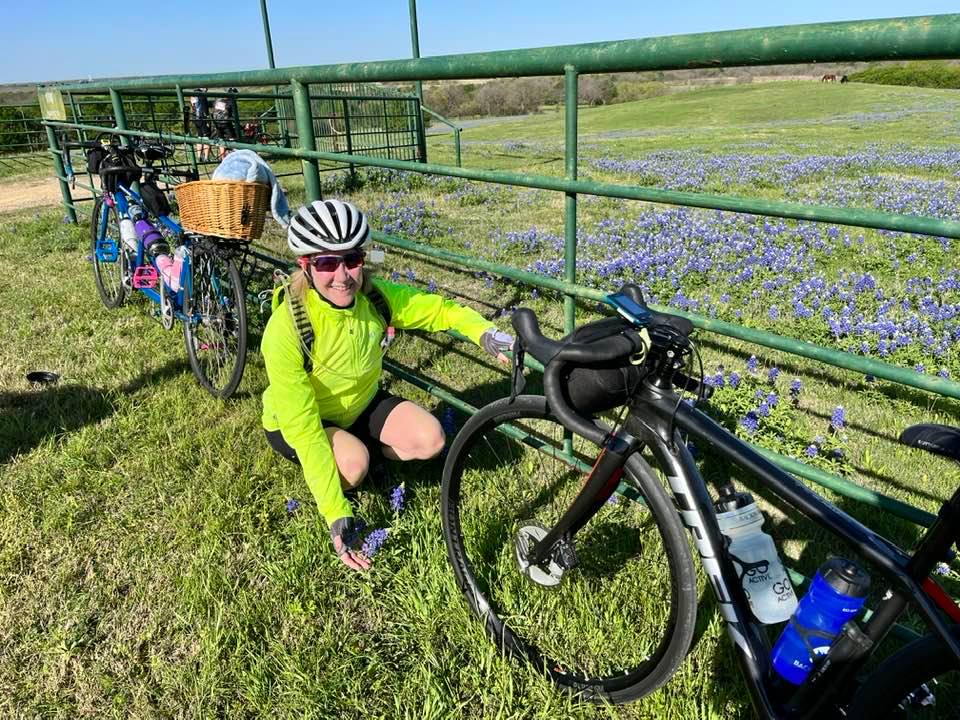 April is the start of outdoor bicycling season. We had trained indoor on Zwift in the winter and were ready to get out there on the road. We registered for and rode the Lancaster Country Ride, Head For the Hills in Cedar Hill, TX, Tour d'Italia in Italy, TX, Easter Hill Country Tour in Kerrville, TX, Magnolia Tour in Durant, OK, and the grand finale Hotter N'Hell Hundred in Wichita Falls, TX. More on that later.
Stewart was sitting on the front porch in May, enjoying the beautiful spring weather when he saw the Google Street View Prius, decorated all over with large high-def cameras, slowly driving through our neighborhood. There was time! He msg'd our neighbors and ran out to the edge of the street to wave as it went by. As it slowly passed the large african woman driving was laughing and pointing at him. It showed up in Street View in about a month. Stewart is now famous!
Our work buds from Raytheon and Texas Instruments are starting to retire in much larger numbers now so there are many more opportunities for lunches and dinners with these folks. We got together with friends Mike, Linda, Tina, and Dennis at a local Mediterranean restaurant to celebrate. Our old TI and Raytheon F-16 buddies meet every Thursday at Amigo's Mexican restaurant in Richardsonb for lunch and fun conversations. Anne has monthly happy hours with her TI DLP buddies, usually at Rodeo Goat on the beautiful patio along the creek, weather permitting. Steve came into town over Thanksgiving and we had dinner at Cristina's, our old lunch spot back in the day, with Steve, Todd, John, Mike, Linda, Tina, Dennis, Dan, and Doug. We see some of these folks more often now that we are retired than we did when we were working.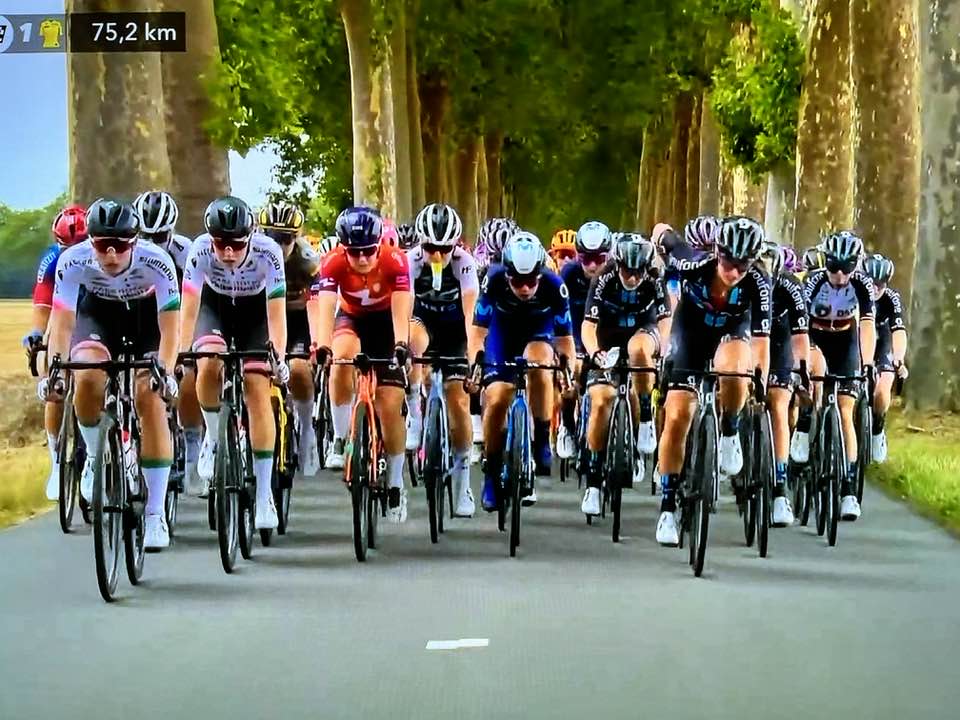 July is always set aside in the French household to watch all 21 stages of the Tour de France. This year the kittens also enjoyed the show watching as Jonas Vingegaard and Tedej Pogacar battled it out, and showed admirable sportmanship when one crashed and the other waited for him to re-mount and catch up. The TdF offered a serious 8-stage women's race this year, the Tour de France Femmes Avec Zwift. Unlike the men's race which ends as a bicycling promenade carrying champagne glasses in Paris, the women's race ended on a gravel mountain uphill with a 24% grade! This was a new record setting race where we got to better know the women racers, every one monster strong and fast. We enjoyed the race tactics, the beautiful scenery, and the after race interviews. We even got to ride with some of them on Zwift! Throughout the TdF we met up several times for Happy Hour with our friends Vicky, Dave, Joanne, and Jeff to celebrate the weeks winners.
August is time for the Hotter N Hell Hundred bicycle rally in Wichita Falls, TX. This was our 13th time riding the HHH and it lived up to it's name. We lined up with the other 10,000 riders waiting at the start and up walked our work bud, Wayne, to say Hello! What are the chances?? We were trained up to ride 100 kilometers (62 miles) but put off the decision to the fork in the road at mile 27, turn left onto the 100 mile route, stay straight for the 100K route. "How are you feeling?" "Good! You?" "Good!!" We turned left and headed for Electra, TX (The Pumpjack Capital of the World as they are proud to announce). At mile 62, in Burkburnett, the riders could turn left onto the 100 mile route or stay straight for 75 miles and a beautiful ride through Sheppard AFB. This year was so hot and humid that the organizers had closed "Hell's Gate" early so that 75 miles was the only choice. That's what we wanted anyway so it didn't bother us. We crossed the finish line after 6 hours on the road with Anne's Garmin reading 112.9 degrees on the tarmac. It was epic and we loved every minute.
In September, on Labor Day, we got the opportunity to visit with niece Brandi and Lamar. We sat outside in Sherman, TX at the Old Iron Post Restaurant and enjoyed the weather and conversations. Lamar takes beautiful slo-mo vids of birds near their home in Southmayd, TX and is busy researching and growing interesting plants around the house.
Last year Stewart had a vision "event" while on vacation in Evergreen, CO. When he landed in Denver he started seeing double. Extensive testing turned up nothing, an "Idiopathic sixth nerve palsy", so he started wearing an eye patch, then a prism overlay on his glasses. It corrected itself in 4 months. Dr suggested it was perhaps caused by low blood pressure and altitude. So this year we made a special trip to Boulder, CO as a test case and for a short, fun vacation in September. It was important to find out if it would recur, one can't bicycle with an eyepatch and no depth perception (never seen a pirate on a bicycle!). We are glad to report that the double-vision did not recur as we hiked the mountain trails around Boulder and visited Pearl Street.
Our long time friend Alan ended up in the ER in October with gallstones. We visited him there after they removed a stone from his duct. Stewart discovered that the symptoms Alan had that sent him to the ER were the same as what he had been having for 40 years, just more painful. Alan had his gallbladder laparoscopically removed 2 weeks later and had a quick recovery. This sent Stewart in for an ultrasound to discover he also had gallstones that should be removed. Three weeks later, a 20 minute procedure using a DaVinci surgical robot, and his 40 years of stomach aches were gone.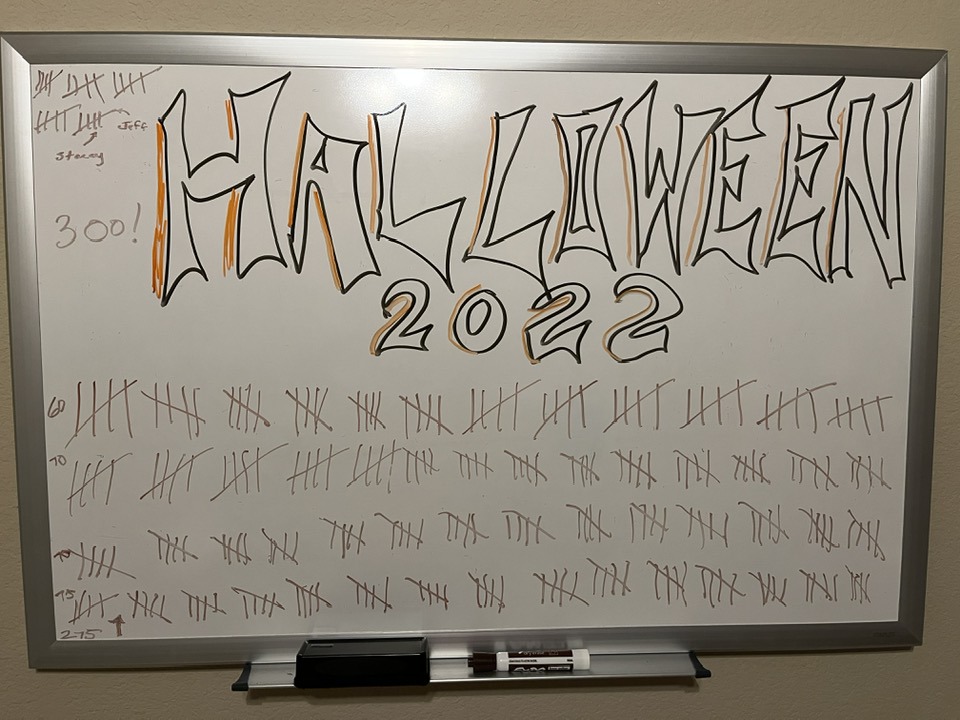 Halloween this year was a return to the good-ole-days with 300 Trick-Or-Treaters visiting the house. It was a beautiful evening when the kids started showing up. We saw cars come in and park at Norton Elementary School. They would open the doors and dump costumed kids out to walk our neighborhood. We split the candy between chocolate and not-chocolate. Turned out many of the kids chose the not-chocolate, one even told us she preferred small oranges.
This Halloween, Anne had the great luck of being part of a clarinet choir put together by her Clarinet Mentors teacher, Michelle Anderson, in Vancouver. She provided several clarinet parts (4 Bb, 2 Alto, 2 Bass) to The Funeral March of the Marionettes (aka the Alfred Hitchcock theme song), along with a full recording as a backing track. We played the backing track through earphones and recorded video of each of us playing our chosen part in time to the track. Then Michelle merged the videos, added graphics and provided a Vimeo link where we could share the end result.
It was good to see Mia when she popped in for a visit in October. We played with the kittens and taught her Rummikub, then sat on the front porch for conversations. Mosquitos were bad this year and limited these porch sitting sessions so Stewart researched and mounted a bat house 15 feet up on the side of our house. Time will tell but if they come I hope they're hungry!
We had planned on driving to Houston on Thanksgiving but the weather did not cooperate at all. We chose to drive on Thursday morning since it has the least traffic by far, but thunderstorms were already causing roads to puddle when we woke up and were predicted the entire way to Houston, along with heavy rain on Friday all the way back. So we made the heart wrenching decision not to drive it this year. Instead we stayed home and Stewart whipped up Instant Pot pork rib stew and we ate (a lot of!) cucumber salad intended for the Houston crowd. We msg'd all the family and traded photos and vids of the kids as we watched it rain.
For 2022 we have signed back up for the Dallas Summer Musical (now Broadway Dallas) at the Music Hall at Fair Park as well as the AT&T Performing Arts presentations at the Winspear Opera House. 2022 gave us the Broadway plays Come From Away, Jesus Christ Superstar, Frozen, and several others. Individual performers we saw included Pat Metheny, Neil Gaiman and Smokey Robinson (hope I can dance like Smokey when I'm 80!) It's interesting to see whether some old favorites like My Fair Lady pass the test of time (or don't! Can you say 'gaslighting'?!)
Last year, Anne had dusted off her clarinet untouched by her since college. She could barely conjure a squeak out of it so she turned to Maestro Google. After a few online classes, she really upped her game this year, signing on with Michelle Anderson's Clarinet Master Classes out of Vancouver, BC. We have zoom classes once a week plus some Guided Practice Sessions and separate sessions for New/Returning Players. There are tons of clarinet resources such as the Clarineat Podcast, access to sheet music, opportunities to play for the class at least once a month via recorded video which is critiqued by Michelle or one of the other teachers including Josh Goo and Debbie Andrus. Stewart has accompanied her on many of her submissions and we have so much fun working on new duets and figuring out how to keep pace with each other.
Stewart continues to practice his Piano. For his birthday Anne gave him 10 coupons, each redeemable for one clarinet/Piano duet. We have already played 4 of them and submitted them to Anne's Clarinet master class for review and critique. In addition, Stewart has been playing Chopin Waltzs and etudes, Jazz standards, Christmas Carols, and many other pieces that stike his or Anne's interests. Turns out kitten Cooper is a real Piano fan. He likes to sit in Stewart's lap while he practices and place his head on middle-C. Stewart has to practice around him, pushing his head left and right. Cooper seems to love this, purring so loud.
<
Anne continues to enjoy activities with the local womens' social club, the Newcomer Friends of Greater Plano, whose motto is "Not just Newcomers, not just Plano ... just Friends". This year in addition to weekly or monthly activities such as walks, movie nights, welcome coffees, book clubs, happy hours and lots of games, they've added pop-up events like local theater shows and concerts. We've seen tribute bands at the amphitheater at White Rock Lake (Willie Nelson, Beach Boys, Journey), shows (The Secret Comedy of Women at the Eisemann in Richardson and Cartier & Islamic Art exhibit at the Dallas Museum of Art) and even a road trip to Waco to tour the castle restored by Chip & Joanna Gaines.
Another great feature of this club is the experiences auctioned off at their annual fundraiser. This year Anne bid on and won attendance at 3 of their experiences: 1) Oscar Awards Night in April where decked out guests walked the red carpet, got their picture taken by the paparazzi, participated in reading lines from scripts under direction ("Frankly, my dear, I don't give a damn [hilariously]") and won Best Oscars 2) Footloose, a group manicure event with hors d'oeuvres and Prosecco and 3) Derby Day in May complete with mint juleps, racing cards, histories of the horses and jockeys, a betting booth and trophies for winners.
This group kept Anne socially sane since the pandemic broke out not long after she retired and discovered Newcomers. To give back, she has been serving on their board, wrapping up Membership Chair duties in May of this year and taking on the Secretary role.
Stewart has become a fanBoy of the James Webb Space Telescope since it launched on Christmas Day 2021 and made a flawless 6-month trip to the L2 Lagrange Point 1 million miles from earth. He reviews pictures and progress every morning and announces results to Anne during breakfast. Anne returned the favor by providing two fun JWST T-shirts he wears shopping to get fanboy comments from the other shoppers. He bought and constructed a model airplane of the JWST (he hasn't built one of these in 45 years!), now hanging in our study. And now he's all over NASA's Artemis Mission to the Moon, also reporting progress on that mission that finally got launched in November.
Anne continued to serve on the Allen Library Endowment Fund (ALEF) board this year with longtime friend, Jeanie, and neighbor, Ernie. She creates presentations and supports the library at City Council meetings.
This year we have been going back to the movie theaters with our friend Maria. It was great to see Thor, Minions, Top Gun, Drum Corp International, and others at the local Cinemarks. Also, we have had Maria over for lunch and a movie at our house with Weird Al, Enola Holmes, and others. Maria is going to be cat-sitting for her son Ethan so she got a chance to learn about kittens at these events, and we put her to work for Anne's Cookie Exchange. Speaking of Ethan, he came over to the house in August and gave us a beautiful 2-hour multimedia presentation on his SMU sponsered month long trip to Florence, Italy.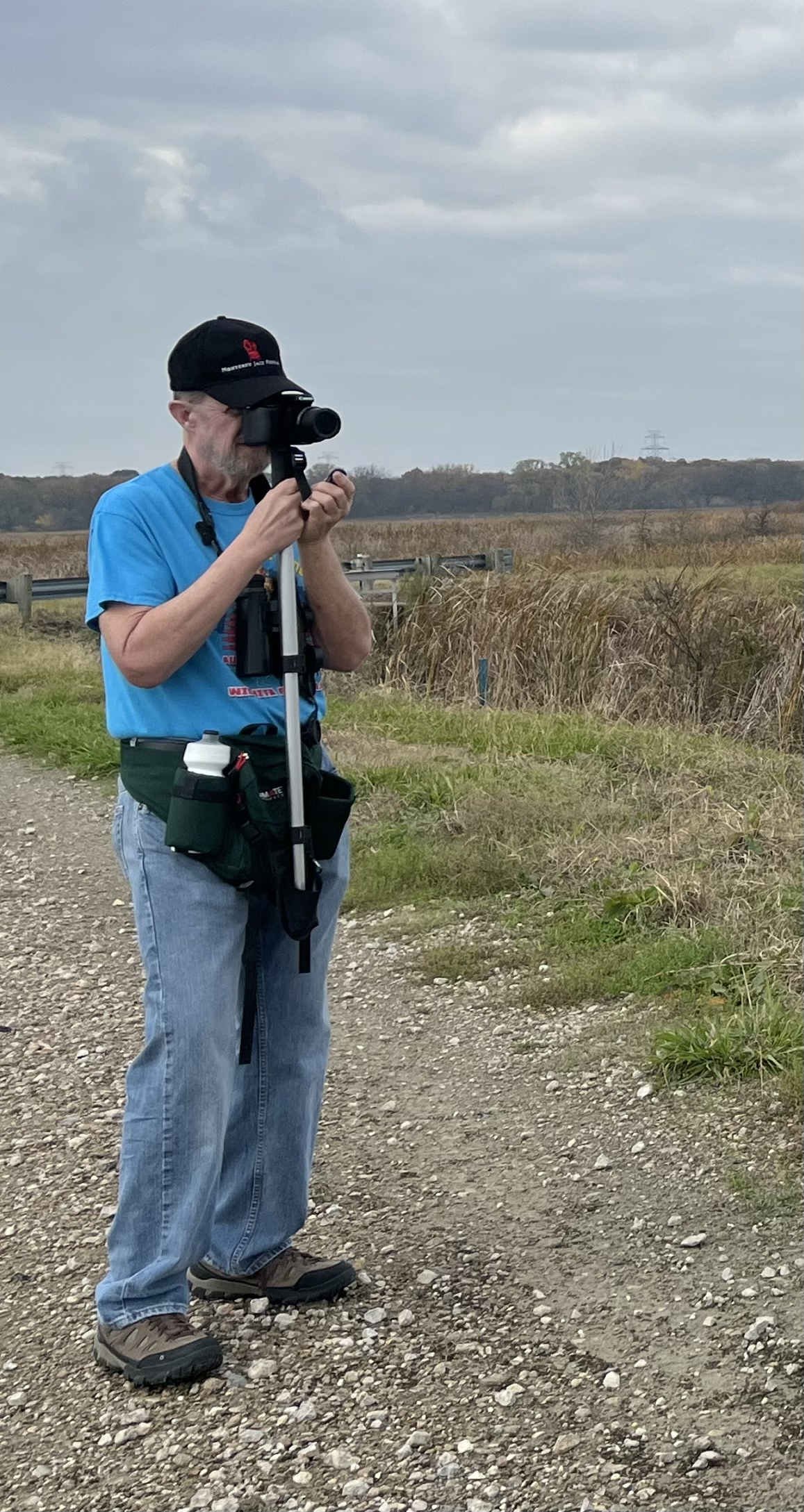 2022 had us back out in nature for walks and bird watching trips to the Heard Natural Science Museum, the John Bunker Sands Wetlands, and Connemara. The Hagerman National Wildlife Refuge is one of our favorite places to visit, usually on a weekday morning, on a sunny breezy day. On our September visit we saw hundreds of Egrets in flocks flying in formation toward the marshlands. Then again in the water where Anne found 3 Roseate Spoonbills tucked in among the Egrets when she zoomed in on the photos. They are rarely this far north.
We took our friends Todd & Kim there on a rainy Saturday morning in October when they were up visiting from Austin, TX. The rain stopped just as we arrived and started again 2 hours later as we were leaving. We saw hundreds of Pelicans, Red Winged Blackbirds, Herons, Egrets, even saw a fat Beaver making his way through the marsh, and an Armadillo near the visitor center (check the videos!). Visiting again in November as part of a guided bird walk we saw thousands of Snow Geese and Rosses Geese on their migration path through the area.
More locally we hiked over to Connemara for guided and unguided bird walks and exercise. We discovered and have been watching Zoom sessions from the local Prairie and Timbers Audubon Society on Tuesday evenings. When we don't want to travel we sit on the front porch and watch the Crows, Finches, Sparrows, European Starlings, Woodpeckers, Chickadees, and many others as they splash in our birdbaths and eat all the seed in the feeders while the cats monitor the backyard bird activity. Anne enjoys running our photos through Lightroom and Stewart takes short videos to capture the wildlife behavior.
That's it for 2022! We hope everyone has a wonderful 2023.
---
end