---

Stewart and Anne Travel to Boulder, CO
September 26-29, 2022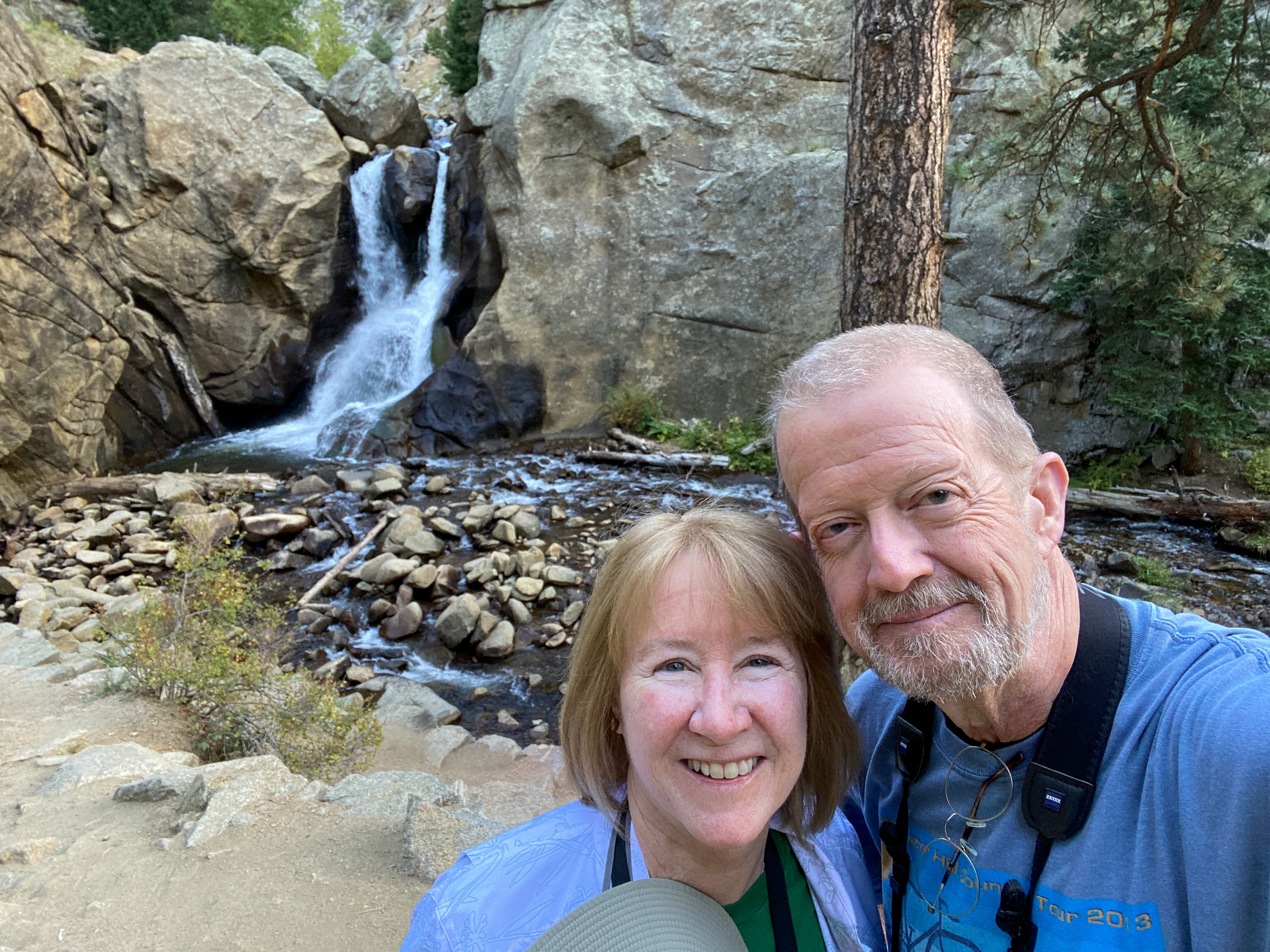 This trip was a test to see if Stewart's double-vision returned and to have fun hiking in the Boulder area. Last year (July-2021), on our family vacation in Evergreen, CO he developed double-vision after landing in Denver and driving to Evergreen. Stewart noticed it on the drive to Evergreen then it got much worse while having dinner with Manisha & Freddie the first night. It's a long story detailed in our Evergreen blog.
The problem persisted for 4 months after returning home and then quickly, spontaneously corrected itself. His Ophthalmologist suggested that it may have been due to some combination of low blood pressure and altitude. Stewart's research on the internet found several occurrences of this. The Dr also suggested that it was a one-time freak occurrence and probably would not happen again. The only way to find this out was to travel, so we decided that flying into Denver and driving to Boulder would be a good experiment.
---
September 26, 2022 - Monday
It turned out that niece Emily & husband Andrew had recently traveled to Boulder to do some hiking. They stayed at a VRBO near Pearl Street and helped us to find the property that we rented. Also, our Austin friends Kim & Todd had also recently traveled to Boulder to do some hiking! They all had suggestions for restaurants and hiking trails that we wrote down and brought with us.
Talking with them we decided we did not need to bring high-top hiking boots, our low-tops would work fine for the trails we were going to hike. That left room in our checked luggage to pack our pillows. (Thanks, Emily!)
Anne setup Uber to shuttle us to Love Field in Dallas where we caught Southwest Airlines direct to Denver. It's about a 2-hour flight. Love Field was packed with people. With Covid declining people are traveling more. We both are TSA-Pre-Check registered so we had no problems getting through security (once Stewart took off that mongo belt buckle! The TSA guy had a good laugh when he saw it). Our flight left at 12:45pm so we grabbed some lunch at Manchu Wok inside security.
We had to be very strict with diet on this trip because Stewart was having gallbladder problems. We had to keep the fat content way down to prevent pain. He was scheduled for surgery to have his gallbladder removed the Monday after we returned from Boulder. It could be somewhat restrictive but we managed to eat very good as most restaurants have lots of options.
After landing in Denver we shuttled to Hertz and picked up our rental, a small Nissan Sentra. This is so easy now! As "Gold" members we just got off the shuttle and walked over to the Gold parking lot and picked a car, loaded it, and drove off. It was the same thing on return. We just drove in, parked, unloaded, and got on the shuttle back to the airport. So convenient.
Boulder is about a 45 minute drive from Denver International Airport. The road is a beautiful northwest loop around Denver. There were spectacular views of the mountains and grassy plains. Temperatures were in the 70s. It was so nice and relaxing.
Boulder is very modern, with lots of trees, a University town. Our VRBO was at 733 Spruce Street, one block north of Pearl St, a touristy destination. The property was way west near the foothills of the mountains. This turned out wonderful for both walking to shops and restaurants on Pearl St and driving to the trailheads. The VRBO was very small but furnished with the most upscale features (Wolf range, Fisher-Paykel fridge, Bosch dishwasher, Carrara marble, wood floors, Sonos sound system, 2 large LG TVs.
The first floor was the bedroom, stairs up to the kitchen-great room combo. There was no dining area so we had to use the kitchen island for all meals, card games, etc. This place looks like a very nice garage remodel. Parking was super tight. We were supposed to be able to park in the alley but there was construction going on and the workers had taken all the spaces. The owners had poured gravel on a narrow strip behind the unit in front of the garbage cans. We were so lucky to have a Sentra, it fit the slot perfectly. An SUV or large sedan would not have fit.
We took stock of the supplies and made a grocery list, then drove over to Ideal Food Market, a 4-minute drive (this is a recurring theme!). This place was an "Eco-minded chain with natural & organic grocery items, housewares & other products". We discovered as we didn't find Coffee Mate or some other items that it is owned by Whole Foods. Fine, back in the car and over to Safeway, a 7-minute drive, to load up with groceries and necessaries.
Once stocked up we headed out on foot. From our place it was a 5-minute walk to Pearl Street then east on Pearl past shops and restaurants. It was dinner time and we were hungry. Pearl St has lots of restaurants with open-air seating, both covered on the street, and through wide opening windows inside. Fun people milling about, on bikes and skateboards. From most of these the views were spectacular of the mountains.
After walking for a bit we found a nice little asian restaurant, Dragonfly Noodle, where we ordered wonderful spicy edamame, banh bao, and smashed cucumbers. After dinner we walked Pearl some more then headed back to our place for wine and a rousing game of Rummikub (Anne won, Anne always wins) before konking out.
BIG NOTE: Stewart had no problems with his eyes on this trip. He was mindful at every step to notice any double-vision or other eyesight weirdness. There was none!
---
September 27, 2022 - Tuesday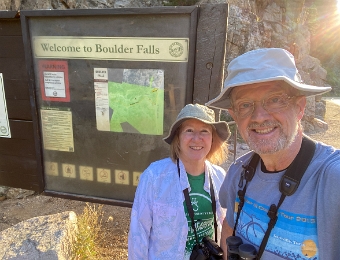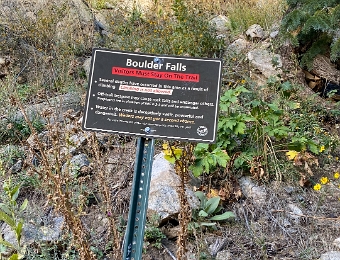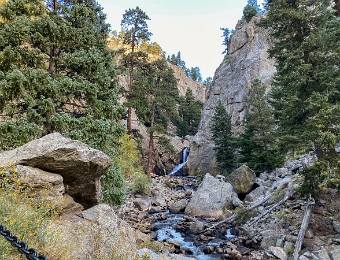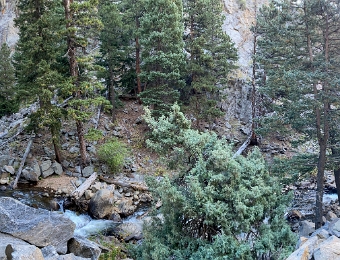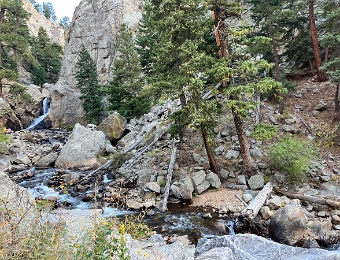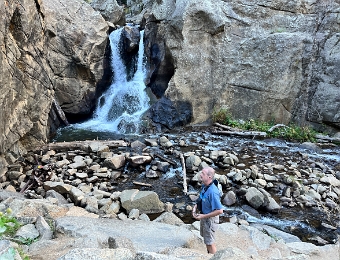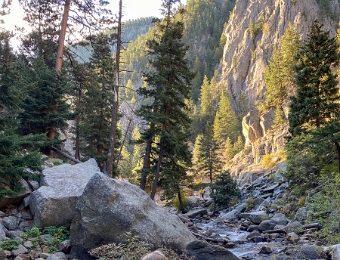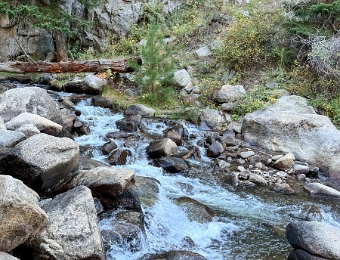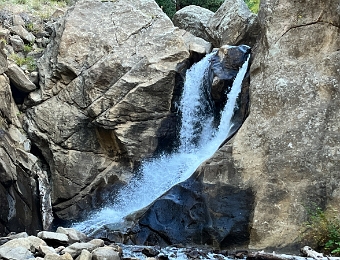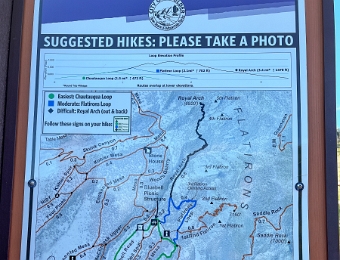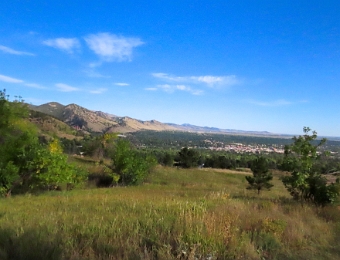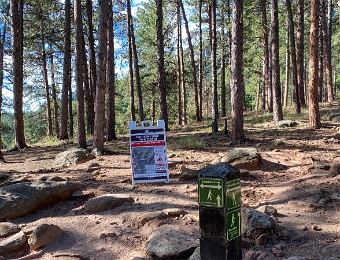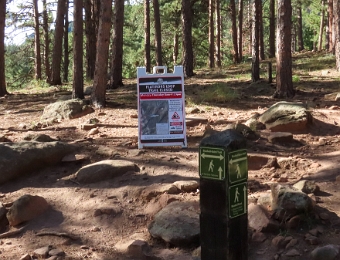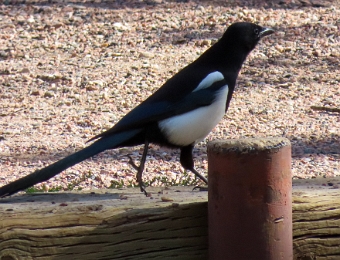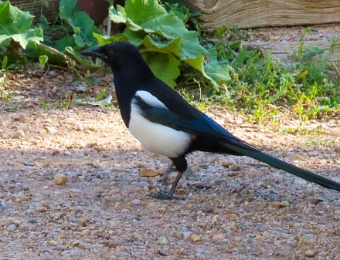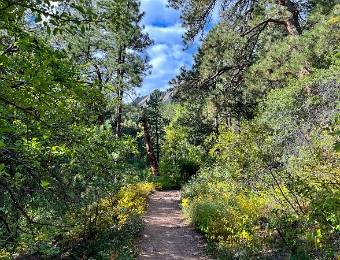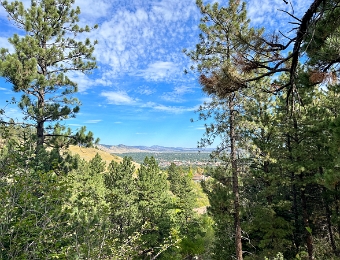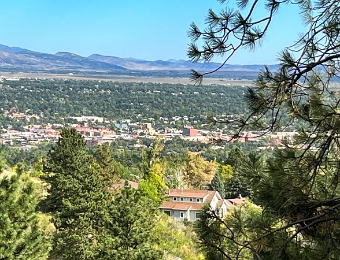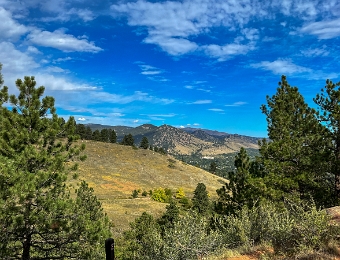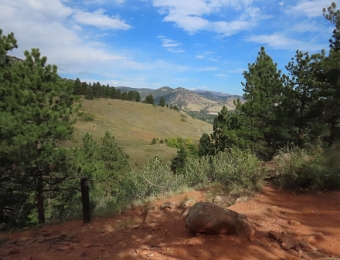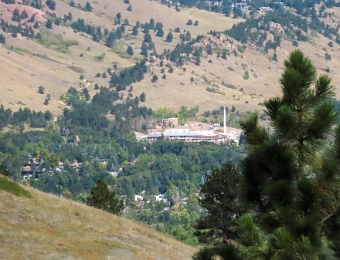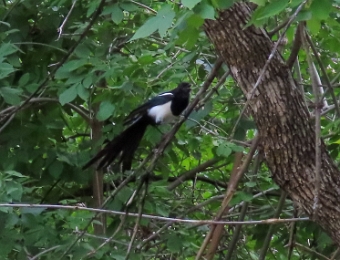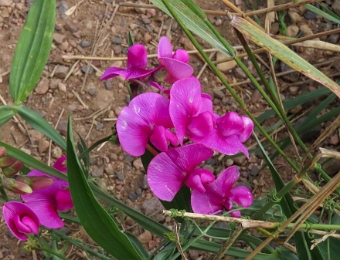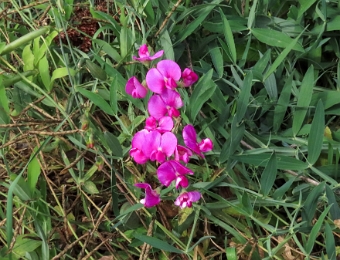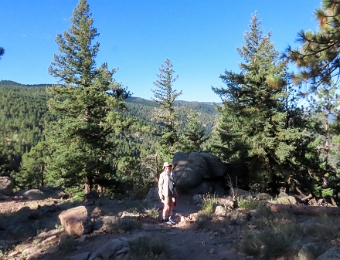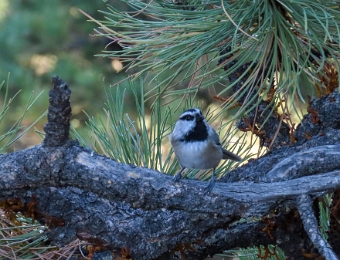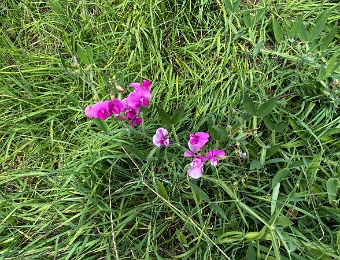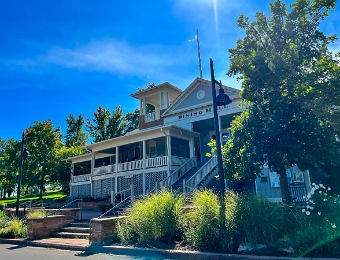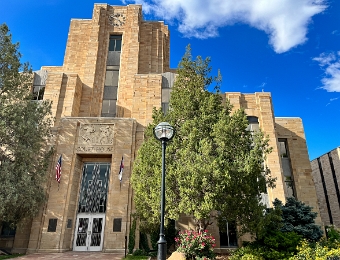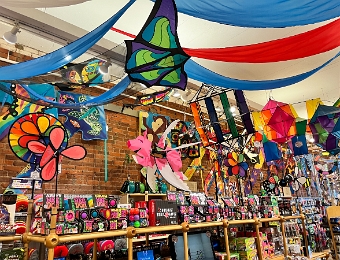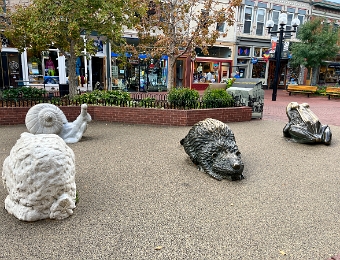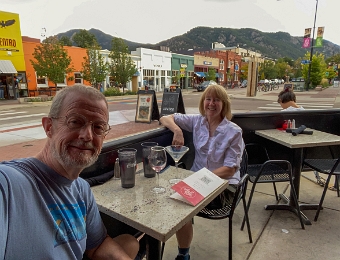 We got up Tuesday to a beautiful day in Boulder. Temps were in the 50s heading up into the low 80s, no chance of rain. Breakfast was coffee, bananas, oatmeal, apples while we planned the day. We had trail suggestions from E&A and K&T that we had printed. Anne had loaded these into the AllTrails app so we could see all the details of the various hikes. We decided first to visit Boulder Falls Trail, an easy hike to a beautiful waterfall. It was a 15-minute drive out Boulder Canyon Drive then park on the side of the road at the trailhead. The drive through the mountains was stunning. There was one other car parked there, we only saw 4 people hiking the trail out to the waterfall. This was the perfect start to our hiking adventures.
From here we decided to drive over to the Chautauqua Trailhead in west Boulder. The Chautauqua Trailhead is 6-minutes from our rental. We had talked about doing the Enchanted Mesa & McClintock Nature Trails. E&A had suggested the Flatirons Loop but it was closed today. The parking lot was crowded but we had no problem finding a spot. At the start of the Chautauqua Trail we met a Park Ranger who was helping people decide where to hike. He was great to explain what to expect, how difficult it would be, and how long it might take. We ended up hiking the Chautauqua Trail, Bluebell-Baird Trail, Bluebell Road, and the Mesa Trail. From here we kinda didn't know where we were! We stopped a woman who looked like she might know where she was and asked. She pointed around and gave detailed directions to the quarry, to the abandoned reservoir, where the trails connected, all kinds of info. It was like the scarecrow on the Wizard of Oz. We eventually ended up on the McClintock Upper and Lower trails where we met up with an older couple who lived in the area. His directions were "When you come to a fork in the road, take it!" She stood behind him quietly shaking her head "No!" and pointing left. We eventually ended up back at Chautauqua Park around lunchtime. We walked off the trail and right into the Chautauqua Dining Hall. Not planned but perfect timing, we ate lunch right here sitting on their beautiful patio.
We then headed back to our place for showers, a nap, then coffee. Anne had signed us up for a Prairie and Timbers Audubon Society (PTAS) Zoom meeting that was going to meet tonight at 6:45pm (in Boulder it was 5:45pm). The presentation was by Jean Iron of Toronto, Ontario, Canada "The Nature of Arctic Birds". We spent a little time connecting Stewart's iPad to the LG TV and getting Zoom all setup then we walked back down to Pearl St where we found a nice little Italian restaurant, Pasta Jay's, and sat outside drinking wine and cocktails. Anne ordered a Salted Caramel Espressotini to celebrate the day. It was very tasty!
The Audubon zoom was amazing. The Arctic birds have adapted in ways that are mind boggling. Here is one we learned about.
"...every few minutes, a tiny, young Thick-billed Murre threw itself off a lofty ledge and fluttered to the sea below or floundered onto rocks, where Glaucous Gulls and a polar bear patrolled the beach. As each fledgling landed on the sea, it uttered plaintive piu piu cries to contact the male parent that accompanied it on its first downward flight. If the two became separated, the cries helped them locate each other. The successful reunion of adult with young is the beginning of a long swimming migration that covers up to 1,000 km from Prince Leopold Island to ice-free waters in the Davis Strait off the west coast of Greenland."
After the Audubon zoom we nestled up to our kitchen island for some 10,000 and music. On one of our walks we realized that Boulder is the setting for the 70s sitcom "Mork and Mindy" so we found it on Hulu and watched the first couple of episodes. So much fun!
---
September 28, 2022 - Wednesday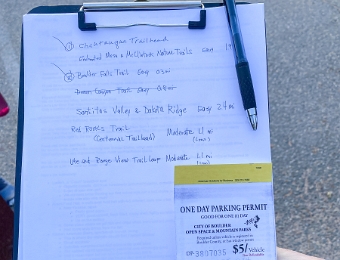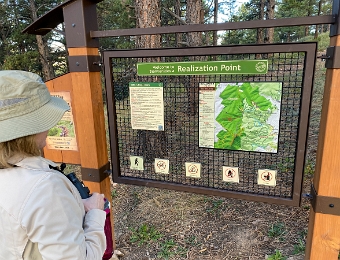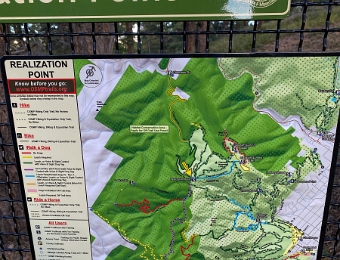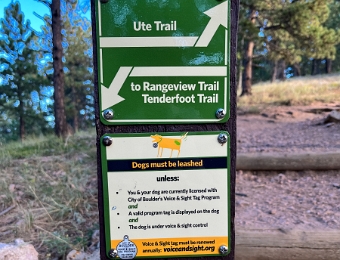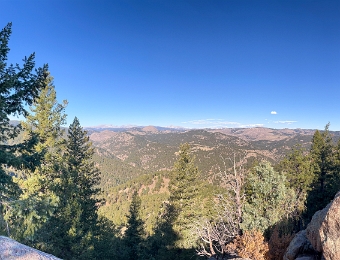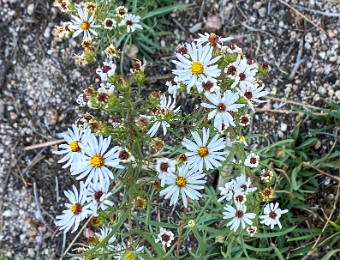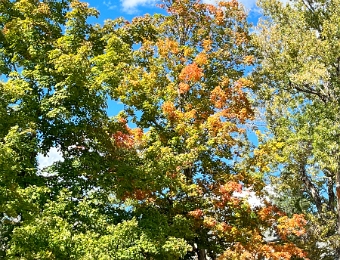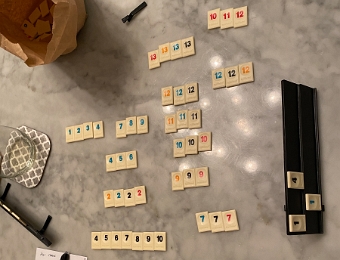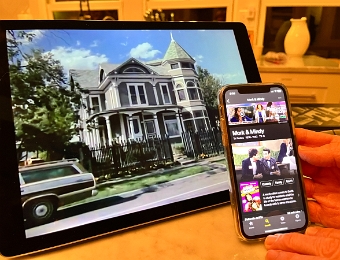 Today after breakfast we were considering these trails - the Red Rocks Trail, Santitas Valley & Dakota Ridge trail, and the Ute & Range View Trail Loop. They were all 5-minute drives from our VRBO west along Mapleton Avenue. We drove to the Centennial Trailhead and parked and headed out on the Red Rocks Trail, a Moderate rated hike. This one was pretty rocky so we took our time. We could hear a guy playing music from the Boulder Bandshell, the sound wafting over the trees. It felt like we were closer to town on this hike. This trail is a loop that crosses the Silver Lake Ditch several times before making its way up to an overlook then back to the Centennial. We saw the start of the Santitas Valley & Dakota Ridge trails but decided to head back to our place for a nature break. We drove to lunch at a vegetarian restaurant K&T suggested, Leaf. Also on Pearl Street it had nice outdoor seating where we relaxed. The server was very helpful in suggesting modifications to some menu items to lower the fat content. We pay-parked on the street. There was a kiosk where one enters the area number where the car is parked and gives a mobile number. It scans a credit card and msg's a receipt. We never saw this before but it worked good.
On the drive to Centennial Trailhead we drove down Mapleton Avenue, quiet, heavily treed, with beautiful homes. We both noticed that the trees along this Avenue were changing colors so we decided that we'd hike Mapleton in the afternoon. But before that we wanted to drop by the University of Colorado Boulder campus, walk the campus, stop by the bookstore and pickup some T-shirts, and checkout campus life. This turned out to be difficult! The University campus was packed with kids walking and driving (and biking and wheeling) everywhere. Apple Maps seemed to be driving us in circles trying to get us to run over students at the intersections. We laughed like hyenas the second time we passed Regent Drive on Broadway and got caught up in backed-up student traffic, busses, parents. It started sprinkling rain after a while and we gave up and headed back to the rental. We then took our kindles and walked up to Mapleton Ave, west for a while enjoying the trees and color then east back to a nice bench where we sat, relaxed, and read.
Eventually we walked back to Pasta Jay's and sat inside at one of the big open windows where we could watch the people go by while eating dinner and drinking wine.
---
September 29, 2022 - Thursday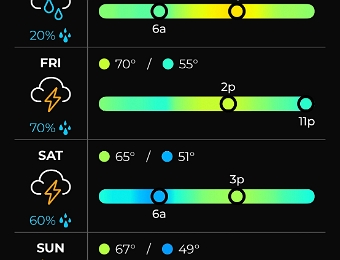 We were so lucky on this trip. Checking the weather app we found that our perfect weather was going to end the day we left with rain in the forecast for the next several days. Yay, us!
We had to leave about 8:30am to drop off the car and make the Southwest flight so we had breakfast, showered, packed, prepped the property for our exit, msg'd the manager that we were leaving and headed out. Unlike last time, where the trip from Evergreen, CO to Allen, TX took 17.5 hours, this time it was uneventful and easy traveling.
Our cats, Cooper, Marley, and SeaBreeze were very happy to see us back. They told us that have been trying to train our cat sitter, Nancy, with mixed success and were glad we were home.
---

end