---

2022 Hotter'N Hell Hundred Bike Rally
August 27, 2022
Anne and Stewart French
---
August 26, 2022 - Friday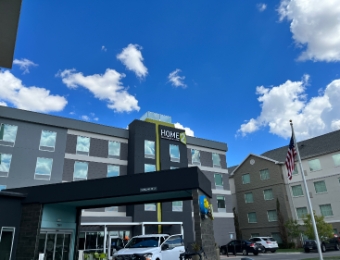 This was our 13th time to ride the Hotter'N Hell Bike Rally!
We loaded the bikes and drove to Wichita Falls, TX Friday 8/26/2022 about 1:30pm heading to our hotel, the Home2 Suites by Hilton. We have not stayed in this part of Wichita Falls before. It is much nicer than where we've stayed in the past with better hotels and restaurants and still only 10 minutes from downtown. And, best of all, we won't have to bicycle to the start in the dark from the hotel (or bike back after the ride). Our room was mostly quiet except for an annoying thrumming sound. We suspected that, being on the top floor, we were too close to the roof AC units (?)
The Home2 was swarming with bikers. Everyone was super friendly and wanted to talk. Lots of people doing the HHH for the first time, lots like us returning to go it again. We got checked into our room on the 4th floor then drove over to the Multi Purpose Event Center (MPEC) to register for the ride. The MPEC parking lot is torn up with a hotel being built So what about parking? Well, the local businesses had opened their parking lots to allow us bikers to park close. We easily found a parking place about 2 blocks south of the MPEC "near the tilted pole". We wore our Covid masks in the MPEC which was crowded with people, but most people inside did not have masks on and did not observe any Covid restrictions. People were packed around the tables holding biking gear and clothes. I wonder how many people ended up sick from that experience? We will probably never know, but we did not get sick. The swag this year was mixed. We bought the fancy HHH jerseys, really nice blue with great artwork and materials, and Anne bought the cool shorts and socks. New for this year, they had chips to pin on our bikes so we could measure our time and speed on course electronically. We decided not to mess with that, time and speed are so last century! Plus, we had our Garmins for this purpose.
Back to the Home2 and we started prepping our bikes, front packs, and Camelbaks. The room had a very nice refrigerator so we mixed our water bottles with Skratch and Pedialyte, filled our Camelbaks with water, and shoved all of it into the refrigerator. Everything ready, we headed out for dinner. There were so many bikers at the Home2 we figured the restaurants would be packed. Yep. Our first choice was The Parkway Grill. It was packed, packed, not even enough room to pull into the parking lot! So we found a little Thai restaurant nearby, Thai Orchid. Almost nobody inside, very relaxing. We had brought all our maps and swag with us, laid it all out on the table and went through everything to see if there was something new or different to consider. We notably did not drink any wine this night. Then back to the room where we connected the iPad to the TV and watched Jay Vine of team Alpecin-Decueninck win Stage 8 of the Vuelta a Espana on the Peacock app. We were ready for tomorrow!
---
August 27, 2022 - Saturday
The Home2 usually has breakfast start at 7am, but today for the HHH they opened breakfast at 5am. Super nice of them. Breakfast was packed with bikers getting ready. We had oatmeal and fruit and a single cup of coffee. One must really be careful with the coffee or it will require "nature breaks" on the route!
The ride started at 7am Saturday morning so we had to get up at 4:45am, have breakfast, load the car, drive into town, find a parking place, unload and prep our gear, then bike over to the start. We were assigned to line up with the other "Keepers" in a 100 mile group. We thought the long pole in that whole process was going to be finding a parking place, but that turned out to be no problem at all since we left the hotel by 5:45am. We turned off the freeway on 6th Street into downtown, drove a couple blocks, turned right, and pulled into a parking lot and parked. So easy! It was about 5 blocks from the Keepers marker pole on Scott Avenue as we zigged and zagged through the barricades, police, and bikers to enter from Lamar Street. The temperature was cool and a bit humid, generally very nice. As for bikes and people, there were singles, tandems, recumbents, "big wheels", e-bikes, people with their dogs in carriers or in backpacks, some (dogs) wearing fancy sunglasses. There were seniors, kids, and every age in between.
Quickly Scott Avenue filled in with bikers. We said hello to several of the folks near us. There was a guy right behind us riding his first HHH. Our longtime bud from work, Wayne Daniel, walked up as we stood in the crowd. Hello!! It was a miracle he saw us standing there. Turned out he rode the 75 mile route too although we didn't see him on the ride (so many people!).
We saw numbers from 350 up to about 9900 pinned on rider's jerseys. The "Hotter'N Hell Hundred" Facebook group posted the totals as:
7,933 Endurance Ride (that's us!)
358 Mountain Bike
500 Train Run
369 Gravel del Fuego
483 Race
48 Virtual
Total was 9,691
At about 7:05am two F-16s and two prop planes (what were those planes?) flew over to signify the start of the ride. Great to see those F-16s! This year the organizers released the starters based on their assigned areas on Scott Avenue. At the Keepers Pole we had a ribbon barrier across the street. In front of the barrier we could see the riders get ready and start rolling. They rolled all the way through the start line before we got our go-ahead. This really helped prevent crashes and kept people more separated. Even as it was we rode for the first 20 miles with lots of other riders around us. It wasn't until we got to the turn-off for the 75 mile route when things really thinned out a lot. There were rest stops about every 8-10 miles and we stopped at them all, getting water, ice, sports drinks, bananas, oranges, cookies, muffins, even peanut butter on a spoon! These made the stops well worth it. Each rest stop had two large tents setup, one had food at the tables, the other was a medical tent. This 2nd tent became more important after about mile 65 when the temps and humidity started taking their toll on the riders.
The routes all start in downtown Wichita Falls on Scott Avenue and head out of town to the west. Those on the 25 mile route soon turn north to loop back around through Sheppard AFB and back into town. The 50 milers are next to turn right and loop back around. At about mile 27 the 100 milers turn left, west onto a larger loop through Electra then east to Burkburnett and Hell's Gate. It is important to get to Hell's Gate before 12:30pm if you plan to ride the full 100 miles. The organizers will close HG at 12:30pm and force everyone to a 75 mile route, straight south along the I-44 access road through Sheppard AFB and back into Wichita Falls. A rider won't even know that Hell's Gate has closed when it happens. One must follow the cones and turn sharp left to get on the 100 mile route. When they close HG they simply pull up the cones and remove the signs. You don't even know you missed the turn.
We were either going to do 62 miles (100 kilometers) or 75 miles, but had not decided yet. It would depend on how we felt at mile 27. We paused at the turn, looked at each other, "How are you feeling?" "Good! You?" "Good!!" We turned left and headed for Electra, TX on the 100 mile route. Electra is the "Pumpjack Capital of Texas", and Yep! we saw tons of pumpjacks in the fields around Electra. It was at this point that the field of riders really thinned out. The fast 100 milers were long gone and all the other routes had peeled off. We were left riding with much fewer people at our fitness level. It was very pleasant, for a while.
Probably the longest stretch of road was the right turn north of Electra where we headed east on highway 240. Long, flat, straight, 20 miles to Burkburnett, TX where we made a sharp right turn to the south and Hell's Gate. We have a vivid memory of a past HHH where there was a group of kids in lawn chairs under the trees on the side of the road. They had a water hose and hosed down riders as they biked by. It felt great! We missed them this year.
Here's a note on e-bikes. The last time we rode the HHH we got to talking to a guy at a rest stop. He was riding a fat-tire e-bike. He could do 20-25 mph without much effort, sitting upright, really enjoying the ride. We asked if we could tuck in behind him, Sure!, so we got the benefit of his slipstream for about 20 miles. This year we saw many more e-bikes. Some were really fancy road models with drop handlebars, carbon fiber, disk brakes, etc. It reminded Stewart of disk brakes. They appeared on bikes for the first time a few years ago. They were a novelty, most bikes were the old fashioned caliper brakes. Now, disk brakes are everywhere. We rarely see caliper brakes anymore. Are e-bikes going to dominate the rallys in a few years?
While training together on Zwift we had worked out an arrangement where Anne would lead for 2 minutes then Stewart would lead for 2 minutes. Since Zwift accurately simulates wind resistance the trailing rider gets a big benefit in the slipstream. On the road we did something similar initially swapping out every two miles. After a while this seemed like too long so we reduced it to every one mile. On this longest stretch into Burkburnett this worked great giving the trailing rider a rest.
The organizers decided to close Hell's Gate at 11:30am this year due to the heat and humidity, one hour earlier. We never even saw the 100 mile turn-off and wouldn't have taken it even if it were open. We pulled into the rest stop at about mile 62 and refilled our Camelbaks and water bottles. Turns out our friend Bob Mione was working this rest stop! But we didn't know it and missed him. It was very crowded. We were talking with some of the volunteers in the food tent and they pointed us at the barbecue over to the side where they were handing out hot dogs! They were the best hot dogs ever. We went over to the medical tent to sit and eat our dogs and a volunteer brought us caregiver gloves filled with iced water. Oh my, it was heaven to lay those frozen hands on top of our heads and necks.
The route from Hell's Gate to Wichita Falls is straight south 15 miles into the wind along I-44. It was very warm on this segment and getting warmer by the minute. Luckily, we had a rest stop in Sheppard Air Force Base at about mile 70. We stopped at the entrance and an airman took some pics for us. Then we rode by the F-16s, A-10s, and other aircraft out near the airfield. We both worked on the F-16 program at TI and later Stewart at Raytheon so it was great fun to see them here, and in the fly-over. The airmen were out and about and cheering us all on as we biked through the base and out the south side. We met a woman here at Sheppard AFB at that took our photo for us. This was her first HHH and she was riding it alone. So brave!
It was 5 more hot windy miles into Wichita Falls and across the finish line. Yay! Lots of people all around cheering and partying, music, and they handed us our finisher's pins. At this point Anne's Garmin read 116 degrees on the pavement. We were both pretty cooked and the car was somewhere off to the south beyond the MPEC. We walked our bikes across to the MPEC then remounted and biked south looking for the car. Stewart remembered it was "easy to find, right beside Central Bail Bonds". We were too hot and tired and biked in circles for a while until we saw a woman closing up her shop on the corner. She was so friendly helping us to locate the car and wishing us the best, glad we didn't need the Bail Bondsman for their real purpose!
Back at the car Anne's Garmin was now reading 121.6 degrees. We were so cooked. Stewart got in the car and started the AC, then we both washed off using tepid water from Stewart's Camelbak, loaded our gear into the car, and just sat there in the AC cooling down. That worked. After a few minutes we both felt much better, and maybe a little less cranky. We had no problems at all getting back to the Home2 Suite. It was probably 2:30pm as we drove back. On the way we saw a Wendy's so we pulled through the drive-thru and picked up a couple singles, fries, and large diet cokes.
The Home2 had a nice service setup to check bikes on the first floor. We took advantage of it on the return so we wouldn't have to take our bikes up the elevator again to the 4th floor. We'll definitely use this service next year to skip the elevator competition, maybe also get a room on a lower floor!
Back in the room we kicked back, ate our Wendy's lunch, and tried to remember everything that had happened on the ride. Then a shower, some biking clothes burritos, and more relaxing. It was only a 2 hour drive home and the kittens were calling to Stewart, so he volunteered to drive back. We packed up, loaded the car, got our bikes out of the bike-check, and drove home. We got home about 6:30pm. Our cat sitter Nancy had already been there and fed the kittens so we ate leftovers from whatever we found in the fridge.
Time then for some Vuelta a Espana, lap kittens, and serious relaxing. Another Hotter'N Hell Hundred complete!
---
end