---

2022 Easter Hill Country Tour
April 14, 2022 Thursday - April 17, 2022 Easter Sunday
Anne and Stewart French
We wondered if the Easter Hill Country Tour was going to occur this year. It was cancelled due to Covid in 2019-2021. We kept our eyes on their Facebook page and saw the announcement in January when emails were sent out. Historically the ride has been sponsored on a rotating basis between the Lubbock Bicycle Club, San Antonio Wheelmen, Houston Bicycle Club, Fort Worth Cycling Association, and the Austin Cycling Association. This year it was sponsored by Schreiner University with support from some local businesses. Stewart then sent emails to all our biking buds to see if anybody else was planning to attend and got bites back from Kim, Todd, Niles, Mary, and Craig.
The Easter Hill Country Tour is one of the most difficult yearly rides we do, and it happens at the beginning of the season. It takes as much training as we can squeeze in to make it manageable. This year, both of us with new bikes, we did both virtual (Tour de Zwift, Tour of Watopia, Team Twenty24 event rides, and many other Zwift rides) and IRL (In Real Life, neighborhood, Collin and Dallas county rides and the Lancaster Country Ride down south) as training. It all worked pretty good!
We want to thank Mary, Niles, and Todd for contributing photos to the album here.
---
Thursday, April 14, 2022
This is the first time we have left our new kitties, SeaBreeze, Marley, and Cooper (the Professor) for several days without us. We arranged with Nancy, our cat sitter, to visit them twice a day and have them get used to her. Based on the daily logs she writes, this took a couple days, eventually working out fine.
At 10am Thursday we loaded Anne's Accord and drove south, arriving at the Hampton Inn in Kerrville about 4pm. A long lunch at Chili's in south Waco slowed us some, but we weren't in any hurry and everyone is lacking help these days, so we chilled.
The Hampton Inn was nicer than we remembered. It had remodeled since we were there last. The rooms were super clean, AC worked, our room 324 was quiet and just down the hall from Todd & Kim's room on the third floor. We settled in, unpacked the bikes and luggage, and rode over in Kim's car to Schreiner University (an upgrade from "Schreiner College"!) to register. We saw Niles there and met his friend John K, an adventure cyclist, and started making plans. We opted for the 52-mile route on Friday and 42-miler on Saturday, marveling at the elevation profiles on the maps. We scoped out various places we could "short circuit" the routes to make them a bit shorter if needed.
By then it was dinner time so we tried our old favorite Francesca's in downtown Kerrville. Unfortunately they had a 1 hour wait list so we went to another favorite Thai O'cha, just down the street. Kim called them from Francesca's and made us a reservation, 6 of us (T&K, A&S, Niles and John). Although they were short on staff they seated us quickly. Service was Verrrry Slow!!! We all only ordered water and it took 20 minutes to get it, and then it arrived in styrofoam cups. Turns out the dishwasher is also the spring roll chef and maybe handling the credit cards. Then the dinners were messed up (John's) But he ate what they brought since it was getting late. Stewart's ginger veggies meal was very tasty. John and Niles had walked from Francesca's to Thai O'cha. John was camping and Niles was staying at the Motel 6. He said his camping days are over!
---
Friday, April 15, 2022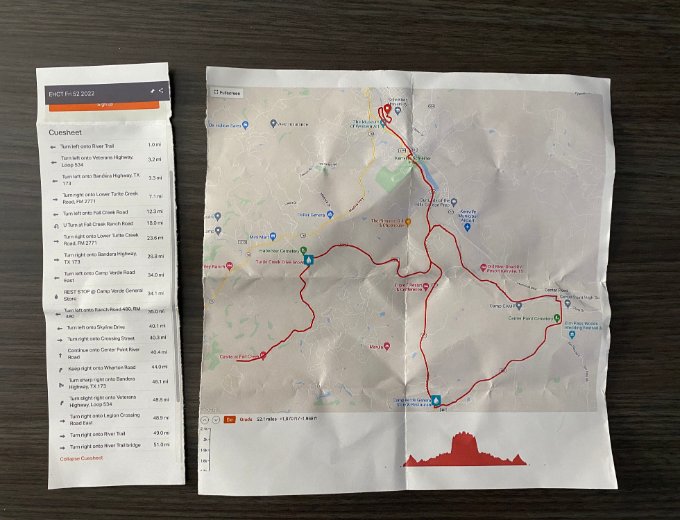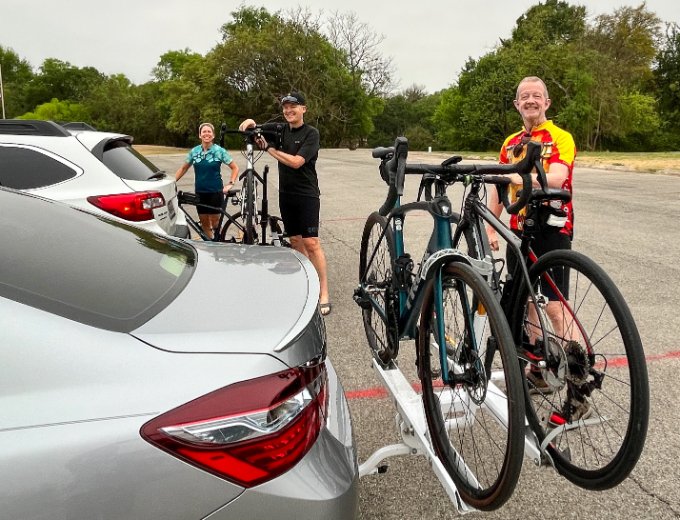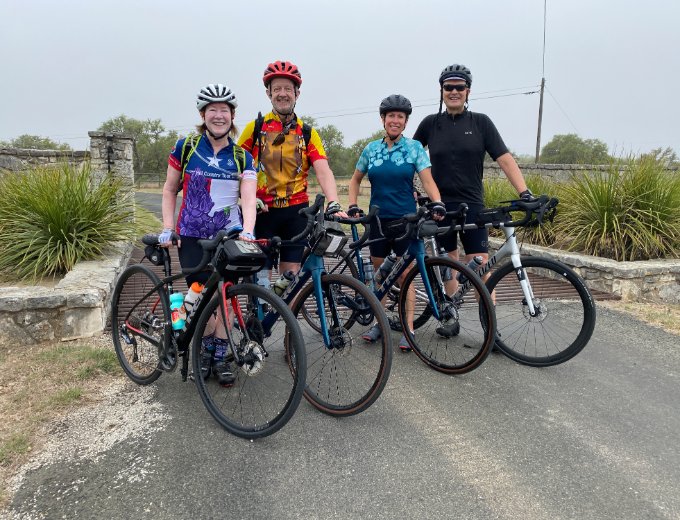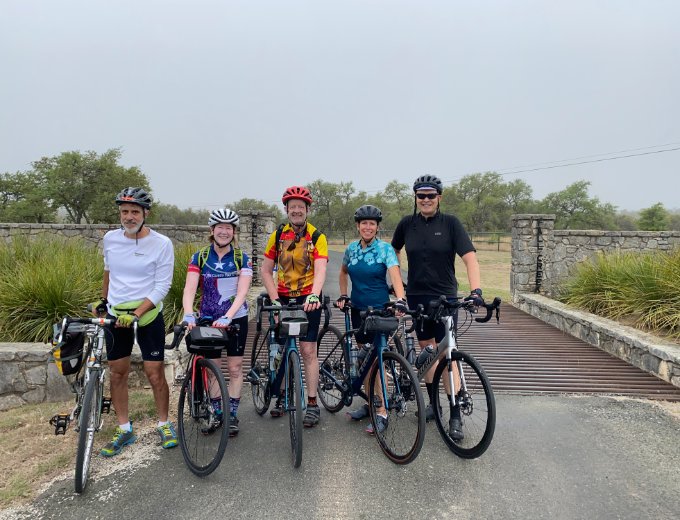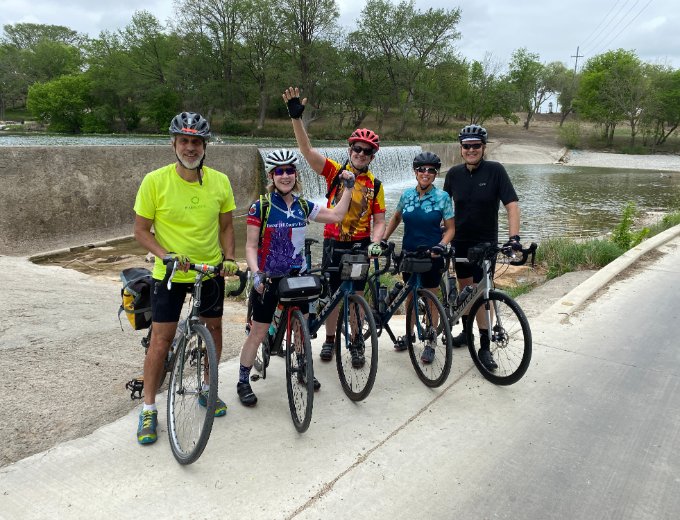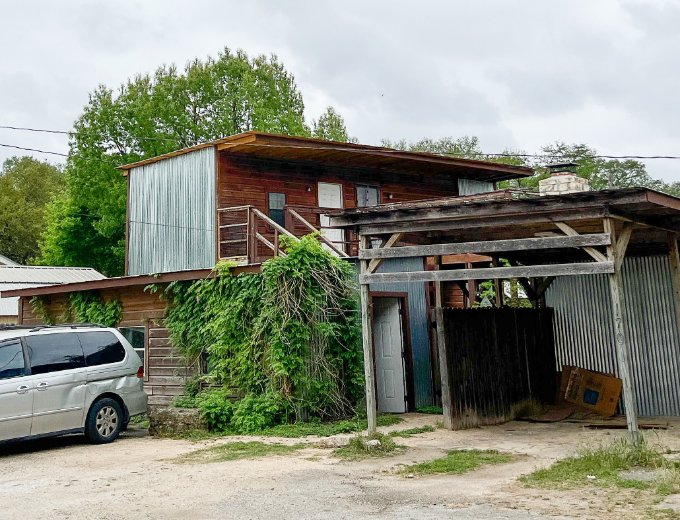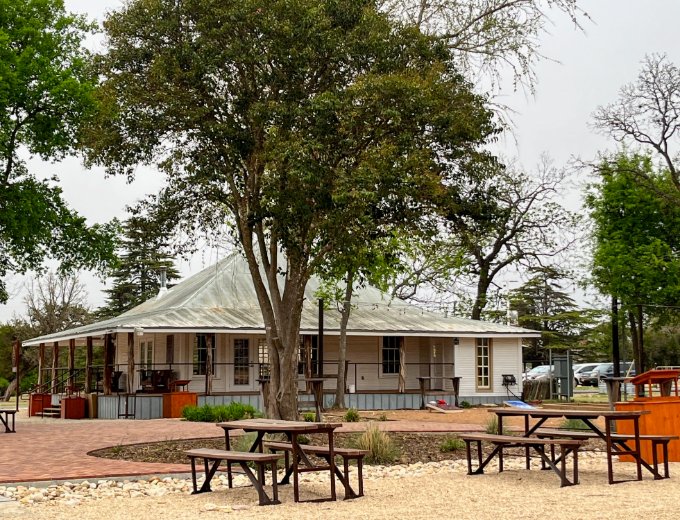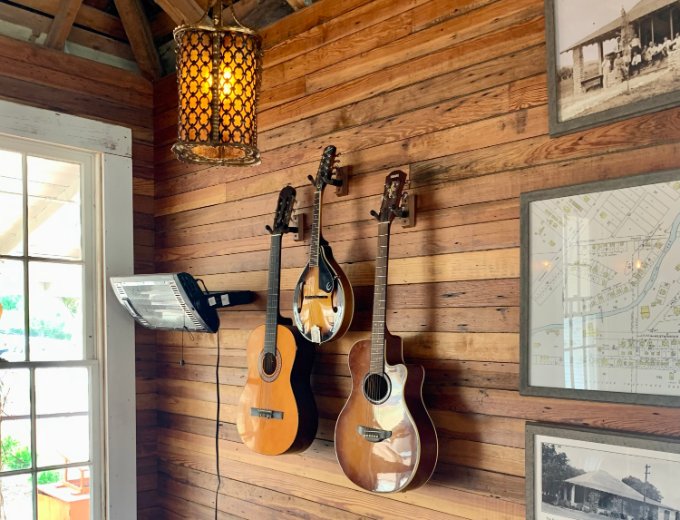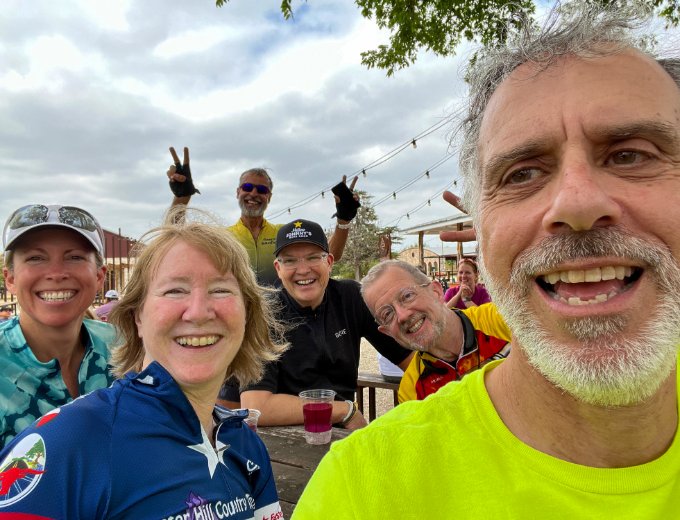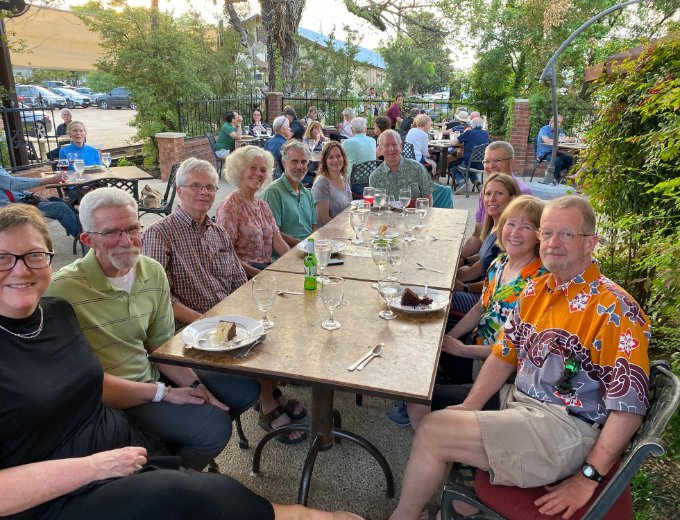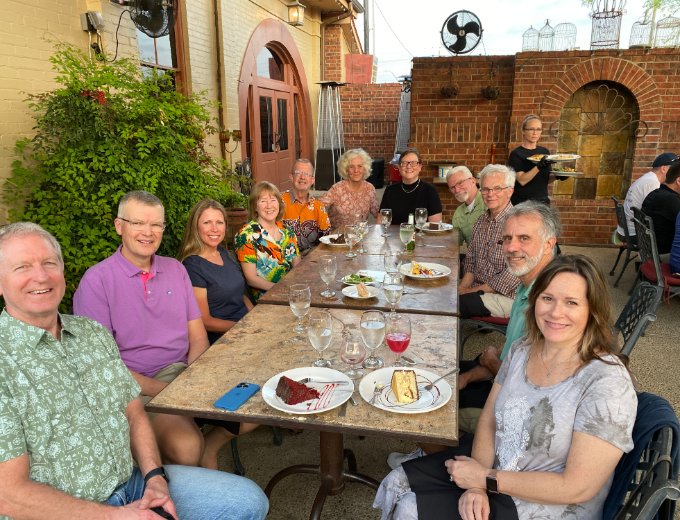 Stewart walked down to the lobby to get coffee about 6:15am. The Hampton had breakfast scheduled for 7am but it was all set up at 6:30, so we ate good oatmeal and bananas to fuel the days ride. We met the Jouberts at the cars at 8am, loaded up the bikes and gear, and drove over to Schreiner for the start. Niles was already there prepping and we rode together all day.
For the first time we used the iPhone app "Ride with GPS" to get spoken navigation cues. Also new was bone conduction headphones to keep our ears clear so we could hear cars and birds. Both worked pretty good although we'll need some more practice to get it right. Luckily the organizers had put down arrow markers on the road. Ours was purple and very easy to see. We had no problem with the routes.
We all four had gotten new bikes recently (well, Anne's is a 'new' 2019 Domane from Pro's Closet online). There was lots of gearing, tubeless tires, and electronic shifting discussions.
The route started at the Trail Head outdoor bar on the new trail along the river. It was beautiful! Schreiner had built this new outdoor pavilion with stage and bar and room for food trucks, lots of picnic tables under the trees and a direct connection to the trail. It was cool (low 60's) and misting when we started but no one wore jackets.
The route started on the bike trail that transitioned to real road after a couple miles. The route was a loop with an out-and-back which had a rest stop at 12 miles which doubled as the 2nd rest stop due to a U-turn at the top of a 17% grade hill at Fall Creek. We originally planned to skip the hill and turn around at the rest stop but we talked ourselves into it. Wow! Anne's new bike does not have as many gears as the Madone with triple chain ring. Maybe they both have 1-1 low gears but the new bike is 5 pounds heavier. Even so we all did it and got lots of pictures at the top of the hill.
Disc brakes were new on all our bikes and we got to test them on the downhill. Oh yeah, they are a godsend. Back at the rest stop, we found Craig E. (Yo) and met his friend Frank, a super friendly guy. We knew Craig from years ago when we lived next door to his brother, Marc, and Craig and Leigh would come visit. We'd all sit out back, drink beer, and eat barbeque.
It was a long slog into the wind to get to Camp Verde, our favorite rest stop along the river. We watched this place transition from a gas-stop-ice shack on the corner to practically a mansion, huge, modern, lots of stone, nice landscaping. All the rest stops were amazing with peanut butter sandwiches, pecan sandy cookies, fruit gummies, Sweet & Sassy trail mix from HEB, oranges and bananas and pickle juice. The helpers were incredibly friendly.
From there we biked to Center Point where we took our traditional photo at the Guadalupe waterfall. Then up a short steep hill and we were riding the river road to Dave's Place. It is no longer in business sadly so we thought we'd try Toucan Jim's but it was across a busy road not on the river and had only motorcycles, no bicycles outside. There was lots of new construction near Dave's Place. One bright white with black trim, another Colonial, not in sync with the area vibe. Several were more lakeside architecture with wrap around porches, plus little cabins that looked over the river.
Niles kept telling us to "be ready", gear down, soon there will be a hidden sharp climb after a right turn. Turned out to be a left turn but otherwise, ugh, Niles was right! It was 15%+ but fairly short. We decided to call it the "Seldon Incline" in tribute to Niles forethought.
We all noticed that there were Vultures everywhere on the route, lots up in the power towers and others piled on road kill (mostly deer) still others patiently waiting their turn. We passed a dead tree close to the road with 2 vultures and a Crested Caracara patiently sitting there waiting. We stopped and came back to get the pic. This was Stewart's first time seeing a Caracara, Anne's second, from last month on a "sister's trip". Off in the distant skies there were many (20-50?) Vultures stately riding the updrafts, slowly swooping and diving. They were all beautiful.
Back on the main drag, Bandera Highway, there was lots of traffic but good wide shoulder and strong tail wind. We finished back on the River Trail for the last 3 miles, lots of birds chirping along the river, a few people walking their dogs, winding through the trees.
Once done we packed up our bikes and gear and chilled at the Trail Head Bar. Stewart got a ginger non-alcoholic beer and the rest of us got really good Iced Tea. We grabbed a picnic table in the shade and John joined us while Niles tagged women he thought he recognized.
Super relaxed, we headed back to the Hampton for an excellent nap. Stewart had made reservations at Rails a Cafe at the Depot for 6:15pm. They set us up outside on the patio with room for our party of 11: A&S, K&T, Mary & Jack, Yo & Leigh, Frank and his wife CJ (who used to cut Marc's hair), Niles.
We heard a lot of interesting stories at dinner. Turns out Frank used to be a professional Rodeo Cowboy riding broncs bareback. He raced bicycles with Craig in the Frisco Velodrome and they met in the hospital after some nasty crash. Frank also knew our old spin instructor, Nick Chenoweth. Turned out Nick was Frank's coach! Craig had got his hip replaced in France after crashing on Mont Ventoux, the iconic Tour de France mountain climb, while gripping the handlebars on such a steep incline that he went over backwards. Now fully recovered, he rode 74 miles with Frank today. Craig's wife Leigh worked at Raytheon, same as Stewart, although they had never met there. Both she and Craig were planning to retire this year. Congrats to both of them!! Mary & Jack have 2 daughters, Eleanor and Vivian. Eleanor was an engineer that became an artist and has two children. Mary is quite the artist (painter) herself.
The server was fantastic and the food was amazing, total counterpoint to Thursday's dinner.
---
Saturday April 16, 2022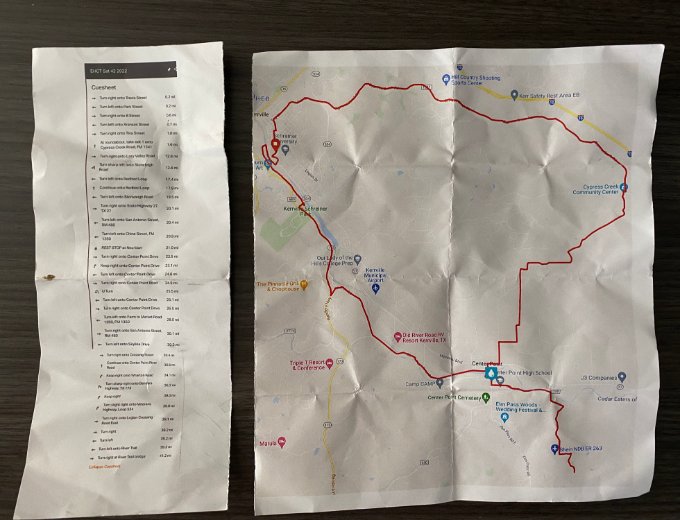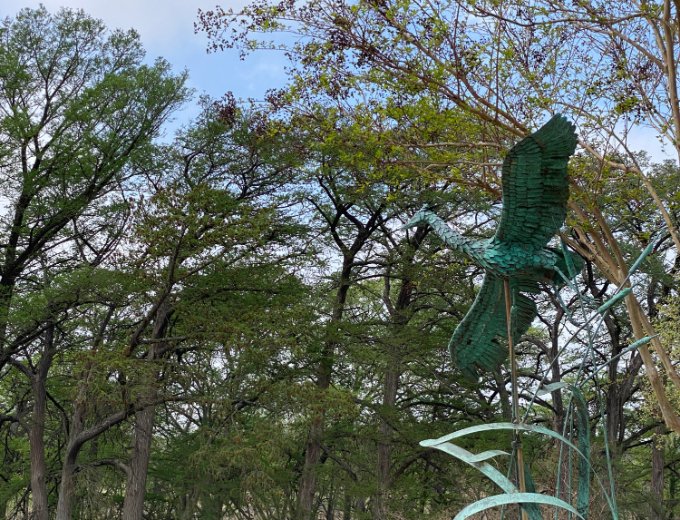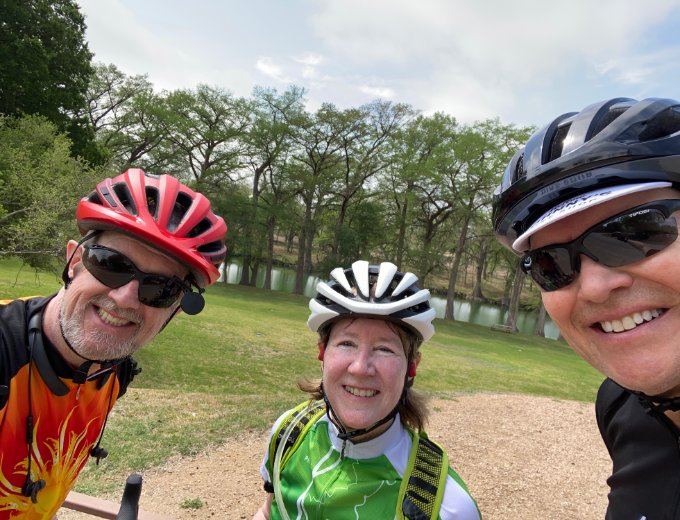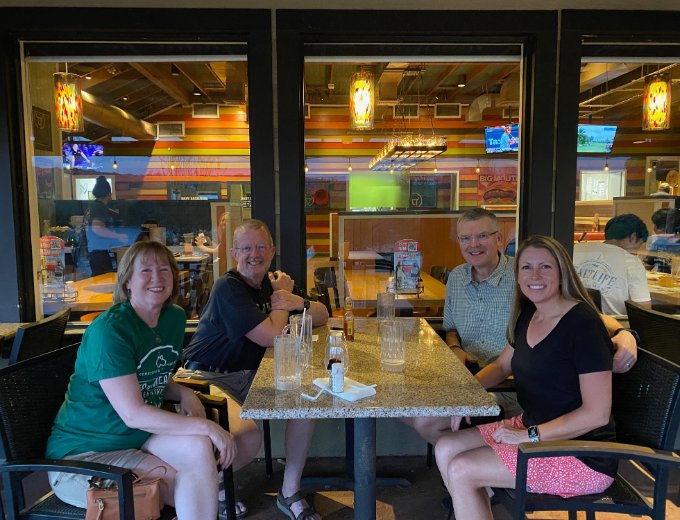 Saturday morning at the Hampton was a repeat of Friday. Kim decided not to ride today so S&A joined Todd on the 42 mile route. Anne really wanted to consider the 65 mile route but we decided not to. Turned out for the best. The Saturday route was shorter but had more steep climbs (2,375 ft total ascents) vs. Friday (2,257 ft)!
The start was again at the Trail Head with a slight mist, cloudy, in the upper 60s. Not chilly at all. The route was super hilly. Todd pointed out that the map showed the longest steepest incline at 6 miles. That was a slow 6 mile uphill leading to another 17% grade climb to the cell tower. Yow! Subsequent rolling hills were not as long but featured more 17%, 15%, and several 13% grades.
From the first rest stop, the route had another 10 mile out and back, arriving back at the first (now second!) rest stop. We all noted that this is a very smart approach to positioning the rest stops. Again, great helpers and snacks. The port-a-potties had wash-up stations with foot pump water, soap and paper towels. Luxury! At the turn-around, we met a guy with a teal to magenta iridescent Trek bike (Mitchell). He confirmed it was a Trek Project One. He got DI2 added to his wife's bike for $2K. Todd chatted with his buddy who was 74 and very fit. We were all attempting to get the elusive photo that captured the incredibly long and steep hills. We failed.
The route from the turn-around point to the end was all familiar, first because of the out-and-back and then from Center Point it was the same as yesterday. We were ready this time for Seldon's Incline! Back at the Trail Head Bar Pavilion we again chilled, drank some iced tea and coffee and made dinner plans.
Both days were new routes for us. There were no routes in Fredericksburg, TX this year. We guessed this is because Schreiner U. sponsored the ride and had lots of experience around Kerville and maybe a bit less in Fredericksburg.
Mary had suggested we consider the Chili's in Kerville on the river. She said it had a large, covered back patio that looked out over the river. Kim called and talked with them and we headed over there about 6pm. Mary was right! The patio out back was beautiful! There was nobody else out there so our personal waitress pampered us as we sat, talked, ate dinner and watched for storms to appear over the river from the south. It was so relaxing we sat and talked for 3 hours.
---
Sunday April 17, 2022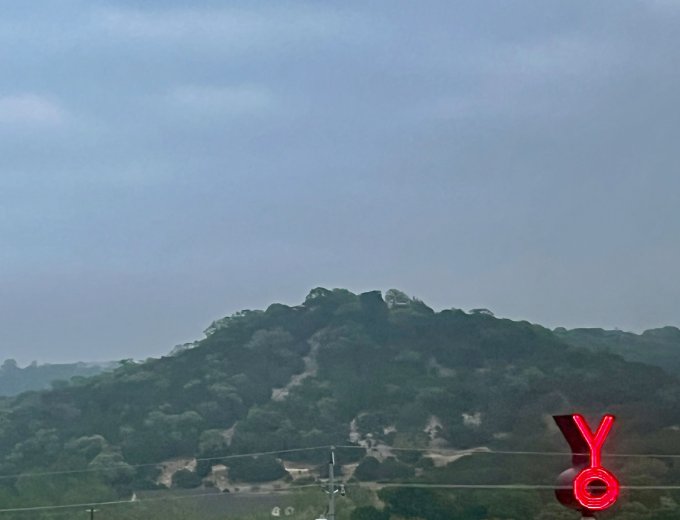 We both woke up early, got a little breakfast, packed the car, and headed out. Easter Sunday morning on the highways was mostly clear all the way back to Allen, TX. With our "time sense" compressed due to the drive down and hours of biking we hardly noticed (or now remember) the drive home. The kitties came running down from upstairs when we walked through door, glad to see us, giving us big hugs and kisses.
It was a great trip. Yay! to be "back from the dead" of Covid lockdowns.
---

end