The Year in Review - 2020
Anne & Stewart French


523 Seeport Drive
Allen, TX 75013

972-390-0930
http://stewartanne.com
stewart.french@gmail.com
french.home@gmail.com
---
2020 has been a strange, historic year. The COVID-19 pandemic has changed the way we interact forcing us into a more virtual existence. The news is, at times, apocalyptic. We are strict about our distancing, mask wearing, and hand washing and so neither of us has gotten COVID. But we now have 2 new great-nephews we have yet to meet.
New Years started great with niece Emily and husband Andrew visiting for puzzles, conversation, brisket, and fun exercise classes at LA Fitness. Little did we know this would be the last time we would see them this year. Nieces Mia and Brandi also popped in to visit and we enjoyed a new bird game, Wingspan.
We took a road trip to Houston in February to meet niece Meredith and husband Tommy's son Ben. They moved last year to a home near Stewart's brother Morgan and Mary Jane in Friendswood, TX.
We also got a chance to visit with Anne's nephew Doug and Manasi for lunch at Whiskey Cake in Friendswood, then spend some time with Anne's sister Trina's gang, D&M, Russell and Glenda with sons Ev and Auggie, niece Melanie and Brad and baby on the way, and having a sing-along with Trina while Stewart played her piano.
As Anne's work buddies continued to join her in retirement, she partied with them several times at Bavarian Grill, a Texas Instruments DLP retirement tradition.
Anne had a vacation scheduled in St. Louis in March to visit her sister Kathy when we started hearing serious warnings about "the Corona Virus". Disinfectant wipes were sold out everywhere so Anne got some from a neighbor to use on the plane and rental car. At the time there was one case in St. Louis and one in Dallas. Anne and Kathy had a great time visiting the St. Louis Aquarium with Brenda, Ben & Christy and Aurora. Her trip was fun and uneventful, but everything shut down the day after she came home, Friday the 13th. Then the chips started falling. Seeport Darlins stopped, Dallas Theater Center, Hear Here, and Broadway Series shows were cancelled, Heard guided bird walks stopped, organized exercise classes ended, our vacations were cancelled, and restaurants closed.
The news got grimmer as the hospitals got overwhelmed, grocery stores shelves were emptied, and we got infested with rats, no longer able to subsist on restaurant discards. Soon we learned the definition of "Doom Scrolling". We even avoided cycling outside to steer clear of hospitals. Although Texas started re-opening within a month, we've been in self-imposed lockdown since. TX now leads the nation in cases.
But not everything was total gloom. The roads are no longer crowded (though we have no place to go), so cycling is safer there while the trails have filled with walkers and new cyclists. We started picking up lunch curbside from our favorite restaurants to help keep them going. Anne's hair stylist Mya made us some very cool masks and other mask choices got fun, especially around Halloween. To get her hair done, Anne has to wait in the car until called, get her temperature checked, take in nothing but her phone, use hand sanitizer, and wear a mask with a filter.
Lockdown required a lot of creative thinking how to keep active and engaged. The roads are no longer crowded, so now cycling is safer there while the trails have filled with walkers and new cyclists. We both enjoy bird watching so we found local places to go to watch and photograph birds including: the Hagerman National Wildlife Refuge, Lewisville Lake Environmental Learning Area (LLELA), the Allen STEAM Center, Connemara Meadow Nature Preserve, Heard Natural Science Museum, Oakpoint and Bob Woodruff Parks, and other hiking trails near our house. These are all within an hour drive! COVID compelled us to find these birding hotspots. To better recognize the birds and calls we took online classes at the Cornell Lab of Ornithology, including classes on bird photography. Cornell and Audubon also held several webinar session with world wide birding experts that were both charmingly amateurish and strikingly professional.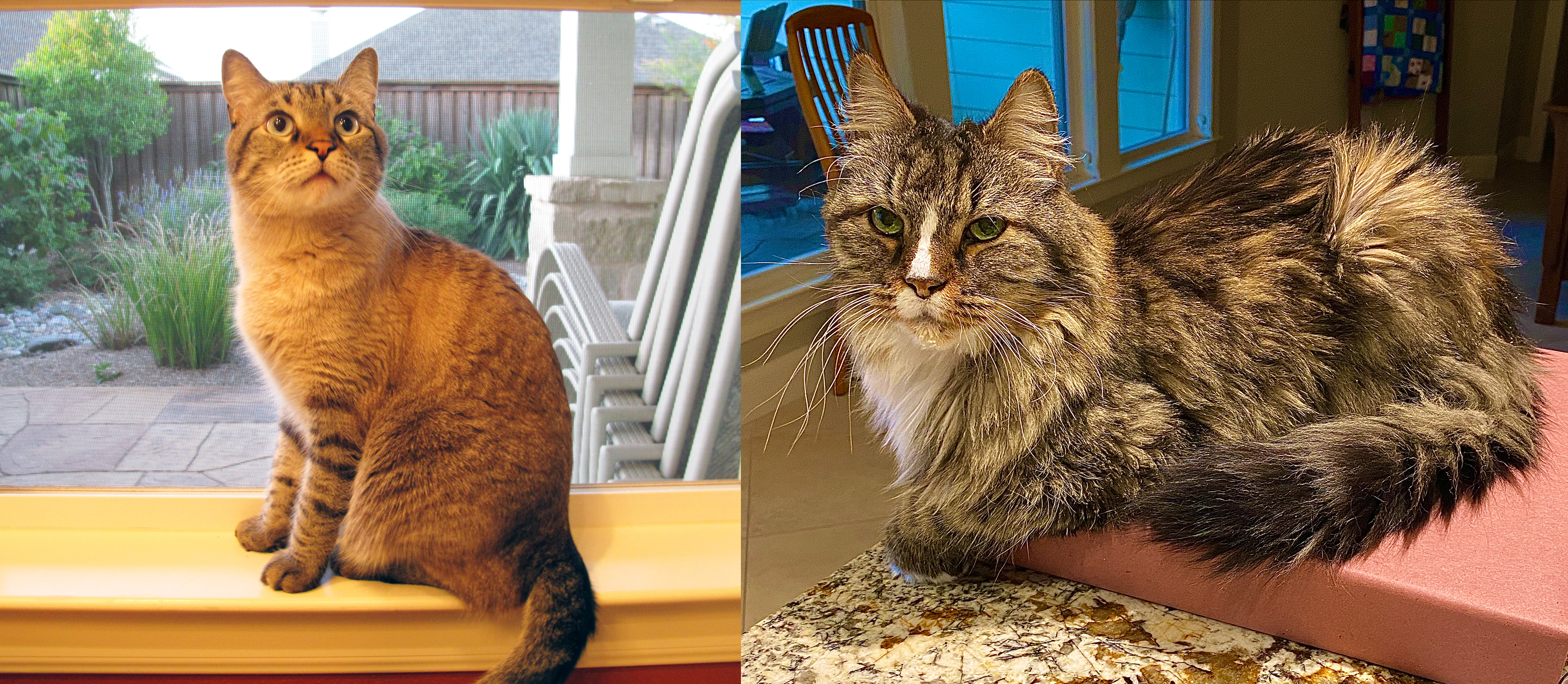 In June we had to say Goodbye to our sweet cat Seebie. He started having trouble breathing and it got progressively worse, then we discovered that he had throat cancer. In life Seebie was so relaxed and easy going that he got the nickname "Sea Breeze". His passing was the same, calm and peaceful. We have fourteen years of wonderful memories and are going to miss him. Staying home under COVID lockdown probably saved our other cat, Tootzak's, life. Now 15 years old, he would not have done well alone in the house by himself while we were off on some vacation.
Since LA Fitness suspended in-person exercise classes, we had to substitute at-home exercising. We had been using a bike trainer with our own bikes to cycle the virtual worlds of Zwift. Online biking exploded in 2020 and we rode the wave. We biked a virtual Tour de France, the Tour of Watopia, and Tour de Zwift, and many organized and group rides. In Zwift we got to ride with the Twenty20 Pro Women's Racing Team and the Ineos Pro Men's Racing Team. We would never have done this In Real Life (IRL is now an acronym!).
We also signed up for the Texas Distance Challenge where we first rode across Texas in "Ride The Crossing", from El Paso to Texarkana, 814 miles. Using our Zwift virtual miles had us finishing this in 2 months! So we signed up for "Ride The Loop", where we looped Texas, 3,612 miles. We added our friends Maria, Claudia, and Jeff as contributors on team "Burnin' Bums". We finished the loop in two months! We each got a t-shirt and some stickers.
Not wanting to give up our step classes, we found our instructor Michele had released hour long step classes on YouTube, so we got some steps, cleaned out the garage, and started do the classes out there. We had to setup several large fans in the summer, then an electric heater in the late fall and winter to keep things comfortable. Hurray for Michele to record these classes (19 so far!).
In April Melanie and Brad had their first child, Charlie, a baby born during the pandemic. Melanie wasn't sure up to the last minute whether anyone would be allowed to accompany her, but Brad was able to be there. When schools re-opened Melanie enlisted the help of his gimmie Trina and aunt Manasi for babysitting visits as she dealt with in-person and remote teaching. Then in July Meredith and Tommy had a second son, Gabe, a happy, healthy baby. Grandparents Morgan and Mary Jane, both retired now, can spend more time with their grandsons.
Gabe's birth brought the number of great niece/nephews to 6 : Evelyn (Cliff & Tammy's daughter), Everett & Auggie (Russell & Glenda's), Ben & Gabe (Meredith & Tommy's), and Charlie (Melanie & Brad's). We hope to see them all in 2021!
Also in July we were happily surprised when Manasi's cousin Dipen delivered her delicious baked goods (cookies, banana and lemon breads) along with some gigantic Cooper Farm peaches from Houston to our front porch. We miss being able to stop in Fairfield, TX to pick up peaches on our family trips to Houston.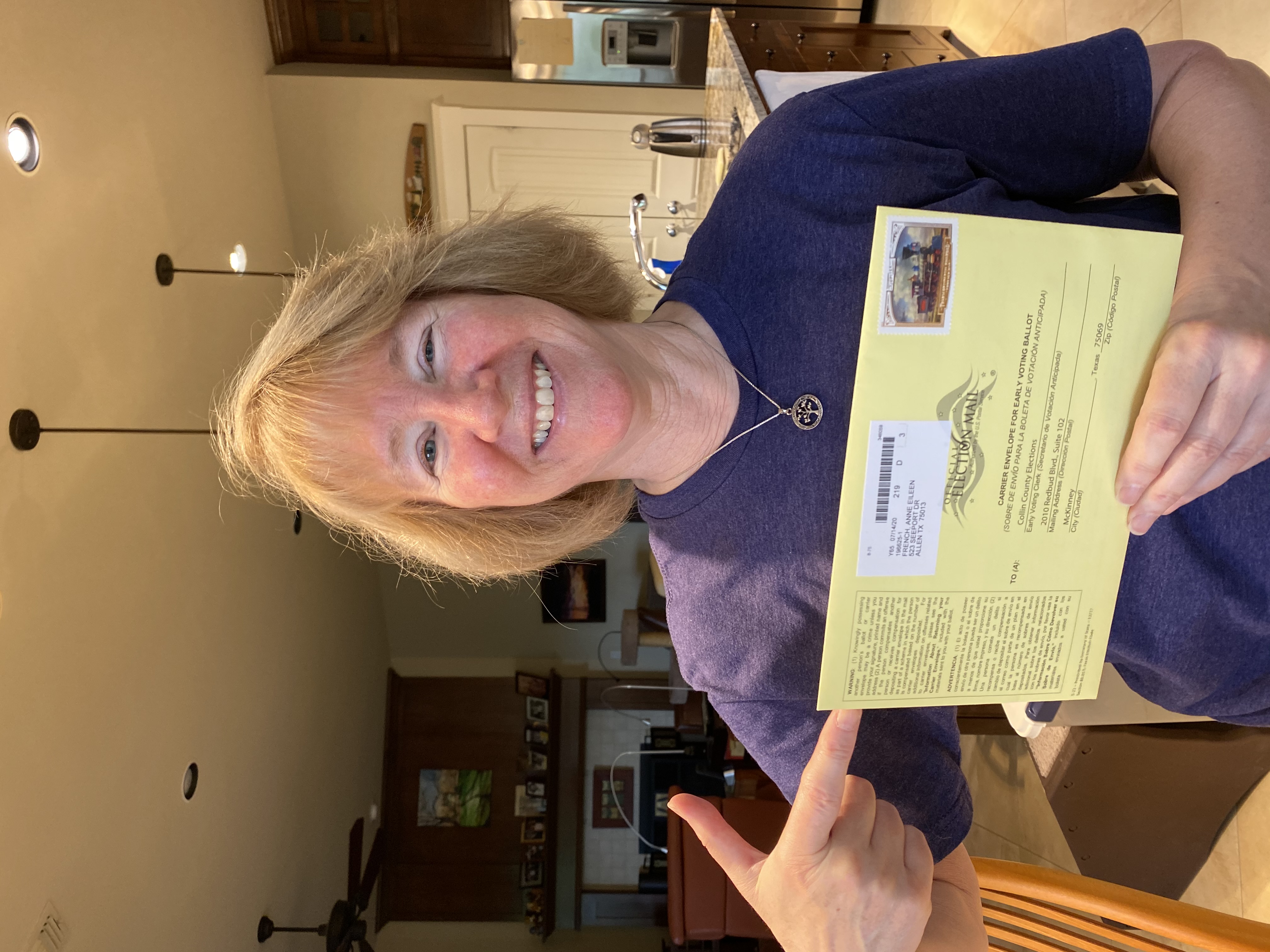 We were concerned about Halloween this year. Would anybody Trick-or-Treat with the threat of COVID? And, if they did, how would we make it safe for them? We setup the front porch as one-way with 6-ft markings on the sidewalk. Kids entered from the front, picked up individually bagged candy, turned right and headed off the porch onto the driveway. We stayed back and laid out candy between visits. Drum roll please : 133 T-or-T'rs came to the house this year!
Anne decided to be more active in city government and politics this year. She was invited to join the city of Allen Library Board. They hold virtual meetings to help guide the city library's future spending. She also participated in the election by delivering voting guides in our precinct to try and encourage everyone to vote. It worked! We saw record voter turnout. Since Anne turned 65 this year, she got to vote by mail in both the primary and the presidential elections. It worked flawlessly. Stewart had to vote in person, he's only 64 years old, and that worked flawlessly too.
The pandemic also required some creative thinking for entertainment. Luckily, the artists have always been good about this. We have found and watched many shows online including - Hamilton on Disney+, a Virtual Monterey Jazz Festival, several birding webinars and classes, etc. These replaced all the cancelled broadway and theater shows we've attended in the past and hope to attend again some day.
Most recently we started inviting our neighbors and friends to visit for a glass of wine and conversation sitting on the front porch. Our front porch is large so distancing is easy and we run the ceiling fan. Turns out this is very easy for us and the neighbors and works great to get a little social contact.
Since her retirement Anne joined the Newcomer Friends of Greater Plano, a group of women who hold lots of different types of mostly virtual events each month, card games, book clubs, outside walks and happy hours. Everyone is mindful of the pandemic restrictions. She even attended a Zoom cooking class. We made those exact dishes for our 2-person Thanksgiving meal and they turned out great.
We created a very small bubble that includes our friend Maria who bikes and hikes with us, and our neighbor kids who visit often, at a distance on the porch. We visited multiple times with Anne's brother Glenn and wife Mina to pick delicious fresh figs from their huge trees.
Vaccines are on the horizon that will hopefully bring things back to normal. Until then, enjoy your bubble, stay safe, and have a happy 2021!
---
end