The Year in Review - 2019
Anne & Stewart French


523 Seeport Drive
Allen, TX 75013

972-390-0930
http://stewartanne.com
stewart.french@gmail.com
french.home@gmail.com
---
Hello Everyone and welcome to Anne & Stewart's Year In Review 2019!

It was bound to happen. After 35+ years at Texas Instruments (and 4 elsewhere), Anne decided to bid work life 'goodbye!' She retired August 5th, 2019. She made a lot of friends along the way and will miss their smiling and sometimes totally confused faces. In the last week of work her buds threw her the best retirement party ever at our local dive, the Bavarian Grill. There were lots of beers, cake, and games of 10,000 while Anne danced around with her new Bobblehead likeness in her new Tyrannosaurus Rex inflatable costume (apparently they think of her as a dinosaur). On to the next chapter!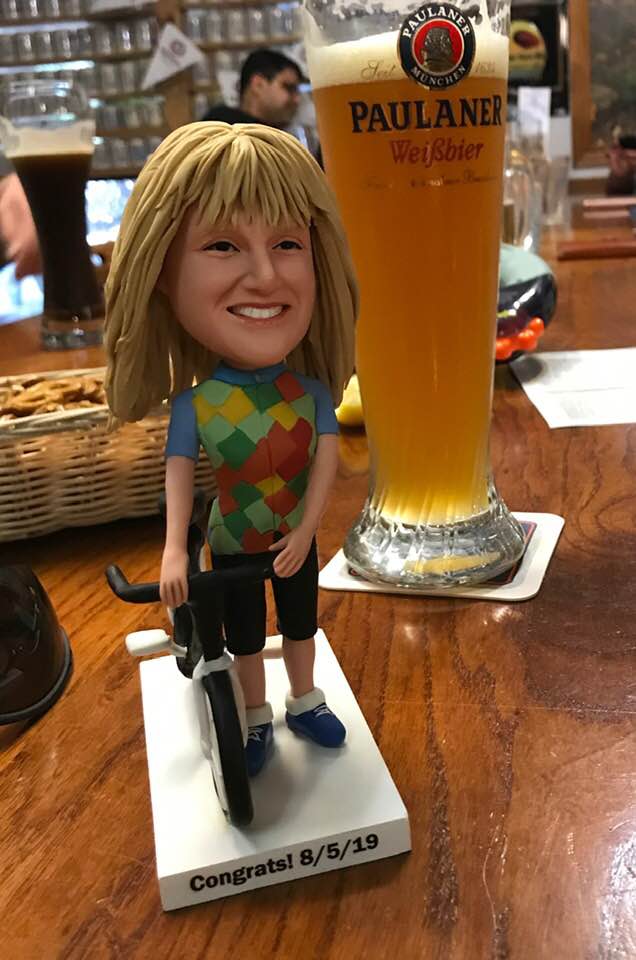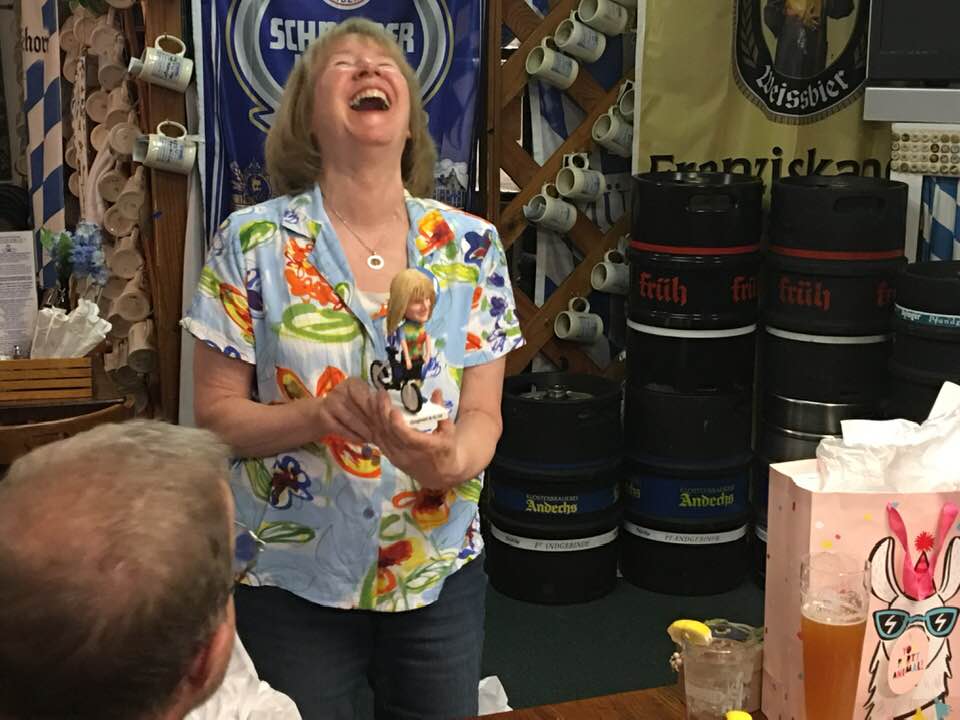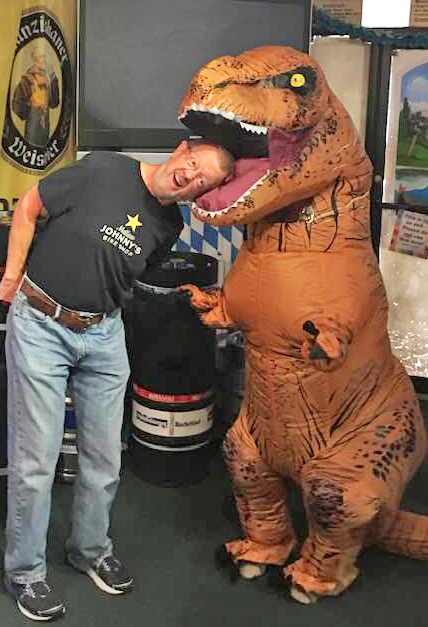 Another highlight of the year was our niece Emily & Andrew's wedding. We had a great time sharing in the wedding dress shopping, the rehearsal dinner, the hair/makeup prep with Emily's sister Mia and Andrew's sister Amanda, the ceremony, dinner and dancing. Stewart was honored to act in the role of father of the bride to toast the couple and have a dance with Emily. We loved meeting and visiting with Andrew's family, their friends, and touring E&A's new home in Austin. At the wedding we found out that our niece Melanie is pregnant! We are excited for Melanie and Brad and look forward to the new arrival in April.
Anne and her sisters were able to sneak in not one but two sisters trips this year. In March, Trina, Trese, Kath and Anne visited Pt Reyes National Seashore in northern CA to catch the migration of the elephant seals which had taken over Drake's Beach with little resistance while the government shut down kept away park employees. The animals were in full schnoz and the scenery was breathtaking. The trip included a visit with Kath's son, Tom, and his wife, Elizabeth, at their beautiful home in nearby Oakland. Then in mid-November, they converged on Trese in Indianapolis who was an amazing guide to the migrating Sandhill Cranes in northern Indiana. They braved near freezing temps with their long lenses and binoculars to take in the foraging and flights of some 17,000 four foot plus tall birds.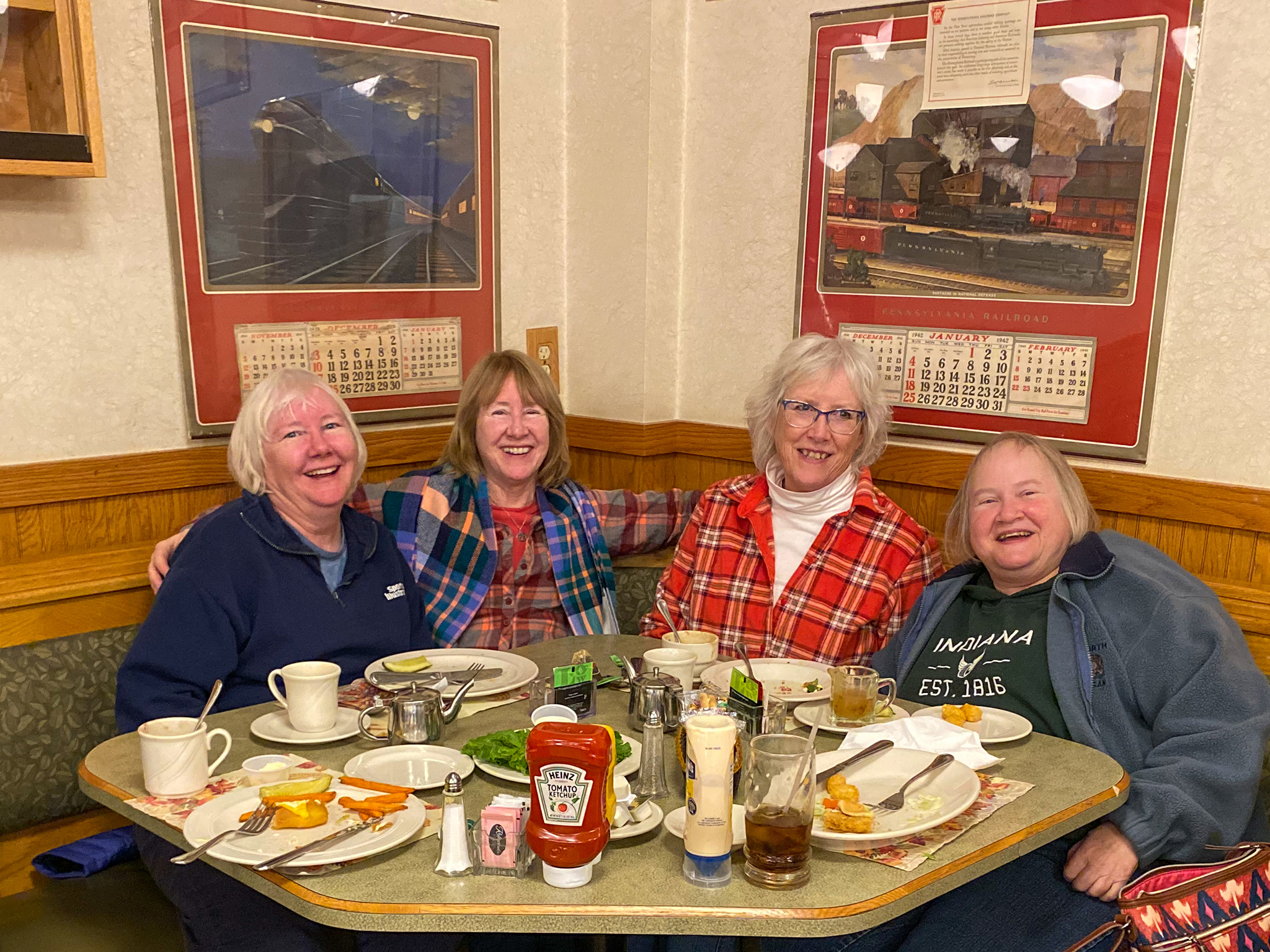 In January, our old friends Dan and Paige invited us to a wonderful house-warming party at their new home in the country north of McKinney, TX. It was great seeing them and other friends from the early days, Ross and Ellen, Dale, Alex and Annie, and Marty.
Our good friend Chris Schulmeister ran for Allen City Council and won! In February, he visited with us for a couple of hours asking us our opinion and writing it all down. It felt great to be included in the research and planning side of city government.
Niece Emily came to Dallas several times during the year to hunt for her wedding dress, then again to purchase, then again to pick up. Stewart was so happy to be able to join Anne and Emily's sister Mia for the unique experience.
Later that month, niece Brandi decided to purchase a home. Stewart helped her with financial analysis and we joined her visiting several potential homes. She ended up buying a nice large country home in Southmayd, TX. Trina brought a house warming gift, her painting of Brandi's dogs Penny and Charlie. We are very happy for her and hope to visit often when we drop by the Hagerman National Wildlife Refuge to bird watch.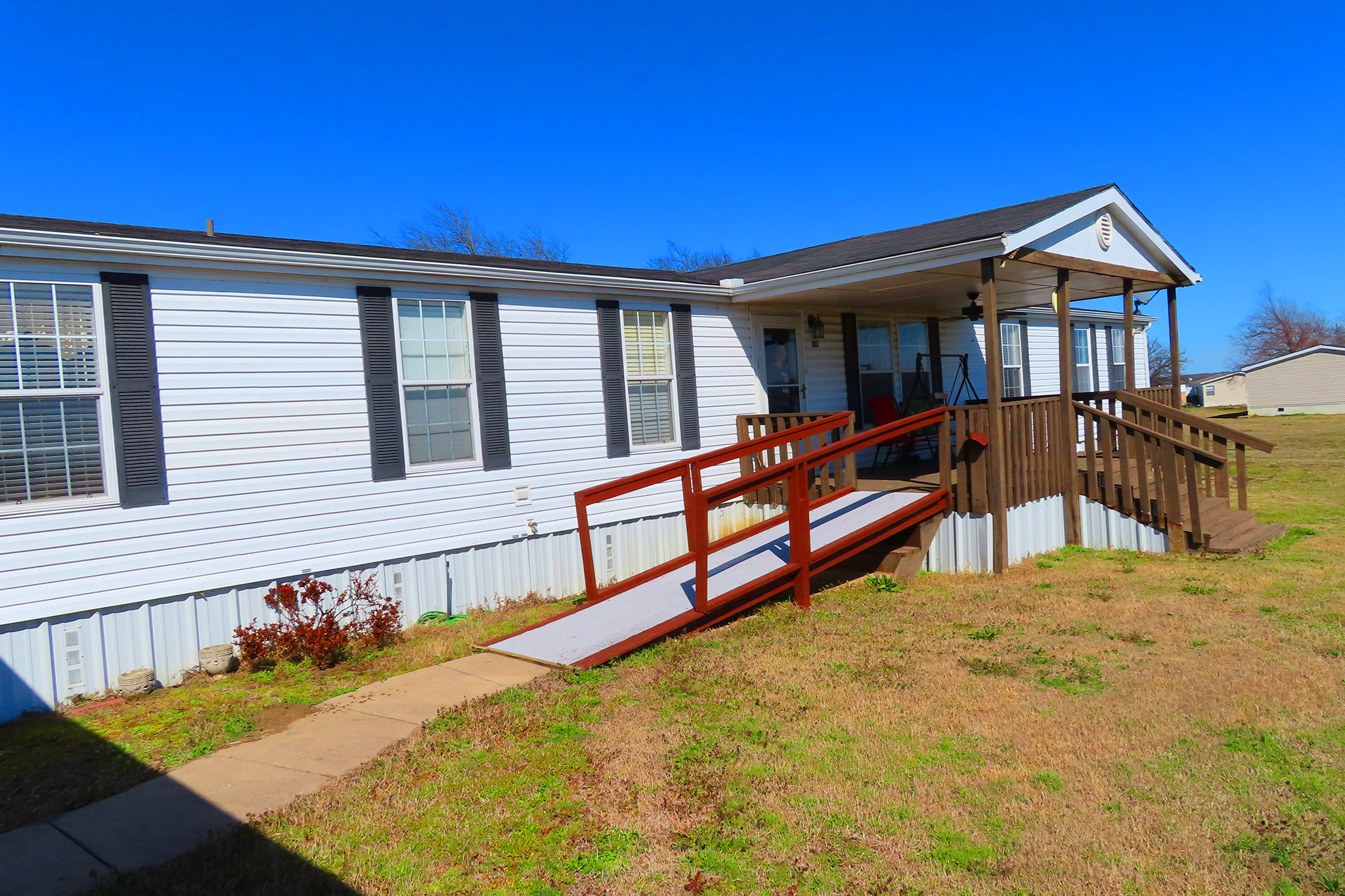 In March, Stewart's brother Morgan and Mary Jane hosted their daughter Meredith & husband Tommy's baby shower for the upcoming birth of their son, Ben. It was a great time visiting with family, meeting their friends, sitting outside enjoying the beautiful Houston weather. Ben was born in May and we look forward to meeting him soon. Congrats to Meredith & Tommy!
Nephew Doug & Manasi came to visit in March. We headed to the unique Croatian village of Adriatica in McKinney, TX for dinner and a concert. Jazz Guitarist Mimi Fox was playing at the Guitar Sanctuary for an intimate show of acoustic and electric guitar.
Later that month, our friend Maria's son, Ethan, got to appear on a Fox 4 TV newscast with his high school drumline. It was fun seeing them play for the announcers and TV audience.
Spring brought the annual Easter Hill Country Tour bicycle rally in the Texas Hill Country. Our friends Todd & Kim had bought a new condo in downtown Austin this year so we headed down on Thursday and met up with them and niece Emily for dinner downtown, then conversation and 10,000 in the new condo. The cycling Friday and Saturday was spectacular, catching up with John, Niles, and Mary, chasing the vultures as they circled in the skies, climbing the terrifically steep hills that make the Hill Country what it is, and relishing the vista views of prickly pear cactus, old live oaks, and miles of bluebonnets, primrose, and daisies.
Anne had been wanting to see the musical Hamilton since it made it's debut on Broadway. She got the opportunity in April and asked friend Maria to join her. They had a blast! It was so much fun that Anne convinced Stewart to sign up with her for a subscription to the Dallas Summer Musicals where we'll see Broadway productions in 2020.
Anne's sister Trina came to visit in April. Anne has been hanging out with the neighborhood women (the "Seeport Darlins") and they've been to "Board And Brush" several times to make wall art. Trina and Anne sat on the porch and added a fun summer theme to one of her boards. The neighbors came and watched as they enjoyed quality porch time.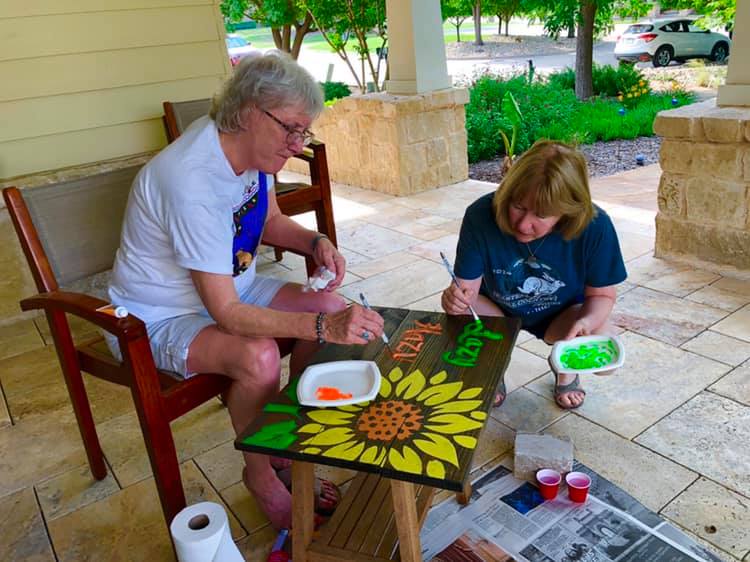 In June, we took another Backroads vacation, this year bicycling Canada's Vancouver, Salt Spring and Galiano Islands. The guides dragged 18 of us, bikes and luggage around this beautiful British Columbian scenery. 'Snackroads' kept us satiated while we climbed and climbed then whined then wined and dined. The gardens were spectacular and harbor views spell binding including all manner of watercraft and waterfowl. All around the islands, birds and animals prosper as do artists of various media. And the Canadians we met were delightful!
Anne's birthday happened while on holiday and we had the great luck to catch Jacob Collier in concert at JazzFest in Victoria, BC, probably one of the best concert we've ever seen.
Niece Emily and (then) fiance Andrew, while planning for their wedding and both working full-time jobs, happened to zillow their perfect home in Austin, TX. A seller's market, one can't delay when the perfect home comes available so they pulled the trigger and bought it. It was very exciting, reminding us of our first year of marriage when we also bought a new home and Stewart changed jobs.
We have the best neighborhood and neighbors, especially on the "loop" near Norton Elementary, in front of our house. With only one way in and out it is the perfect place for a neighborhood July 4th parade. This year all the kids and parents lined up on their bikes, scooters, skateboards, and wagons and were led in the parade by Lady Liberty (neighbor Jen, who dressed the part).
July is our big Tour De France month where, for several years now, we dedicate all of it to watching the 21 stages. This year we watched an epic climbing stage up the Col du Tourmelet at the home of our friends Vicky & Dave, along with their family and friends. (Vicky attended in spirit because she was in Indiana greeting a new grand baby.)
In July, niece Emily and Andrew were honored with a wedding party/shower at niece Melanie & Brad's house. Anne had fun attending while the couple tried to guess each other's answers to tricky relationship questions.
On her last official day at TI Anne had a fun day at a Dallas Back-to-School event handing out free school supplies. She got to work the Undies for Everyone station! Genius donation. The families were sooo grateful. Anne actually delayed her retirement by one day so she could ride the complimentary shuttle from TI into downtown Dallas for this event!
We've biked in the Hotter N Hell Hundred bicycle rally many times. This year it was a particularly good Saturday to ride. Joke was on them... it was only a high of 91 degrees! Beautiful countryside, including a rest stop at Sheppard AFB, and lots of friendly folks, plus the rest stops all had great photo ops. The Consumer Show was fun too, adding a bunch of tricked out 'art bikes'. eBikes made an appearance and we weren't too proud to draft a fat tire eBike for several miles... sweet!
With 3 weddings coming up, September was the time to update our wedding clothes. Stewart talked with Andrew and got the suit color then went and picked up a new suit (long overdue). Anne then matched/coordinated a new dress, shoes, and bling. Oh my, we looked marvelous, if we must say so ourselves!
With Anne retired, we took our first opportunity (on a Wednesday!) to visit Ft. Worth's Kimbell Art Museum to see "Monet The Late Years". 52 paintings that trace Monet's bold, abstract evolution from 1913 to his death in 1926. It was fascinating, and set a nice precedent for retirement activities.
Our step aerobics instructor, Sandra, opened Red Canoe Bake and Brew in downtown McKinney this year. In September we met up with our stepping buddies, Jonda, Kelly, Sara, Denise, Claudia, and Sandra for a fine lunch ( after step class, of course! ).
Anne's sister Teresa came to visit in September and joined us on a beautiful morning bird watching and hiking with niece Brandi at the Hagerman National Wildlife Refuge near Brandi's new home.
Anne's friend Katy's son Joshua got married to Na in October. We had a great time in Austin attending and visiting with Katy and her sons, Jonathan and Joshua, along with friends and family. We drove in the day before and stayed at the venue hotel which gave us time to have dinner with Emily and Andrew at the hotel restaurant on Friday night, plus a spin class and lunch with Emily on Saturday, including a tour of their scenic Cat Mountain neighborhood.
Another crazy fun Halloween in the 'hood, including Trina visiting to complete the duo of Dino (played by Anne) and Dino Doo (Trina). 199 Trick or Treaters this year. Stewart outdid himself decorating and we had great visits from Mayra & Juan, plus Parker and Taylor neighbors and all the other trick-or-treaters came by from all over. This year was particularly special with the neighbor kids helping to create 36 custom luminaries that lit the path to our house.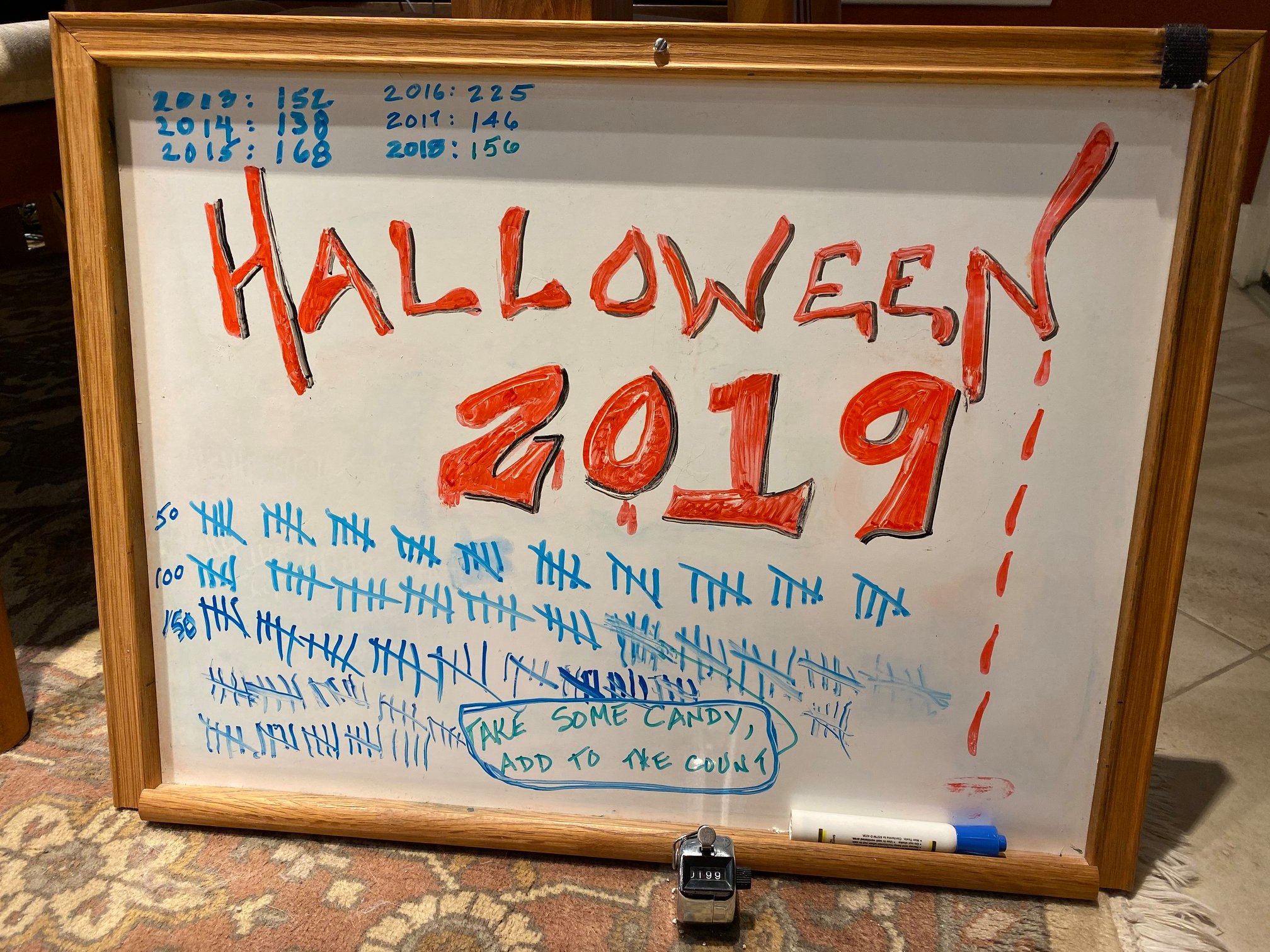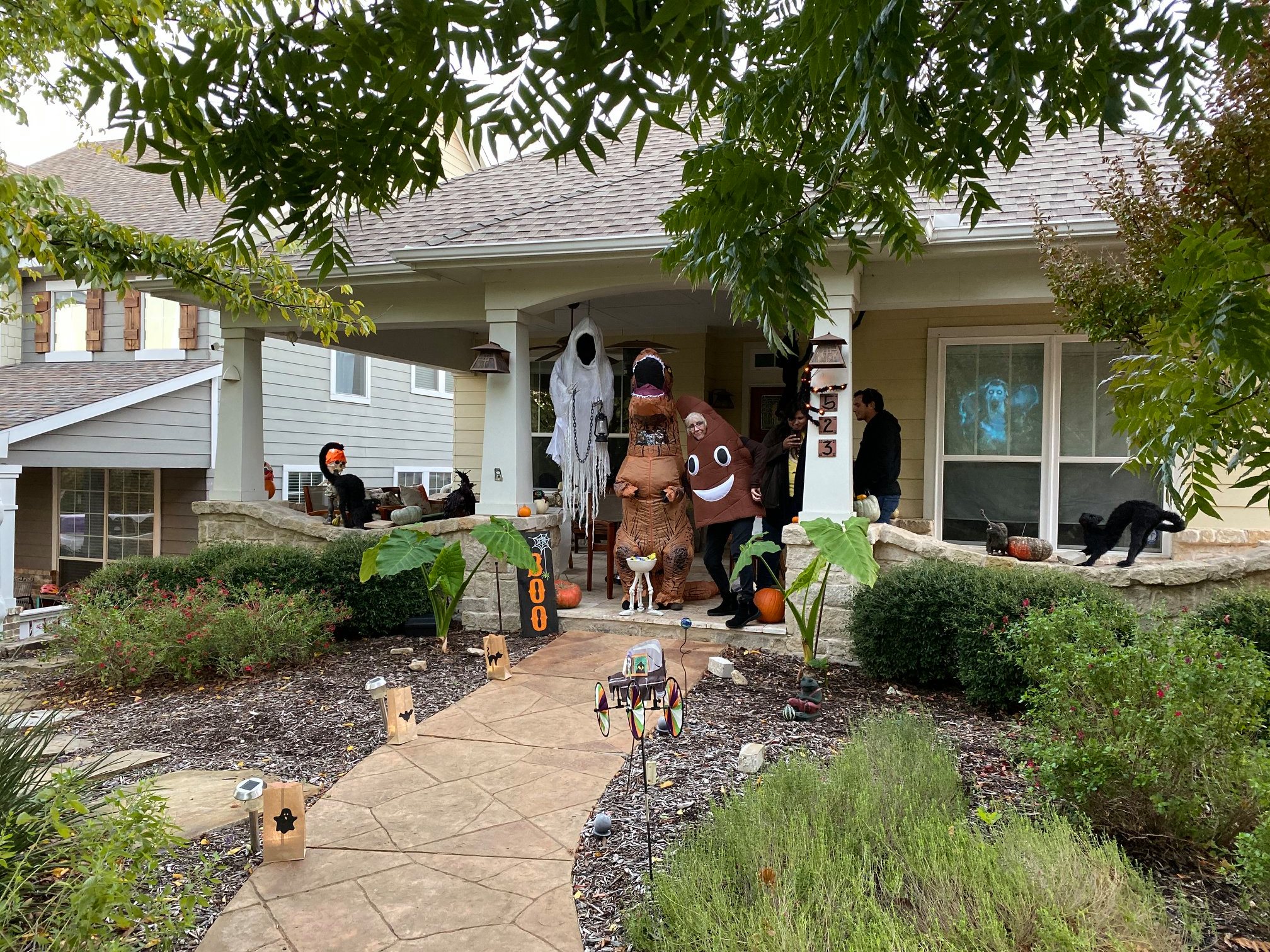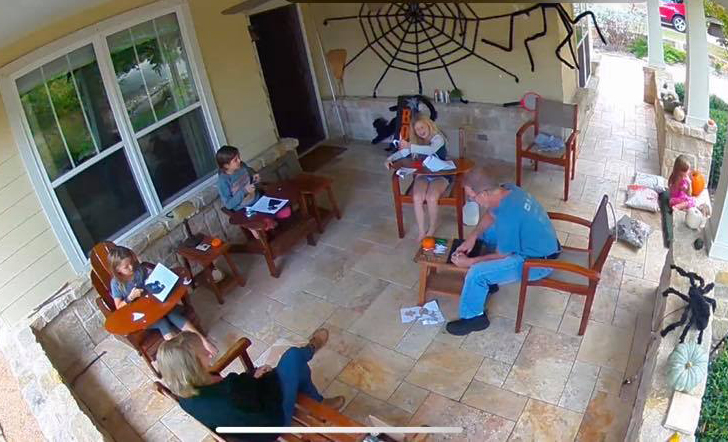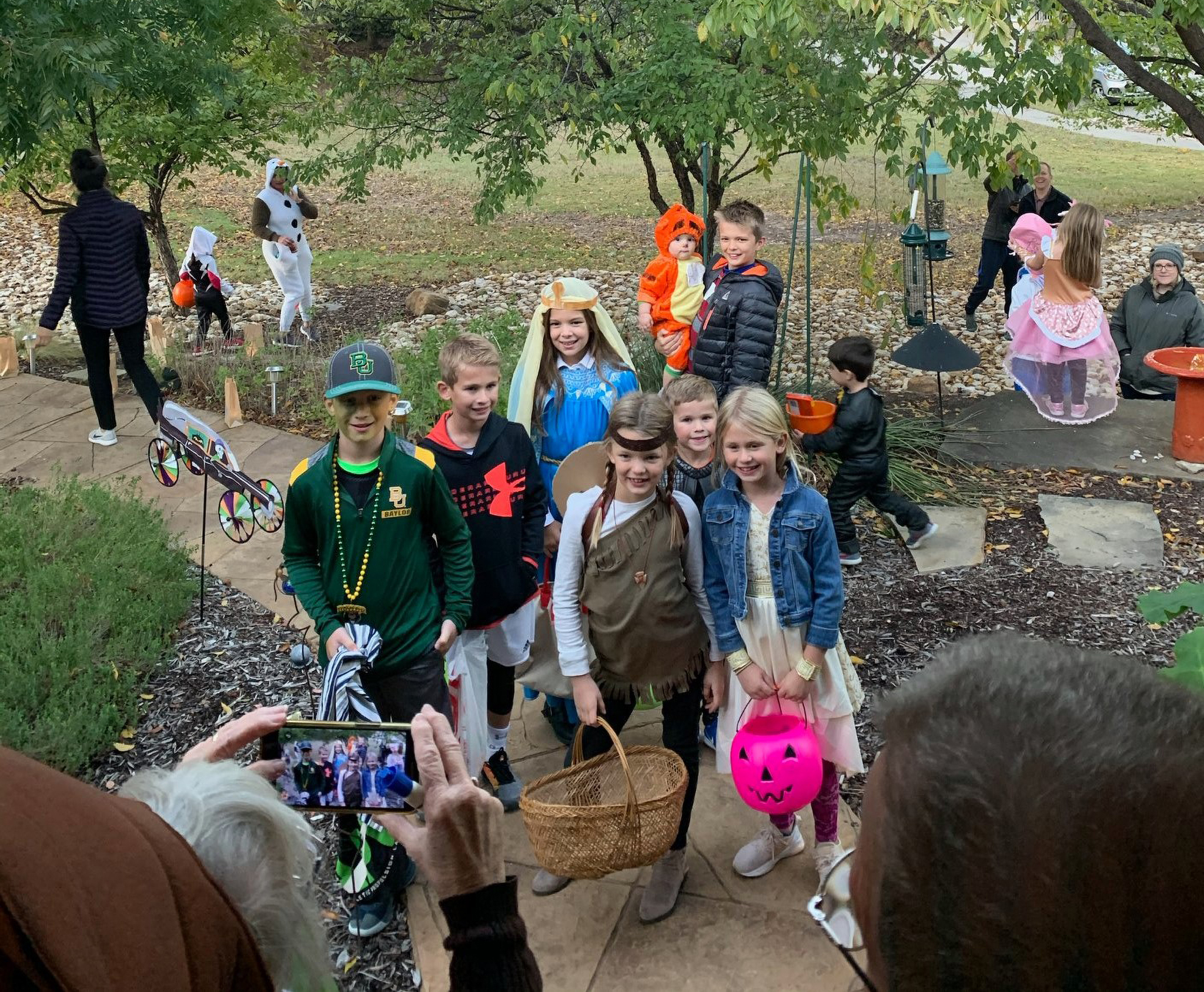 In November Trina, Doug and Manasi came up from Houston, Mia joined from Denton and Kathy came from St. Louis to join Anne, Stewart and Andrew celebrating Anne's brother Glenn & Mina's 50 year wedding anniversary. We gathered back at the French digs in Allen after lunch at Platia's in Frisco and had fun playing games, finishing puzzles and singing along to Stewart's piano playing long into the evening.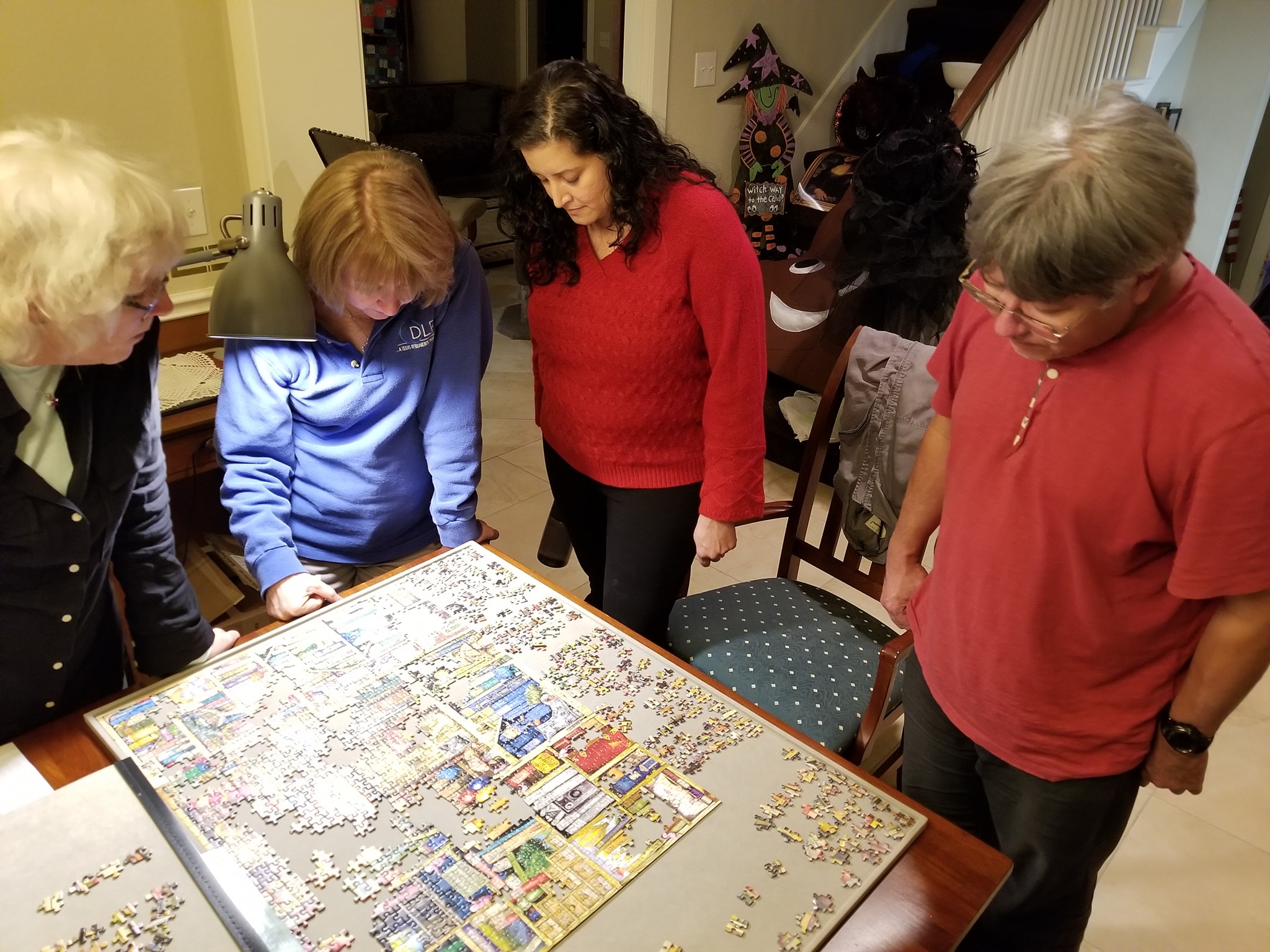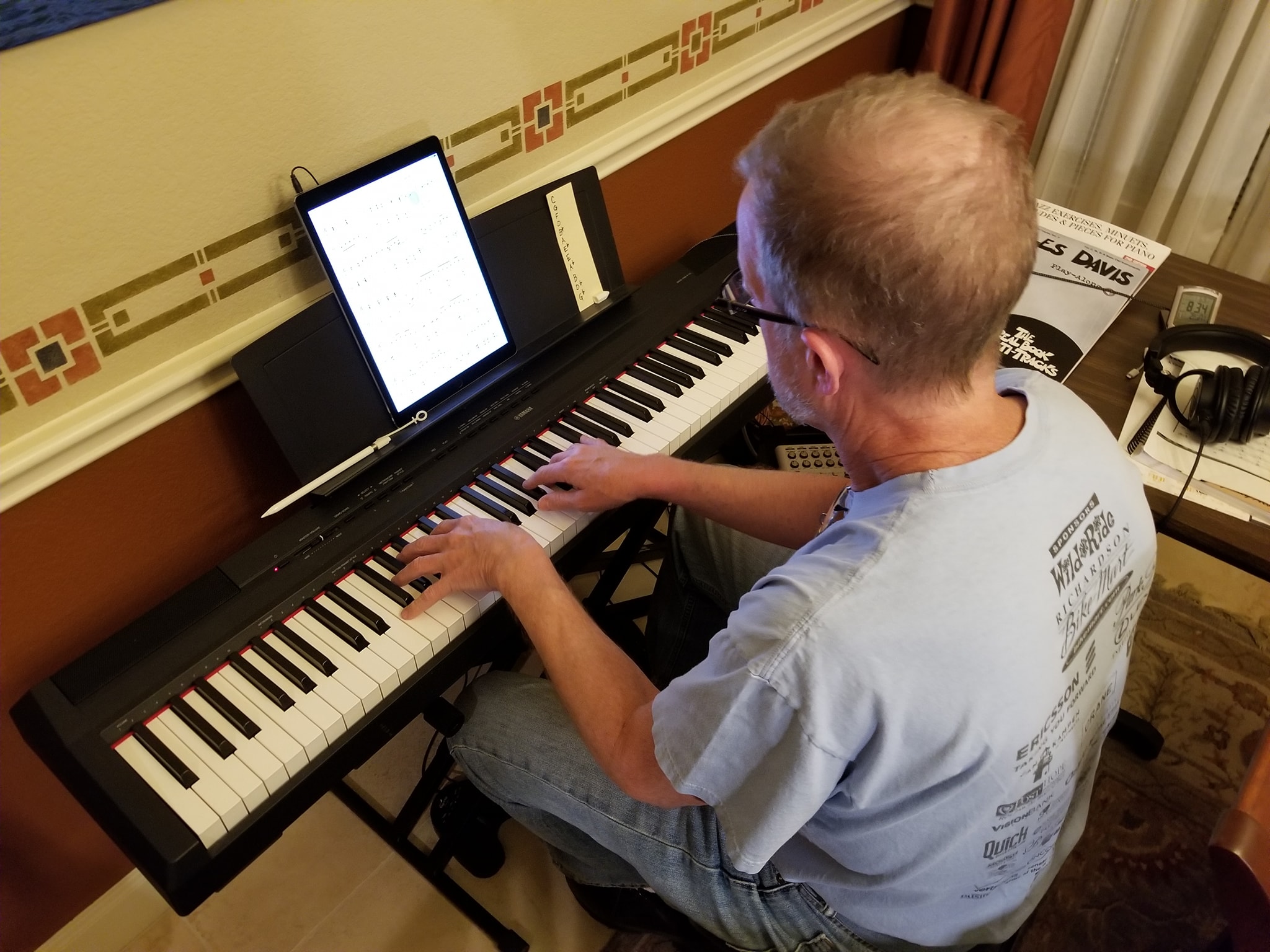 Had a great time at the JPII High School watching friend Maria's son Ethan in his last marching band football game and Senior Recognition ceremony. The band was great and the football game was, we assume, very good too.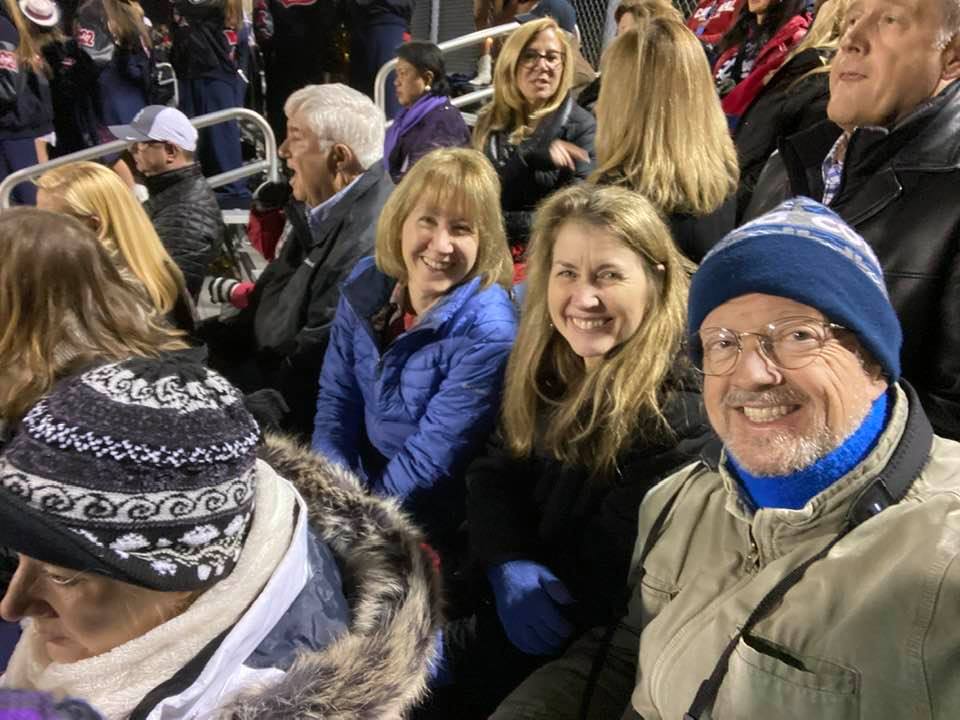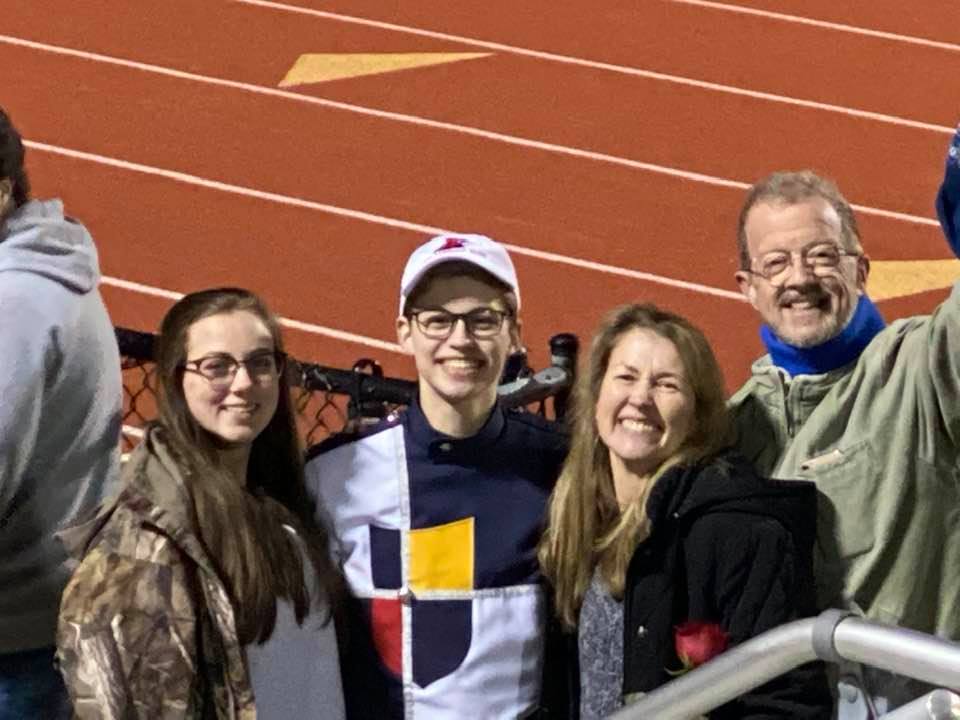 Seems the season for weddings this year. Our long time TI buds Nancy & Paul invited us to the wedding of their daughter Sarah & James. It was held at the church right across from our old house, then the reception at the golf club in McKinney. We got to see several folks we had not seen in 30 years, including Mary Lynne, Pat, and Jane who have not changed at all over the years!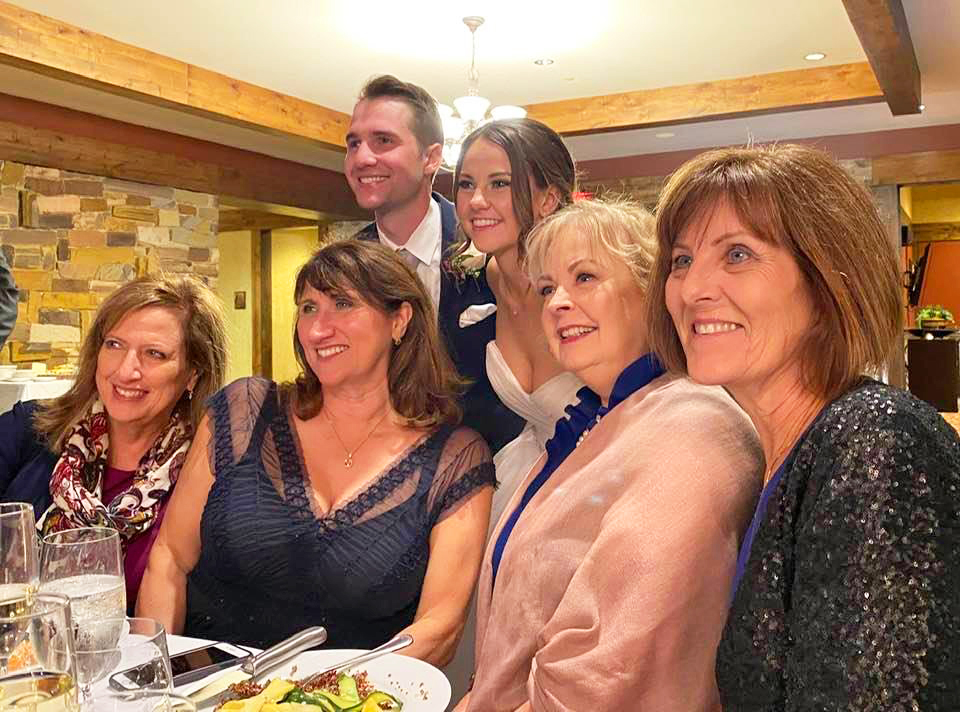 It was a wonderful, although a bit short, autumn this year. We went from summer to fall in a matter of days, it got cool, the wind picked up, and the leaves started falling. In the words of neighbor 5 year old Austen, "It's raining leaves!". Everyone helped out to pile them high so the "leave diving" could begin.
We gathered at friend Maria's home for Thanksgiving this year. Anne's brother Glenn, Mina, and son Andrew joined us there for good food, conversation, and a walk around the block. Maria's daughter Samantha and her friend Sergio visited for a while, while her son Ethan was in Rome visiting the Pope (yes, that's right, The Pope !)
We continue our ameteur bird watching with several walks in the Heard and Hagerman Wildlife Sanctuaries near our house. We are slowly getting better at id'ing the birds by sight and sound in these beautiful natural environments.
We've been biking outside this year and also biking inside using the app Zwift. We got to bike France's epic Alpe D'Huez (aka Alpe du Zwift) mountaintop, London's Yorkshire routes, Austria's Innbruck race course, and several others, without leaving our home. The app, combined with our smart trainers, recreates the mountains, roads, and comaraderie of biking with enthusiasts from around the world in real time. Ride On!
This year more than ever we got opportunities to visit with neighbors on our beautiful porch. The neighborhood kids visit us on the porch several times a week, playing games, helping make Halloween luminaries, learning weather facts, and enjoying themselves.
Stewart had quite the scare mid December. He developed an obstruction of the small intestines. 7 days in the hospital and a successful Exploratory Laparotomy soon had him back on his feet.
In other health news, Stewart has been struggling with vein issues in his legs for several years. Early this year he had a series of successful laser and surgical procedures done to correct the situation. Recovery was quick and he is completely back to normal.
Anne had a cholesterol screening done that turned up a problem. This led to a Stress Test and the Dr.s recommendation for Statins. However, after several visits with a dietician, she was able to get her numbers down, her weight dropped, there was no need for statins, and without sacrificing much at all. It could not have turned out better.
Happy holidays to all! We hope you enjoy good friends, good health, and time with nature in 2020.
---
end