The Year in Review - 2013
Anne & Stewart French


523 Seeport Drive
Allen, TX 75013

972-390-0930
http://stewartanne.com
stewart.french@gmail.com
frenchhome@gmail.com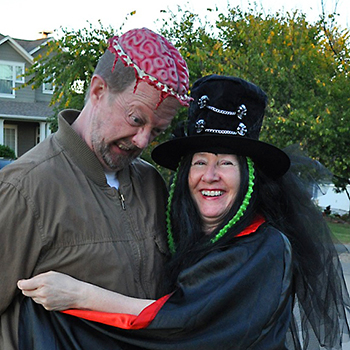 It's been a very busy 2013 for the French family!
We had a nice Christmas 2012 holiday in Houston, first at Morgan and Mary Jane's house (Stewart's brother and his wife), with their daughter, Meredith, and son, Cliff, plus four dogs (Lady, Angel, Daisy and Fluffers... three of which are pappillons!). Then to Doug and Manasi's house on XMas eve day with Trina, Manasi's sister, Manisha, and Russell, Glenda and Everett, Melanie and Mia, plus the two dogs, Hunter and Layla. Finally on XMas to Trina's house with Emily, Mia, Tom & Priscilla, Steve, Doug, Manasi, Manisha, Russell, Glenda and Everett, Melanie, Brandi, Reta (Steve's mom), Joanie (Steve's sister), Joanie's son, Josh and his girlfriend, Kacey, and the dogs: Dakota, Comanche, Shamus, Penny, and Charlie.
Playing "Pass the Popcorn" guessing movie names from story, cast, characters and quotes was a boisterous lot of fun, even though Melanie knew every answer instantly and won every game.
While we were away, our hometown Allen, TX got 4+ inches of snow on Christmas Day! Our cat sitter left us notes about the boys running to the window hearing the kids playing outside in the snow, and having to slip-slide into the neighborhood to feed them. We learned a new weather word: graupel... little balls of hail-like stuff that was all over the yard.
Everett turned 1 on January 16th so Anne made a trip to Houston to join in the celebration at Russell and Glenda's.
Starting in winter and throughout the year, Stewart & Anne caught some great events in downtown Dallas, including King Lear, Anything Goes, Book of Mormon, Jazz at Lincoln Center orchestra with Wynton Marsalis, National Geographic Live showcasing Birds of Paradise research, Ira Glass: Reinventing Radio, and David Sedaris. With the new Klyde Warren deck park straddling the freeway, the Perot Museum of Natural History and the new children's garden at the Dallas Arboretum, this city has gotten pretty cool recently. Come check it out!
In February, we took a tree pruning class in Frisco, then joined Glenn and Andrew for lunch. Later that month, we headed up to Denton to celebrate Mia's birthday with Brandi and Mia's friend, Rebecca. The tour of downtown Denton was fun with all its quirky shops and music venues. It's a well kept secret Austin substitute.
In March, Anne hosted the Seeport Darlins neighborhood womens' get-together. This group is seriously into fun, food and wine, and Stewart doesn't mind since he always gets some of the left-over desserts.
At the end of the month, we did The Easter Hill Country Bicycle Tour, meeting up with our friend, Niles Seldon, at the Thursday night packet pick-up. We had some appetizers there and then got dinner along the river. Anne suspects it was the packet-pickup grub but she woke up with a bad stomach ache. We did the 50 mile bike ride Friday anyway and it gradually subsided. It rained the next day so we connected up with friends, Kim and Todd Joubert, at Mozart's in Austin. Normally they would have been doing the ride with us but their business has taken off so they are busy (a good problem). Later, we met up with Emily (Anne's niece) and her boyfriend, Andrew for dinner at Hoover's. Lots of great company but not too many bluebonnets.
In March, Trina, Melanie, Brandi and Mia visited, our annual Estrogen Fiesta revisited. The bluebonnets were thicker here than in the hill country, and we had a nice day with Trina at Celestial Park too.
Cycling started picking up in March, as Anne resumed bike rides into work and we did these rallies throughout the spring and summer: Tour Dallas, Richardson Wild Ride, Waxahachie Cow Creek classic (again with Niles), Collin Classic (reconnected with our old friend, Julie), Katy Flatland in Houston (got soaking wet in the rain but no safety issues). We also have some favorite 50-60 mile routes from home down and around White Rock Lake and out to East Allen across Lake Lavon and up to Snug, a great little coffee shop on the square in McKinney.
In May, Anne finally took a bicycle maintenance clinic and Stewart came along even though he knew all this stuff already. But Anne's tires were carefully chosen to not actually ever get flats (Continental Gatorskins) so they're thick and tight and Anne couldn't actually get them off to practice changing the tube. Even the instructor struggled with them. No flats yet, knock on wood.
Early that month we went to our first Jimmy Buffet concert. What a hoot! There were RVs full of Parrot Heads and fins everywhere. We met up with our neighbors, Lou Anne, Jeff and Joe Mitts and had an absolute blast.
Unfortunately, in mid-May, we bade farewell to our friends the Roy family who have lived across from us since we moved in to our new house in 2007. A new job in Austin pulled them away and the whole neighborhood, plus Emily and Mia, turned out for a huge party on the green. We rented a bounce house and had five tables of food and over 100 people. This won't be the last we see of the Roys.
Their move to Austin was prompted by changes at TI and Anne's Spring Creek location saw changes as well. Even as the campus is being renovated, they closed the cafeteria and athletic center. We were suspecting an imminent sale, but they put up brand new Texas Instruments signs both front and back. Time will tell. One huge downside for Anne is the loss of the shower so biking to work will likely be history. On the upside, her newest project involves Head-up Displays in cars, so that's a lot of fun.
The rest of May was a blur: watching cyclists zoom around the square at McKinney's Bike the Bricks, catching up with lots of retired TIers at Kelley's East Side Plano, doing a Cinema "field test" at work to see "Star Trek: Into Darkness", and a 31st wedding anniversary dinner at Brio with the traditional decked out prom crowd. Whew!
In June, Melanie visited for Anne's birthday, and joined Glenn, Mina & Andrew for dinner at Patrizio's. We also checked out the new Perot Museum where Plastiki was 'docked', the 60-foot catamaran made out of 12,500 reclaimed plastic bottles, and saw Joss Whedon's Much Ado About Nothing at the Mockingbird Angelika. It was hilarious!
Morgan and Mary Jane also visited, and we drove the area scoping out various neighborhoods to entice them to move here, include a drive by SouthFork. Yes, it's still there and lots of folks still make the pilgrimage.
Alas, July brought another going away party, this time for Richard and LeeAnne Powers who moved to Seattle, again due to work. We had a great time hanging with them and Jeanie and Chris Schulmeister, Stephen and Doris Dyson Brown, and Deb and Ron Lieberman. Hate to see the Powers' moving out of earshot range but looking forward to them hosting the OFC get together in Seattle!

Later that month, Anne gave a DLP demo tour to 50 middle schoolers. DLP had won an Emmy and an Oscar for technology and they got them out of the locked display cases so the kids could actually touch them ... so Anne finally got to hold them too. Nice!
In August, we had quite the adventure in Oregon. After a fantastic time in Eugene and a few days cycling near Crater Lake, we had two unfortunate circumstances: wildfire smoke so thick we couldn't actually see the supposedly stunning lake, and Anne crashed. She hit a pothole hidden in the shadows of the massive pine trees while descending the mountain. She got pretty beat up but was 100% fine within three weeks and was back on her bike. For those that want the gory details -- Clik Here.
Back home we had several fun visits from neighborhood kids, sometimes retrieving balls, bats and hockey sticks that make their way into our back yard, sometimes taking home peppers and cherry tomatoes growing out back (and pretending the peppers aren't that hot), and sometimes to give us some blueberries and Cheerios. We love the visits, just one of the perks of living near an elementary school.
In late August, Doug and Manasi brought Mia to move back into UNT in Denton. We got stuff out of the bed of the truck and into the dorm just minutes before the rain started. Whew!

In September, Maria, Samantha and Ethan visited with a friend, Michael, for pizza on the grill. Samantha took over the pizza making process, Ethan was snapping photos like crazy, while Stewart was out back working the grill. Ethan had particular fun playing with Stewart's Christmas gift from Anne last year: a motorized bicycle "racer" with handlebar luggage, training wheels and questionable kit that played a tinny version of "Lonely Goatherd" while wheeling around the kitchen.
Mid-September Anne visited Delphos for her 40th high school reunion. What a blast seeing good friends, Cathy and Jenni, Elaine (Arnzen Sheehan and Ditto McBeth), Lori, Marilyn, Joan, Marty, and Karen. Hadn't hung out in the Rustic in 20 years!
Back in north Texas, we joined Jeanie and Chis Schulmeister for a late season Rangers game and got to try out a really good Nolan Ryan ranch hot dog. Wonder if those will be back next year? On an up note, we saw Rios hit for the cycle! What are the odds?
We love travelling Texas in the fall. October was gorgeous and we headed down to San Antonio to visit with Melanie, Emily, Trina, Doug, and Manasi Webb, along with Melanie's roommates and friends. We played many games of 10,000 (aka Farkle) in the cozy nook, had breakfast on the deck, lunch at Luxury on the river, hiked the RiverWalk to Chalk it Up downtown and a really nice dinner at Tre.
The next week, we had a retirement dinner for Mina who is leaving flight attending behind after 21 years. Mia joined us along with Glenn, Mina and Andrew at Macaroni Grill. Homecoming attire was all around us.
Halloween was again a lot of fun. Stewart donned his zombie brain, Anne her draculess wig and cape, and we fired up the projector in the front bedroom showing ghouls storming the window synchronized with ghostly noises. We got out the white board and sharpies and kept track of the visitors. Between the elementary kid neighbors and the trucks bringing outsiders around for the show we had quite a year. Final count... 152 Trick-Or-Treaters! And that was on a Thursday!
November was super busy. First we took a trip to Austin to see the Jouberts and the Roys. Kim and Todd had new digs in Buda which was just recovering from recent flooding. We joined them to walk thorugh some amazing houses on the AIA Tour of Homes, then chilled at The Grove for lunch. At the end of the day, we got take-out BBQ from Salt Lick, a crazy huge hangout in Driftwood (talking 8 busloads of visitors did not make a dent). Sunday we did a bike ride to the Blanco River, finding trails closed where mud was still piled up on the surface. Then we all visited with the Roys (Deepika, Sompdipta, Tim, Mimi and Rohan), hiking the hills in their beautiful Austin neighborhood and enjoying a wonderful Diwali celebration.
The next week we checked out the new Rory Meyers Children's Adventure Garden on the east side of the Dallas arboretum. It's kind of a magical place and definitely not just for children.
The next week we got in the perfect 50 mile ride to McKinney on a gorgeous fall day with temps in the 70s and 80s and some of the best fall colors we've ever seen in North Texas. We headed north with a strong south wind, lunched at Snug On The Square, waited for the wind shift, then biked south with a moderate north wind. Bonus!
Thanksgiving brought good food, fun stories and really great hike in the nearby woods with Glenn, Mina and Andrew. It was a clear crisp day with deep blue sky and the fall colors popping all around. Saturday we made a quick trip to Houston to visit with Trina, Russell & Glenda and Everett, Doug and Manasi and Mia and brought Mia back to UNT. Really enjoyed reading to Everett and checking out his favorite toys.
Sadly, Stewart's Aunt Roxie passed the day after Thanksgiving. She was 92 and had suffered from Alzheimer's her last several years and Stewart had commiserated with her daughter and caregiver, Joyce, since he had recently gone through this with his parents. We flew up to Kentucky Monday and reconnected with Joyce and many other family members. These events are tough but it's so good to see everyone.
Once back in Texas, Stewart saw the weather report and hurried to get the XMas lights up on the eaves before the ice storm got here. Well, get here it did with 2" of ice covering everything, trees weighted down, boughs touching the ground. Driving is so treacherous, we saw this post -

Grayson County Emergency Management, Denison Police, Sherman 
Police, County Sheriffs, State Police and The Texas National 
Guard  ... together ...  have asked for your Help !  Please,
tell everyone you know to        == STAY OFF HIGHWAY 75 == !

We've been socked in for 3 days so far, long enough to actually have time to write this Year In Review. So Merry Christmas, everyone and safe travels!
---
end