The Year in Review - 2011
Anne & Stewart French


523 Seeport Drive
Allen, TX 75013

972-390-0930
http://stewartanne.com
stewart.french@gmail.com
frenchhome@gmail.com
Welcome to Anne and Stewart's 2011 Year in Review.
We've decided to include last year's December in this year's review since it gets short changed most years, but December 2010 was fun. Some of our neighbors along with their kids organized a group at Christmas to go caroling. We invited neighbors Lou Anne, Jeff and Joe, plus Nikki, Kevin and Ryan, and Suzanne and Alan to sit on the porch and listen. The carolers sang, spoke some words about the season, said a prayer, then we gave them brownie bites and cheered them. This looks like it is becoming a neighborhood Christmas tradition.
After Christmas, several Houston-ites came up (Trina, Melanie, Glenda, Emily and Mia) and Brandi joined us from Denton to take in the Gaylord Resort's "ICE!" show in Grapevine. It had a Charlie Brown theme this year, lots of red, blue and yellow ice. The Gaylord was humongous, with a RiverWalk-like promenade, all full of holiday-induced family groupings. Then we went to visit Richard and Rochelle in Lewisville. Their house is beautiful, with a wonderful view of the golf course and surrounding woods off the back balcony. Surprise food arrived and we stayed on for lots of fun reminiscing.
Back at home, Stewart orchestrated his fun new tradition for the holidays: making bourbon balls and buckeyes. Emily rolled peanut butter into buckeyes and Glenda rolled bourbon balls while Trina melted paraffin wax and chocolate. Then Melanie handled the dipping while Anne and Mia covered cookie sheets in wax paper and juggled them going from the loading station to the picnic table out back to cool. And they were delicious! A great tradition to be revisited in the coming years for sure. We filled lots of Ziploc plastic containers so folks could take them home with them.
Our ongoing tradition, Tuba Christmas, was thwarted last year by cold rain, temps in the low 40's and blowing wind so we opted instead to have lunch together at Cafe Express with our friends the Gants. Samantha and Ethan made us knit necklaces and many yarn based cat toys.
Maria, Sam, and Ethan came by again in July for peach ice cream, then again in September to watch the Plano Balloon festival (a bust, it was too windy and the balloons did not go up). Still, fun was had by all.
In January Anne got the "bug" and painted our breakfast nook and front entry. She carefully selected the colors, did some test swatches, and eventually masked and painted. When it was all done it looked absolutely fantastic. Anne is now primed to move into the master bedroom sometime in 2012 and start the process again.
Stewart's cousin, Rhonda (Charlotte's daughter who is Joyce's sister/Aunt Roxie's daughter) and husband David and son JT visited while JT was trying out at UNT's School of Music. Brandi joined us too as an imminent UNT graduate and we enjoyed a nice beef stew dinner followed by an online game of Sporcle in the media room.
Anne attended a "Street Smarts" clinic taught by Bikin Mike to gain more tips on safe riding into work at Texas Instruments. Then she stocked up on flourescent clothing and head, tail and helmet lights, picked a relatively untraveled route and made biking to work a habit again. Luckily with the long stretch of 100+ days this summer, TI has an athletic center with locker rentals and showers so that helps (a lot!).
February brought a four day stretch of heinous ice which shut down everything and gave us our first bout of cabin fever since we arrived in Texas. When Anne's work computer died on day 3, she opted to slide the 4 1/2 miles into work to re-boot it. Even having lived in Milwaukee for 5 years, she decided they were right to have everything shut down. It was dangerous!
Stewart developed blood clots in his right leg in March and had vascular surgery to remove the clots and strip out the veins causing the problems. The Dr. did 19 incisions in his right leg. It was very important to get it done and recover quickly since we had several bicycle trips planned. Recovery was almost miraculous with Stewart back to cycle class in about 2 weeks. Each incision had one stitch so they looked like division signs. Stewart briefly considered tattooing an equation in and around them.
In April, Anne's high school buddy in Ohio (Lori Kramer) organized a round table phone call. While the gang lunched in Ohio, Anne got a chance to talk to everyone and catch up. It was great to hear everyone's voices again.
This year we opted for "couch potato gardening". We stuck tomatoes and peppers in the ground and ignored them. Turns out you don't get much in the spring this way, and with the drought at record levels this year, we didn't expect much. But the Early Girl hybrid tomatoes took off in the fall again and we got 50+ tomatoes that we were able to keep on the vines until the week after Thanksgiving. Many are still ripening on the window sill.
Our yearly Easter Hill Country Bicycle Rally was a lot of fun this year. It had a new sponsor, The Austin Cycling Association, and they held a social on Friday night along with packet pickup. So we met some new friends, Kim and Todd, and "Coon Dog" (Dave) and rode with them all weekend, along with Niles who we met on the road (he had also worked at the TI Defense Group... small world). It was a great ride culminated by a stop at Dave's Place Beer and Ice, a "biker" bar frequented by both Harley and Trek riders, with heavy plank tables in rooms tiered against the backdrop of the river.
Our biggest biking event this year was Backroads Tour of California bicycle vacation. We met Backroads in San Francisco, shuttled to just north of Monterey and bicycled the California coast, following the Tour of California professional race all the way to Santa Barbara. Starting out in 40+ degree pouring rain, we climbed on the racing bikes Backroads had partnered with Specialized to provide us. As Stewart commented later, his bike had racing geometry but he has touring anatomy.
The weather got clearer and warmer day by day as we pedaled through 17 Mile Drive and out onto Highway 1 across the Bixby Bridge (which luckily was closed to 18 wheelers due to a landslide). We got to ride the TimeTrial route in Solvang (ok, we didn't really finish 1st or even 3rd but at least we finished), and watched from the VIP tent in Paso Robles, then road along the waterfront among the palm trees in Santa Barbara. And the race was fun to watch too ... way to go, Chris Horner!
June brought us back together with long time friends (notice: not "old") at dinner at the new Patrizio's in Allen. I'm surprised we didn't get tossed since this group can be pretty rowdy.
After over a year struggling with it, Stewart had eye surgery in July to remove cataracts in both his eyes. He was having a very difficult time seeing signs while driving and even started having problems seeing the stop lights! Like any good engineer he thoroughly researched it and was teased by the Dr. about his "binder" full of notes. Then in December he had a "YAG Capsulotomy" in both eyes to polish off the procedure. His eyesight is now much better and he has no problems driving.
Although it was terrifically hot this year, we still managed to get several deliveries of fantastic Texas peaches from the Cooper Farms stand in Fairfield, TX, halfway between Dallas and Houston, when Houstonites came up to visit. We returned the favor when we visited Houston for Brandi's graduation dinner, then picked up more on our way home! Our neighbor Gerald gave us a wonderful homemade Peach Cobbler recipe that came from South Carolina. It was so good, the cats staged a sit-in to have some included in their meal.
Russell and Glenda came for a visit in August. We ended up trying to visit the new "In N Out Burger" in Allen, TX. The place was a total zoo! We parked in the field and hiked in, stood in line, trolled for a table, then ate our hamburgers while watching the crazy people doing exactly what we had just done. The burgers were pretty good, protein style or not!
In September, we signed up for some theater at the new AT&T Performing Arts Center in downtown Dallas. We saw "The Tempest" with our friends Paul and Nancy, and caught the area in the process of being "yarn bombed" by guerilla knitters who wrapped the trees and parking structures in bright armless sweaters with tassles and googly eyes.
Living near an elementary school, Halloween is always a lot of fun. We had 81 kids visit our house this year, setting another record! Anne set up a small whiteboard and wrote a hash mark whenever a kid stopped by in costume. The night started slow about 6:30pm but then built like crazy until it tapered off around 8pm. After that it was a trickle of mostly older kids. At 8:30,with 81 hash marks on the board, we left the candy in the bowl, put a sign up to "...take some candy and leave a hash mark...", and went inside. When we went back out at about 9:30 to clean up, all the candy was gone and the white board had 100 hash marks on it, plus one devious smiley face saying "Sorry! We lost count :)"
In November, Manasi drove Trina and Mia up and we went for a tour of UNT in Denton. We met Brandi for breakfast at the Old West Cafe, then took the tour while Brandi went to work. Later we had a nice coffee under the huge live oaks on a magically beautiful fall day while students all around lounged in various slouches with laptops and real books propped in front of them.
The next day we all went went bowling. It had been a long time since we'd done this and it was a lot of fun despite no one doing particularly well. Luckily Splittsville has pretty good food (sushi even!) and a nice computerized system that automatically put up the bumpers when we needed them.
Later that month, we drove down to Austin to meet up with Kim, Todd and Charisse (a friend we recently became re-acquainted with on Facebook) to ride the Wurst Ride, from Austin straight south to New Braunsfel, and to sell Anne's old bike to Charisse.
We stopped in at Mellow Johnny's (Lance Armstrong's bike shop) then all went to Max's Wine Dive for dinner. Later, Todd and Kim invited us to go to Mozart's for a decaf and chat. It was cozy and quiet so we had a chance to really talk.
But this may have been the "Wurst" ride ever! An intense gusty 30+ mph headwind for 60 miles made this one of the toughest ever. Luckily the five of us (Anne, Stewart, Kim, Todd and Charisse) were able to distract each other enough to get us all to the finish. But the rest stops ran out of food and even eventually water, resorting to spreading peanut butter on outstretched fingers. We were starving so we headed back to Gruene and found Adobe Verde with a nice covered porch and the look of having been there forever. The food was wonderful, the company was a lot of fun and we had a great tailwind on our drive home.
Thanksgiving was a quiet one at home, and we had Glenn, Minako and Andrew over on Sunday to have the big meal since Mina is a flight attendant and rarely gets a holiday off. It was a pretty relaxing day and we really enjoyed the time with them.
December arrived with Anne's project at work cranking up to full speed as the new projection chip came in a week early and the software team went into round-the-clock mode until it got a pretty decent image on the wall. Luckily it went fairly smoothly and she got a weekend off in time to join Stewart in putting up XMas lights and creating this web page.
The cats, Tootzak and Seebie (aka Tool Chest and Sea Breeze), had a fun year. Seebie dodges our feet to barrel into the forbidden closet and tucks his nose into the first corner he finds. He's like a slinky getting pulled out by his haunches. Meanwhile, his brother is at the pantry making "licky lips" which he feels ought to sufficiently convey his needs, but since we only respond with treats once a day, he believes we are woefully inept at deciphering cat sign language.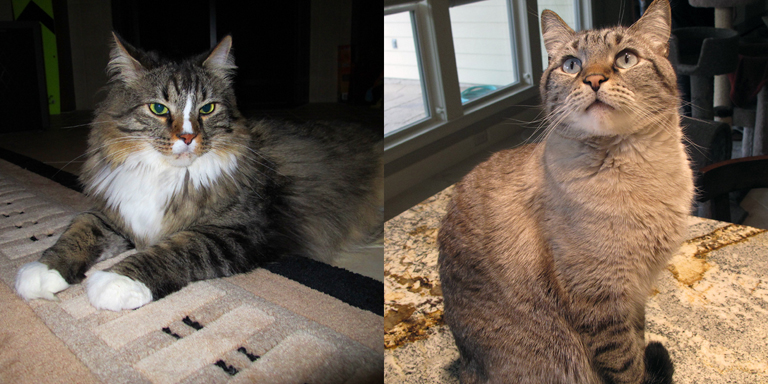 Stewart's father Morgan turned 92 years old in 2011. He is doing well living near us at the Alzheimer's Center. We visit him every week, and Stewart's brother Morgan joins us regularly, to trade stories about Kentucky, his dogs, our cats, internal combustion engines, and Mom.
We look forward to seeing friends and family and hope everyone has a happy and peaceful holiday.
Anne and Stewart