The Year in Review - 2010
Anne & Stewart French


523 Seeport Drive
Allen, TX 75013

972-390-0930
http://stewartanne.com
stewart.french@gmail.com
frenchhome@gmail.com
Welcome to Anne and Stewart's 2010 Year in Review.
We'll start this one a little before 2010 since the end of the prior year doesn't make it into the YIR but last year's was a big one. On Dec 19, we went to San Antonio with Trina and Steve and the rest of the Webbs to hear our niece Melanie give the commencement speech at Trinity University. She did an amazing job! We had a good time at the Liberty Bar Friday night, the after graduation lunch at Paloma Blanca and then we went downtown to the River Walk Saturday night with Trina (croaking with her voice lost talking over the din at the Liberty Bar), Doug & Manasi and Cassie. The River Walk is an incredible sight at Xmas with cypress trees 7-10 stories tall draped in multicolored lights lining both sides of the river and boats ferrying caroling tourists up and down the banks.
We had a quiet Christmas at home sharing it with Stewart's dad, Morgan. Then from Dec 27-29, we had lots of visitors including Anne's sisters, Trese and Kath. Melanie, Emily & Mia also joined us and we got to hike the Heard Nature Preserve in McKinney, then over to Frisco to see Glenn and the city light show synchronized to the holiday music. The lights rippled like harp strings over the city block but it was freezing cold so we hunkered down for a nice warm dinner at Josephine's.
On New Year's Eve, we joined our friends Mike & Linda, and Steve & Doris at the Mort Myerson Symphony Center for a cheerful holiday concert.
January was relatively uneventful, but February made a real impression. On Feb 11th we got 12 inches of snow! I know that doesn't sound like much to Anne's Wisconsin friends she went to school with, but it beat the previous record for that date by 11 inches! The kids around here were all over it, building tons of snowmen and sledding the berm at the edge of our neighborhood. My favorite was the ingenuity of the kids that built an Eiffel Tower out of snow.
By the end of the month it was safe to venture out again so we joined Tom, Emily and the Webbs in Houston for Mia's Show Stoppers choir concert. Then March brought the annual Estrogen Fiesta where Trina, Manasi, Em & Mia came up to Allen for some nice spring time walks, squeezing the cats (Tootzak and Seebie) and general goofing off.
March also brought the Academy Awards and this year was interesting because some of the guys Anne works with won a Scientific and Engineering Academy Award for color processing in digital Cinema. You know, it's one of those technical awards they give out early but do a quick montage during the show. A film crew had come through her lab in the fall and got some pictures for the montage so that was fun.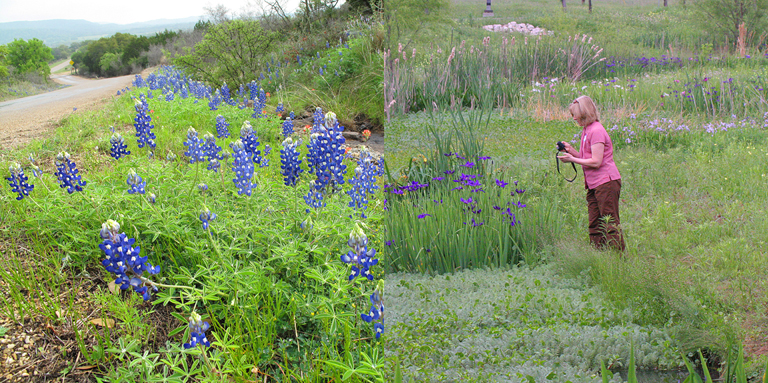 April 4-7 we got to do our Easter Hill Country Bicycle Tour. The bluebonnets were especially deep this year and one day we were rained out so we got the chance to drive the hills without crowds and take in the rugged beauty of the limestone, red buds and wildflowers.
We managed to get our garden planted in early April this year so we had a pretty good selection of basil and three kinds of peppers (Tabasco, cayenne and ThaiÉ hot!!). Anne babied the tomatoes all summer but again we only got a dozen or so good ones out of 4 plants. But then she chopped them down in late July and ignored them. Holy cow! It rained all September and with a gorgeous clear dry October, we looked out the window one day and found over a hundred tomatoes maturing. We brought them in just before the first frost before Thanksgiving, and so far half of the hard green balls have turned gorgeous red, with more turning every day. Anyone need some tomatoes??
In mid-April, Stewart's brother and his wife (Morgan T & Mary Jane) visited so we all joined Morgan at Creekside for some catching up. Morgan had a relatively good year, turning 91 in August, although occasional falls cause concern. He still likes to take walks around the halls as long as someone holds him close, and he's generally in good spirits telling ever evolving tales.
In May, we found a new bike ride that's a keeper. We finally made the short (one hour) trip to Durant, Oklahoma for the Magnolia Ride. It was full of friendly folks, rolling hills and nice after ride food but oddly, not too many magnolias.
Health was a little more elusive this year as Anne first pulled a calf muscle in step class, then wrenched her back cutting back the sunflowers that were starting to block our driveway. Stewart's discovered he has early onset cataracts in both eyes. Then came a root canal for Anne. Sheesh, this aging thing is for the birds.
On June 5, we headed back to Houston for niece Emily's High School Graduation. Cypress Fairbanks is a huge school so it's even more impressive she graduated summa cum laude. Congratulations, Em!
June 12th was the Collin Classic, one of our annual favorite bike rides. We didn't get lost or hurt so we're calling it good this year.
For the second year in a row, Trese's photography was selected for display at one of the Indianapolis area's nature centers so from June 17-20, we attended "IndianaPoiLooza" along with Trina, Emily, Mia, and Anne's brother, Gil. The girls hadn't see fireflies before so we had fun collecting them in jars and freeing them. The display at the Nature Center was outstanding, and we enjoyed a fun warm day at the Indianapolis Zoo.
We made a trip to Houston for a bike rally mid-July, but it drizzled just enough to keep us from risking damage. On the upside, we got some fresh peaches and pecans from Coopers Farm on the wayÉ always a tasty favorite.
Anne spent the month of August in Houston, helping get Emily off to college at Texas State and Mia into her junior year of high school while Tom spent some time in medical care. Anne & Mia got to see Lois the Corpse Flower, a giant that only blooms every seven years and stinks to high heaven when it does. Luckily it was on its last days when we were there and the aroma had subsided. Emily introduced Anne to Connie's frozen custard (yum). We had good times looking for school supplies (college ruled!) and Anne got to learn about Antoine Dotson and girl fanning Shinee. Stewart joined Anne, Trina, Em, Andrew, and Mia for Shakespeare in the Park at Miller Outdoor Theater, a hot venue with odd audio but the price was right (free!).
For the first time in a long time, Stewart has had to travel for work several times this fall. He had to miss Halloween although he always loves decking out the house with pumpkins, bats, cats and rats. Anne's friend, Mary, joined her to hand out the treats and it was a banner year: 135 Trick or Treaters, counting parents, dogs, and babies on the way.
November came around and we realized we hadn't seen Brandi much even though she's near by in Denton. She's been working weekends so Anne took a rare Wednesday afternoon off and they took in Autumn at the Arboretum, enjoying a beautiful fall day and 40,000 pumpkins.
Morgan T & Meredith visited the following weekend. We had a nice visit with their Dad, lunched at Mi Cocina looking out on the green at Watters Creek, and then checked out our new Whole Foods (what is Morgan going to do with all those hazelnuts?).
The following weekend, the clear crisp fall weather was holding on so Stewart & Anne went to the Arboretum together. It was 28 years ago they were married there, back when it had just been bequeathed to the city and was known as DeGolyer Estates. As luck would have it, while Anne was trying out the scanner Stewart gave her for Christmas last year, she dug through enough negatives to locate those of their wedding, which had been lost for 28 years! So we're including a photo that shows our wedding, with Morgan T as best man (with Mary Jane) and Ellen Enriquez (with husband Darryl) as Anne's maid of honor, juxtaposed with our photo taken at the Arboretum in November this year. We all look identical today!
Thanksgiving brought our annual wait in line for Honey Baked ham (really enjoy the 1 _ hours with all the other crazies). Then we cooked all afternoon and loaded up the car for the trip Wednesday to Houston. We dropped off Thanksgiving food at Tom's, had lunch with Tom, Emily, Mia, Russell & Glenda at Sushi Choo Choo (a fave). Then on to Doug & Manasi's for a quick visit before taking the less crowded back roads through Pearville and Friendswood to get to dinner with Morgan & Mary Jane. We had a great time with Morgan & Mary Jane and their three Papillon dogs.
On Thanksgiving day, we were back at Tom's where Mia made her famous potatoes and Emily squished her hands deep in apple tart goo to coat the apples. We took a walk around the heavily wooded back neighborhood and then went to Trina's to see Melanie, Brandi, Russell & Glenda, Doug & Manasi, Trina, and all the dogs: Dakota, Comanche, Shamus, Penny & Charlie. And that's not counting the four dogs that didn't join us!
Back in Allen on Saturday, Anne & Glenn took advantage of another beautiful fall day to hike the Heard, really enjoying the back-lit bright fall leaves.We are very grateful to have our family and friends and pretty good health. We wish you and yours the best for the coming year. Happy holidays!
Anne and Stewart