The Year in Review - 2009
Anne & Stewart French


523 Seeport Drive
Allen, TX 75013

972-390-0930
http://stewartanne.com
stewart.french@gmail.com
frenchhome@gmail.com
Welcome to Anne and Stewart's 2009 Year in Review.
This has been a very sad year for the French family. Although we are lucky and thankful to have kept our jobs, we weathered some huge layoffs and many friends and family were affected. Then in September, we lost Stewart's mother, Maxine. Sort of puts things in perspective.
Maxine will always be remembered as a loving wife, a wonderful Mother, a terrific Grandmother, and someone who just couldn't sit still. She was always doing something! Whether it was quilting a new quilt, growing a garden over in the woods to 'feed the deer', working around the house or taking care of her family, she was constantly on the go. Only in the last year of her life did she slow down and let others do for her. She had a wonderfully optimistic attitude that always kept a smile on her face and filled the lives of others with happiness.
Stewart's father, Morgan, continues to live at Creekside Alzheimer's Care Center in Plano, TX near our house. Always a survivor at 90 years old, he gets good care with a loving and attentive staff. He talks with everyone, entertaining and telling his stories. We visit him often, talk about old times, and listen as he fills in the details.
As for the rest of the year... At Christmas last year we visited with Anne's brother and his wife Glenn and Minako in Frisco, TX. The city puts on an incredible downtown light show synchronized to XMas music that is over-the-top.
Our nephew Doug and his longtime girlfriend Manasi finally tied the knot, and in January, we traveled to Houston for the wedding reception. It was a mix of Indian and Texan with a Henna party the night before, and a reception buffet of barbeque and Indian. We had excellent brisket with a side of Palak Paneer (spinach).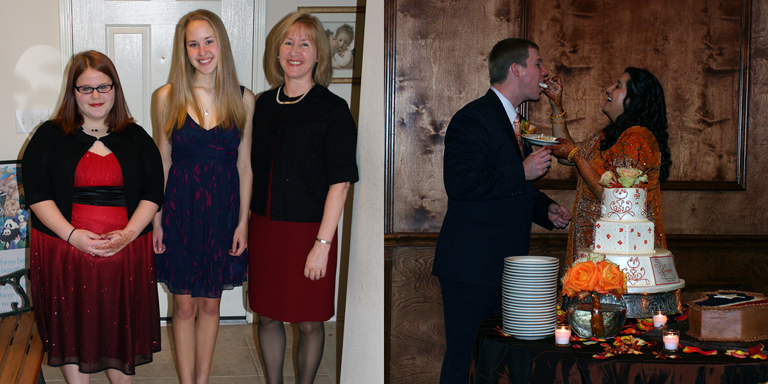 Also in January, Stewart's brother Morgan and his daughter Meredith visited. We had the folks over to the house and all got to catch up.
February brought the Destination ImagiNation tournament. Our neighbor, Deepika, had invited Anne to participate as an appraiser. It was such an intense, fun, amazing day being wowed by kids presenting their solutions to various challenges. The challenge she appraised was "Video Lit Hits" where teams competed to tell a story through lyrics and music with amazing characters, scenery and props. So much creativity! Some even built their own instruments! She's looking forward to doing this again this year.
In May, Anne and her sisters, Trina and Kathy, visited their other sister, Teresa, in Indianapolis. Teresa had been selected to exhibit her nature photography at the Eagle Creek Park preserve. Trese, Trina, Kathy, Ben, Brenda, and Anne had a great time checking out the exhibit, taking in downtown Indianapolis, and hiking the hills and rivers of Indiana.
Also in May we attended a "Beatles" concert with our friends the Gants. We didn't realize we were ahead of our time with the retro Beatles craze this year. This was our first opportunity to visit Plano's amazing Oak Point Amphitheater, where they hold many concerts during the beautiful North Texas springtime.
In June, Doug and Manasi came to visit with their friend, Megan. We headed down to the Dallas Arboretum, where we got married back in 1982, took in the fourteen full size Story Book Houses based on children's books, and walked the beautifully maintained grounds, including Vitex Alley (will our Vitex out back look like that some day!?).
The summer was a challenge as Morgan fell and had surgery on his hip, then Maxine developed blood clots in her lungs and several hospital trips followed for both. We are very grateful to the hospice workers and Creekside staff as they eased Maxine's time tremendously. Brandi visited and helped to cheer us up.
October brought weeks of rain but ended with the most beautiful cool dry weather that stretched throughout November. Anne went to Houston to join Tom, Trina, Doug, Manasi and Reta at Emily's UIL band competition and we both made it to Mia's choir concert the next week with Tom, Trina and Steve. It was like a week of Glee!
For Halloween our nephew, Russell, and his wife, Glenda, came up from Houston to visit. Last year we had 55 trick-or-treaters, this year we had 73! It was such a good time, sitting on the front porch, watching the children run wild through the neighborhood in their costumes, either shoveling candy into their bags oblivious or crying and backing away at the motion activated talking skull in the middle of the candy bowl.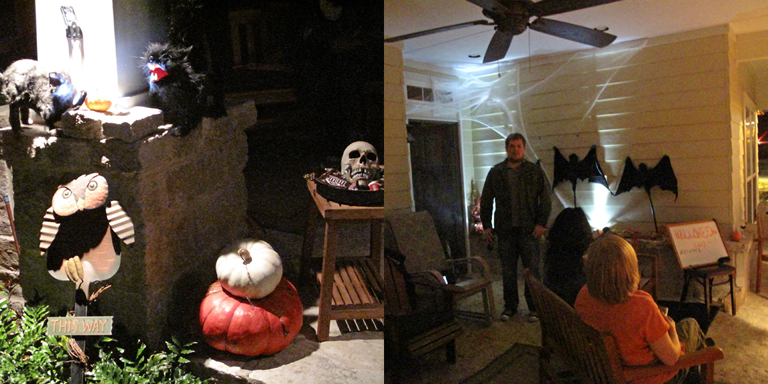 We drove to Houston for Thanksgiving this year, visiting with Stewart's brother Morgan and his wife Mary Jane, enjoying a wonderful dinner and fun with dogs and purses. The next day, we had Thanksgiving dinner at Anne's sister & brother-in-law, Trina and Steve's house which is beautifully remodeled after hurricane Ike almost destroyed it last year. They cooked up an amazing array of food and we had a great time catching up with her brother Tom and his girls, Emily and Mia, and all the Webb family and their cohorts: Doug, Manasi, Manisha, Russell, Glenda, Melanie, Brandi, Chris, Reta, Joni, Josh, and the rest (oh yeah, the dogs: Dakota, Comanche, Penny, Charlie). After the big meal, we took the dogs on the traditional walk down the block, then got a chance to see Doug and Manasi's pretty new home in south Houston. Congratulations to them on an exciting year!
Our cats Tootzak and Seebie are still crazy. Seebie rediscovered the toilet paper and ensured we'd have a white Christmas this year. Tootzak has proven that every horizontal surface can support a fluffy 20-pounder splayed upside down on his back. When the weather is nice they love to sit by the screen door and watch the kids play outside, and sometimes Mr. Rabbit will hop by or the crazy Mockingbirds will tease them while the birds bounce in the bushes and eat the berries.
With the extra load at work and hospital trips, we have been too busy this year to do a lot of biking. We did manage to do our favorite steep hill at the Easter Hill Country Bike Tour, rode downtown to American Airlines Center along the wonderful Katy Trail, and we did several rides along the White Rock Trail, which is under renovation for next year.
Two years now in our new home, we are adapting well. We brought our 15 year old Elephant Ear from the old house over (originally transplanted from the French home in Kentucky) and planted it in the backyard where it went totally nuts, growing to six feet tall with four foot leaf-spans. Our native landscaping from last year has grown tremendously to provide different flowers, color, and textures year round. We were particularly taken with the purple Verbena in the spring, yellow and orange Lantana and yellow Black-Eyed Susans in the summer, lilac Fall Aster and burgundy Gulf Muhly in the autumn and red & blue Salvia nearly all year, drawing hummingbirds, swallowtail butterflies and bumblebees. Our Yucca surprised us with a huge bloom this year and the American Beautyberries popped with magenta berries. We had great luck with jalepenos and basil in the garden and enjoyed the few but tasty tomatoes we babied through the 108 degree June.
We had a great time with neighbors this year. Anne joined the Seeport Drive Women's Club for their monthly excuses to gab, eat, drink some wine, and show off tattoos (well, that doesn't happen every month, and no, Anne had none to share). We have new baby neighbors on both sides and across the way, which is common living next to the elementary school. It was a blast following the baby progress tweets. We enjoyed the monthly 1st Friday's on the greens and biked the Collin Classic with our neighbor Celeste. After Thanksgiving, the annual bounce house appeared in the shared neighborhood green space. It was a big hit with the kids and we got a fun view from the porch. Sometimes the place seems magical as we stepped outside to a tremendous rainbow one day. And then we opened up Time Magazine and there was a full page spread of our next- door neighbor's, the Yao's house. Seriously, it's their house. It's an ad for a heat pump company, and they didn't even know the house had been photographed. I guess they think it's the epitome of heat-pumpy. You can see the same picture on the company website (climatemaster.com).
We are very grateful to have good times among the bad, and hope that next year turns a corner to the better for everyone. Happy holidays!
Anne and Stewart