The Year in Review - 2008
Anne & Stewart French


523 Seeport Drive
Allen, TX 75013

972-390-0930
http://stewartanne.com
stewart.french@gmail.com
frenchhome@gmail.com
Welcome to Anne and Stewart's 2008 Year in Review
House
This was our first full year in our new home. Having moved into the house in December 2007, we had a lot of projects planned for 2008 and beyond: landscaping, garage, photos, wall art, rugs, on and on. We are also meeting and doing much more with our neighbors. We've had monthly "first Friday on the green" outdoor socials. We have a large shared green area in front of our house and there is another south of us in the other part of the community. We meet after work, sit and talk, watch the kids run around, and eventually break up when it gets dark and the sprinkler systems come on driving us off the lawn (and the kids into the sprinklers)!
Folks
Stewart's parents, Morgan and Maxine, have lived their first full year in Plano, Texas. Every Saturday they come over for dinner at our house and every Saturday Morgan asks "Is it always this nice in Texas?!" We drive by the soccer and football fields, lots of beautifully landscaped homes, and the Connemara conservancy nature preserve on the way to our house. After dinner we sit on the front porch and watch the birds in the trees and the planes fly overhead. Our cats enjoy their visits and are always waiting for them, stretched out on the island, requesting their special neck scratches.
Morgan and Maxine live in a nice little apartment at Creekside Center. Creekside had a very nice summer carnival, various family dinners, and a Veteran's Day celebration honoring the veteran residents. Ashley at the center prepared a tribute to Morgan and read some of his story at the celebration on Veteran's Day.
Family and Friends
Doug, Manasi, and Cassie came for a visit just before New Year's. We ate their cookies and played with Stewart's One Laptop Per Child.
In February, we met the Blanfords at Pasitano's for Richard's birthday party. Later that month, we went to Houston for Trina and Tom's birthdays. We got to see Doug and Manasi's apartment, and had great food at Harris County barbeque.
Russell and Glenda visited in April. We walked all around the neighborhood and had some quality front porch time. A few weeks later, Trina, Brandi, Manasi, and Cassie met at our house for an Estrogen fiesta. Stewart went upstairs to watch pro wrestling to clear his mind. They practiced stenciling, since Anne has a plan to stencil our Craftsman style home's dining room. It was perfect timing for a bluebonnet photo op walk in the front of our neighborhood. Trina brought us a fantastic painting of a Longhorn she made as a house-warming gift. April also had us at dinner with Blanfords & Doucettes, and a movie night out with the Gants for "Queen".
Early in June, we joined the Gants again for a nature walk in Connemara. Later that month, Morgan and Meredith came for a nice visit with Stewart's folks. Then we hosted the bi-yearly get- together of several long time friends (our "Old Timers" party), this time held at our new house. It was lots of fun visiting with friends, discussing work, politics, family, and all our various broken body parts.
Russell and Glenda got married in June and we joined them and lots of family and friends for their wedding shower. They received a lot of things to help decorate the new home they bought in July, a well timed purchase that harbored many displaced loved ones when Hurricane Ike blew through.
In July, cousin Jackie and her daughter, Jennifer, flew in from Lexington, KY. We visited Stewart's folks at Creekside and had them over for a nice dinner on Saturday. It was very hot, but we managed to find time to go for walks and sit on the porch. The big ceiling fan helped a lot!
September was a challenging month. Hurricane Ike made a huge impact on our Houston family and friends. Anne's sister Trina had her home seriously damaged by a falling tree. Anne has vivid memories of house after house covered with blue FEMA tarps, of streets turned into single-lane roads with the debris of fallen 40-ft pine trees filling both sides of the street, of long waits at 8-lane intersections with no working traffic lights, and ribbons of extension cords stretching across streets for blocks on end where neighbors with electricity shared with those without. Insurance and FEMA are still trying to deal with it. Stewart's brother Morgan and his family evacuated for a week. Luckily he had little damage to his home. And Anne's brother, Tom, managed to have no problem at all despite being just a few miles from Trina's house. Anne walked their neighborhood with Emily and Mia and is glad those tall pine trees were saved.
Unfortunately, just a short time later, Trina's father-in-law, Joe, passed away after a long illness. He will be sorely missed. These times surely bring people together as we gathered for the memorial and various families shared housing and took in pets for those still displaced.
As a change of scenery, Trina and Brandi came to help prep for Halloween. Stewart's folks joined us while Trina and Brandi carved pumpkins into elaborate faces. We had a ball decorating the porch with bats, cats, rats, and the pumpkins.
We held Thanksgiving at our house this year with Glenn, Andrew, Morgan, and Maxine. We tried TurDuckHen this year (very strange), along with a backup honey ham. Later, Richard and Julie dropped by for a movie night and we watched Tropic Thunder, the best movie ever!
Mid-November, Anne took Brandi to Houston for a quick and educational court date in Spring Valley, TX. They got a chance to see Trina and Steve in their FEMA supported apartment, and even caught up with Reta at Costco on our way out of town.
Stewart's Health
Stewart woke up one morning in July with terrific pain in his back and down his right leg. After many visits to Dr.s and various spine tests, x-rays, and MRIs he was diagnosed with a herniated disk fragment. After various treatments and physical therapy, in October he was back outside on his bike. That's when a busy squirrel ran out in front of Anne. With Stewart tucked in behind in her slipstream, that squirrel sent Stewart crashing to the ground. He regained consciousness when the EMS techs were strapping him onto a board. Stewart had serious road rash, a broken collarbone, and a busted helmet where his head hit the ground! Several weeks later with back, collarbone, and road rash on the mend, he was able to head back to the health club for aerobics and cycle classes. That physical therapy is amazing in it's ability to (torture and) get a person active again!
Extras
Our 4th of July fireworks celebration saw us walking to the highest point in our neighborhood, about 200 yards from our house. From there we can see the far horizon to the east, south, and west. As it got dark we saw 12 fireworks displays! Our neighbors gathered as we ooh'd and ahh'd the beautiful, far-away shows.
In September we walked again to the highest point in our neighborhood for the Plano Balloon Festival. We could see the balloons lift off on the horizon southeast of us. They headed directly toward us and landed right across the street at the entrance to the Connemara nature preserve. Throughout the year we went on several Connemara guided walks through their meadow, fields, and pecan grove. It was so compelling that we volunteered to be land monitors to help manage the preserve.
Early in the year we had our entire yard xeriscaped. Our hope is to remove the need to water the lawn at all as part of our attempt to go "green". It ended up very beautiful with a dry creek bed in the back, and various grasses and native plants all through the front. We are constantly surprised and delighted with different flowers blooming throughout the year. We already see and increase in hummingbirds, butterflies, frogs, bees, and rabbits. And the big bonus - no mowing! Stewart also started his Victory Garden to raise tomatoes, green beans, peppers, and basil.
The election was a big part of the year as was the downturn in the economy. We were very lucky to sell our old house within a month early in the year. We're hopeful that the new year finds some recovery from these tough times.
The main bike ride we did this year was the Easter Hill Country Ride. On the drive down we stopped near Lampasas to watch two bald eagles nesting near the road and the Inks Bridge to overlook the beautiful Llano River. We also visited the Amish Market furniture store in downtown Fredericksburg, who later drove their big truck up to drop off our newly purchased picnic table. This time the route had the steepest hill we have ever climbed, followed by a terrific long downhill where we reached 45 mph!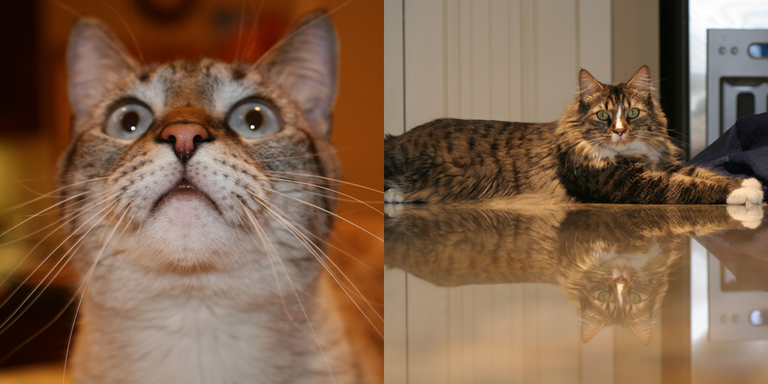 Our cats, Tootzak and Seebie, have fully settled into the new house. Tootzak developed a taste for ice cube soccer with Anne held on the granite island, Seebie steals peppers from the counter top and either drops them into the disposal or pushes them under the oven. They both get so sleepy that they lay upside down on the bed completely lost to the world. They are very social and love it when people come to visit, Stewart's folks, Richard and Julie, the Houstonites. Tootzak likes to climb into visiting salesmen's briefcases and roll all around.
As the holiday season got underway, we walked across the street to Watter's Creek shopping center, a new development with shopping, lofts and restaurants. They had an equestrian parade with Santa driving his herd of, well, horses and a brass band played carols as they lit the 120,000 lights on the humongous 150-year-old pecan tree. Holiday Texas style.
Happy Holidays! Anne and Stewart