---

2019 Vancouver Backroads
June 21-30, 2019
Anne and Stewart French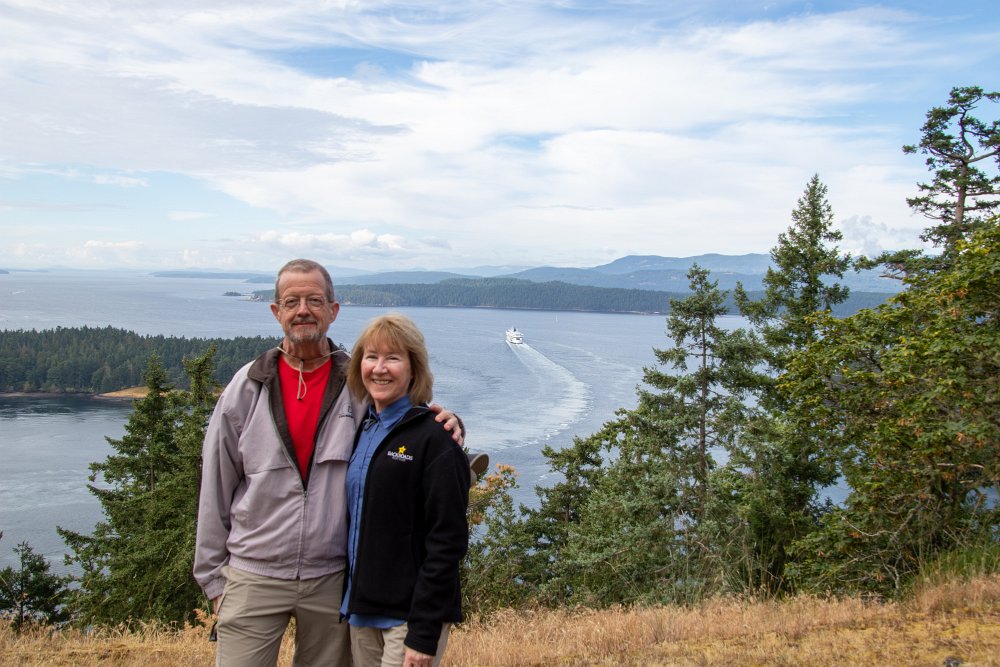 ---
June 21, 2019, Friday
Travel from Dallas-Ft. Worth to Victoria, BC, Canada
Tonight at : Delta Hotels Victoria Ocean Pointe Resort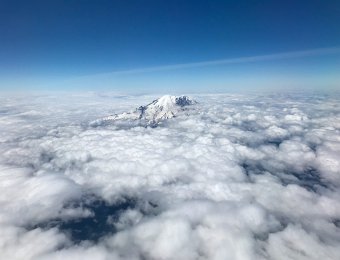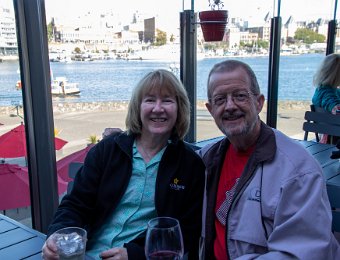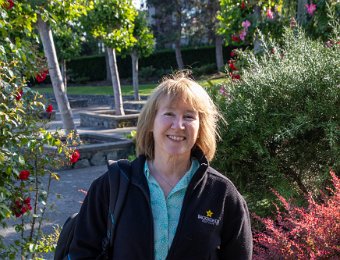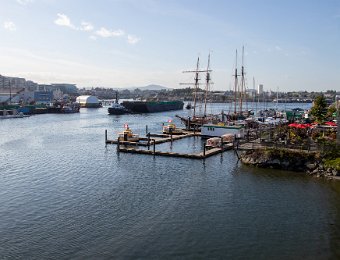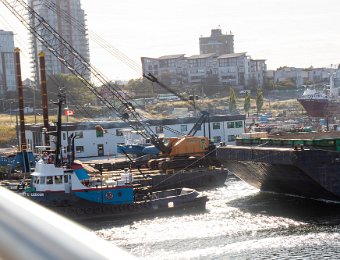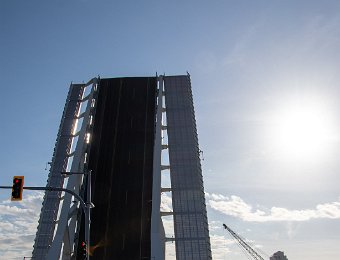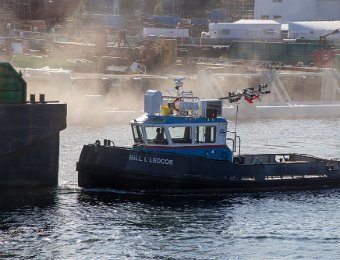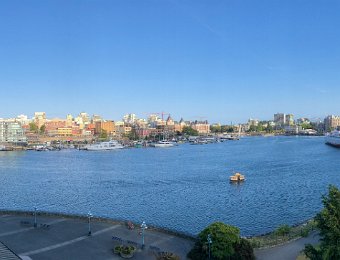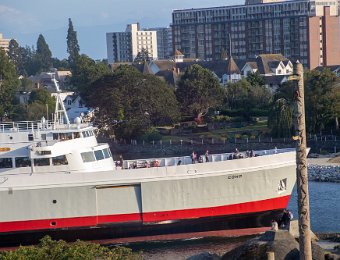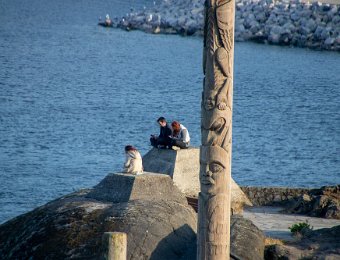 We said goodbye to our cats Tootzak and Seebie when our uber picked us up in the morning. First time flying Alaska Air, first class, the check in process was quick and painless, bags were checked all the way through to Victoria, British Columbia, Canada.
Anne had talked with our cat sitter Nancy yesterday. She was recovering slowly from hip replacement and we were worried about her. She assured us she had been back at work for a week and would be fine. She gave us some ideas so we moved things around some in the utility room, added a chair, stool, got everything in arms reach, so she wouldn't have to squat down too much. We also left her some Cooper Farms peaches to enjoy that Trina and Joanie had brought up the week before. They were ripe and wonderful.
It was a 4 hour flight to Seattle, then 35 minutes on a puddle jumper to Victoria, BC. We ordered airline food ahead both having tasty vegetarian ravioli. The customs in Victoria was totally painless, everyone through in 5 minutes! 95 degrees and humid in Dallas, the temperature in Victoria was 59 degrees & dry. We had reserved 2 seats on the YYJ Shuttle to the Delta Ocean Pointe hotel. The driver/tour guide was just great pointing out landmarks, history, and telling jokes. He explained the hundreds of rose bushes along the median were planted for the 1986 World's Fair "Expo 86" celebration and many were still going strong. He pointed out a sign as we entered Victoria, the Victoria International JazzFest was going on this week!
Once checked in at the hotel we got online to check out the performances and were able to get tickets to see Jacob Collier, Friday 6/28, Anne's birthday and the last day of the Backroads tour. So lucky. Our room was on the 6th floor which had a balcony patio just down the hall that overlooked the bay. We sat out there for a while then wandered down for dinner in the hotel restaurant, Lure. It was a bit chilly but we sat outside anyway, had a water view, a great waitress, and ate light. Later we walked into town to pick up some wine and got to see the humongous bridge raise and lower to let a large barge full of steaming something (??) go under. The bridge was quite beautiful and mechanically fascinating.
---
June 22, 2019, Saturday
Victoria, BC, Canada
Tonight at : Delta Hotels Victoria Ocean Pointe Resort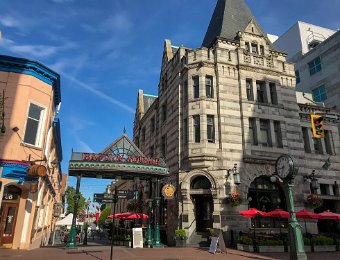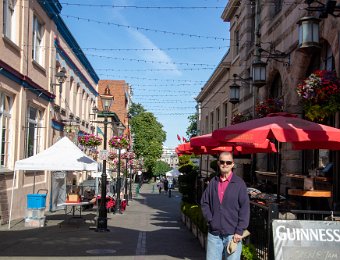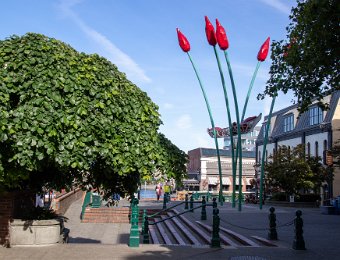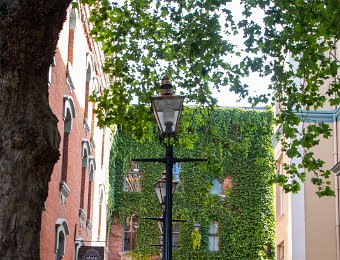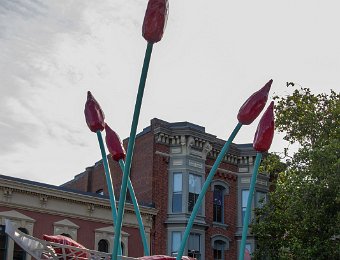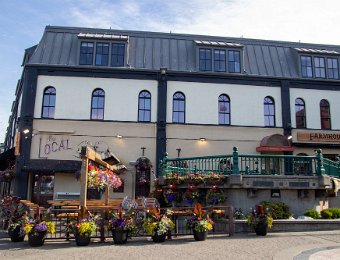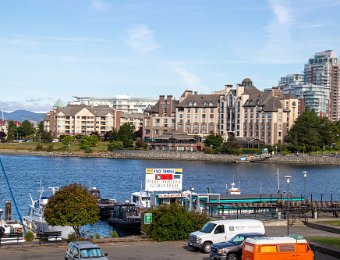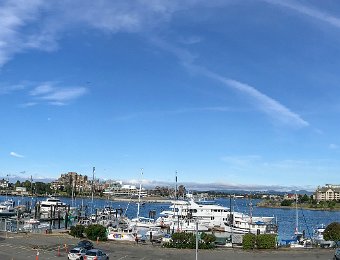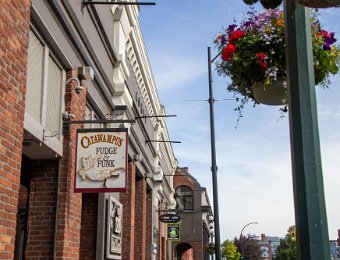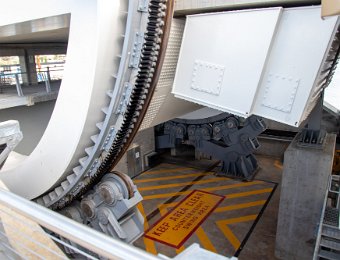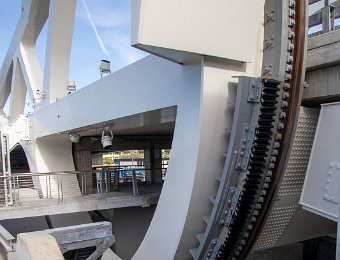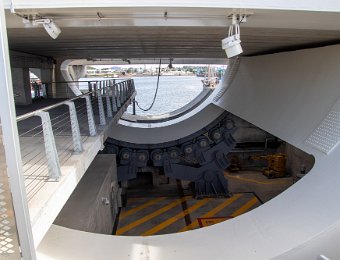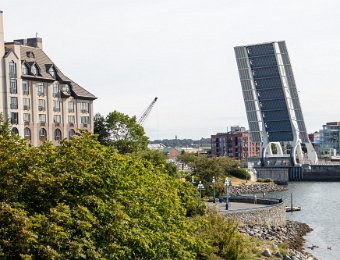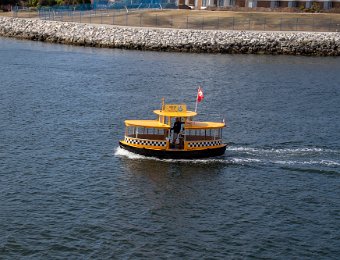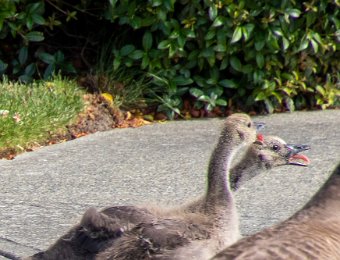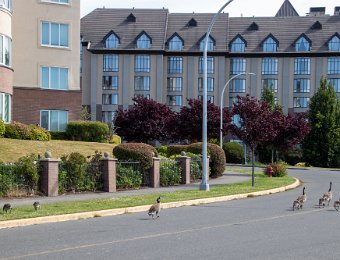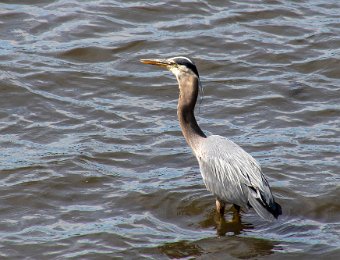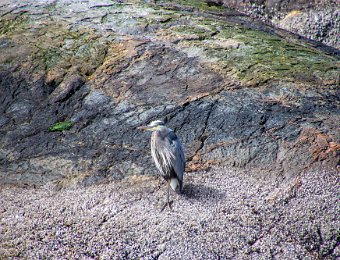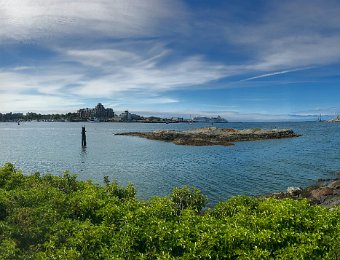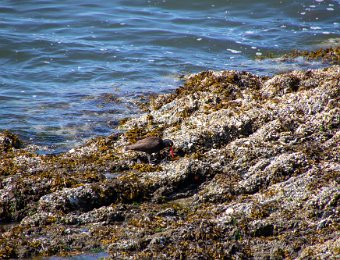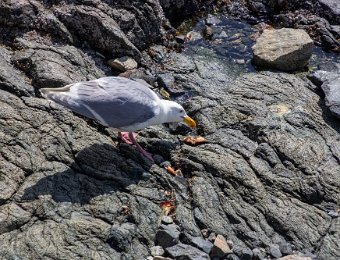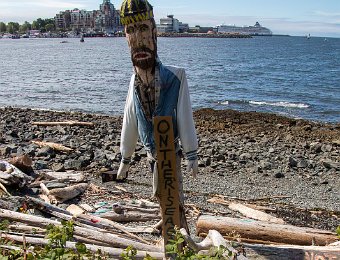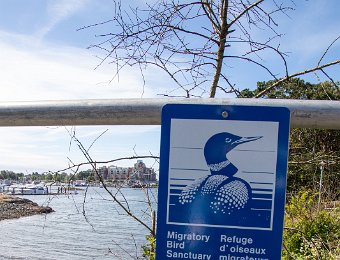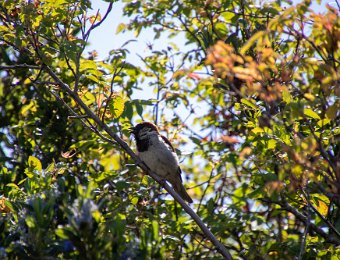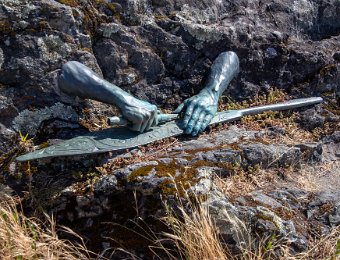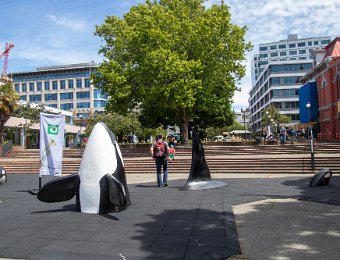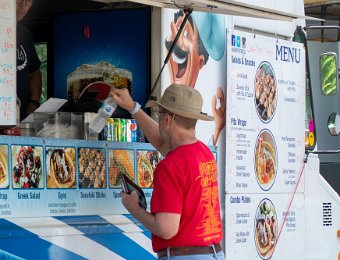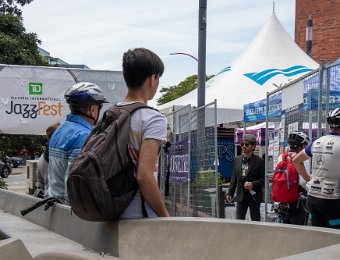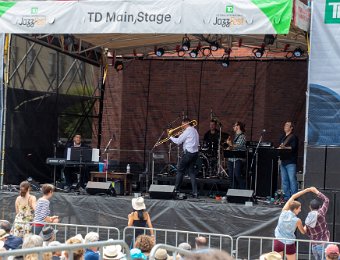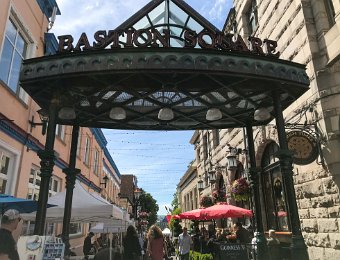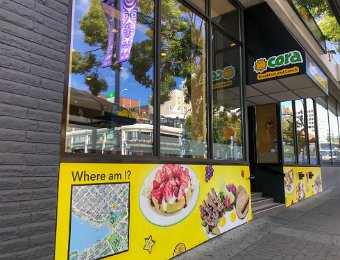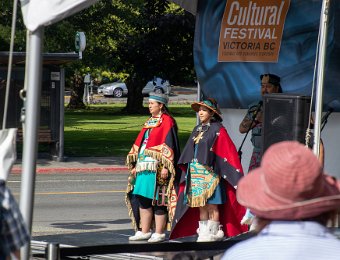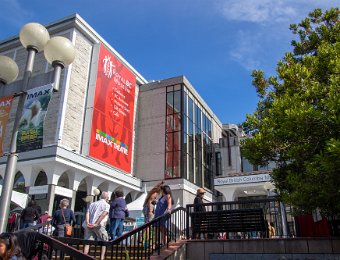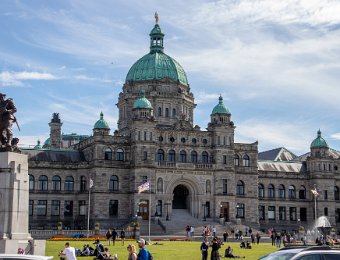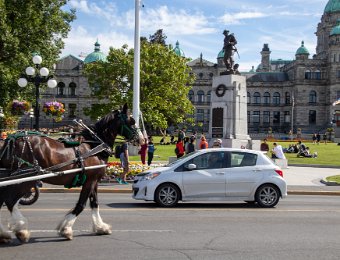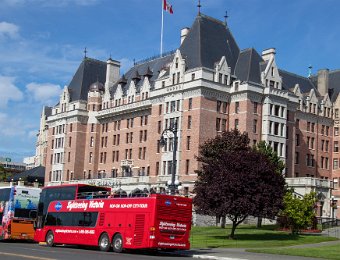 We found a cute local diner for breakfast, Cora, in downtown Victoria, just a 15 minute walk from the hotel. Anne had oatmeal with english cream, granola, & maple syrup, Stewart had poached eggs on toast with fruit and yogurt. Cora also had breakfast hot dogs and breakfast Poutine, a Canadian favorite. Victoria is smaller than we expected and we kept overwalking our destinations, looking at google and saying "Hey! The park was two blocks back!" There were flowers everywhere, hanging baskets, roses, poppies, peonies, rhododendrons, all colors. We walked the waterfront, saw Canada geese, gulls and herons, lot of runners, seaplanes, water taxis, a huge car ferry from Seattle, the marina filled with huge yachts, and giant totems. This place is just beautiful!
After, we hoofed it to Centennial Square for JazzFest. There were several food trucks there. We lunched on excellent Gyros from The Street Greek, while sitting in the square listening to Jazz. As we watched and listened to Nick LaRiviere Band, the guy beside Stewart said it was the best band in the afternoon program. The band had keyboard, trombone, bass, drums, an interesting combo. A dance space in front of the stage drew several swing dancers. There were several high school kids in a kiosk out front playing around on their trumpets, trombones, baritones, electric upright bass, looked like a jazz music school.
Walking the city, we saw the Bay Centre from all sides, ending up outside Starbucks sitting in the shade relaxing. There was a crafts fair setting up on our morning walk that we later visited, passing to/from our hotel, in Bastion Square. It was all very close in downtown Victoria. We walked to the Royal British Columbia Museum to see a fascinating Mayan exhibit, passing Legislative Assembly of British Columbia, seeing a car with diplomatic flags pass by and the Fairmont Empress Hotel (huge!).
There were lots of local cyclists in special 2-way bicycle lanes, very carefully marked to control the cars, pedestrians, and cyclists. With several intersections converging and road construction going on, it took us a while to figure out the markings and get comfortable with it.
---
June 23, 2019, Sunday - Backroads Day 1
Welcome to Victoria, British Columbia!
Biking: Orchards and Observatory Route 65.5 km (40.5 miles),
Elevation gain 740 m (1430 ft)
Tonight at : Brentwood Bay Resort and Spa
Backroads guides :
Marcus Laube
Darren Smith
Helped by Ali Shuparski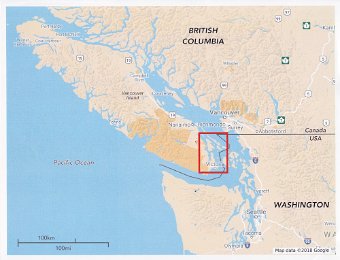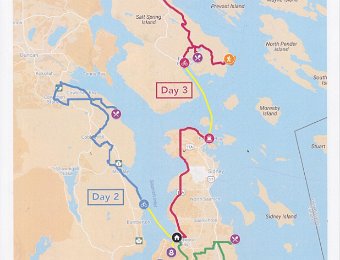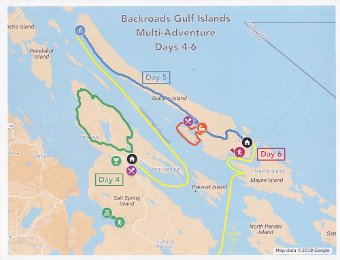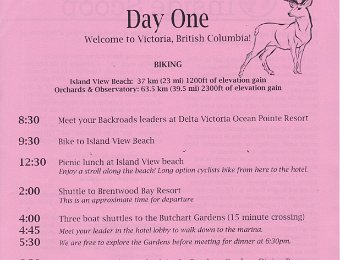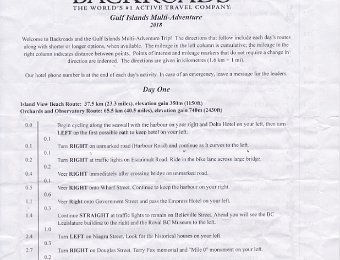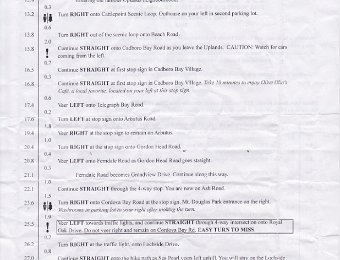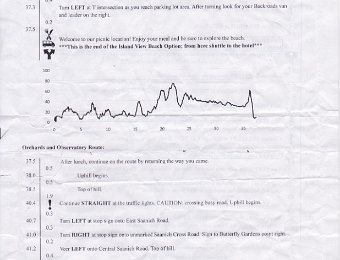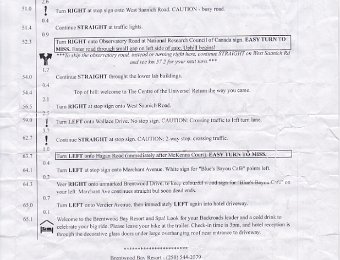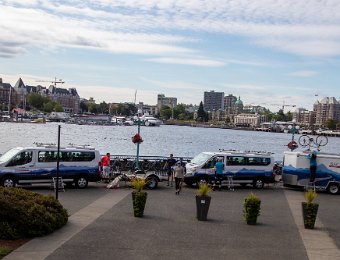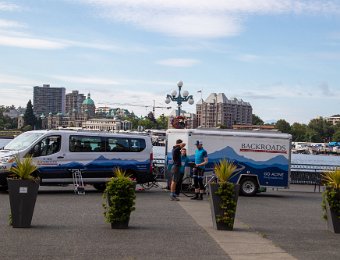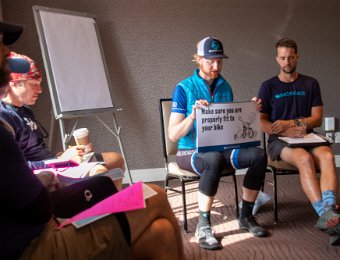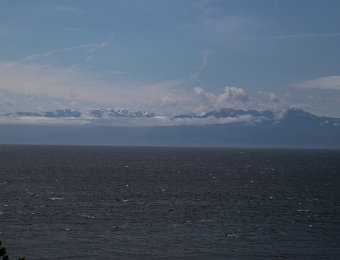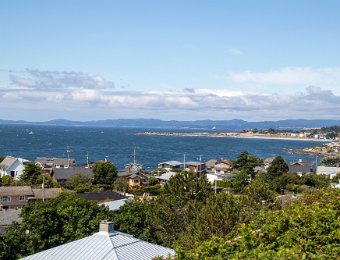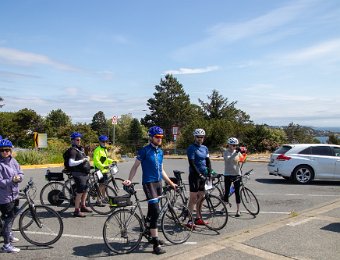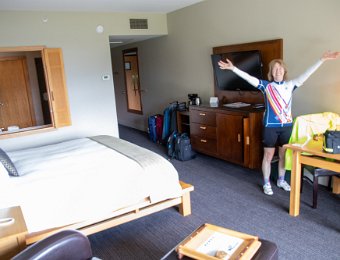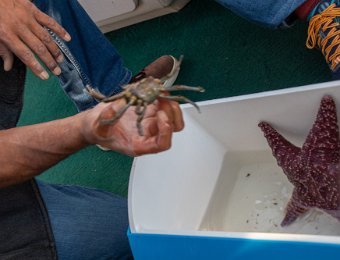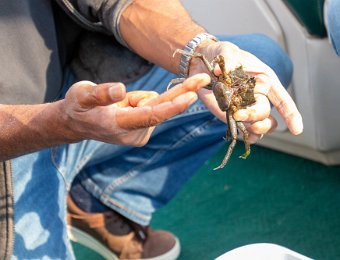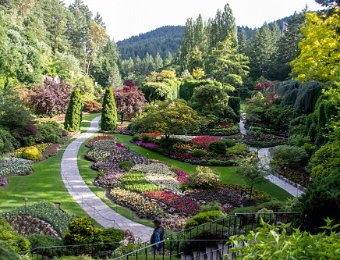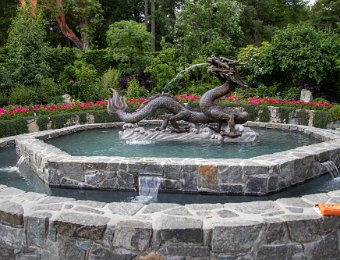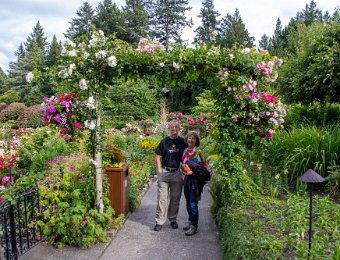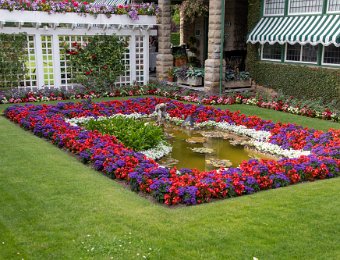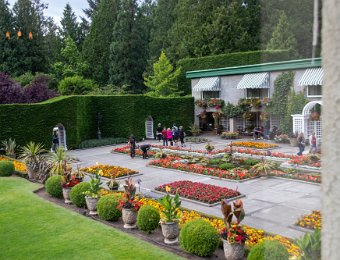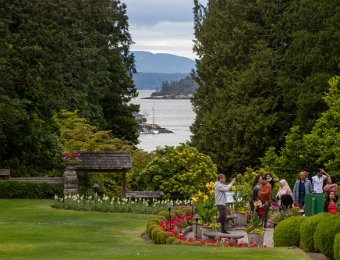 We had breakfast in our room at Delta's Grab-n-Go in the lobby, a Starbucks kiosk with all the standard breakfast foods, steel cut oatmeal with raisins and brown sugar, yogurt cup, bananas.

The Backroads guides were working out back unloading the bikes from the vans by the harbor while all the guests wandered into the lobby. The guides led us upstairs to a conference room and had introductions, people from California, Connecticut, Georgia, Michigan, Texas, and Washington DC. They walked us through their cartoon flip charts of safety tips and we went around the room describing why we chose Vancouver and how many Backroads trips we'd taken. We won with 13! Stewart quoted from our first log in 1993, while on the Backroads Northern Vermont biking trip :

"...The whole group met just before dinner and introduced themselves. There were 26 people on this trip, which is their maximum number. Most everyone was 40 years old or over. There were only 4 of us in our 30s, nobody younger, and a few folks in their 60s!"

Now we are the folks in our 60s!

The bike fitting was held at the back of the Delta, with an intro to the Performance Bikes, Hybrid Bikes, and E-Bikes. There were more E-Bikes this trip than ever before, almost half. Backroads had new titanium bikes with Shimano Ultegra Di2 electronic shifters and gear sets. We were quick to adapt to the slick, very fast, efficient shifting. However, the new water bottle holders were stiff and unwieldy, difficult to remove and replace the bottle with one hand. Anne had to get off her bike to drink water. Wish we'd brought our Camelbacks. Luckily, Backroads requests detailed input after each vacation so they will find out how we felt about this.

After the Route Rap we all jumped on our bikes and headed out across the suspension bridge and south into the city, past the Legislature Building, Royal BC Museum, curved around then north beside the ocean and through some pretty stunning neighborhoods, beautiful homes, incredible landscaping, flowers of all colors everywhere. The Olympic Mountains were visible in the distant south. We had clear skies, cool, and very windy conditions.

The paper step-by-step route instructions Backroads provides lists mileage at the next turn as well as delta mileage between milestones. The cyclists were all clumped together early in the ride so we gauged our next turns watching those ahead of us. But we spread out as we made our way into the countryside, especially with the e-Bikes flying past. Luckily Stewart brought his Garmin so we could tell exactly where we were with respect to the directions. Even so, at a 4-way stop, we missed a turn and added about 1 K to the route. Now it took "advanced math" to figure out from the printed directions where to go next. The directions were in Kilometers.

Kilometers vs Miles - KM are shorter and covered faster. Tenths of a KM are quick. KM are very nice for biking!

It was hilly for a first day, even marked on the route sheets "Uphill Begins" at various spots. Darren rode with us periodically, we asked him "What's that white bush we see everywhere"? He told us about Oceanspray, a very strong wood used to make furniture. Also known as Ironwood, it's a large shrub with cascading clusters of white flowers. It is often the first green shoot to spring up in an area recovering from a fire.

Our Backroads Picnic Lunch was at the Island View Beach. About 2/3 folks decided to shuttle on to the hotel, while a few of us biked on to the Dominion Astrophysical Observatory. We chose not to bike to the top, 2 km of steep uphill then downhill and back on the route to the hotel. Some e-bike riders chose to ride to the top, and also Michael on a non-e performance bike. We just paused at the entrance, met Ali there, loaded some water, and headed on to the hotel for a quick shower and change of clothes. The boat shuttle soon headed to Butchart Gardens, built in an old limestone quarry, it is an incredibly beautiful park with a sunken garden, a rose garden, dragon fountain, carousel, and the historic private garden.

Dinner that night was at the Butchart Gardens Dining Room, Anne had Salmon, Stewart chicken. This was a crazy busy day keeping us on the move from 8am to 10pm.
---
June 24, 2019, Monday - Backroads Day 2
Biking the Cowichan Valley
Biking: Cherry Point Estate 37.5 km (23.3 miles) 790 ft elevation gain
Hiking: Tod Inlet Trail 2.8 km (1.7 miles) 200 ft elevation gain
Tonight at : Brentwood Bay Resort and Spa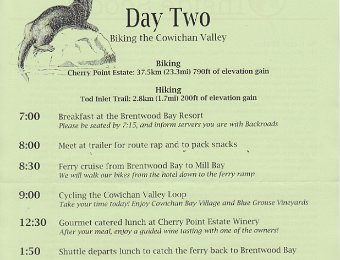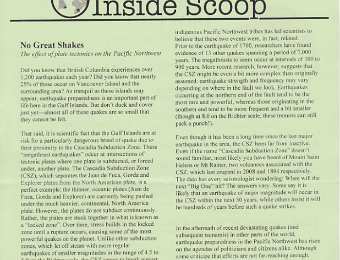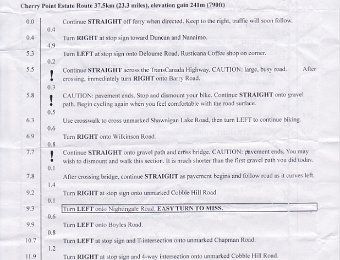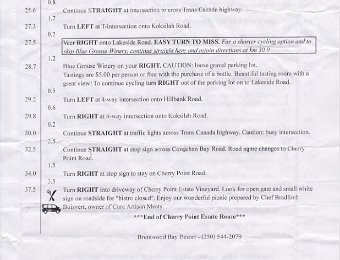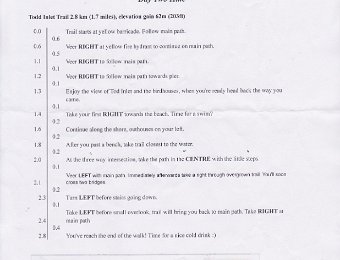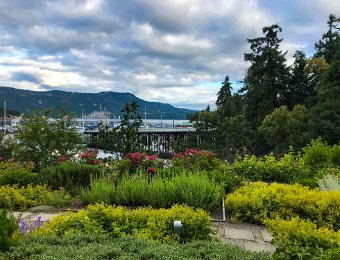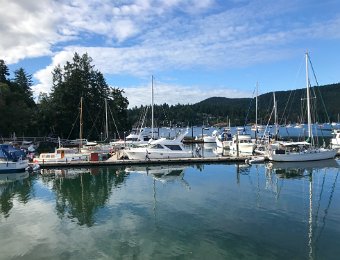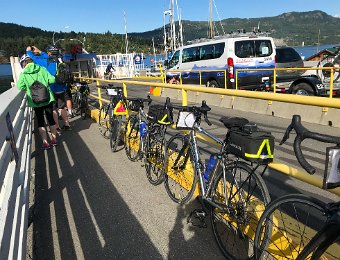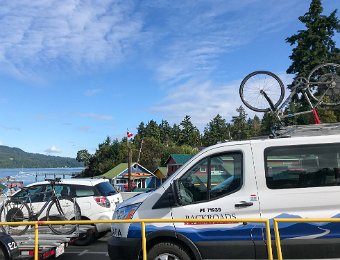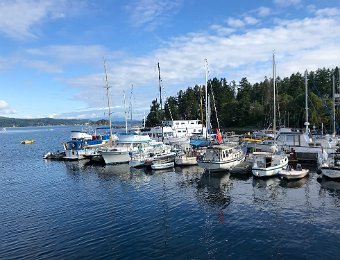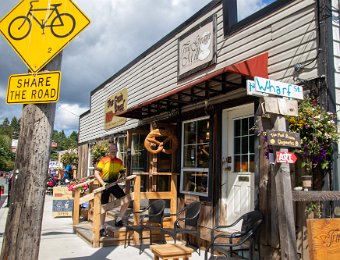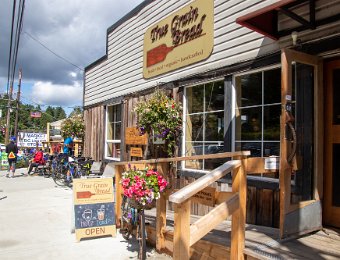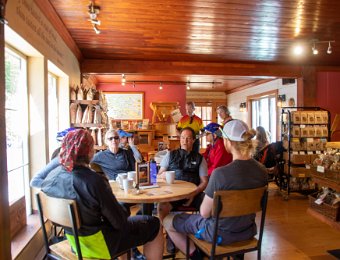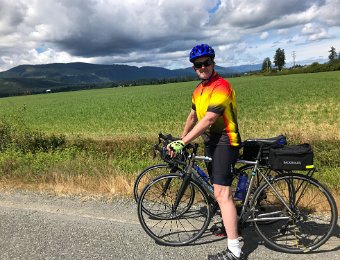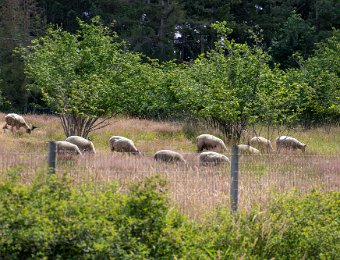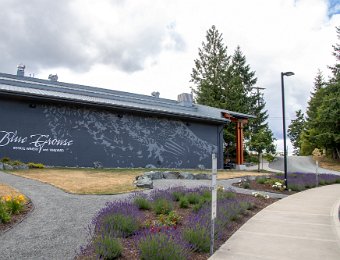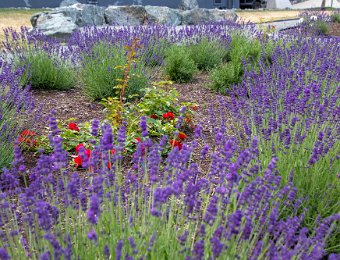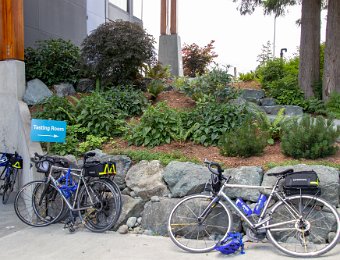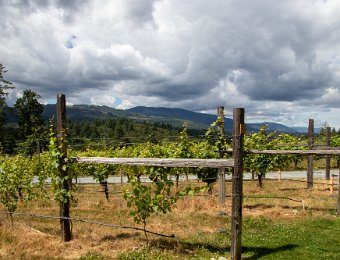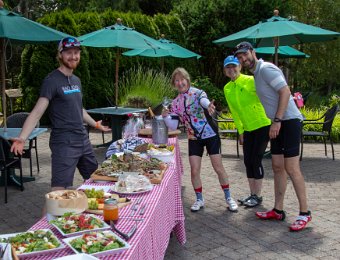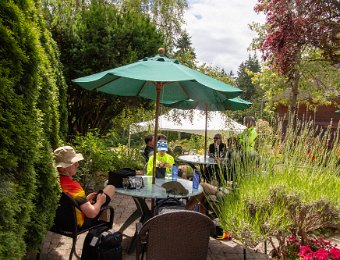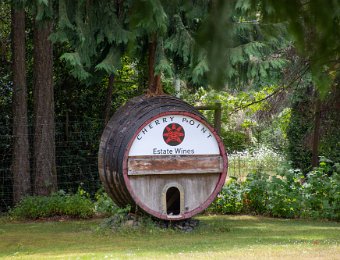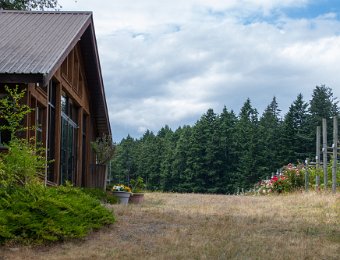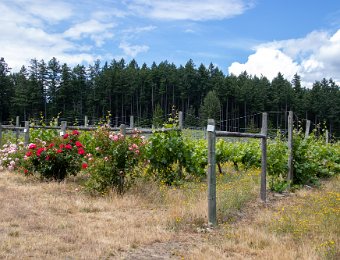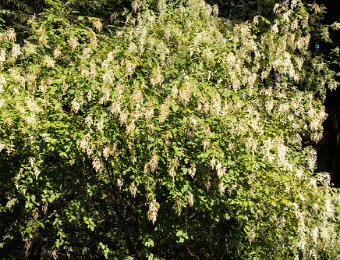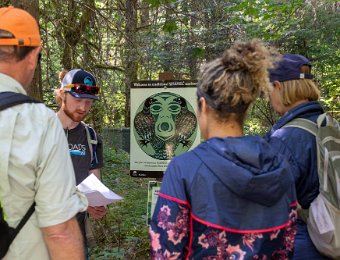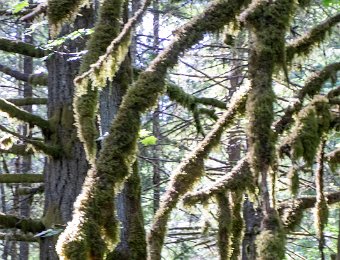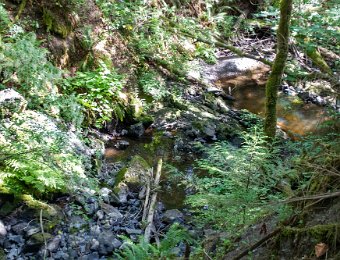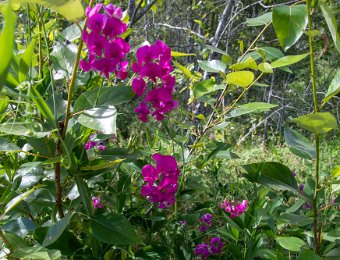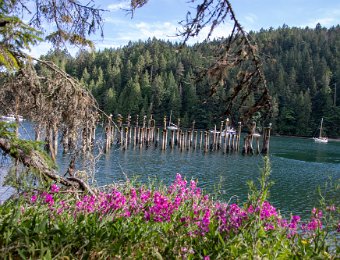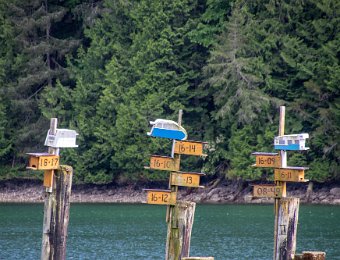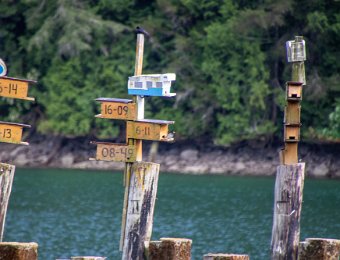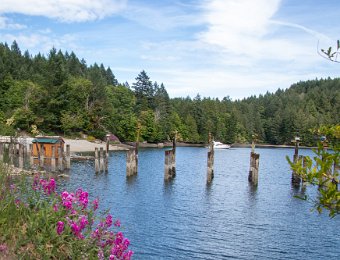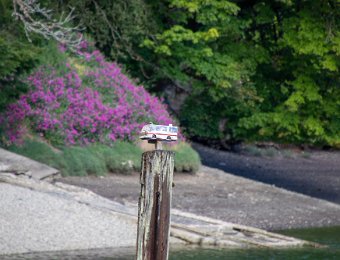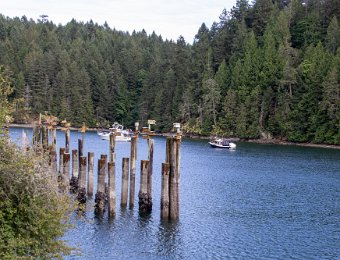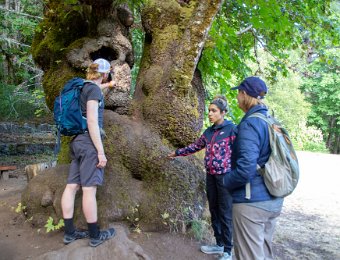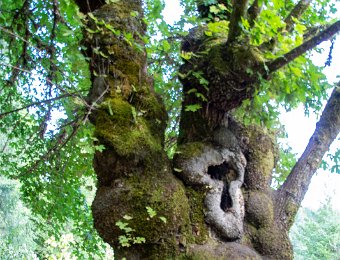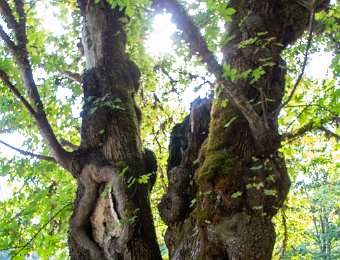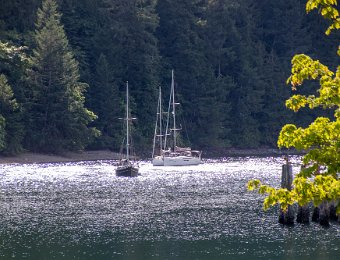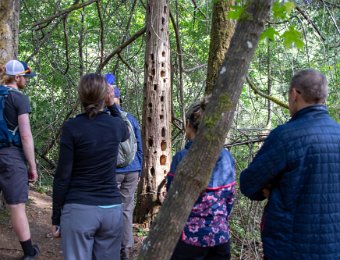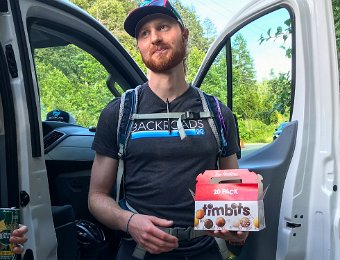 Breakfast this morning was at 7am at the Brentwood Bay Resort restaurant. Stewart sat beside Dan, across from Dana and Jeff. Someone asked Dana what the game was they were playing last night, Timeline, sounded fun! She asked us whether we liked to play games. Stewart said we didn't really play a lot of games, but liked 10,000 (Farkle), and played the game "Bop It" with the neighbor girls on the front porch. Dan got a shit-eaten grin and Jeff asked if we realized we were sitting next to the inventor of "Bop It", Dan. What an amazing coincidence! Stewart showed him his phone videos of the girls playing "Bop It-Pass It" on the front porch. He told us how "Bop It" came to be, some of the games that evolved from it, and some that might still show up in the future. Stewart texted this amazing news to neighbor Stacey, who told the girls, who volunteered to be "game testers" for future versions.
After the Route Rap by the trailer we walked our bike to the ferry for a cruise from Brentwood Bay to Mill Bay. Biking today crossed the TransCanada Highway 4 times, and we biked through Vancouver's wine country. At one point in the ride Stewart called out to Anne "About an hour to go!", off in the distance we hear "About an Hour To Go!! Hour To Go! Hour To Go!" The Bench Elementary School kids were outside playing and heard us and chimed in!
We all stopped at True Grain Bread where we got some fantastic samples of breads and strudels. We bought two Strudels to take back to the room, packing it in our rear trunks. There were newly sheared sheep with birds riding their backs to marvel at. Later on the ride we stopped at Blue Grouse Winery to look around while others in our group did some wine tasting. Blue Grouse is a modern, architecturally interesting winery with many vineyards visible in the rolling fields. Lunch was at Cherry Point Vineyards where we sat out back and ate off an amazing "Chartuterie Board" with custom made meats, sausages, pates, prosciutto, olives, and cheeses.
Anne hiked the optional Tod Inlet Trail while Stewart chilled at the room with his feet up. She saw an overgrown discontinued limestone cement plant, backing to Butchart Gardens. It was filled with Douglas Firs and massive Maples, covered in moss and burls. Sweet peas carpeted the forest floor in purple and pink. Marcus got Timbits (from Tim Horton's, doughnut holes) for the hikers. Snackroads! There was an interesting array of Purple Martin houses on the bay marina poles including a Volkswagen Bus and several RVs (scale models).
Dinner was on our own at Brentwood Bay Resort's Pub. We sat at the corner of the patio, very shaded. At the table next to ours, a fellow hailed Stewart's Washington Univ t-shirt. He had gone to Wash U ! Small world. There were some delicious local wines to mate with our Thai salad with tofu, lots of soy (Anne gave to Stewart), and fettuccine with shrimp (Stewart gave to Anne). We ended up back at the room to pack for the next day's move.
---
June 25, 2019 Tuesday - Backroads Day 3
Biking to Salt Spring Island
Biking: Ruckles Park Route 32.2km (20 miles), elevation gain 317m (1040 ft)
Tonight at : Hastings House Country House Hotel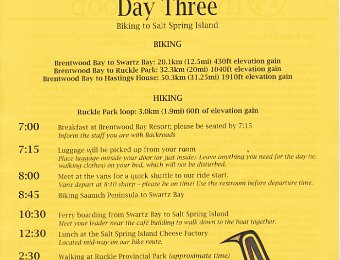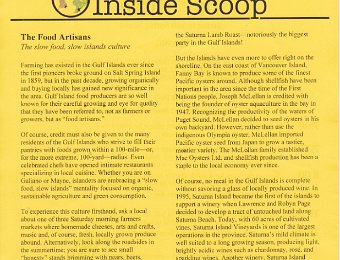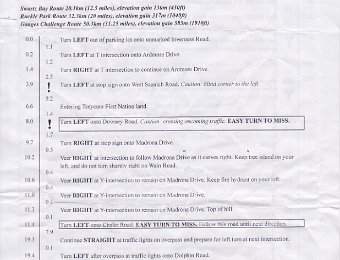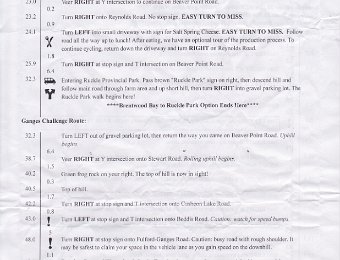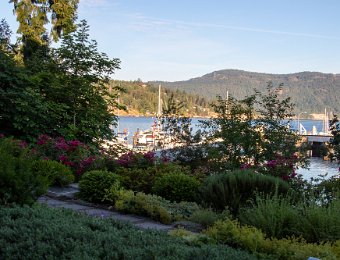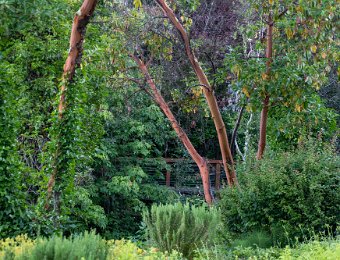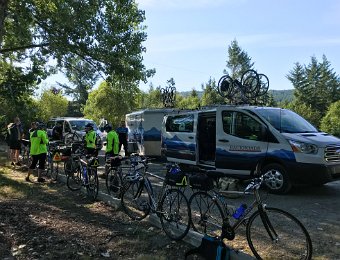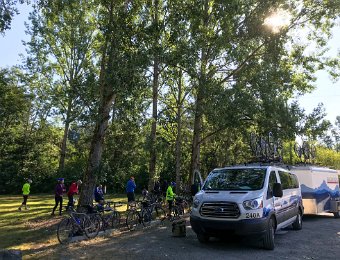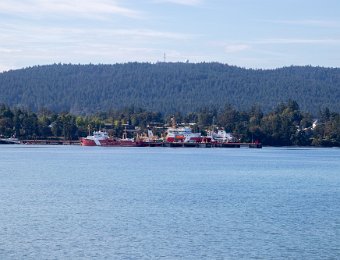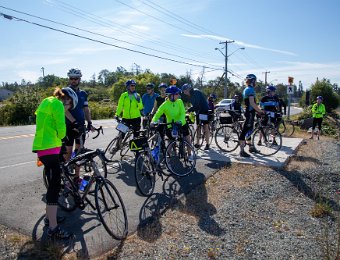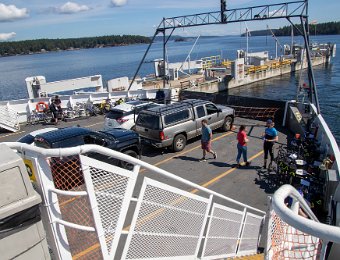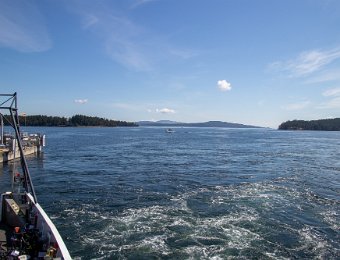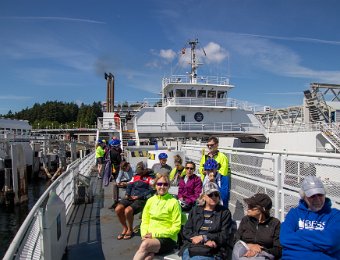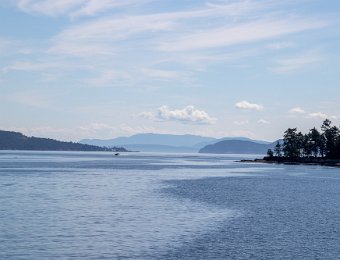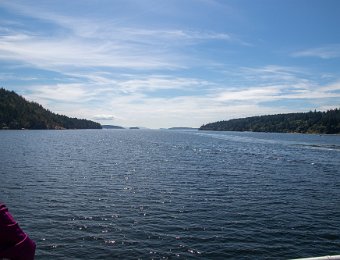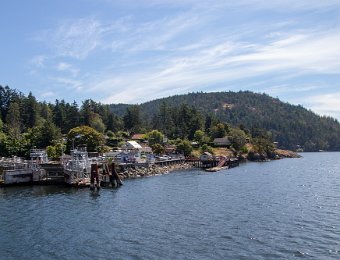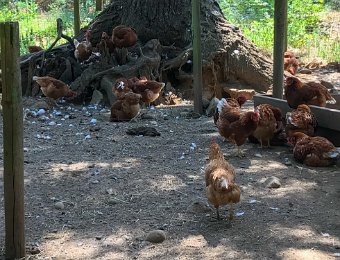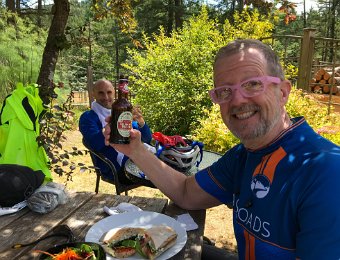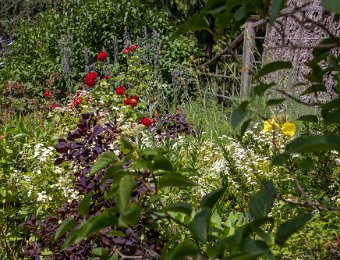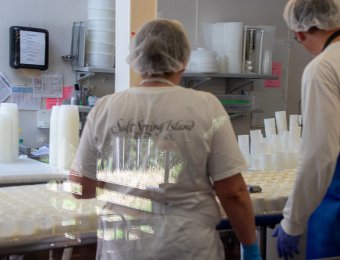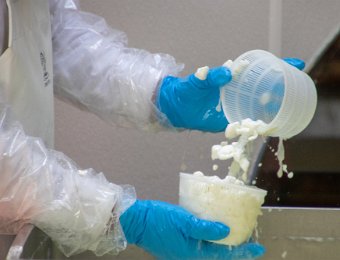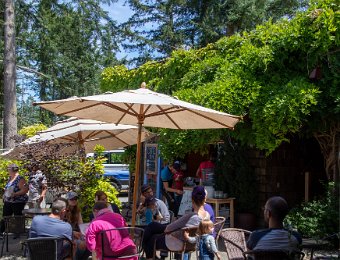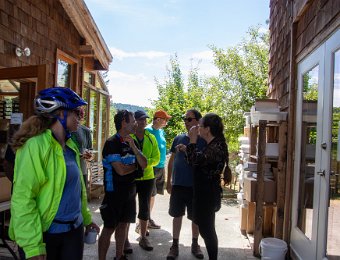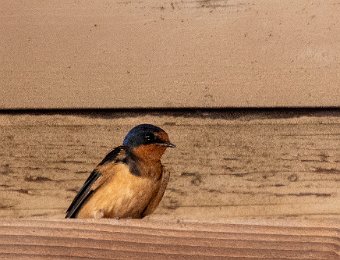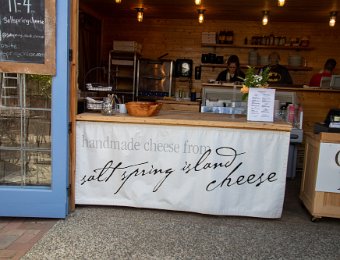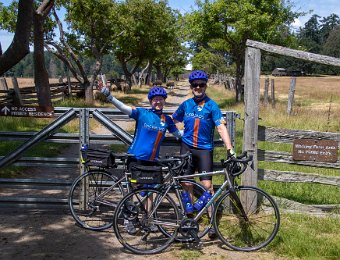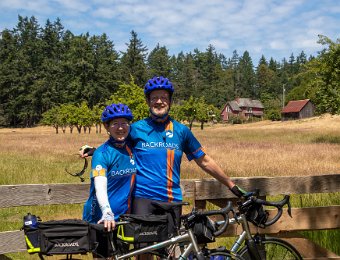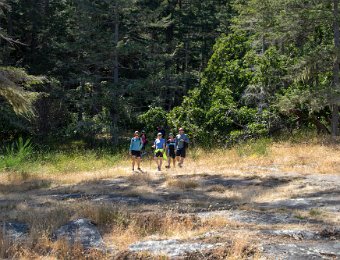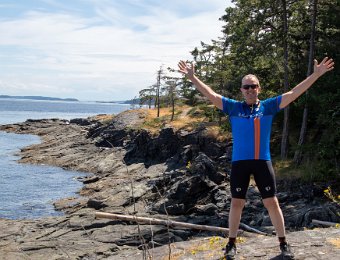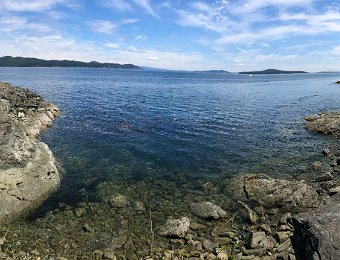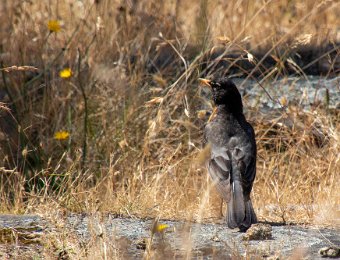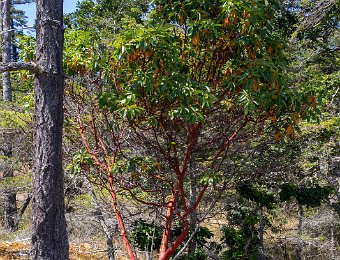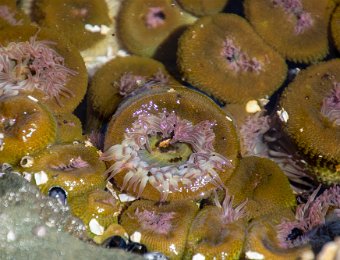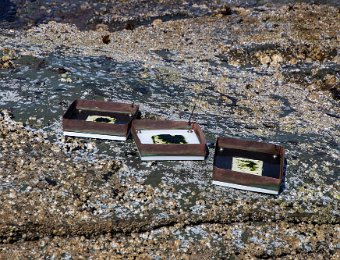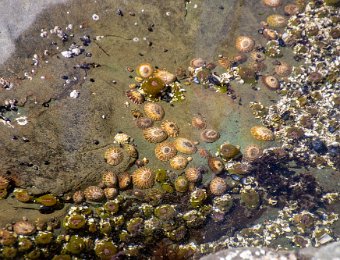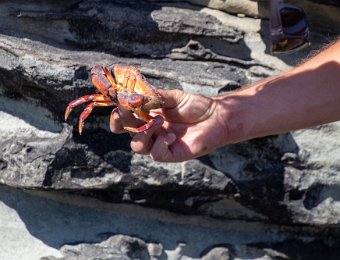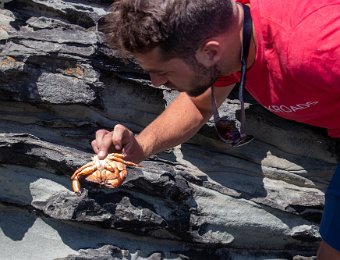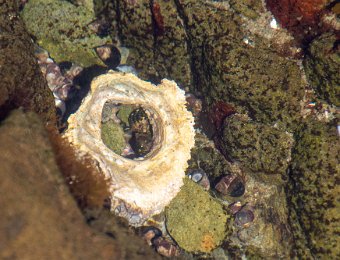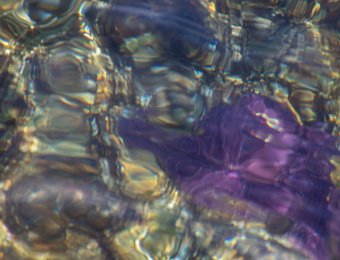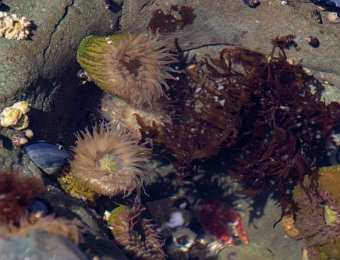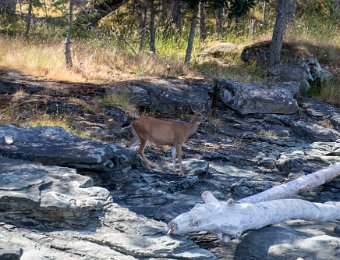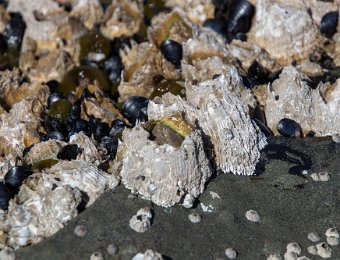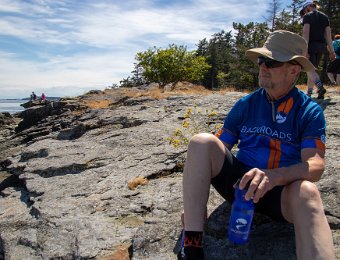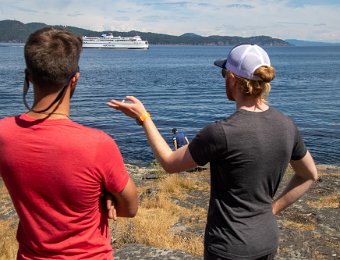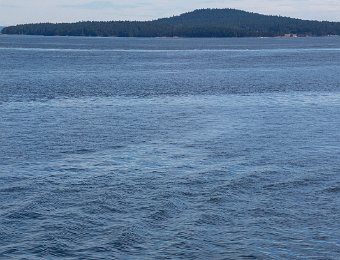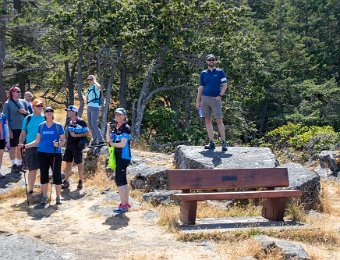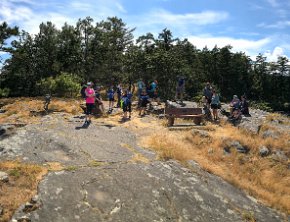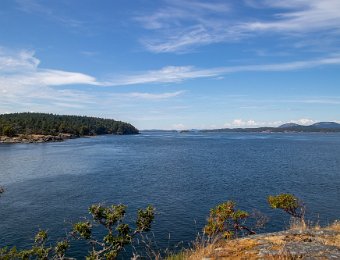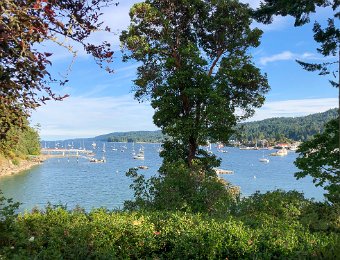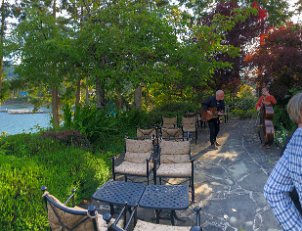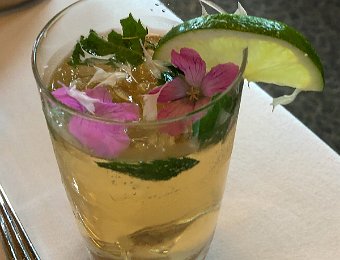 Today, after breakfast at Brentwood Bay Resort, they loaded our luggage and shuttled us out to our bikes for the start. Darren provided us "ferry cards" that could be used to get ferry tickets. We biked to the ferry terminal and got in the queue for Salt Spring Island. We rolled up in a group so Stewart used his card to get 8 tickets for all 8 bikers, then distributed them later. Ali had sweet breads and fruits waiting on a small table for us to enjoy while waiting for the ferry, which was an hour late. When they opened the ferry for traffic we walked our bikes on and parked them along the sides. After the crossing, and all the cars had exited, we rode our bikes off. There was a long, steep climb out of ferry terminal.

About the ferries - Marcus and Darren told us to be careful of the traffic. Sometimes, while biking on the roads near ferry terminals, the traffic will all of a sudden get very, very heavy. This is the traffic exiting, then boarding the ferry. Best for us bikers to just stop and get off the roads, wait about 5 minutes, and the roads will completely empty. Yep. We experienced it ourselves!

The biking had rolling hills, lots of flat roads, we saw irrigation stretching wide across verdant farmland.

Lunch was at the Salt Spring Island Cheese Factory. We wandered the grounds waiting for lunch to form, saw Rhode Island Red hens digging in dirt for nesting. For lunch Anne had veggie pizza, Stewart had farm fresh panini sandwich, both made with goat cheese. Stewart also signed us up for the goat cheese cheesecake which Anne was happy to share with others since she has a low threshold for goat cheese intake. Backroads was also recommending people try the ice cream, which was made with goat milk. We opted out of that one.

They offered local ginger beer and root beer, it was marvelous. Stewart borrowed Avi's pink readers so he could see his meal and read the labels. The cheese tour was "zoo-like" where we could look through windows at cheese making in progress. The workers were sifting curd to drain the water which involved shuffle board skills, and they were very good at it, efficient. This is a family business handed down from parents to children to children over the years. Turns out the cheese is available in the states at Whole Foods and other groceries. There were barn swallows everywhere.

Salt Spring Island had some very hilly biking! The e-bikes passed us zooming up the hills, this was a recurring theme. Anne yelled to Stewart "Stay with them!" while on a dirt path, trying to avoid having to look so often at the directions, but it was impossible, they were just too fast.

Anne couldn't drink water on the bike, the new water cages were too tight, hard to get out, impossible to get back in, she had to pull over each time to drink water. This was very inconvenient, hard to stay hydrated, and we won't forget our camelbacks in the future. Unlike all of our recent Backroads trips, they didn't provide trip computers on this trip. Stewart had his Garmin, but Anne had nothing to gauge distance. The e-bikes were equipped with trip computers (which also managed their e-power) but not the performance or hybrid bikes. Backroads said Garmins aren't used for multi-sport trips.

Most folks took the 1.7 mile Ruckle Park walk out to a rocky bay, Marcus' stomping grounds. He found tide pools and pointed out anemones, barnacles, and even a purple starfish. Right at the water's edge we saw several trays, carefully laid out and marked, a science experiment for some local high school or college student (?)

We passed on doing the Ganges challenge, very steep climbs again, compressing the time left to relax and settle before dinner.

Our hotel for the next two nights was Hastings House, an English style manor on the bay with beautiful gardens. We got assigned Essex Room, up many stairs to a bedroom, bath, living room with fireplace and balcony overlooking trees, the bay, and the dining hall.

Dinner was in their dining room after a happy hour with wine on the Veranda. A guitar/bass duo serenaded us with relaxing folk music. Dinner was very good but once the musicians moved inside, it was a bit too loud for the small room. Anne ordered a whimsical cocktail with local (hopefully edible) flowers floating on top.
---
June 26, 2019 Wednesday - Backroads Day 4
Exploring Salt Spring's Art Culture
Biking: Salt Spring Art Loop: 26.2 km (16.3 miles), 1150 ft of elevation gain
Hiking: Daffodil Point: 2.7 km (1.7 miles), 500 ft elevation gain
Tonight at : Hastings House Country House Hotel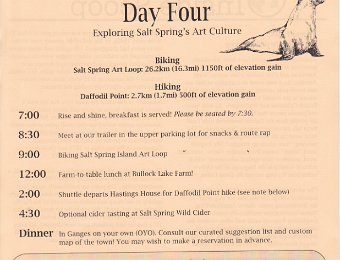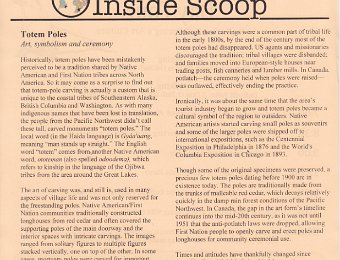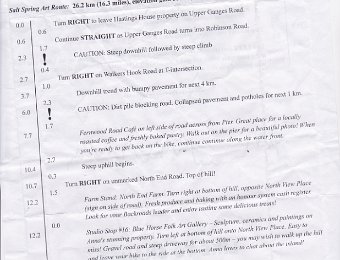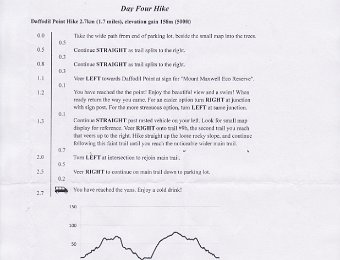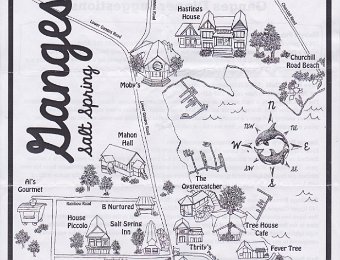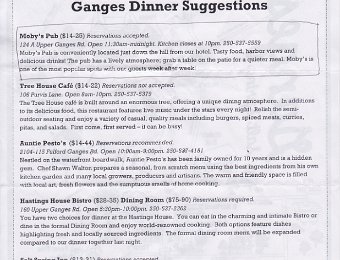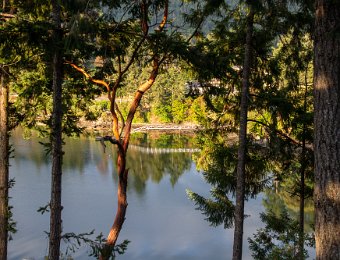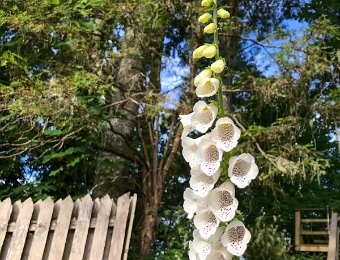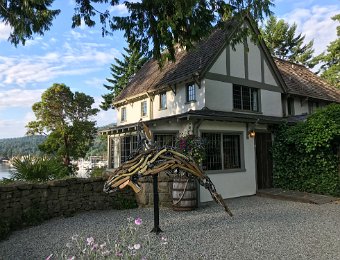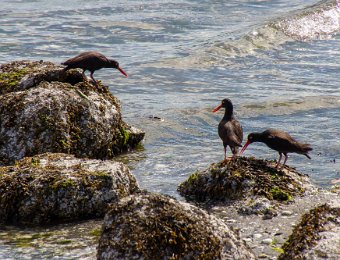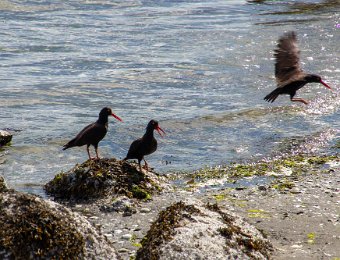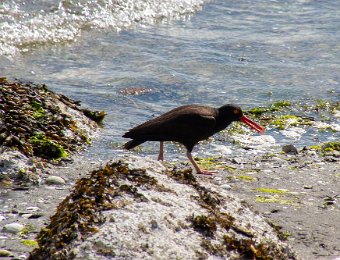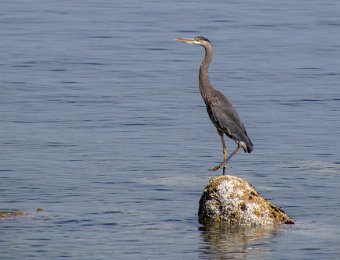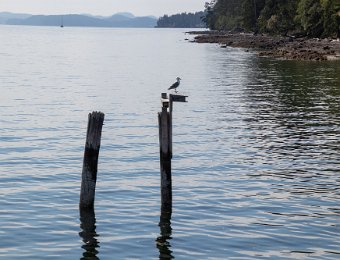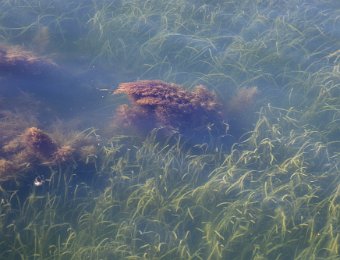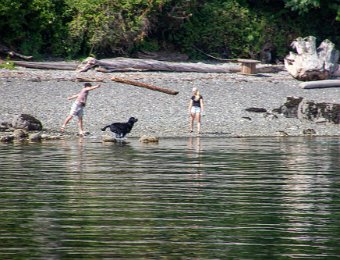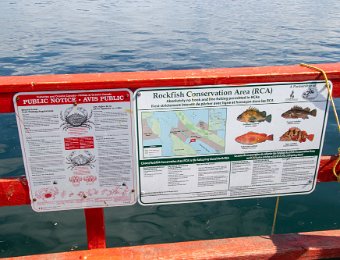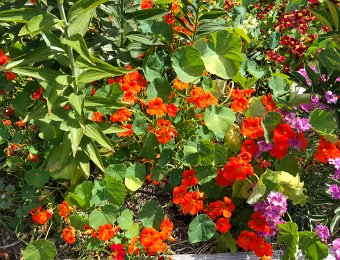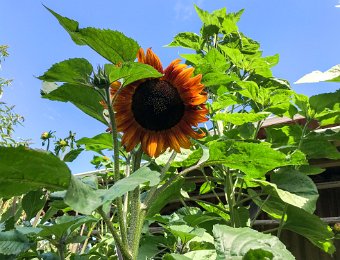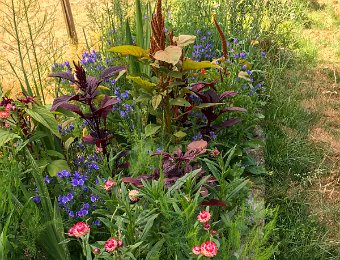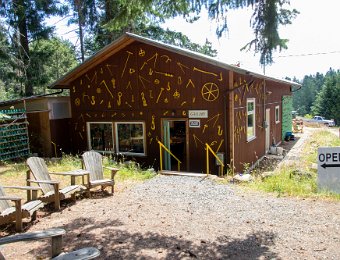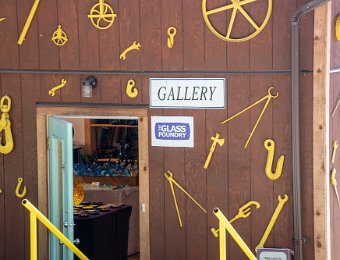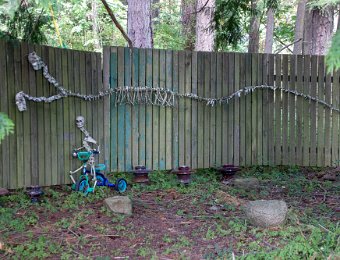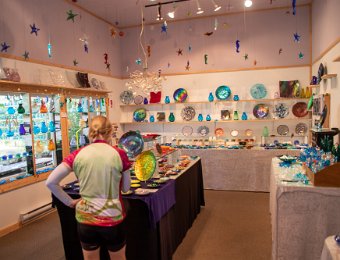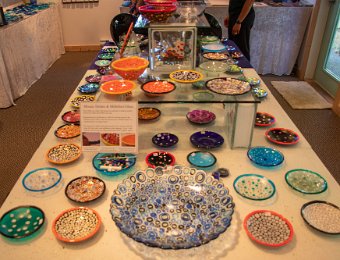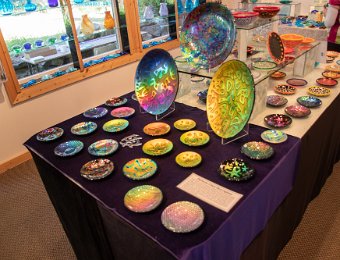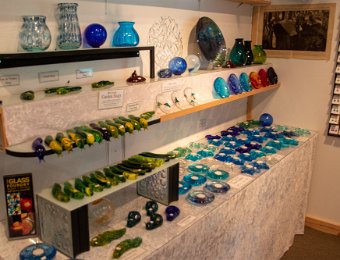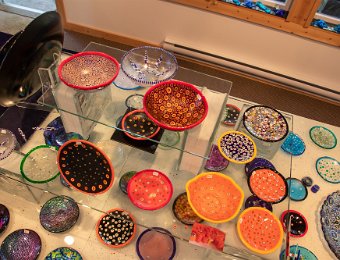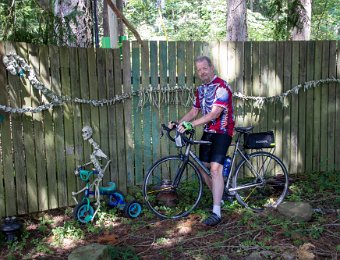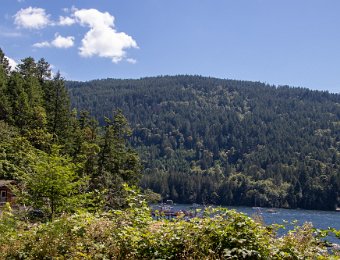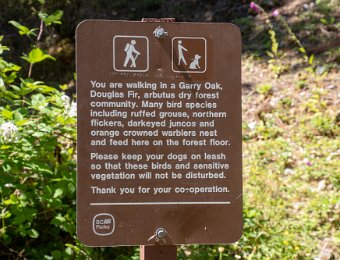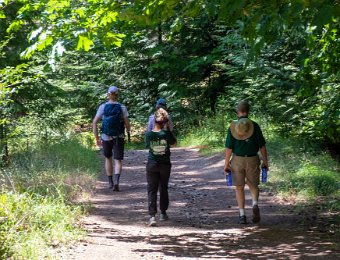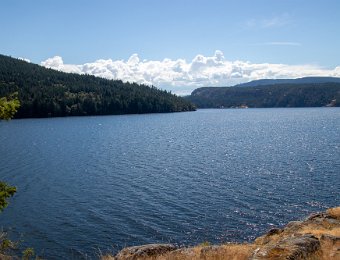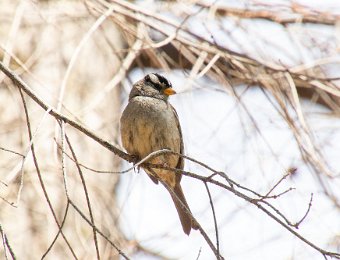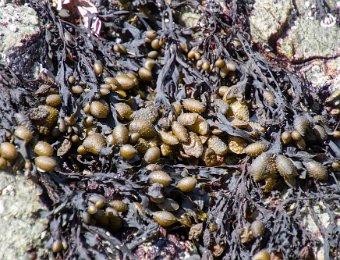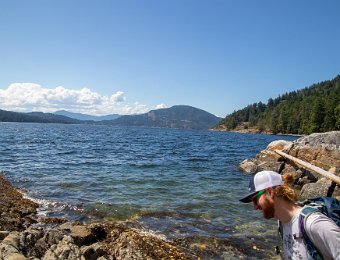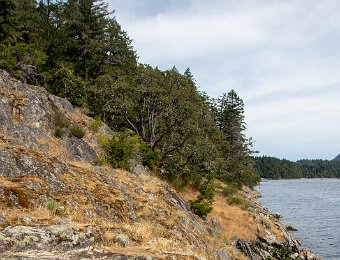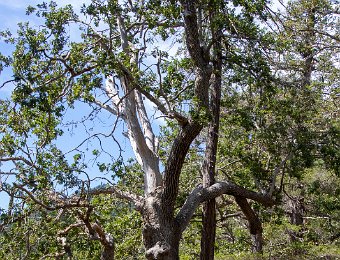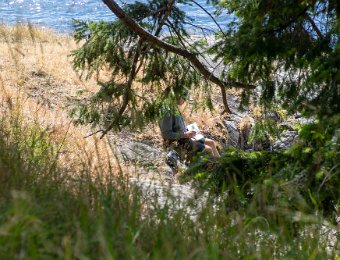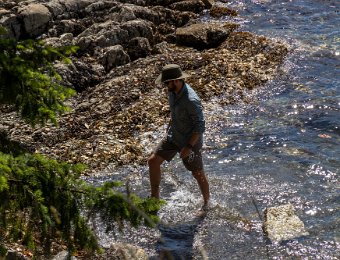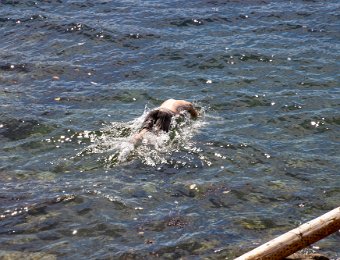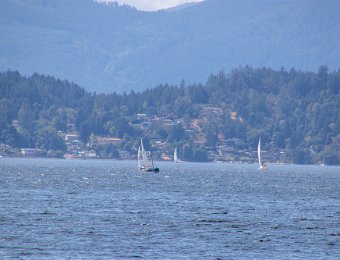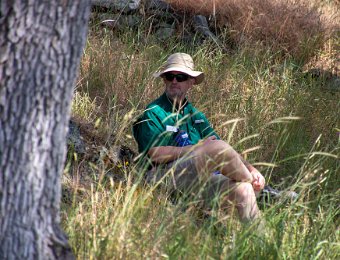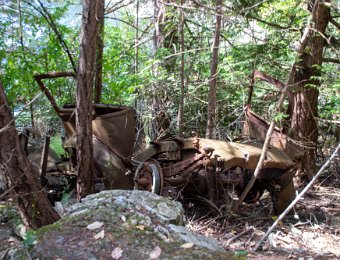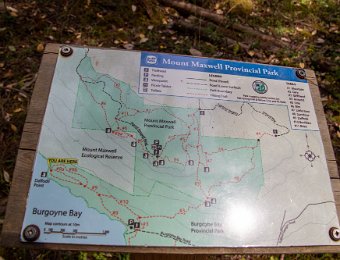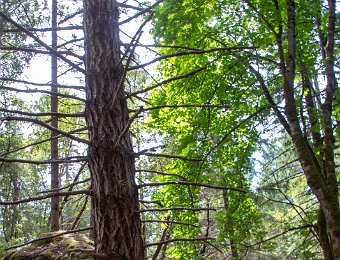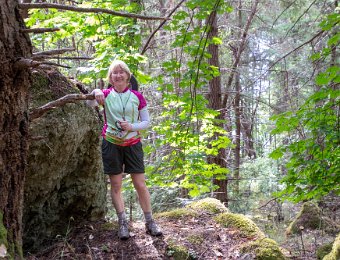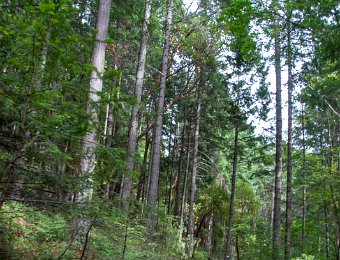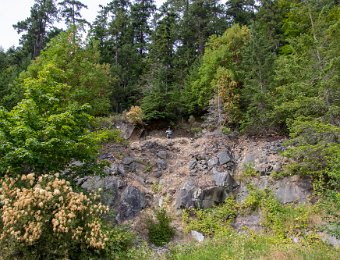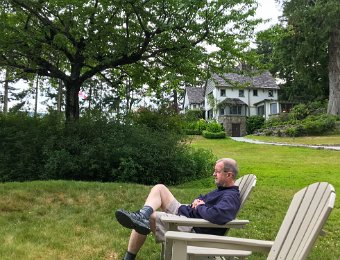 It was a Hilly Day!
We biked the "V", a steep downhill followed by a steep uphill. Marcus warned to be in low gear before starting down because the climb started immediately at the bottom, and he wasn't kidding! There was no time to gear down when the hill started. Anne had trouble with gears and walked the uphill twice, once at the bottom, then mounted and made some headway but couldn't turn the pedals over near the top and had to bail again.
We took a break at the Fernwood Road Cafe where Anne photographed the stunning rows of flowering plants next to the blue barn, before making a quick visit to check out their chickens. Ali and Marcus hosted a table of roasted coffee, freshly baked pastries, local strawberries, and sourdough bread with red vinegar. Then we were back on our bikes to attack the hills.
Lunch was at Bullock Lake Farm where we had another delicious lunch with snap pea salads, plates with fresh grilled carrots, spinach, polenta with basil aeoli, plus coffee and cookies, and bonus : strawberry kombucha! The food preparation was done in two converted, connected shipping containers. It was very fancy, high tech, on the inside, and very "shipping container" on the outside. There were several art studio opportunities today :
Blue Horse Folk Art Gallery
French Country Fabrics
The Glass Foundry
It was at the Glass Foundry we discovered a skeleton sea dragon and child's skeleton on a tricycle. Stewart mimicked it in his skeleton jersey (which he had on totally by accident!) while several folks got photos. Anne picked up earrings with nice iridescent effects. There were bowls made with small glass beads melted into intricate patterns and backlit beautifully.
Today's hike was to Daffodil Point, with some good climbs leading up to scenic views out to the bay. This was a Garry Oak preservation area and the oaks were enormous. It was here that Michael decided he would go for a swim. Luckily, Marcus had brought some waterproof sandals and towels, so Michael braved the cold, cold water for a minute or so to make the memory.
Dinner was on our own in town, Ganges, Salt Spring Island. We walked the short cut to Moby's Pub and sat with Sharon and Kurt outside. Their fancy heaters were broken so they provided comfy blankets. Stewart had Pho and Anne, Ramen. Both were really good, perfect for the cool evening. Then it was a short walk back to the room to pack.
---
June 27, 2019 Thursday - Backroads Day 5
Biking and Sea Kayaking on Galiano Island
Biking: North Galiano to Montague Bay: 21.3km (13 mi), 1000 ft elevation gain
Sea Kayaking
Tonight at : Galiano Inn & Spa - Oceanfront Boutique Resort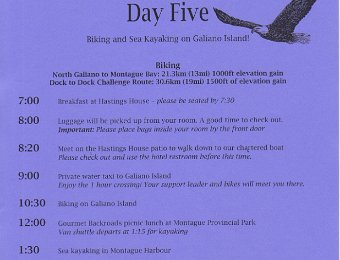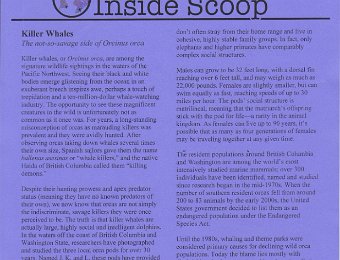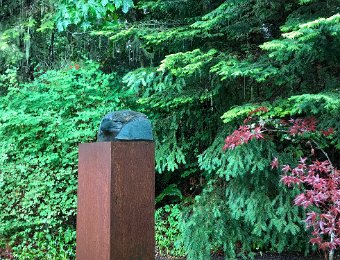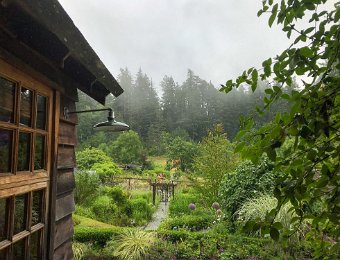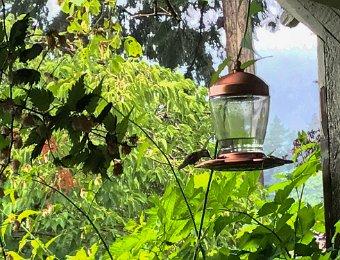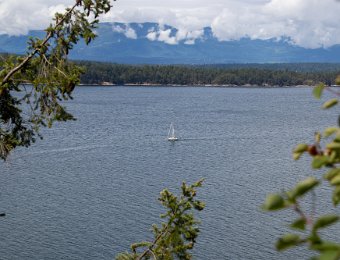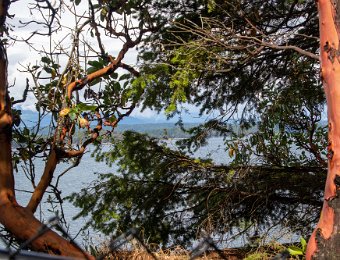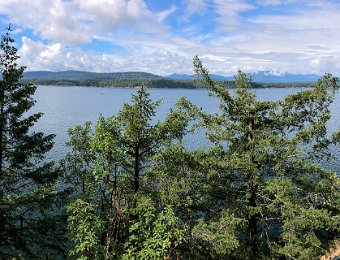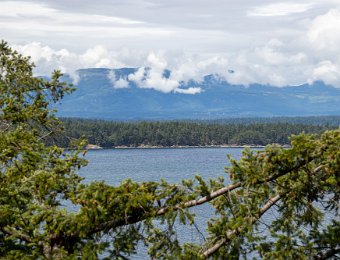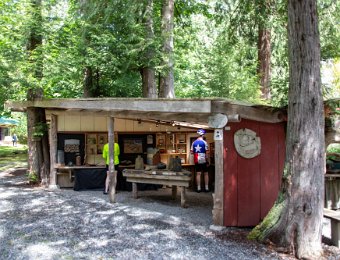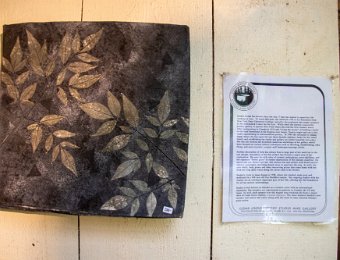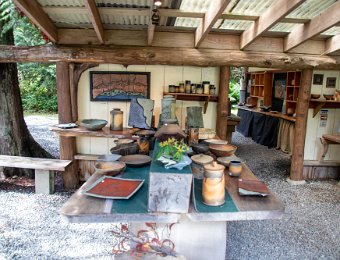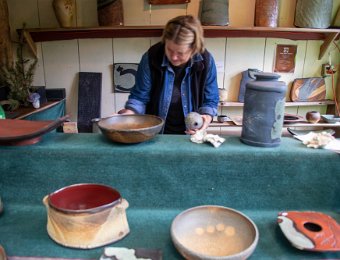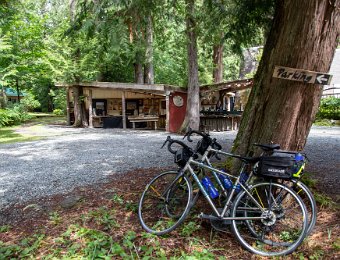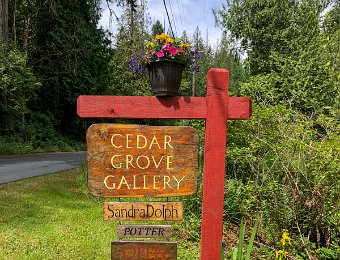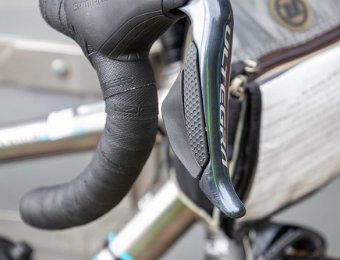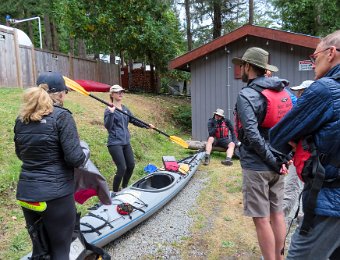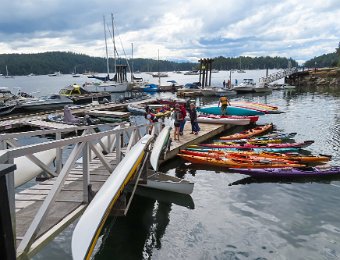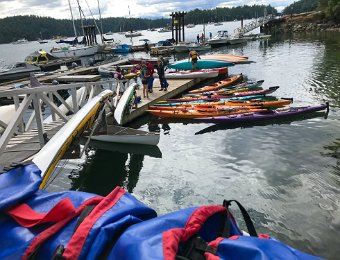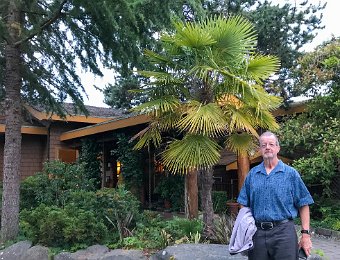 It was steadily raining when we woke up this morning and continued to rain until we arrived on Galiano Island. We took a private (enclosed) Water Taxi to the northern most point of Galiano Island. The Water Taxi is also used as a school bus to Salt Spring Island. Students ride an hour each way, doing homework and socializing on a 4-day schedule. Schools are better on Salt Spring Island. Our bikes were waiting for us on Galiano Island, the rain had just stopped. Yay! The biking today was from the northern most part of the island to Montague Bay, about a third up from the southern tip, where we would kayak. The biking was lightly rolling with a few steeper hills, deep in the fir trees. The rain had stopped and steam formed beautiful whorls on the roads as it dissipated.
Lunch was at Montague Provincial Park, overlooking the bay. A classic Backroads picnic lunch with breads, cheeses, meats, veggies, wonderful desserts. The sky got darker and darker as we ate and started lightly raining, we all scuttled under cover and continued eating and laughing about how the rain had missed us all day, and indeed, the rain stopped before we got back on the road to the kayaking spot.
At Mantague Bay the kayak team separated us into the front seat group and the back seat group. These were two-person kayaks with feet activated rudders. They trained us, then swapped us out, then combined us and launched the kayaks. We thought the kayaking would be relaxing and zen-like, like what we experienced on the San Juan Islands trip. But this time it was more strenuous. We didn't really know what we were doing so we fell behind, spent a lot of effort not getting very far, and always missed the naturalist discussions. By the time we paddled up to the group they were leaving for the next stop. No rest for the weary!
Back to the Galiano Inn to clean up, then drinks on the patio, appetizers, and conversations. We were early and had a glass with Judy and Brian who couldn't wait either. Dinner was at the Galiano Inn's Attrevida Dining Room, then back to the room to pack up for our last overnight with Backroads.
---
June 28, 2019 Friday - Backroads Day 6, The Last Day
Hiking Galiano Bluffs!
Tonight at : Delta Hotels Victoria Ocean Pointe Resort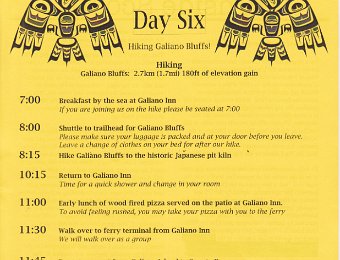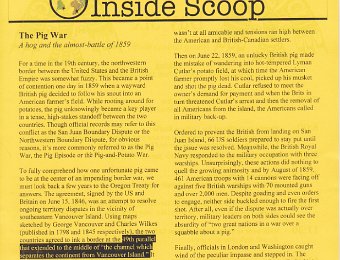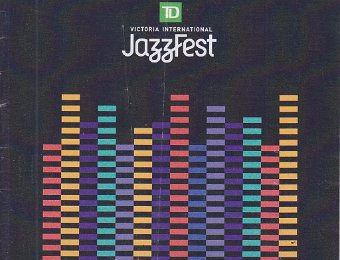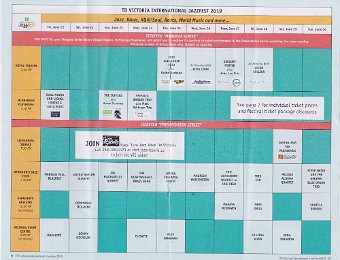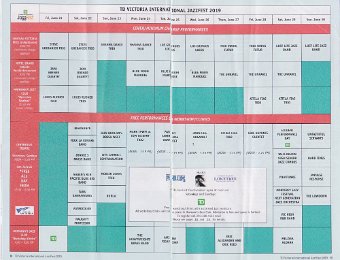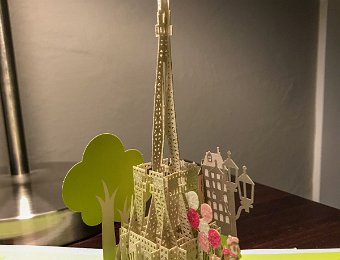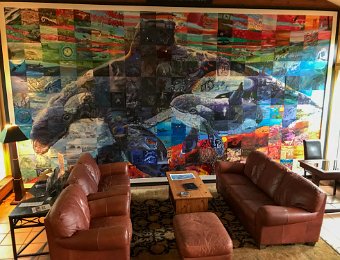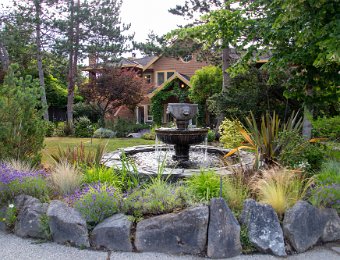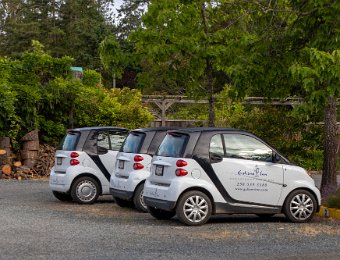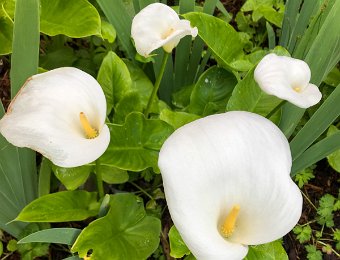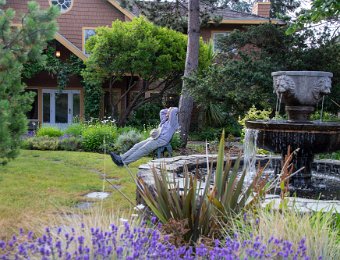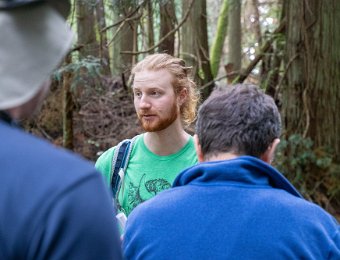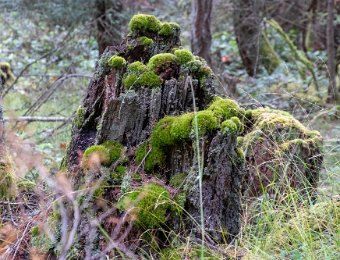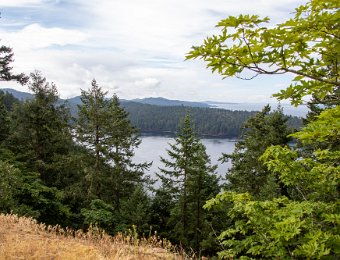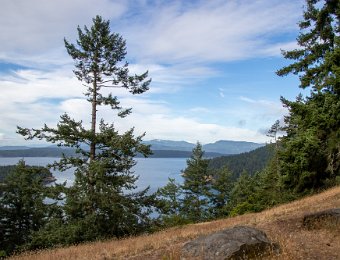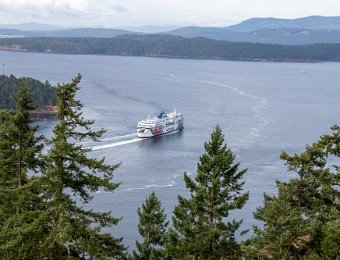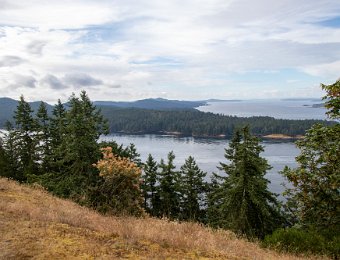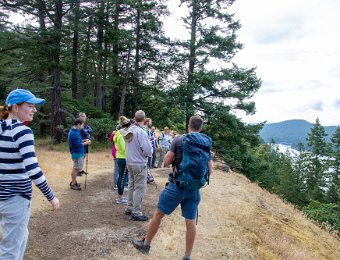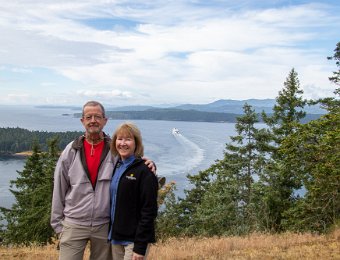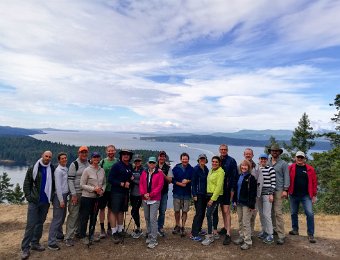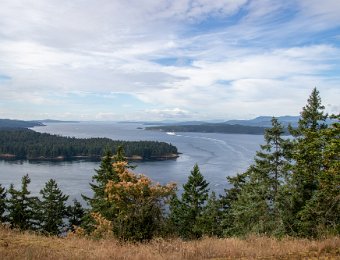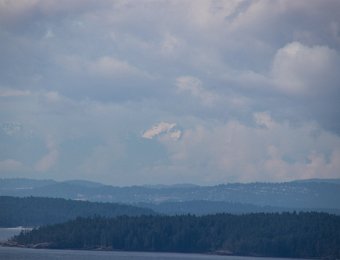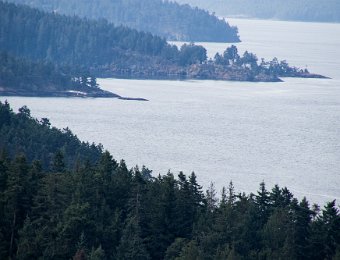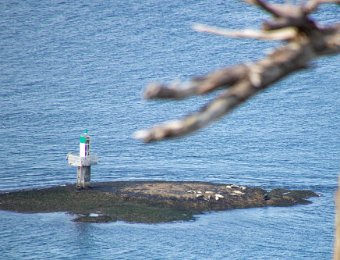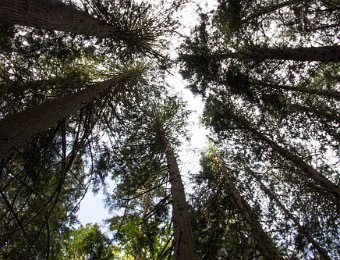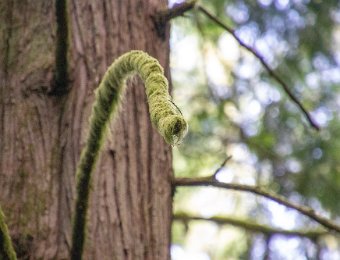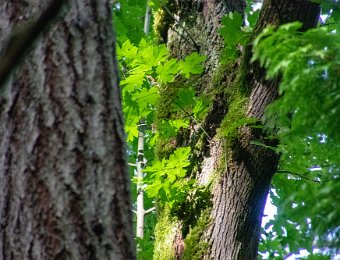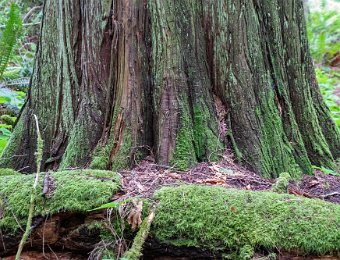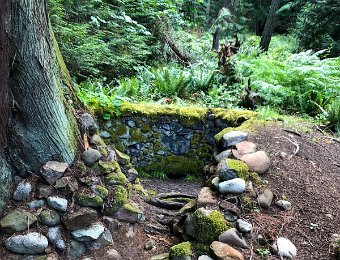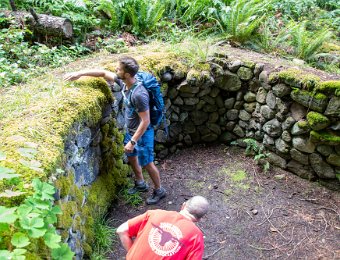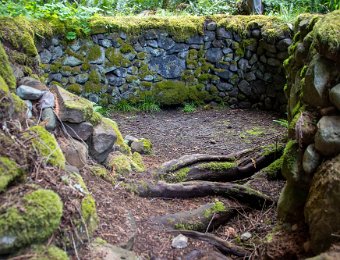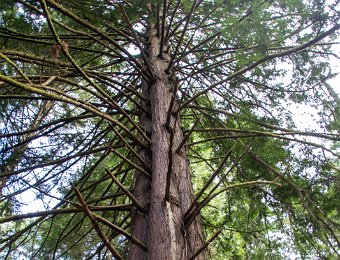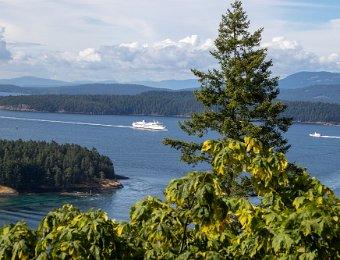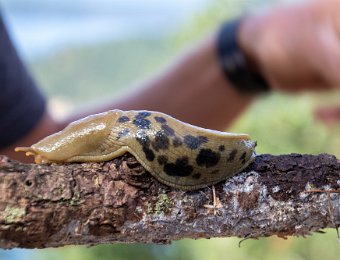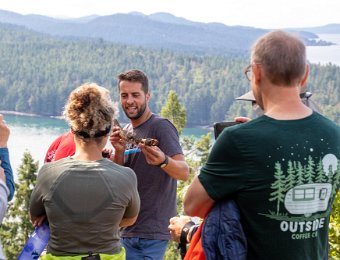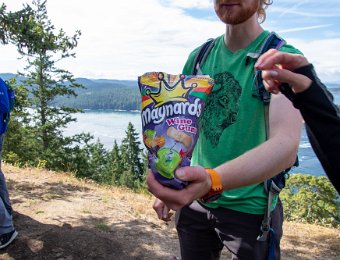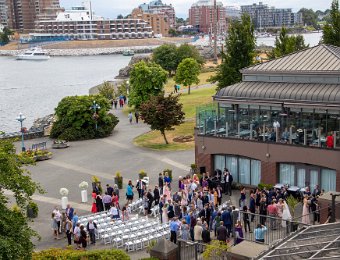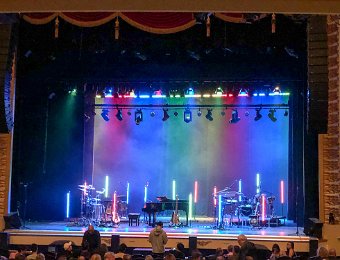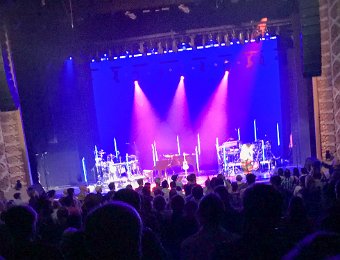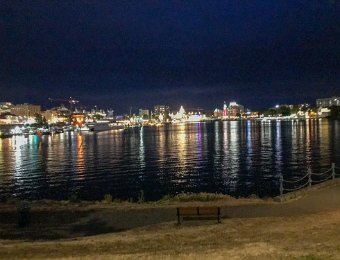 Happy Birthday, Anne!
Anne received texts from Emily, Melanie, Russell, and Kim & Todd congratulating her on her birthday. Stewart's birthday card was a 3D foldout Eiffel Tower and bicycle.
Galiano Inn had very good room coffee in a real drip coffee maker. The night before we had to cover the thermostat light with Anne's bra, microwave light with Stewart's underwear, and the cable box light with a towel. The patio had some very comfortable lounge chairs.
We prepped for the hike, but left post hike clothes on the bed since the luggage was to be picked up while we were hiking. Breakfast was with Kurt and Sharon, Brian (Judy stayed in room to chill out), Marcus, David (who had gotten a bee sting and whose leg was red and swollen, maybe infected? Yikes!). Michael and a few others did the 6:45am Yoga class to loosen up. For breakfast Stewart had granola, yogurt, and fruit compote, Anne had salmon, poached eggs Benedict, and home fries, with ketchup, the true Canadian condiment!
Today's hike was to Galiano Bluffs. It had steep climbs, and steep downhills, so Anne borrowed a walking stick from Marcus, who had brought plenty for everyone. It was a bit damp, rocky, and slippery, so the sticks were a good idea. The hike visited a Japanese kiln used to make charcoal. There were vista views south of all the islands, Salt Spring, Vancouver Island, and a bunch of smaller ones, with seals on the smaller islands, and several BC ferries and sailboats visible on the water in the distance. The sky was clear and blue so we could see far, it was amazing. There were >150 ft tall, 500 year old red cedar trees along the route, many covered in moss. Marcus had lived on Vancouver Island and told us the story of the island as we walked. At one point Darren brought out a huge banana slug on a stick holding it in his mouth (the stick!). The slime is said to be medicinal with numbing effect. Darren dared us, so Stewart and Dana licked it! Marcus did not lick it, although Darren said he would if anybody else would. Another chicken to be seen. Both said it had a mild tingly effect, but nothing much.
Back to room to shower and finish packing backpacks (the luggage was gone). Our last lunch was Pizza at the outdoor pavilion. We walked over to the Sturdies Bay Ferry terminal, from Galiano to Swartz Bay on Vancouver Island, for a 2 hour ride. The large ferry was quiet and smooth. We watched the little girls run in circles around the deck, one dropping her furry purple sequined owl sandals on the deck and leaving them for a while.
Back on Vancouver Island, Backroads shuttled us to the Delta Ocean Point hotel where we stayed two more nights. Our rooms weren't quite ready so we got vouchers for free appetizers at the hotel restaurant, brussel sprouts, bruschetta, and $ 5 happy hour wines. Our room was on the 4th floor, a corner room with windows on two sides looking out over the Bay. Tonight we had tickets to see young jazz genius Jacob Collier at the Royal Theater in downtown Victoria. Googling around we found the Pho Vy restaurant kitty-corner from the theater and headed out walking. We immediately got stuck when the bridge horn tooted, walkways closed, and the bridge lifted to let ships pass under. An unusual 5 ships passed, 3 incoming, 2 outgoing, taking much longer than expected. We kept hearing announcements over the PA "Sorry about the long delay, more ships than usual needed to pass!". Typical, wonderful Canadian courtesy! When we finally got to walk over we were a bit late. Turned out fine, the Pho place was not crowded, had quick service, and very good food. We got seated in plenty of time at the theater and watched a stunning high-energy tight performance by Jacob and his band, Portuguese multi-instrumentalist Maro, bassist Robin Mullarkey, and drummer Christian Euman.
---
June 29, 2019 Saturday - Back in Victoria
Tonight at : Delta Hotels Victoria Ocean Pointe Resort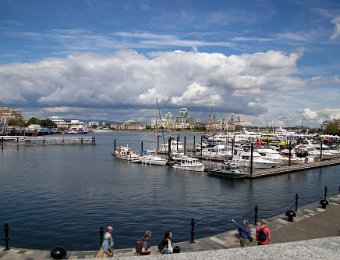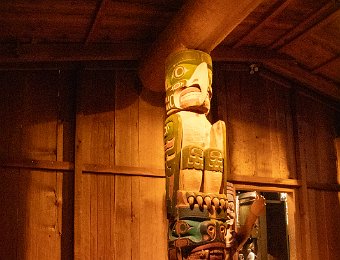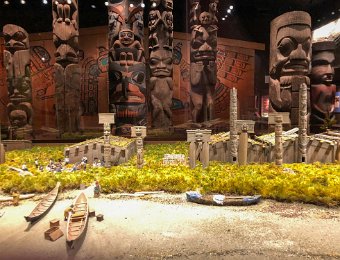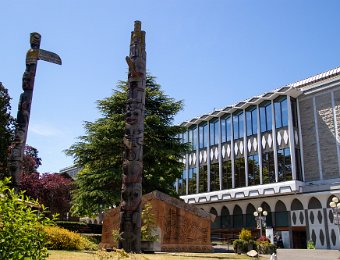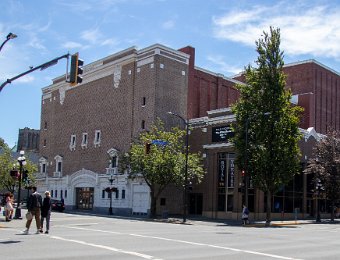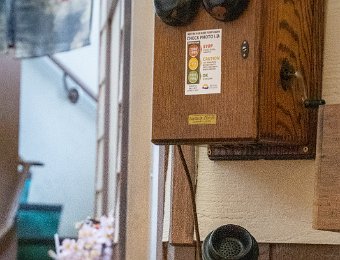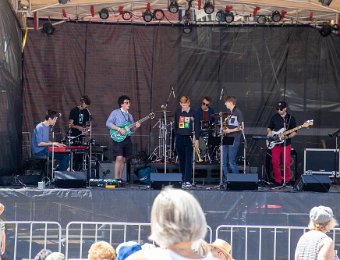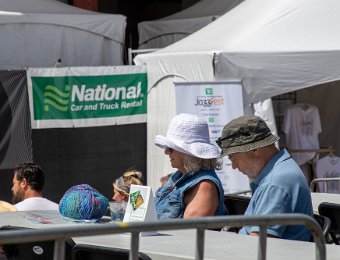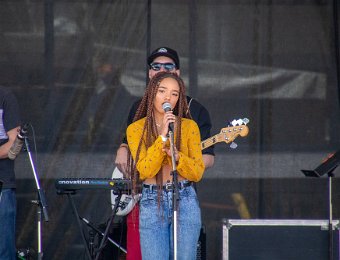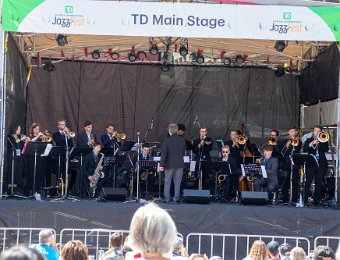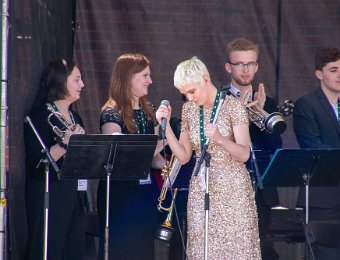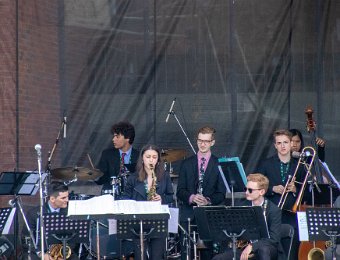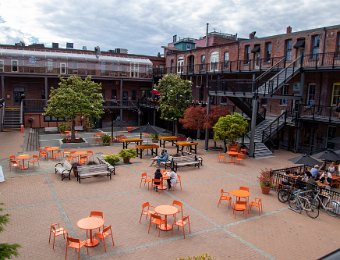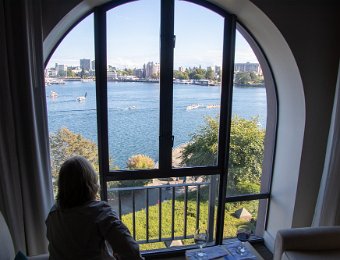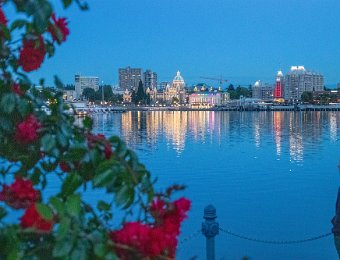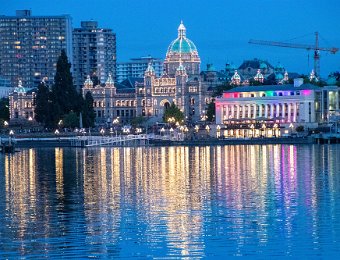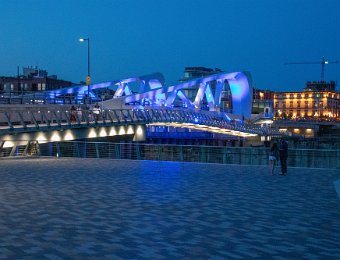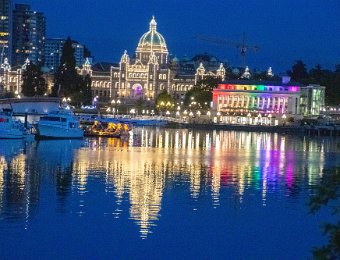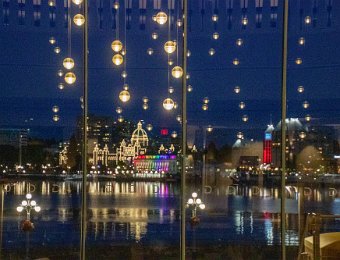 Breakfast today was from the Delta Grab-n-Go in the lobby. Stewart went down and picked up some oatmeal, yogurt, and coffee for two. We sat at the window and watched the ferries, sea planes, 6-person kayaks, water taxis, Canada geese, and the rest on the bay.
We spent the morning touring the Royal British Columbia Museum, fabulous exhibits on First Nations history and artifacts. Lunch was at a ramen restaurant up in the chinatown area almost directly across from the Royal Theater. Not crowded and the server was great, giving us directions to a coffee shop across the street by walking Stewart to the front and pointing out the window ("It is right there!"). We sat outside and drank coffee, watched the Canadians walk by.
Later we walked to the Jazz Festival in Centennial Square, sitting in the bleachers, talking and cutting up with the local jazz fans. We were particularly waiting to see the Monterey Jazz Festival Next Generation Jazz Orchestra. They packed the stage and played an hour-long set of fantastic arrangements, lots of solos, tight, balanced.
It was great to see that they had several women soloists. The Monterey Jazz Festival is actively supporting gender equity in Jazz and this was a good example. Last year was "The Year of the Woman" at the MJF, which we attended. We actually never saw these high schoolers while at the MJF last year, there was just too much else to see and hear, so we were very happy to get this chance.
We kinda felt sorry for the bands that appeared before and after, the MJF Jazz Orchestra were in a league of their own.
We walked back through Victoria to the hotel stopping at various hidden shopping areas, art displays, and the liquor store for some wine. Dinner was in the room, pizza and wine while sitting looking out the window at the bay. About 10pm we got the camera and walked back to the bridge to get "Victoria At Night" photos, the city was beautifully lit up.
---
June 30, 2019 Sunday - Travel Day - Victoria to Seattle to Dallas
YYJ Shuttle picked us up at the hotel at 6:40am. The small airport was not crowded where we boarded the flight to Seattle. Seattle airport was a zoo. We had to pass through customs so there were queues and a bit of waiting, but we had time before our flight so we just chilled and moved along. The flight home was uneventful, uber shuttled us home. Cats were so glad to see us requiring many skritches, treats, and hugs to get things back to normal!
---
end