---

Emily and Andrew get Married!
September 15, 2019
This blog written by Anne and Stewart French
---
Here are the pro photos from In Your Eyes Photography.
(Click on the photo to view the album)

---
---
February 9-10, 2019, Saturday - Sunday
Dress Hunting With Emily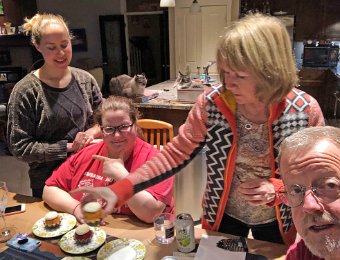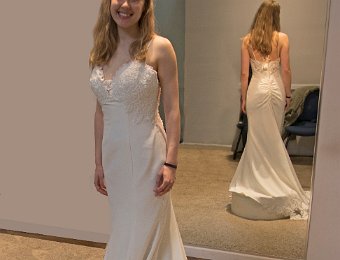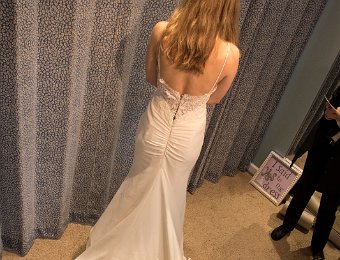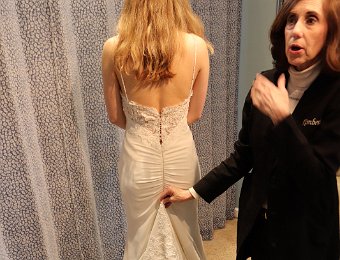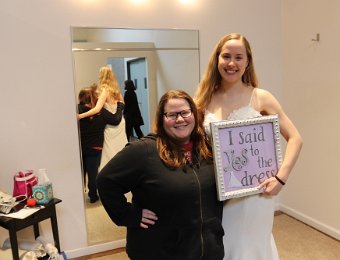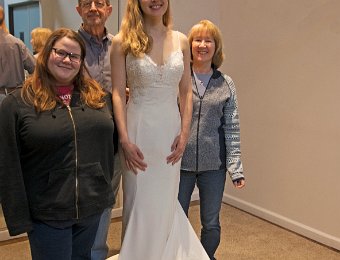 Emily had been looking at wedding dresses in Austin for a while. On Saturday February 9 she came to Dallas to continue the hunt. She had setup appointments at two bridal boutiques, Lulu's Bridal in downtown Dallas, and Circle Park Bridal Boutique in North Dallas. Lulu's was at 11:30am Saturday morning, Circle Park at 2:30pm in the afternoon.
Lulu's was very crowded, but everyone was very professional. Emily's assigned stylist was Kimberly, who set us up in a large room with mirrors, with a curtain that cut the room in half. In the back half Kimberly helped Emily in and out of potential dresses. In the front half were chairs for family to wait. Kimberley would wander through the many, many racks of wedding dresses and pick out potentials, dresses that matched Emily's needs, then bring them back, close the curtain and put the dress on Emily. Then the Reveal!, where Anne and Stewart could see the dresses as Emily spun around on a pedestal. It was all so much fun.
Emily has very sensitive skin that pointed her toward dresses with less lace and tulle, with no scratchy or itchy material. There were three things that Emily did not want : No mermaid style, no train, and no veil. But when she tried them on and they looked stunningly beautiful she changed her mind. She ended up down selecting to a few dresses from each of the boutiques, and took away photos to consider and sleep on. Her sister Mia had to work that day but came over in the evening to be with Emily. It was Mia's birthday so we celebrated with her while staring at the potential dresses on the TV. We all settled almost immediately on the same one from Lulu's. Honestly, it was an easy choice, that dress was perfect. Emily vowed to "pump iron" before the wedding, and carefully control her sun exposure so as not to have funny lines on her back and arms. Emily called Kimberley and told her the choice and setup an appointment for the first fitting. Emily, Mia, and A&S headed down to Lulu's the next day, Sunday, to buy the dress, get measured, and figure out the delivery and alteration schedules. It all went off like clockwork, Kimberley was great at handling it all very professionally. When it was all done and before Emily headed back to Austin we dropped in for lunch at Rodeo Goat, just down the street from Lulu's.
---
June 15, 2019, Saturday
Emily Comes to Dallas to Pickup Dress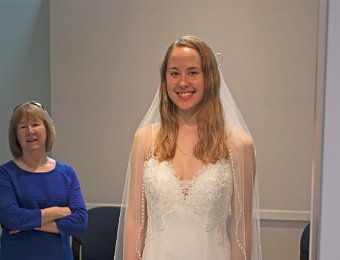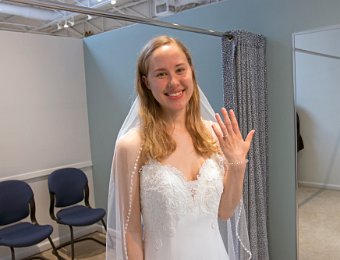 In June Emily called to tell us the dress was ready and came up on the weekend to pick up the dress. She drove up on Friday. We did a Saturday morning cycle class then headed down to Lulu's to pick up the dress. It looked and fit great! Emily tried on veils and picked a very nice one. The veil would arrive later and Emily would call us to pick it up, store it away, and bring it to the wedding in September.
---
September 2, 2019, Monday
Anne and Stewart Hunt For Wedding Clothes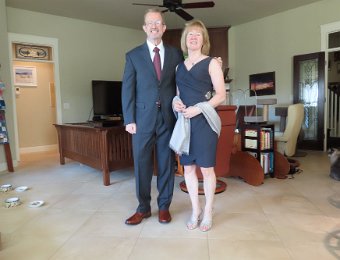 Before The Wedding, Stewart's Suit
Stewart talked with Andrew to figure out the suit color, charcoal, for the Best Man and Father Of The Bride. Andrew got his in Austin at a place called the Suit Supply. There's one in Plano's Legacy West, and Anne's friend Katy said her son Joshua had gotten his there, for his wedding coming up in October. Stewart considered it, but decided to stay a bit closer, visiting Dillard's in the Shops At Fairview, later at Jos. A Bank in Watters Creek where he bought his suit and had it altered. The suit had a new feature called Brrr Comfort. "Brrr uses cooling minerals, active wicking, and rapid drying technology to create a 'Triple Chill Effect' that is proven to draw heat and moisture away from the skin to keep you cooler". (This turned out to be important on Sunday!). Jos. A Bank was moving the next day to their fancy new digs in Fairview Town Center, just 4 miles up highway 75. When Stewart went to pick up the suit Anne and the salesman decided that the pants need to be hemmed a bit higher, so he picked up his suit a few days later. It looked great. Andrew had picked a specific tie from Dillards and sent Stewart a photo with the brand/model info listed. He was ready!
Before the wedding, Anne's Dress
When Anne looked over her dress options for the wedding, she realized that her weight loss over the year due to the cholesterol reduction diet meant that none of her dresses fit any more. Luckily, she had retired at the beginning of August and now had time to do some shopping before Emily and Andrew's wedding. She enlisted the help of a friend from work, Mayra Reyes, and they set off to remedy the situation, hitting Macy's and Dillard's in Fairview. Mayra dug through dresses and wraps as Anne tried them on, took some photos and mulled. As an engineer, her career did not involve wearing dresses and these fancy ones felt truly odd. Macy's didn't even have any Petites so they were all too long. We called it a day.
Next Anne tried the Nordstrom at North Park since they have a wedding section. Again retirement was a bonus since she went on a Tuesday, got a staffer to herself, and had lots of dresses to consider. These were closer to the wedding party palette which hopefully would look okay with Stewart's mauve tie. She picked out a silver blingy one and bought it with the assurance that she could return it no problem if there were issues with it.
Well, Stewart was not a fan so yeah there were issues with it. Back it went and Nordstrom refunded it without even looking at the receipt. Nice to know! But Stewart saved the day by pointing out a dress Anne already had that he liked with a side ruched effect. We went looking online for something like that in Anne's new size and found an Alex Evenings dress that even had an embellishment at the gather, making it a little more fancy. The only color available in that size was charcoal so that would work with anything. Although we looked for a wrap to add some color none worked too well so we stayed safe and went with silver. That made it easy to match shoes and jewelry, plus some mauve nail polish wrapped up the look. Whew!
Before The Wedding, Father Of The Bride FOTB Toast
Stewart wrote two FOTB toasts. With Anne and Emily's help he merged the two and came up with the final version, the one he gave at the wedding reception. Link to it at the top of this blog.
Before The Wedding, Dance Lessons
Emily had chosen Pleasant Valley Sunday by The Monkees as the FOTB dance music.
Stewart looked into dance lessons at Arthur Murray. There was an AM right around the corner from our previous house at 6308 Bronze Leaf that we always saw as we drove to and from work and shopping, but had never stopped in. Our thinking was that S&A could take dance lessons in Dallas, while E&A could take them in Austin, learn the same dance routines then get together before the wedding and practice.
Emily visited in June to pick up her wedding dress and we experimented with our dancing. Emily had been looking at some YouTube dance lesson videos, West Coast Swing, and thought we might be able to learn some of this separately then practice it together before the wedding. During her June visit we watched the youTube lessons and practiced several moves. It was going pretty smooth and we thought this might work okay. Stewart's work friend JC Ho, an avid Tango dancer, suggested we consider Studio22, a private dance studio in north Dallas. A&S decided to take lessons at Studio22, a 5 lesson package specifically aimed at weddings, to show off the dress and make for good pics. E&A ended up not taking any dance lessons. They bought a house in early July (Yay!). That, with the wedding prep, and working full-time jobs, pushed the lessons way down (and off of) their priority list.
S&A had 3 dance lessons with Aimee Mendez at Studio22. Each was 45 minutes long. Aimee specialized in wedding dances. She did not like the idea of dancing West Coast Swing to PVS, said it is too complex for a wedding. We learned these things -
Calm Assertiveness - Don't talk, lead with firm hand and body motion.
Keep it simple, don't try to stay on the beat.
For Pleasant Valley Sunday, dance in half speed. It's too fast to go full speed, maybe aim for beats 1 and 3.
The moves are intended to make for good photos, so point them at the audience, Make the dress swing around a lot.
Smile a lot, at each other.
Practice practice practice to get good transitions, proper posture, and smooth footwork.
If a DJ is hosting music, consider dancing for two minutes and having the DJ fade it out and end the dance. She suggested 5 minute beginner dances get boring.
---
September 14, 2019, Saturday
The Day Before the Wedding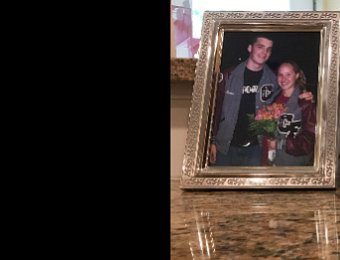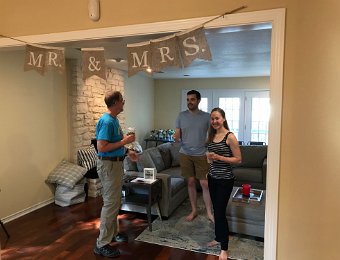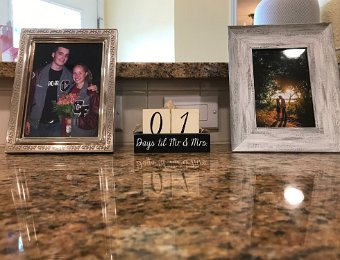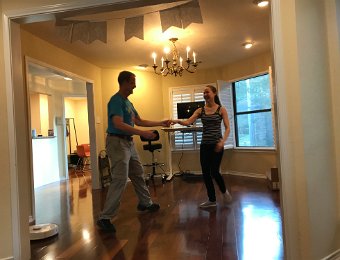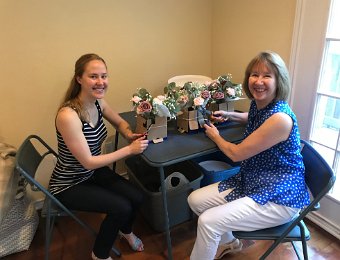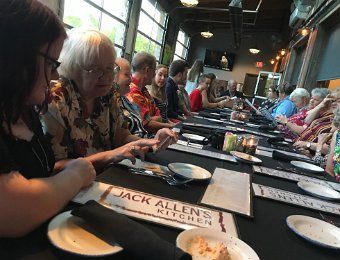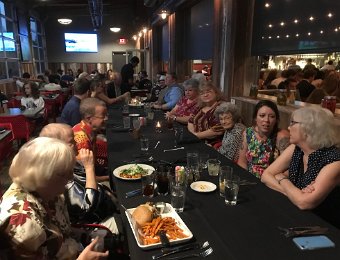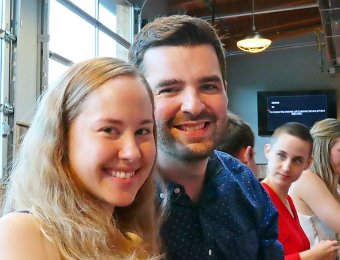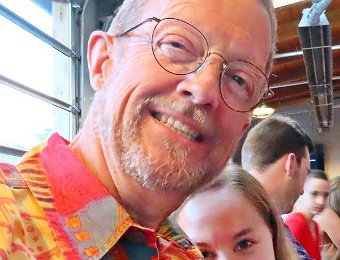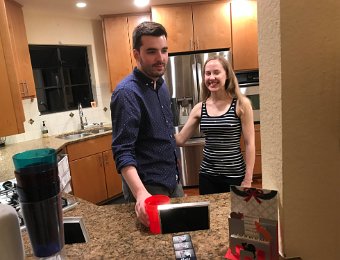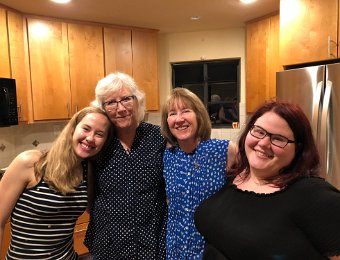 We decided not to do Sue's step class at 8:30am. Although we had plenty of time, it would be just too much. We packed, prepped for Nancy, our cat sitter, refilled the birdbath, said goodbye to Tootzak and Seebie, and headed south. The drive to the Georgetown Hampton Inn was almost 3 hours, and very easy, Anne drove all the way. Stewart had made reservations for Saturday and Sunday at the Hampton for he and Anne, and separate rooms for Mia, Teresa & Kathy, and Trina, who only stayed Saturday night, so 4 rooms total. On Saturday Teresa flew from Indianapolis to Houston and rendezvoused with Trina, then they flew together to Austin Bergstrom. Kathy flew separately to Austin where she met up with Teresa and Trina. Up in north Texas Brandi drove and picked up Mia in Denton and they drove separately to the Hampton. A&S drove in to the Hampton Parking lot right at 3pm, checkin time, and started checking in. Stewart had a "cheat sheet" for the front desk of who was staying in each of the 4 rooms, but it turned out not to be necessary. As he was talking to the front desk, in walked Trina, Teresa, and Kathy, then a few minutes later Brandi and Mia drove up. B&M had even gone and got their nails done shortly after arriving in Georgetown, before arriving at the Hampton. It was an amazing coincidence, and perfect timing.
S&A unpacked and got settled, then drove to Emily & Andrew's new house. Stewart and Emily had some dance practice scheduled to get ready for Sunday. We stopped at the Starbucks in the Randall's about 3 minutes from their house and picked up drinks for everybody then drove on over. They have a beautiful home that they had just purchased in early July and were still settling in. We did a tour marveling at all the space and features, Andrew's nice upstairs recording studio, Emily's upstairs "Em Cave". They were so lucky to get this place, it appeared at exactly the right time, and they could jump on it before anybody else did. The dining room was still mostly empty and perfect for dance practice on the wood floor. E&S danced as Aimee, Stewart's dance instructor had taught him : "Calm Assertiveness", no talking, eye contact.
Emily picked it up immediately as we spun around the dining room. We practiced the routine several times through and we were ready! It was so much fun.
After dance practice Anne and Emily worked on the centerpieces for the tables and made plans for Sunday. About 6:15pm we piled into the car and drove over to Jack Allen's restaurant for the rehearsal dinner. By chance we got the closest parking spot right at the door. Inside we met up with Andrew's family and friends for drinks, dinner, and conversation.
Emily & Andrew, Stewart & Anne, Teresa, Trina, Kathy, Glenn & Mina, Mia (Bride's Maid), Brandi, Travis (Best Man) & Jenna, Lise & Phil (Andrew's aunt) & Jordan (Phil and Lise's daughter), Sharon (Andrew's mom), Sue (Sharon's good friend), Lee, Betty (90 years old!), Stacy (officiant at the wedding, Andrew's aunt, Sharon & Lise's sister), Amanda (Brides Maid) & Ryan.
After dinner we all headed back to Emily & Andrew's new house for conversation. E&A gave a tour of their wonderful new house.
---
September 15, 2019m, Sunday
WEDDING DAY !!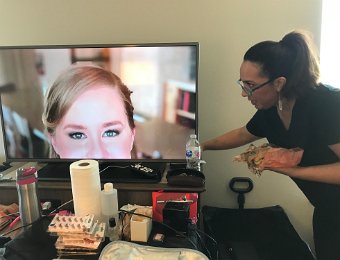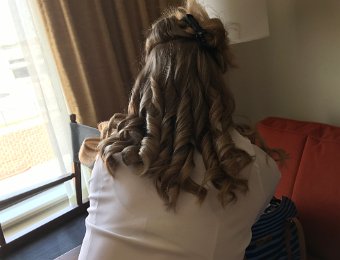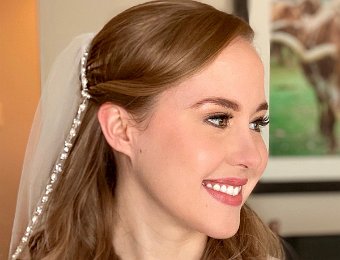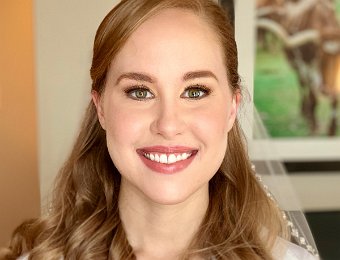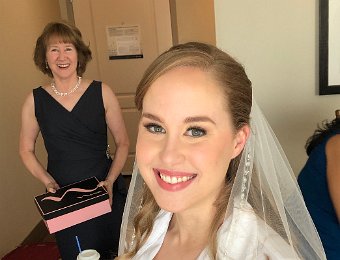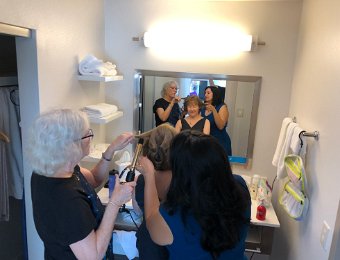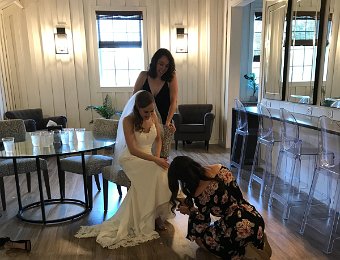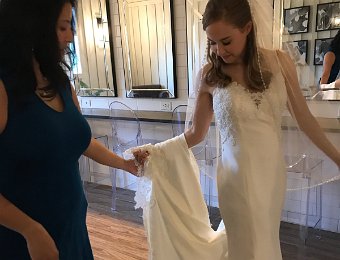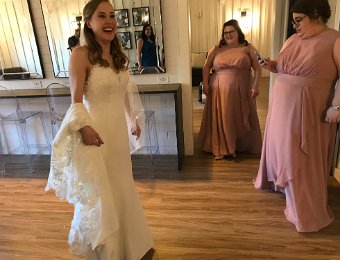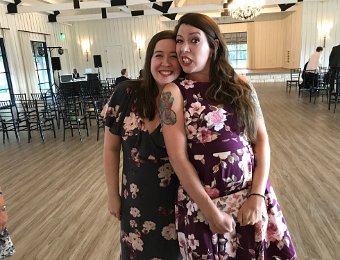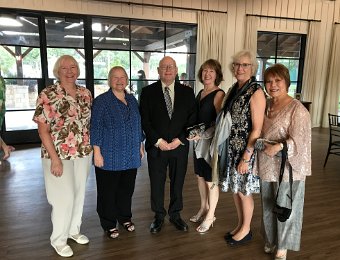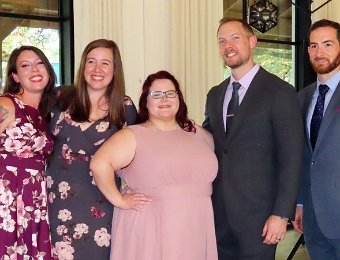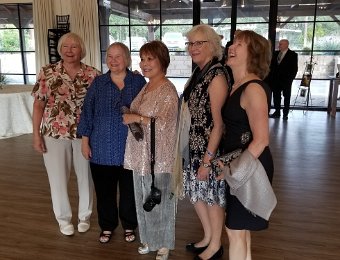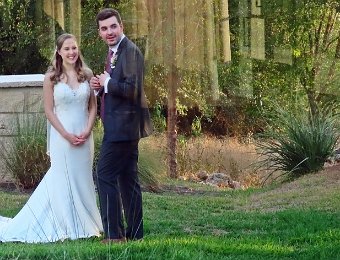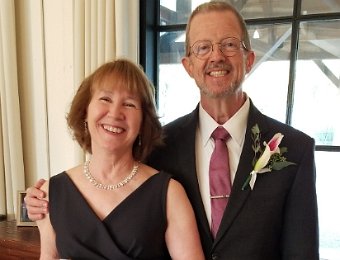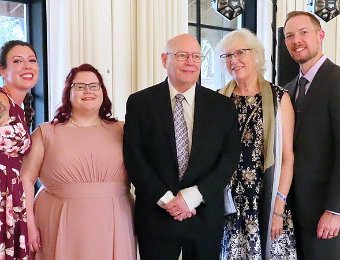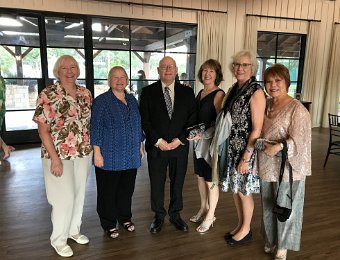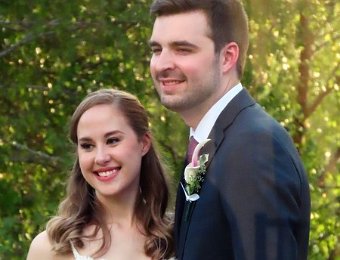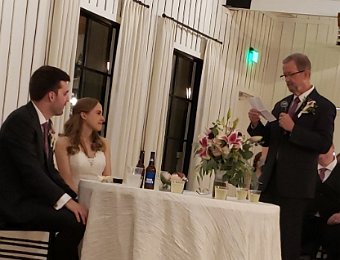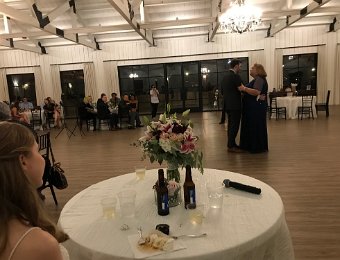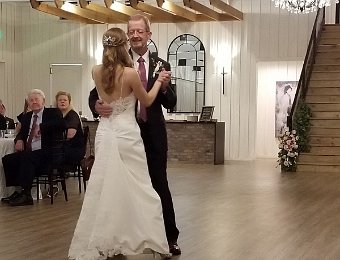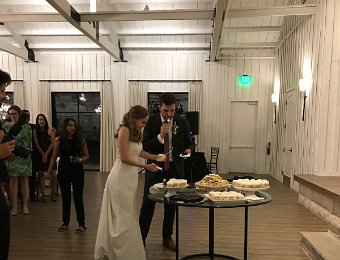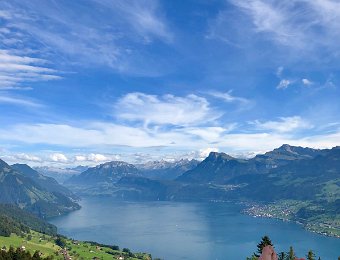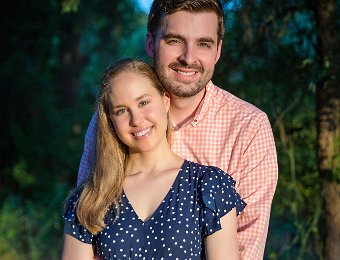 Breakfast was at the Hampton where we met up with Trina, Teresa, Mia, and Mina. Plan was for S&A to drive over to E&A's house at 11am, load up the centerpieces, grab all of Emily's clothes and things, and drive Emily back to the Hampton where she would meet up with stylists Noemi and Nicole at noon and get started. Mia and Amanda, Emily's Bride's Maids, were also going to get styled. We considered the rooms and decided that S&A's room, a suite, would work best. It had a large table with room on both sides, a sofa, couple of chairs, and some large foot stools. We borrowed one of the chairs and footstools from Mia's room, right across the hall from our room (number 331). We asked Emily if it was okay if we waited with her and she was fine with it, so S&A did chores during the prep and styling: cold water bottles for everyone, pickup lunch for everyone at Schlotsky's (walking distance from the Hampton!), Starbucks for everyone in the afternoon. The prep was amazing, and took several hours. Noemi and Nicole were artists working on their canvasses, Emily, Mia, and Amanda's hair and face. They spread their "tools" out across the entire table, showed a finished Emily on the TV screen from a trial run they did earlier as the goal, and worked hard.
During this process family started showing up and drifting in, Doug & Manasi, Melanie & Brad. Manasi and Trina came in during the prep and helped as much as she could. Near the end Anne needed to also get dressed, curl her hair, put on makeup, jewelry, shoes. Time was running out so she decided that maybe there wasn't time for curling her hair, but Manasi offered to help, grabbed the curling iron, and got started. That's when Trina came in to help. Manasi said "Here, Mrs. Webb, you do this. I don't know how to curl hair!" She was hilarious! Trina took over and did a great job.
Emily was scheduled to drive over to the Milestone at 4pm so just before that we started getting everything finished up. Since Stewart also needed to get ready Manasi volunteered to drive Anne's car and take Emily and Anne over along with all of Emily's wedding clothes, shoes, etc and the table centerpieces. Stewart helped load the car with the centerpieces and Emily's dress and gear and they headed out. At the Milestone they met up with Emily's high school friends Megan and Emily (2nd Emily!), who hung with them and helped put on her wedding dress and shoes and kept her calm and relaxed. We forgot to bring a crochet hook that Kimberley told us we would probably need to loop the cloth buttons on the back of the dress closed. Anne called Stewart who put his 27-piece manicure kit (what are all those little tools for??!) in his shoebox to run right over. But they figured it out before he arrived and all was well.
In the meantime Stewart got cleaned up and dressed then met up with Doug who drove him over to the Milestone, along with Anne's wrap which she had forgotten.
The wedding was at the Milestone in a large hall. A long stairway at one end led down from the dressing room. Stewart stood at the bottom of the stairs. Stacy, the officiant, stood at the other end of the hall along with groom Andrew, Travis, the best man, Mia and Amanda, the bride's maids. Everyone faced the stairs, the music started, and Emily came down the stairs holding her train. She was beautiful. She took Stewart's arm and walked the length of the hall where Stewart handed her off to Andrew who was standing in front of Stacy, shook his hand, and sat down next to Anne. S&A sat in assigned seats on the front row along with Trina and Kaytlyn (Stacy's wife).
Emily and Andrew got married!
TBD - Random notes to fit in:
Stacy announced No Photos.
Dropped pen that Andrew kicked out of the way.
Emily read the custom vows and Andrew repeated them.
They kissed after husband and wife was announced.
Once married the music swelled and E&A walked down the aisle followed by Mia, Amanda, and Travis.
While the hall was being prepared for the reception and dinner everyone headed out to the balcony for cocktails. The balcony overlooked the oak forest, hills, and had beautful groomed gardens where E&A had photos taken while friends watched.
It was very hot outside, near 100 degrees, so we came in and mingled till dinner. Melanie and Brad showed a sonogram (!!?!) announcing that Melanie was pregnant! She is due in April. Anne got so excited that she spilled her full glass of white wine down Stewart's suit jacket, pants, and shoes. Oh, No!! The dance and speech were yet to come! Anne & Manasi ran off to get napkins but Stewart already had some in his pocket. Luckily the "Brrr Comfort" treatment on the suit made it almost impervious to liquid. The wine just rolled off, and a quick swipe with the napkin took the rest. Whew! We wiped up the rest off the floor and were good to go. The floor actually turned out to be a bit of a problem too. Stewart had walked in the wine which made his shoes very sticky and stuck to the floor not sliding at all. Not good for the upcoming dance. He walked outside into the gravel driveway and did a "little soft shoe" to get get dust and dirt on the bottom. This worked fine making the shoes slide again.
Anne put her wrap on as it got colder and caught the wrap in her nacklace! Stewart couldn't see it well enough so Melanie came to the rescue to get it loose.
For dinner we were seated with Kathy, Teresa, Glenn, Mina, Trina, and Brandi. The buffet was delicious brisket, pulled pork, mac & cheese, beans, kim chi, and "hard tack" biscuits (good jaw exercise!). E&A did the cake cutting using a cupcake. It worked well with no embarrassing shoving of cake down the other's throat. There was a large selection of cup cakes and lemon bars for dessert before (during, and after!) the toasting and dancing started.
Stewart's Father-Of-The-Bride toast was first (link to it is up top here). Then Travis gave a very personal, heartfelt Best-Man toast (the "Giant Baby" speech!). Sharon, Andrew's mother, gave a "Finally!" toast with several fun growing up stories (little Andrew: "Emily's hair lights up the room!"). Mia, Emily's sister, gave the final toast (she loves her sister "even it it seems like I don't like you." and "Andrew, yeah, he's okay.").
The dancing came next. Emily and Andrew did the first dance to "Tenderly". Andrew and Sharon danced next. Emily and Stewart danced last to Pleasant Valley Sunday, swirling Emily to show off her dress, hair, and makeup just as Aimee had taught us.
Then the dance floor was opened up as the music was turned up and lights turned down. Somewhere in there we all jumped up to do the Macarena! Way too much fun. Melanie and Brad left about 9pm since they had to work Monday. Soon after Doug and Manasi left to drive back to Houston. They were leaving for Europe the next day. Trina left with them since she was going to watch their dogs while they are away.
Near 10pm or so things wound down and a line was formed down the sidewalk to the limo towncar. YaaaYYYYY! as Emily and Andrew exited the hall, got in the limo, and headed out.
We all slowly started drifting apart, packing up, and heading back to Hampton. Anne, Teresa, and Kathy gathered in the lobby and played 10,000, drank wine, and celebrated until about midnight before turning in.
Monday morning we had breakfast at the Hampton, packed up, grabbed Teresa and headed north. Trese came home with us to spend Monday and Tuesday visiting. We played with Tootzak & Seebie, visited with Brandi, Boomhauer, Penney, and Carnage at Brandi's new home, went for a nature walk at the Hagerman National Wildlife Refuge (our first, there!), and relaxed with wine and conversation. Wednesday morning Anne shuttled Teresa to Dallas Love Field to see her off.
Emily and Andrew's wedding was a wonderful Whirlwind Weekend. We got to see family, adopt new family, and make new friends. For E&A it was only the start. They flew out Monday morning to New York for a day, then to Paris Disneyland, then to Switzerland Italy, back to France, New York, then home again October 2.
---
The following photos were provided by Kathy Denton, Anne's sister, Emily's aunt. Thanks, Kathy!!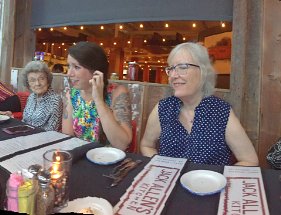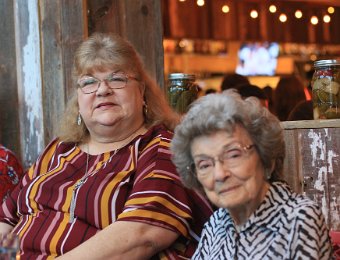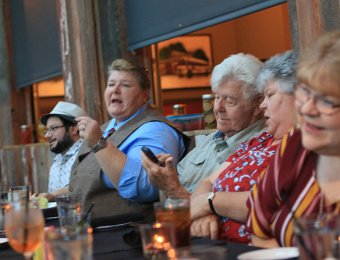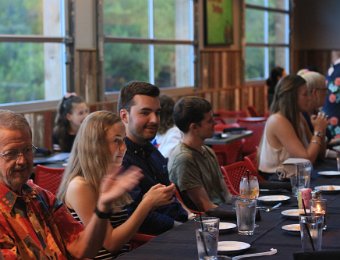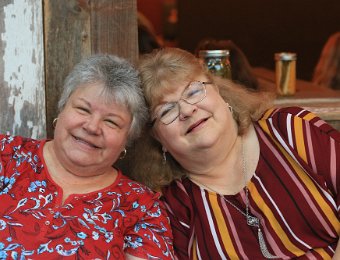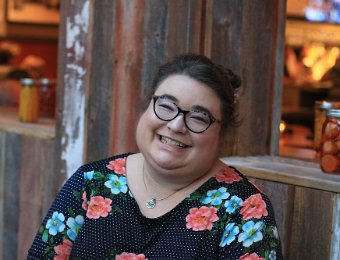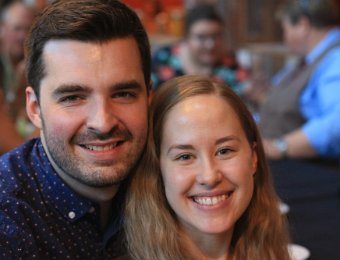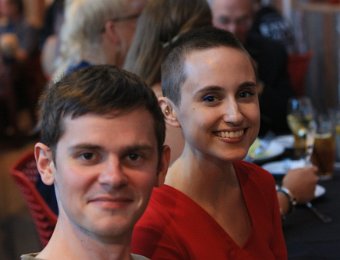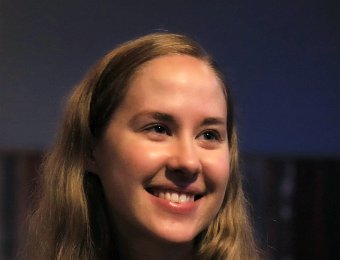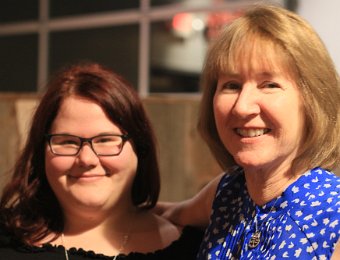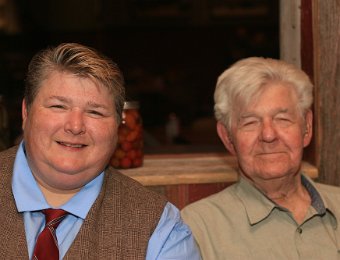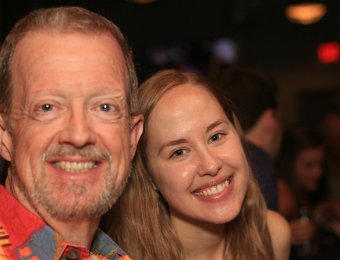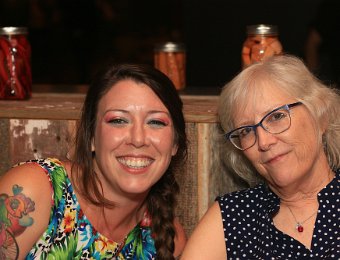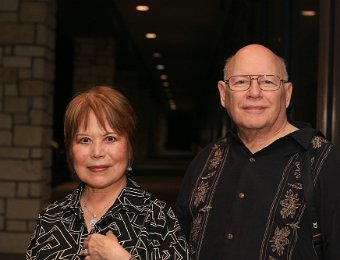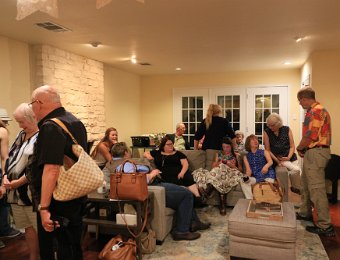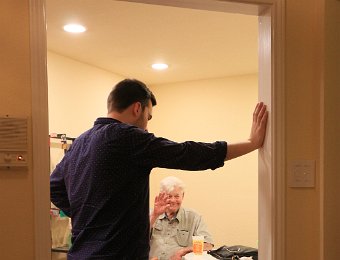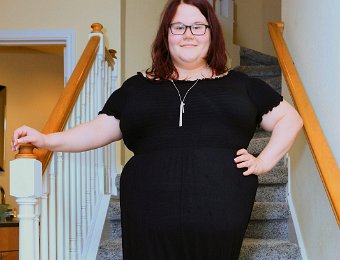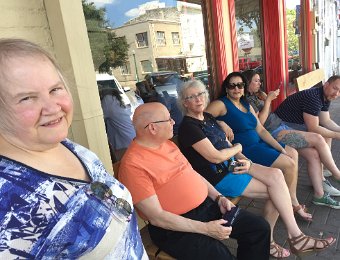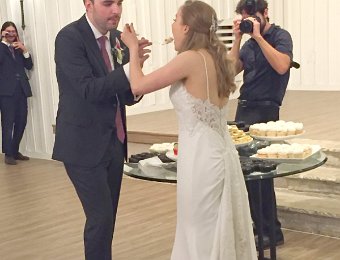 ---
Here are the pro photos from In Your Eyes Photography.
(Click on the photo to view the album)

---
end