---

2019 Easter Hill Country Bicycle Tour
April 17 - 21, 2019
Anne and Stewart French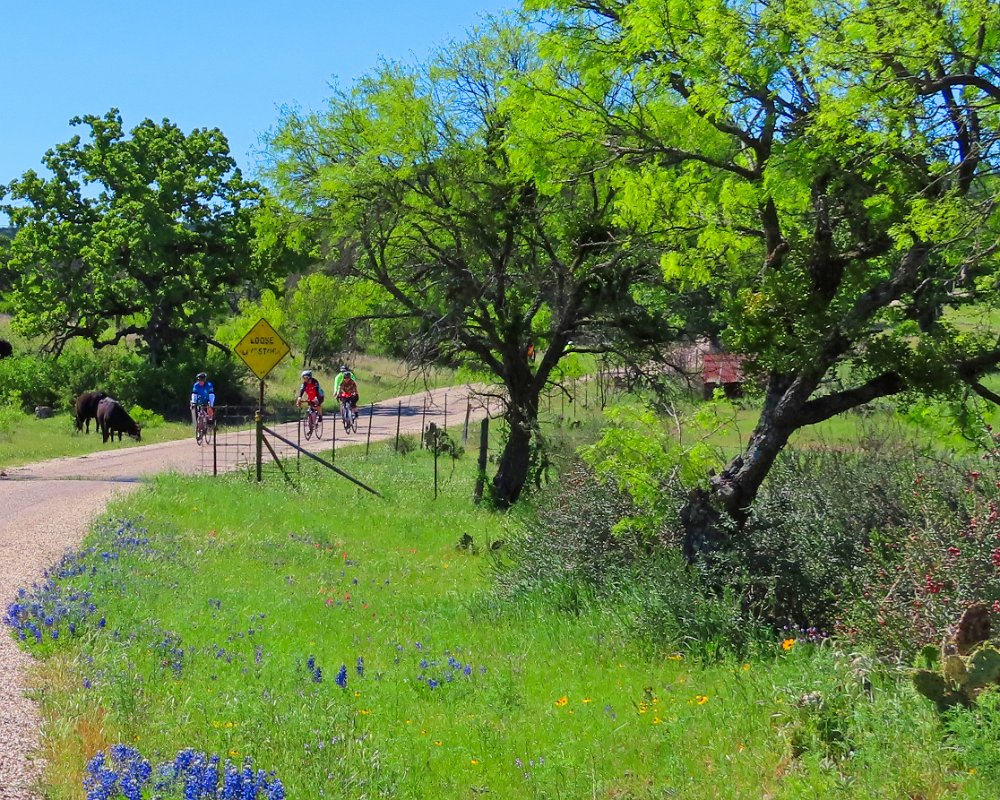 Click here to visit the Photo Gallery!
---

Click here for our Movies (on youtube.com)
---
---
2019/04/17 - Wednesday
---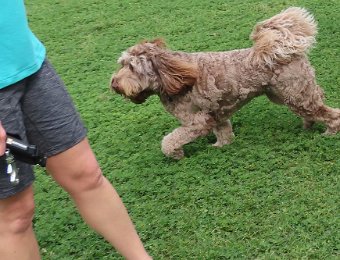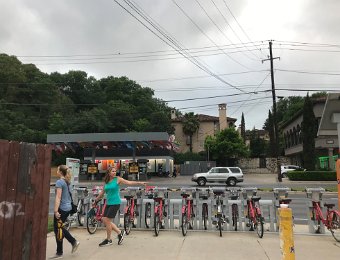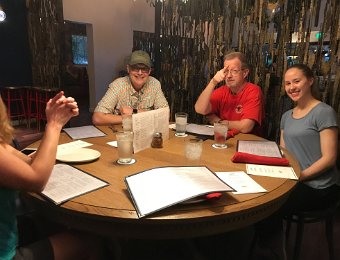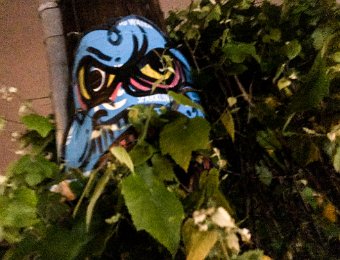 Our friends Kim and Todd were planning on joining us for EHCT this year but had to cancel. They had been looking at condos in downtown Austin for several years and found one they loved in the exact complex they had been wanting on Barton Springs Road, right on the hike/bike trail and close to Zilker Park and The Long Center. They had just closed on the condo the previous week and were in the crazy busy throes of moving, so we decided to head to Austin a day early, Wednesday, and visit with them. We researched a bit and got a room at a brand new "boutique" hotel, The Carpenter, a 7-minute walk from the their condo. We emailed niece Emily who lives in Austin to see if she could join us for dinner, score! Unfortunately, Andrew had been called out of town for business and couldn't join us.
We loaded our bikes and gear on Anne's Accord and headed out about noon, rolling into Austin about 4pm. The trip down was a perfect preview of the wildflower panoramas that awaited us, starting with narrow bands of bluebonnets and ever widening to swaths of primrose, daisies, indian paintbrush, and verbena.
We headed first to The Carpenter to off-load the bikes and gear and get settled into our room. This place is unique. It was an old union hall in a previous life, now completely remodeled, very quirky and fun. The original union hall building holds the offices, restaurant, coffee shop, and several nice outdoor seating areas. The rooms themselves were in a new 3 story addition behind the union hall. Again, very quirky, the building was all concrete, the halls open to the outside (no AC in the halls! but a good breeze). Stewart commented that it looked like the building and hallways where the practice rooms were at UofL Music School. Our room was nice, it did have AC, and a large metal sliding door that could completely cover the windows! It blocked all the light and sound from the Austin streets. How unusual and nice.
Todd and Kim walked down and met us at The Carpenter bringing Lovey with them. We walked back to their beautiful new condo taking a route through the park near Town Lake right in front of their building. We saw a hawk with chicks nesting on a light pole, lots of people around with their families and dogs, and kids playing everywhere.
The condo is a 2 bedroom 2 bath unit with walls of windows and two balconies. T&K had setup the 2nd bedroom as an awesome office space. The complex has lots of common areas, inside and out, parking below ground, some storage areas.
We relaxed, talked, and drank a little celebration wine. Emily called to say she was leaving work, would be here in about 30 minutes, so we walked back to The Carpenter to meet her. She parked in the parking garage and we walked back to the condo. More conversation, celebration wine, then we walked over to Juliet Italian Kitchen. We originally planned to sit outside, but the weather looked like rain and storms Wednesday night so we decided to stay inside. Luckily we got a table in a little alcove, private and quiet, where could hear each other and have dinner. Good food and great conversation.
Later back at the condo, games of 10,000, more celebration wine, and conversation while Lovey fell asleep stretched across Todd's lap.
---
2019/04/18 - Thursday
---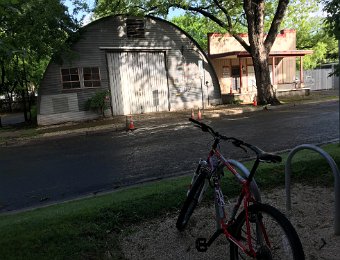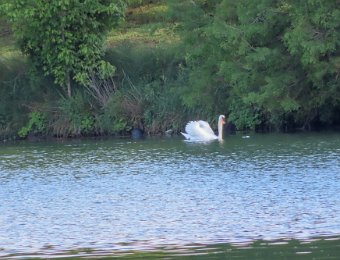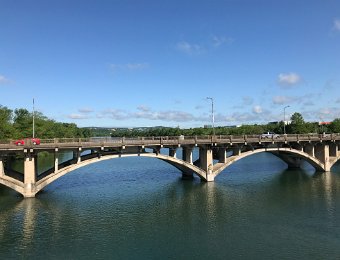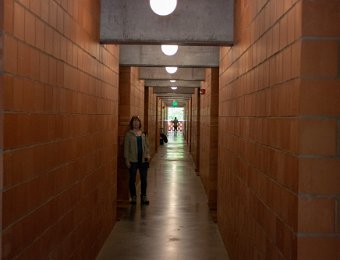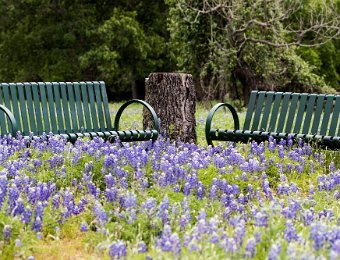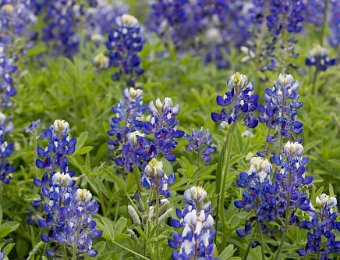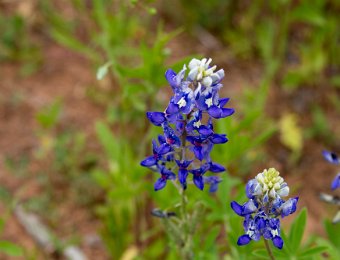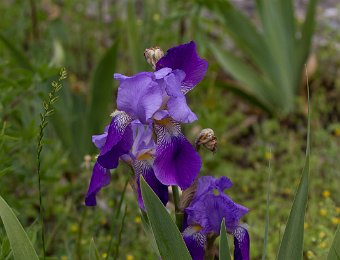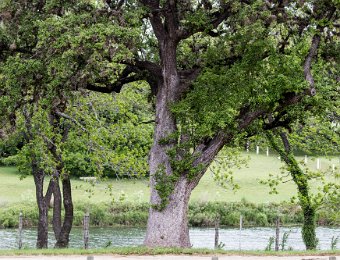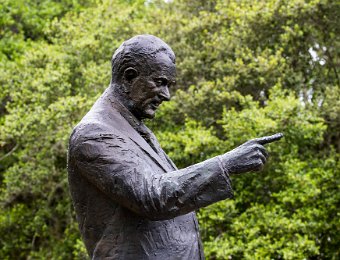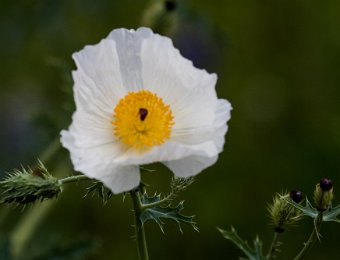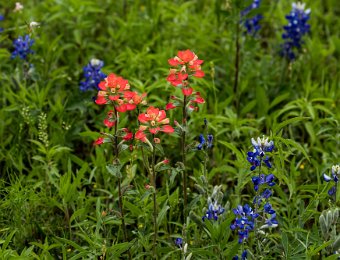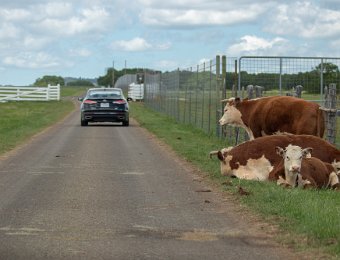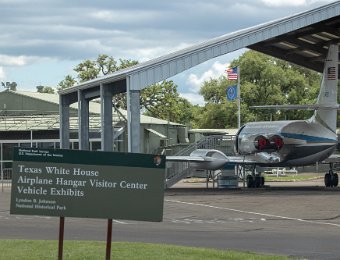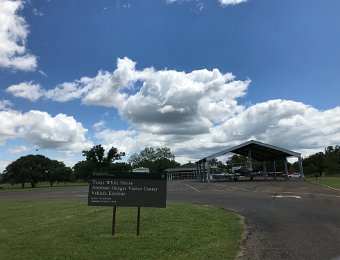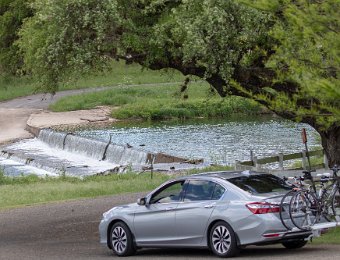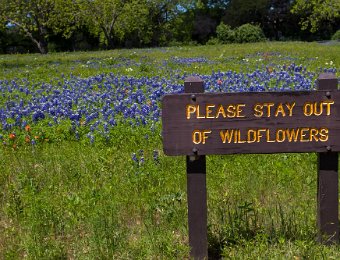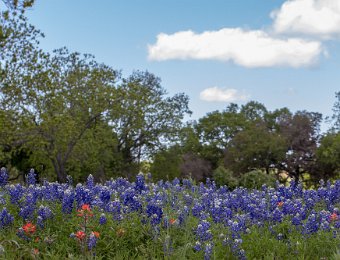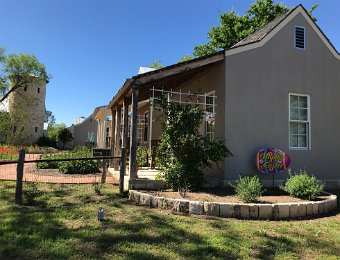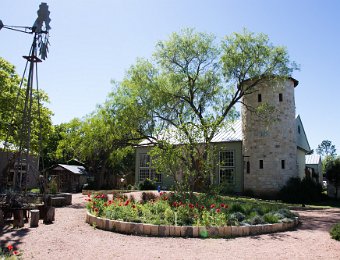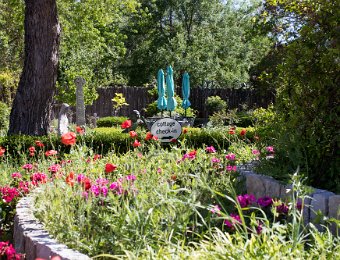 After heavy thunderstorms Wednesday night, we woke in our quiet, dark room, got dressed and headed down to the restaurant for coffee and breakfast. Nice little restaurant with very good coffee. We had a lot of time today, check out from The Carpenter Hotel is noon, check in at The Fredericksburg Herb Farm is 3pm, so we decide a walk was in order. From The Carpenter the trail heads east/west along Town Lake, east to the Palmer Event Center and The Long Center for the Performing Arts (where we saw Jaques Pepin several years ago with Kim and Todd!), west to Zilker Park, where South by Southwest and Austin City Limits is held each year. We headed east and walked over to the Palmer, took some pics, and enjoyed Town Lake. There were not as many people as we expected, probably due to it being Thursday morning. We sponged off a local tour guide pointing out the numerous turtles in the lake, as well as the Jenga Building and the "USB Stick" aka The Austonian. We did see, off in the distance, a woman walking her dog. Was that Kim and Lovey?? It was! What a great surprise.
We had plenty of time so we headed west on Highway 290 through Dripping Springs to the Lyndon B. Johnson State Park and Historic Site along the Pedernales River. Also visiting the nearby LBJ National Historical Site, The Texas White House. We stopped in Dripping Springs at a Burger King to get some "Impossible Burger" that we heard about on a Freakonomics podcast on the drive down. Turns out they are serving it at all the BKs yet. (Anne did get to try one at Top Golf when we got back home. It was a very good burger!)
On the drive we saw beautiful wildflowers, loose cattle, sweeping vistas, blue skies, breezy and cool, rolling into Fredericksburg about 3pm. Checking in at the Fredericksburg Herb Farm we unloaded the car into our unique little cabin, surrounded by flowers, wind spinners, and beautiful landscaping.
We drove over to the nearby HEB grocery and picked up some breakfast fixins (the Herb Garden breakfast didn't start until 9am, way too late for us bikers) and a small Mr. Coffee. This turned out to be a very good idea. We had coffee before leaving for the ride, sitting on our front porch, then again when we arrived back to the cabin. It smelled and tasted wonderful.
We met Stewkey and Rocky (our names for them) today, two outdoor cats that live at the Herb Farm. Whenever we were out on the porch they would come up for pets, check out what we were eating and drinking, then stretch out on the concrete in the sun and fall asleep.
EHCT registration opened at 5pm so we drove down to Kerrville to register, pick up our packets, see what was happening there. As we pulled into the parking lot at Schreiner University a Toyota pulled in across from us. It was John! What a coincidence! As we walked in we ran into Craig registering and talked for a bit.
We drove back to Fredericksburg for dinner at Der Lindenbaum in Fredericksburg with John and Niles. Variations on Schnitzel were tasty and filling.
---
2019/04/19 - Friday - 51 mile bike ride from Fredericksburg, TX
---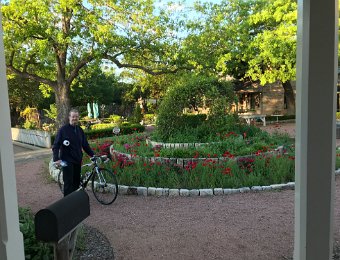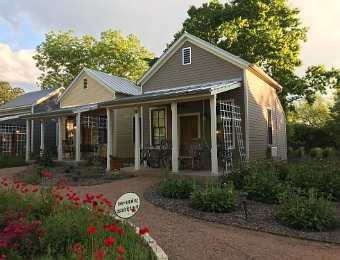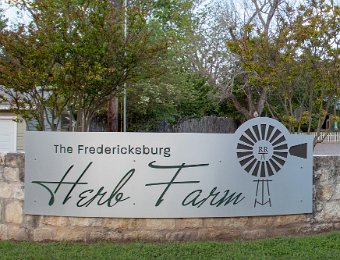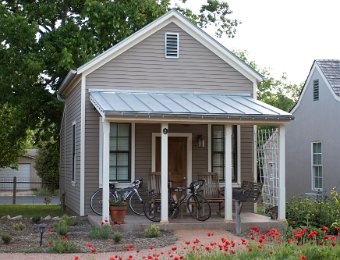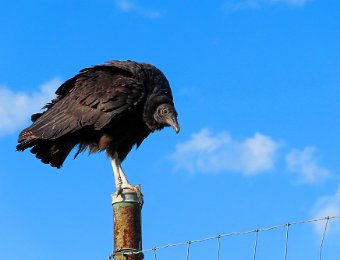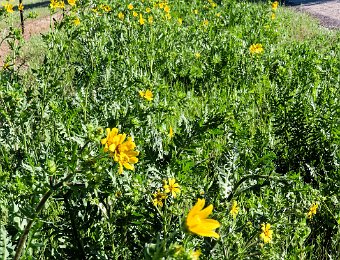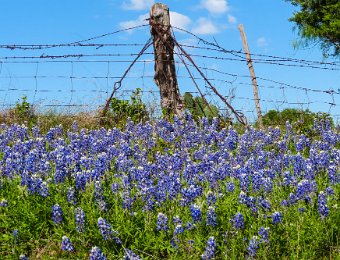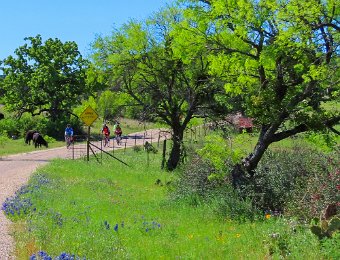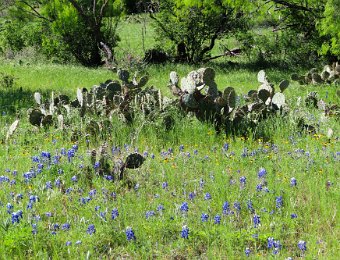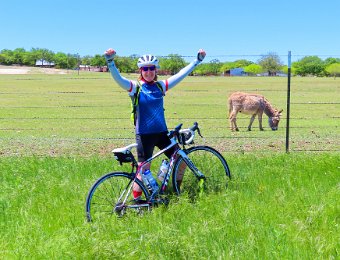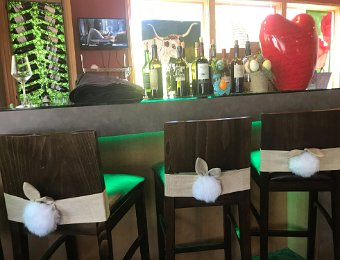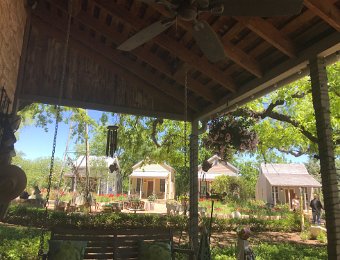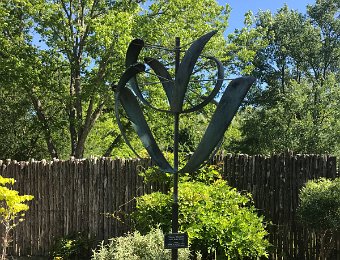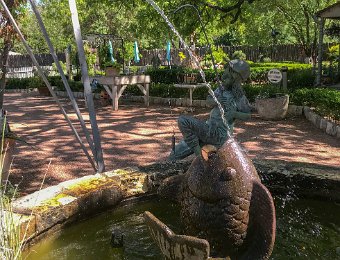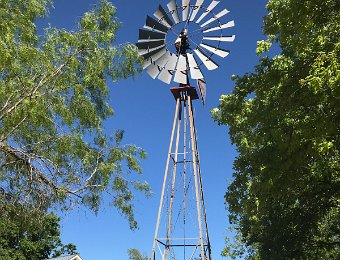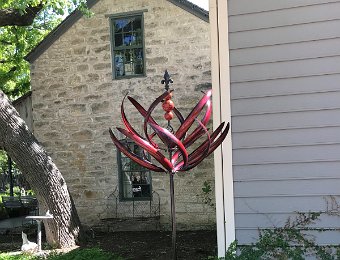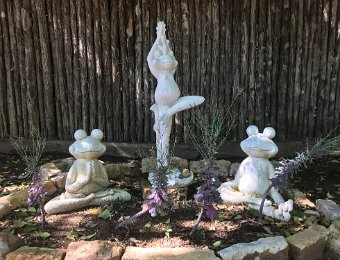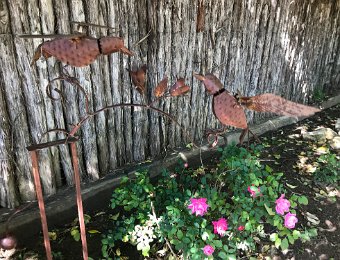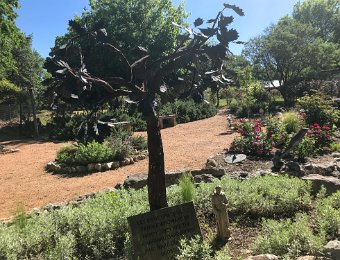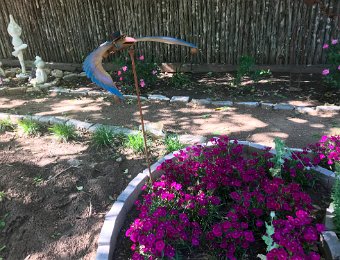 The start of the Friday bike ride at the Fredericksburg High School was almost exactly 1 miles from our cabin, right on the bike route in and out of Fredericksburg! Perfect. So we biked directly from the Herb Farm avoiding the long, steep climb up and over to the High School, then back up and over for the start of the route. It dropped a mile from map route markings (advanced math while on the road!). The temps were in the mid-50s so we both opted for arm warmers, Anne added a light jacket and kept it on until the last rest stop. The road sides were covered with Bluebonnets, Indian Paintbrush, daisies, and Verbena. This was one of the best wildflower displays we have ever seen. There were lots of climbs of 8% and higher, one 18% was a killer, but we didn't have to walk any of them (thanks to cycle classes and Zwift!). The wind was strong out of the north at 25 mph. This made the first part of the ride hard. The route headed north across Main St, then east through several cross streets before turning north again on Lower Crabapple Road. The route is rolling and rolling. With an open start we ended up riding out of town with a few folks and it quickly broke up into just us. We saw an interesting couple off and on throughout the route, each had a loaded set of panniers on their touring bikes, and they were making good progress, hard core bikers there!
At one point we saw 20-30 black vultures off the side of the road patiently waiting. We stopped and took some photos. There in the ditch was a dead armadillo with 3 vultures working on it. The others were off to the side waiting their turn. It was a bit surrealistic as many of the other bikers just rolled on past never even seeing them there.
There were two rest stops, one at mile 18, the other at mile 41. There were two "camel humps" (steep hills) on route. Looking at the route map profile, after the second hump the route turned south, a final climb, then all downhill with the wind to our back for the last magical 15 miles to our cabin. Elapsed time, about 4.5 hours. A shower, nap, and coffee brought us back to life. We wandered the grounds of the funky cool garden center full of flowers, spinners, ceramics, and balancing mobiles.
We walked over and sat on the Herb Farm main porch chatting with a staffer who was putting up a sign to keep kids from trampling the Easter eggs set up for an egg counting contest. Anne submitted her guess at the count (6,301 eggs). She hasn't heard back yet.
John later drove over and joined us on the front porch for pre-dinner conversation. Dinner was there at the Herb Farm's restaurant at a nice window table and fun server. We had thin crust flatbread pizzas and some spicy shrimp.
---
2019/04/20 - Saturday - 51 mile bike ride from Kerrville, TX
---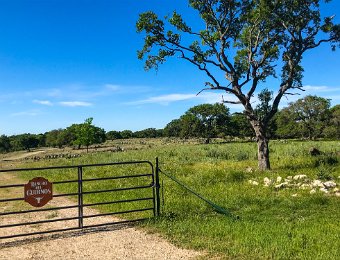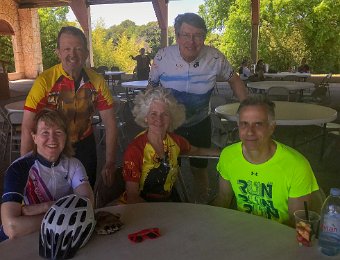 We opted out of the 61 mile route today after looking carefully at the route map profile. The wind had shifted to be out of the south at 10-15 mph, the route had us biking due south near the end for 20 miles, and there was a spike near mile 55, a very steep climb followed by a steep downhill. hmmm... To finalize our decision we realized that the after-ride picnic was going to end at 3pm. It would be difficult to impossible for us to finish and make the picnic. So we opted for the 51 miler again today.
At 8:30am we loaded the bikes and gear and headed to Schreiner Univ. in Kerrville and were on the road by 9:15am. We both wore arm warmers, Anne added a jacket, but it warmed up faster today than yesterday so jacket came off early and arm warmers came off a bit later.
Stewart remembered the turn onto McCullough Ranch Rd at about mile 7, we called it "Peg Hill", a hellishly steep incline where Charisse had doctored Peg's bum foot a few years back. It was the first of several very steep hills with lots of rolling hills, chip seal, and cattle crossings.
Near the first rest stop at mile 15 there were gradual uphills up and over to a series of very steep downhills, a cattle crossing, then steeper down to cross the creek. Gradually climbing again led to a wonderful, long downhill to the 1st rest stop. This rest stop was the turn around for the 35 mile route. The 50 milers did an addition northern loop coming back here for rest stop 2. The northern loop was slow and steady, rolling, a little windy.
Anne tried to get Ride With GPS app working on her iPhone but it quit talking and ran down the phone battery. Luckily she had brought the portable external battery, hooked it up, and kept her music going throughout. Ride With GPS was kind of a bust. Luckily we had real printed maps with turn-by-turn directions. Old school, completely reliable, and the organizers had marked the roads well with colored arrows.
This same rest stop in years past had packed up and left between our first stop and second stop, after completing the 50 mile northern loop. It was disheartening to find no water refills or porta potties with 15 miles left to go. This year they extended the close to 1pm so most people would be past before it closed. It was on the second stop that Anne pointed at a woman biking in front of us and said "That's Mary!". She was right. We had met Mary at the ride several years ago, Anne had friended her on Facebook. We didn't even know she was here, so we talked for a bit at the rest stop and met up with her at the picnic after the ride for food and conversation.
The ride back in was into the wind all the way. We had to climb back up that very steep hill with the cattle crossing in the middle. Anne tried to use the serpentine technique that reduced the grade, but got too close to the edge where the gravel was loose. She slipped in the gravel on the roadside and went down. But, except for a scratch and brakes that needed a bit of adjusting, no damage was done.
We rolled into Schreiner Univ. about 2pm, packed our bikes and gear on the car, and walked over to the picnic pavilion, a very large covered area. There was a BBQ sandwich food truck parked and some other vendors with food and drinks for give-away and sale. We saw John at one of the tables so joined him, then Mary rolled in and joined us for food and conversations.
We got a BBQ brisket sandwich, chips, and a drink from the food truck (very good fatty brisket!). Mary got a frozen mango drink with some spicy red sauce on top that she liked a lot. About 3:05pm Niles rolled in. He had done the 61 miles, starting before 8am. He was _just_late_ enough to miss the food and drinks and they were starting to put the chairs and tables away. He ended up getting a cup of fruit from one of the vendors as they were putting things away.
Saying goodbye to everyone we drove back to our cabin at the Fredericksburg Herb Farm. After a shower, some coffee, a nap, we sat on our porch and relaxed, read our books, and watched the birds and people come and go. It was very relaxing. Dinner was leftover flatbread and Chardonnay.
We never saw Craig again after the first day. After the ride on Friday he wanted to go out to "Stonehenge", a reduced scale replica of the original near Kerrville, and get photos at sunset, so he skipped dinner. Then he did the 100 mile route on Saturday which was on a very different route that ours.
At the second rest stop, after the 50 mile loop, we saw an older gentleman in baggy cargo pants, big baggy long sleeve shirt, hiking boots, come rolling in on his hybrid bike. He was flying along pedaling like crazy. After the rest stop we were back on the road when this guy flew past us pedaling like crazy, baggy shirt ballooned into the wind. Turns out he was on an e-bike! Battery powered, motor assist, very effective.
---
2019/04/21 - Easter Sunday
---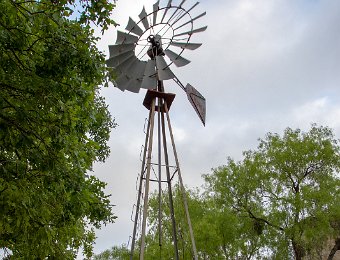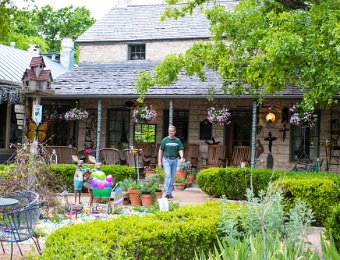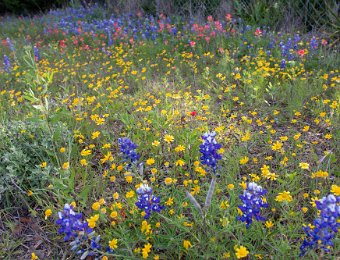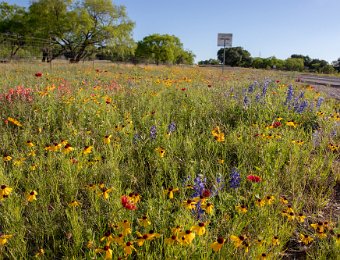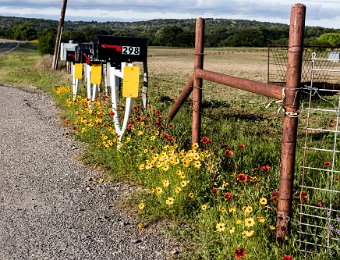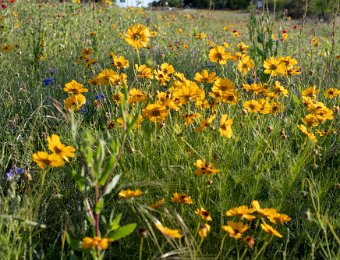 We had Easter morning with coffee and breakfast on the porch with Stewkey and Rocky. Afterwards we casually packed all our gear and headed out. We did not use Waze initially, instead we took state highway 16 to Llano, TX, There were stunning wildflower displays on the side of 16 all the way from Fredericksburg to Llano. Anne prepped the camera to take videos of the wildflowers. Turned out it was harder to get good pics or videos from a moving car so we found some places to stop along the way. The best wildflowers escaped because we couldn't just stop on the road and gawk.
Tootzak and Seebie were happy see us when we arrived home.
---

end