---

2018 Monterey Jazz Festival
September 19-24. 2018
Anne and Stewart French
Kim and Todd Joubert
---

Click here for our Movies (on youtube.com)
---
This year was the 61st annual Monterey Jazz Festival, the world's longest running jazz festival. The MJF brings nearly 40,000 jazz enthusiasts, artists, educators, and students together. 2018 was "The Year of the Woman at Monterey Jazz Festival" with more than 50 percent of the festival program having women leaders or side players including Norah Jones, drummer Terri Lyne Carrington, trumpeter Ingrid Jensen, guitarist Mary Halvorson, flutist Jamie Baum, clarinetist Anat Cohen, pianists Kris Davis and Dawn Clement, and saxophonists Tia Fuller, Jane Ira Bloom and Jane Bunnett.
Our third visit, we went once in 2000 then again in 2004. It was 2004 we first stayed at the Monterey Plaza Hotel and loved it.
This year we were lucky to be joined by Todd & Kim Joubert, our good friends from Austin, TX who met us en route in Phoenix.
---
September 19, 2018 Wednesday
Anne's car read 116 degrees leaving work on Tuesday, so it was a very good time to leave Dallas for the Pacific coast. We Uber'd to the airport, Christian in a Toyota Highlander. American Airlines First class to Phoenix meeting Todd & Kim whose flight arrived at exactly the same time. Kim msg'd they were taxiing as we were taxiing in! Terminal A made an elbow, one side was packed with people the other was mostly empty. We had a 4 hour layover so we headed over to the deserted part of A and pushed two tables together at the Starbucks. Conversation followed by dinner at a short-order restaurant, Modern Burger, stood and ate hamburgers, then headed over to the busy side of A to catch our flight.
Landed in Monterey about 10pm, picked up our Enterprise Hyundai Sante Fe and Waze'd to the Monterey Plaza Hotel in downtown. The Monterey Plaza Hotel and Spa overhangs the bay with rooms that look directly to the water. We got room 2219 at the end of the east wing, faced north onto the Bay, very private. We had a large balcony with sliding doors that could open most of the way giving us a view of the entire Monterey Bay. Down to our left we could see the hotel fire pit and restaurant patios. To our right was a Cannery Row ruin, large pylons of concrete sticking up from the water with many Brandt Cormorants and Gulls sitting on the concrete crossbeams. We could hear the seals, gulls, water crashing on the rocks, people laughing at the fire pit enjoying the libations.
NOTE:
We had a strange large boxy machine sitting on the counter. Touch the screen and it lit up "Welcome French, Stewart" Choices were red or white wine at $ 8 for 2.5 oz (a taste), $ 16 for 5 oz. Later we went to the Safeway and bought a bottle of each, exactly the same wine, and it was $ 16 a bottle. Imagine that!
---
September 20, 2018 Thursday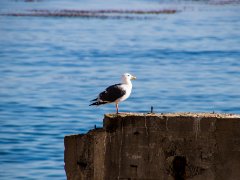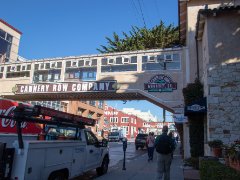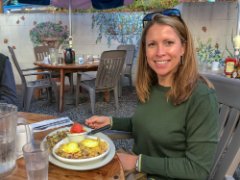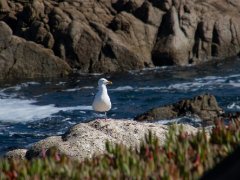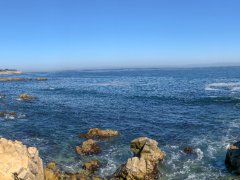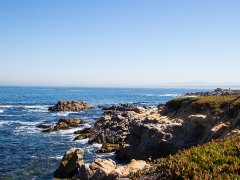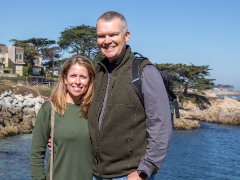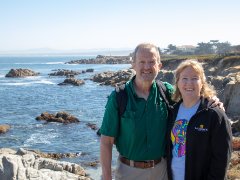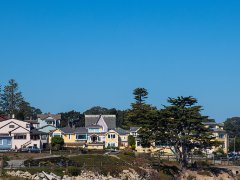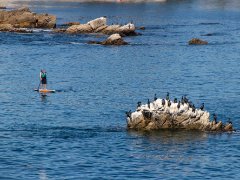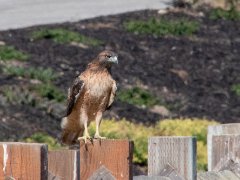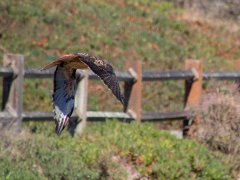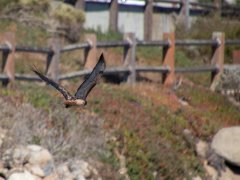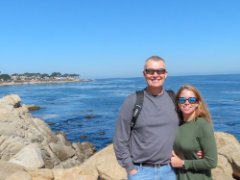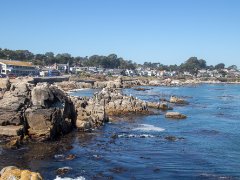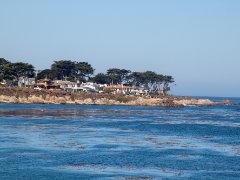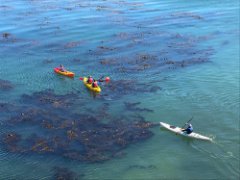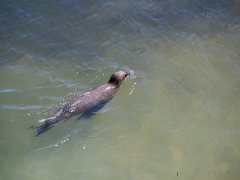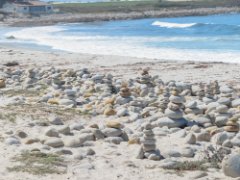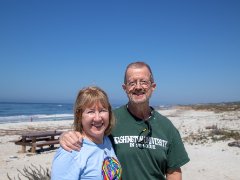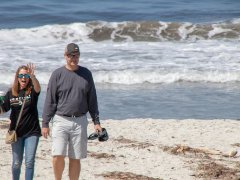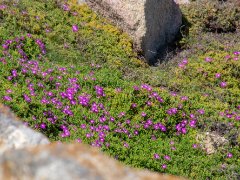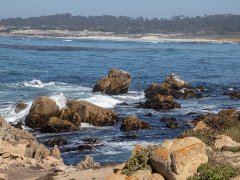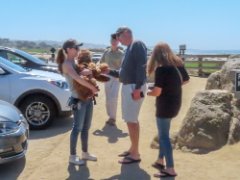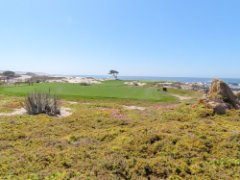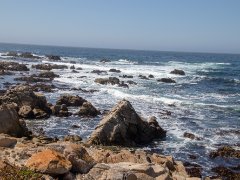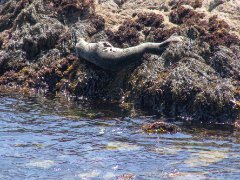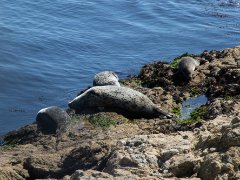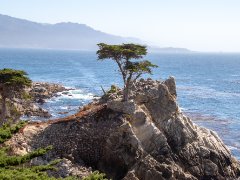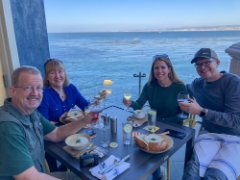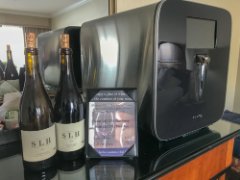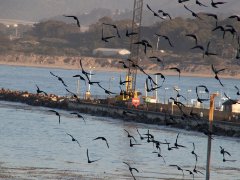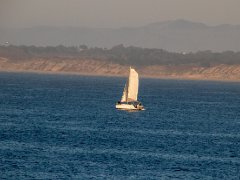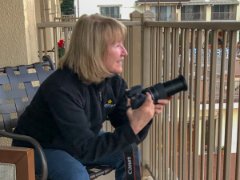 Woke up to the sun coming over the hills of Seaside lighting up the wall of Brandt Cormorants to our right. Morning was clear, we could see all the way up the coast. Coffee at Tidal. Beautiful hike and bike path right outside our hotel that goes all around the bay. Walked to First Awakenings for breakfast near the Aquarium, on the bike path. Stewart: Hippy Oatmeal special, Anne: Avocado toast Todd: Bacado Omelet, Kim: Shrimp Benedict Sat outside to a beautiful day. Continued the walk to Lover's Point, stopping for the birds, chipmunks, Red-Tailed hawk, scared deer running across the trail, kelp, parallel to Ocean View Blvd, a 5 mile hike round trip. Decided to drive 17-Mile Drive after arriving back to the hotel. On 17-mile drive we saw -
Stacked rocks on the beaches,
T&K put their toes in the cold pacific water,
It was breezy, clear, and warm,
Many birds,
Seals,
Surfers,
Ginger bread house,
Crazy expensive homes on the beach, and in the hills,
We stopped at the crowded, fancy Pebble Beach visitor center, and looked at the expensive gear.
Getting hangry, we decided not to go to Carmel but headed back to the hotel, stopping at Safeway to pick up some wine, water, contact lens solution, etc.

Dinner was at Schooner's (in the hotel). We sat on the patio at a very private table with direct views of the bay.

Later we took our wine and headed to the fire pit for conversation and 10,000. A friendly hotel barkeep came by a while later and pointed out that such behavior was not tolerated by his management. A guest couldn't have their own wine bottles without paying a "corking fee" of $ 27 per bottle. He was apologetic, but we weren't going to pay that. So we packed up and headed back to our room, opened the sliding doors, turned the chairs around, enjoyed the view, and drank our wine. Never did play 10,000! Didn't have time.

It was spectacular.
---
September 21, 2018 Friday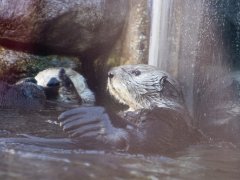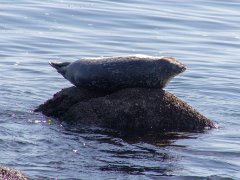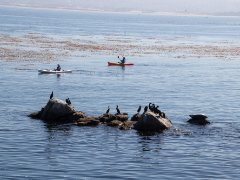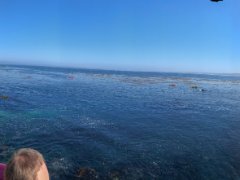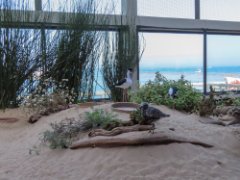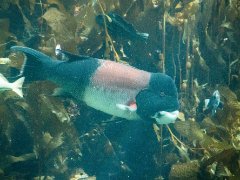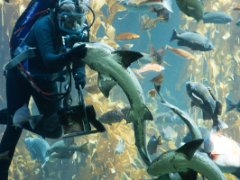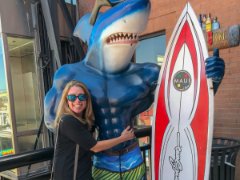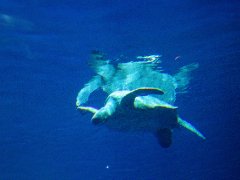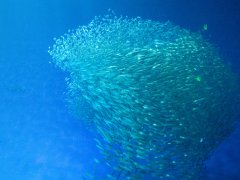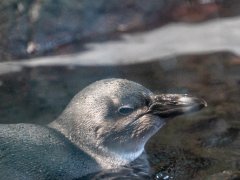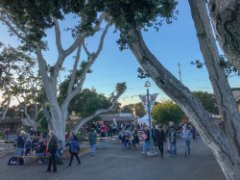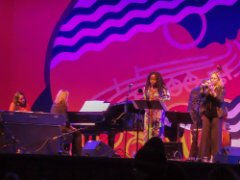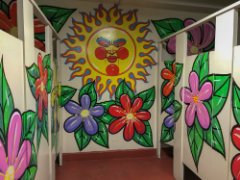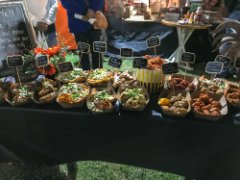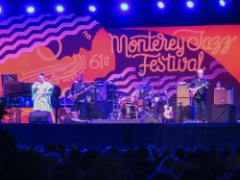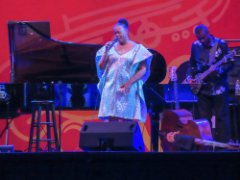 Breakfast with K&T at Tidals again. Coffee, bananas, yogurt.
Ack! Got a phone call at breakfast from our cat sitter. Nancy said she had found Tootzak in the closet under the clothes (very unusual) and he hissed at her when she brought food to him in there. Tootzak and Seebie had not eat, drink, or slept for a full day due to a terrible beep-beep-beep noise going off. She described it, where it was occurring (the front of the house), and it was the damn smoke detector, again. She was unable to disconnect it so we started calling people who had a key to the house, ended up getting our house cleaner Amy to go right over, get the step ladder out, disconnect it from power, take it off the wall, take out the battery, and put it in the garage. Later that day when she came by, and the sound had been gone for a few hours, the cats were back to normal and met her at the door. They ate and drank and played, everything was good again. Those smoke detectors are a real pain! Hurray for Amy! She might have saved their lives as they are seniors now.
We decided to go to the Monterey Bay Aquarium this morning. Our hotel offered tickets that were two consecutive days for the price of one, with special access so we didn't get in the long lines. It is a 10 minute walk to aquarium from the hotel. We went right in, no waiting where we saw :
The Sea Otter feeding was in half an hour so we went upstairs for the best viewing and watched the sea otters get fed. Kids squeezed between our knees to get to the glass. The three otters ate like little piglets and did tricks with pool toys.
They were feeding the fish in the Kelp Forest, a wide, deep, deep tank with hundreds of fish and plant life living in it. There were many kids sitting in the bleachers. We stood on the stairs to get a good view as the scuba diver descended to feed the fish and describe what was happening, the kinds of fish, and their feeding habits. Sharks circled and ate from her hand while a huge Eel rose from the depths, ate a little, and descended back out of view. Lots of little fish stayed near the surface and ate up there, fed by someone above the tank. They don't come down very deep for fear of being eaten.
We stood outside at the Wildlife Viewing Station near the Great Tidal Pool to view the bay. There were two Aquarium naturalists there answering questions and directing us what to look at and expect. We saw Sea Otters in their natural habitat, some resting their backs, some swimming, some diving. There were many aquatic birds, gulls, pelicans, cormorants, over a massive "bait ball", stretched out over a quarter mile in the bay near the aquarium. A naturalist told us this was a bit unusual and might draw whales, but no luck.
We visited the Touch Pools where lots of kids were sticking their hands in to touch the rays and kelp and whatever else they could find. Then through the Aviary, which had some beautiful birds to view, pass the penguins exhibit, before heading over to see the Jellies, one of more impressive and beautiful exhibits.
Back to the hotel for a nap before heading over to the Monterey Fairgrounds for the opening of the Monterey Jazz Festival at 6pm.

A note on transportation. Stewart had asked the Monterey Plaza Hotel about shuttles to the MJF. Yes! They could shuttle us there and pick us up after it was over, just set it up with the bellman ahead, and call this number for a pick up. This worked better than we could have dreamed. The drivers Ivon, Ryan, Dennis, and Jason were friendly, knew the roads, and dropped us at the corner of Casa Verde Dr & Fairgrounds Rd, just down from the front gate. It was complimentary, only needing to tip the drivers. On Friday, after the last show, about 11:30pm we called the number. The front desk said the driver (Ryan) was picking up someone else right now and would be there in about 30 minutes. Fine, we'd wait at that intersection. Not 2 minutes later Ryan comes running down the street to us, the shuttle SUV is parked about 5 cars up from where we are standing! We load up and head home, back at the hotel in about 20 minutes from sitting in our seats!! That's insane fast. There were thousands of people milling about, standing in lines to get on busses, in their cars trying to get out the parking lots. On Saturday Dennis dropped us off, and that evening after the show, Stewart called and heard the same story. He hung up his phone and Todd called out "Hey! There's the shuttle!". Dennis pulled up with two guests and just enough room in the shuttle to pack the four of us in. One more time, 20 minutes from seat to hotel. Then Sunday, Jason dropped up off, Stewart made the call that evening for pickup and was told that the service stopped at 11pm and we'd need to Uber or taxi back to the hotel, they'd reimburse us for the cost. Stewart hung up the phone and Kim started requesting an Uber, 20 minutes away in the traffic. We were waiting when Dennis pulls up in the shuttle!! The same two guests had loaded before us, so we packed in and headed back. Score! Three for three. We still can't believe it worked out so well.

A second note on transportation. Our shuttle driver Dennis, a burned-out surfer dude probably in his 40s, ran a one-man window cleaning business in Monterey. The hotel shuttle was a brand new Land Rover Discovery SUV : big, expensive, extremely comfortable, complex electronics... Dennis hated it. Seems he wanted his Volkswagen microbus. Todd had to help him figure out how to move and recline the seats when he almost crushed a little woman sitting in there as we piled in. Dennis was also the nicest fellow ever, coming back for us twice, even running down the street to catch us, doing whatever it took to get us there and back. He was just great and deserves a shout-out.

We arrived at MJF about 5:45pm for the 6pm opening. The lines wrapped around the Fairgrounds! We had a long walk to get to the end of the line. It didn't look good, but turned out okay. When they opened the gates the line moved quickly and we inside in about 10 minutes. Anne and Kim made a beeline to the bar picking up some wine. Stewart wanted to see Addison Frei at the Courtyard Stage right beside Entrance 5, and there he was, playing solo jazz on his Yamaha grand piano!

Stewart had loaded the MJF app on his phone, a really great app, and picked out some potential artists at each stage. There were 9 stages, 8 were indoor and small, the Jimmy Lyons stage was big, outdoors, and hosted the big names.

Day 1 of The Monterey Jazz Festival
We were welcomed into the Monterey Jazz Festival by Addison Frei, performing solo at the Courtyard Stage on his Yamaha AvantGrand piano He played there exclusively all day long, every day, for 30 minutes sets.
Tia Fuller (alto sax) & Ingrid Jensen (trumpet) were the Artists-In-Residence this year, and performed on the Jimmy Lyons main stage a tribute show to Geri Allen, pianist and educator who died last year, "The Fierce Nurturer: Life of a Song Through Spirit". They are both deeply immersed in the education programs of MJF which supports students locally, regionally, nationally, and internationally.
Also at the Jimmy Lyons stage, we saw Dianne Reeves, the 2018 Jazz Legend Award Honoree and Showcase artist, sing a set that culminated in a jazzy call for everyone to get out and Vote! She sang everything, even the introduction of her bandmates.
Concluding the evening was Jazz at Lincoln Center with Wynton Marsalis performing "Spaces", a performance art piece combining jazz music with dancers Lil Buck and Jared Grimes. Each piece was inspired by nature: chickens, monkeys, bees, snakes, nightingales, and lions.
We rediscovered the "back alley" way of getting around the fairgrounds. Dizzy's Den is at the opposite end of the fairgrounds from the Jimmy Lyons main stage. To get from one to the other means walking through thousands of people, a very slow progress that can take 10-20 minutes. However, we discovered back in 2004 that if we go behind the food and merch tents, behind the stages, there is a road that leads from one end to the other, a road that the vendors and staff use to shuttle around. It is mostly empty and completely open. One can walk from one end of the fairgrounds to the other in less than 5 minutes by using this "secret" pathway, which we did several times. There is also the sweet smell of pot, kanja, wacky tabacky back there!
These were stunning performances by masters!
It was also damn cold. brrr...
---
September 22, 2018 Saturday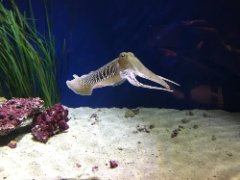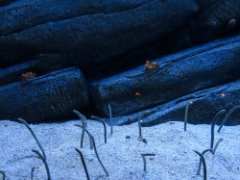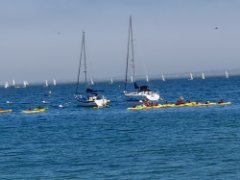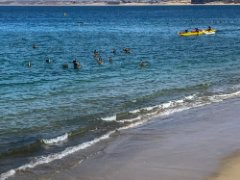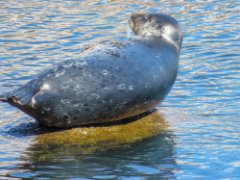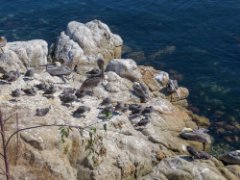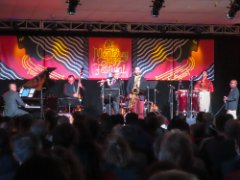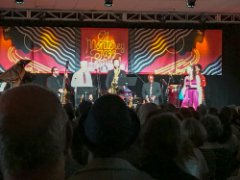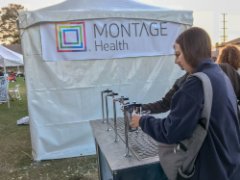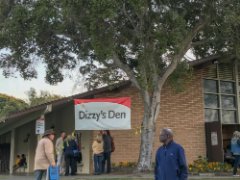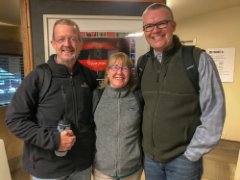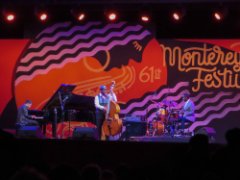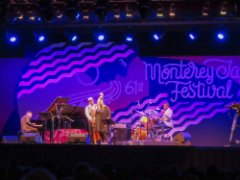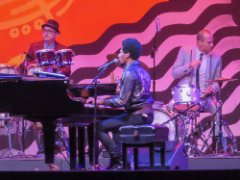 Anne and Stewart decided to go back to the Monterey Bay Aquarium this morning to pickup some of the exhibits we had not seen. Todd was having a bit of sinus problems so he elected to hangout at the hotel and rest while Kim took the car and ran to CVS for some meds to help Todd breath better. At the Aquarium we visited the Tentacles and "Viva Baja!" exhibits over in the newer part of the aquarium. There was also a fascinating exhibit of hundreds of Garden Eels sticking up out of the sand, swaying to the music while they fed. It was just beautiful! Afterwards we met up with T&K to walk over to the Monterey Wharfs for lunch at the Sandbar & Grill. We saw Sea Lions, Gulls, Cormorants (and other birds!), on rocks just off the shore sunning themselves.
Day 2 of The Monterey Jazz Festival
John Santos and his band at the Night Club performed "Unusual Standards" in an afro-latin style. They culminated with a fantastic high energy scat-off between Destani Wolf and Kenny Washington, and an amazing performance by Destani playing the "trombone" with her vocal cords.
Then over to hear Fred Hersh in Pacific Jazz Cafe playing solo piano standards. He is a master jazz pianist that almost died several years ago and took many years to recover. Fred also performed with his trio a bit later in "Fred-Fest". The stage here is not elevated so it was difficult to see Fred. Kim eventually got up and stood along the wall so she could see better. We wished they had put in a monitor screen showing him and the keyboard. It would have helped a lot. Anne just loved his rendition of "Embraceable You" which she played in high school and knew all the music and words.
Bassists Christian McBride, John Clayton, John Pattitucci, and surprise guest Dianne Reeves performed a tribute "Remembering Ray Brown" on the Jimmy Lyons main stage. They did a fantastic 3-person "Bass Off" before being joined by Dianne Reeves.
Finally on the Jimmy Lyons main stage we heard Jon Batiste and the Dap-Kings, New Orleans Meets Brooklyn. Jon played piano, Hammond B3 organ, and his iconic Melodica performing classics and new songs from his upcoming album.
---
September 23, 2018 Sunday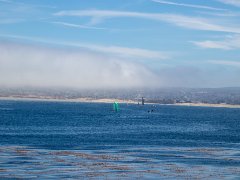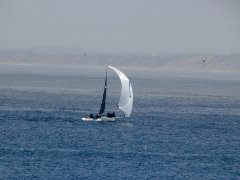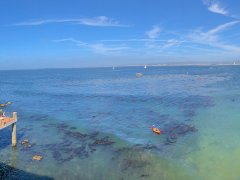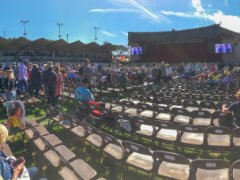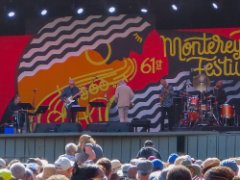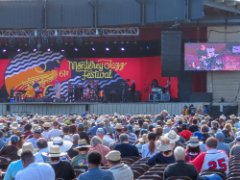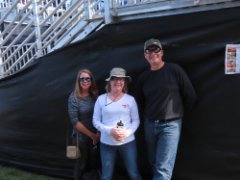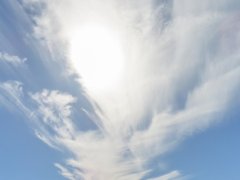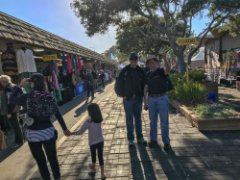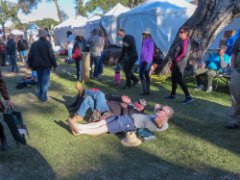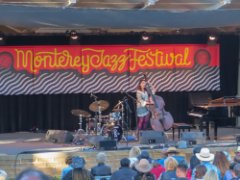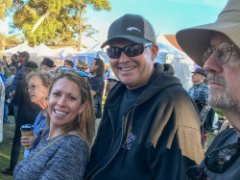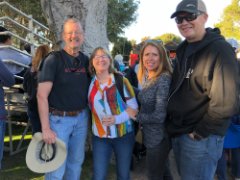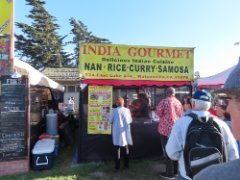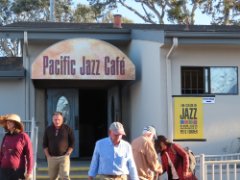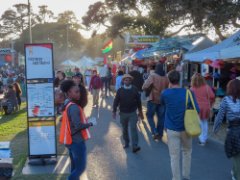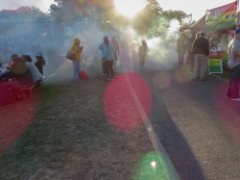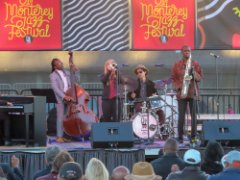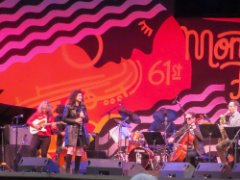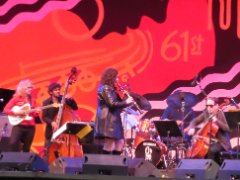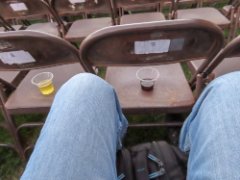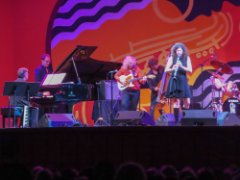 Oatmeal, bananas, and coffee for breakfast at Tidal's where we met up with Kim and started working on this log, trying to remember everything and get it written down before it's gone. Todd was still feeling crappy so he was catching some zzzz's. We decided to have lunch in the Hotel at Schooner's then head over to MJF. Last day. In the meantime it was a down day, we just hung around the room, wandered the hotel, bought some chocolate covered nuts and raspberries at Stewart & Jaspers in the lobby (very good!), worked on the log, read our books, took photos from the balcony. It was foggy today, lifting a little now and then. It was perfect to sit on the balcony and relax.
Last day of The Monterey Jazz Festival
Charles Lloyd and the Marvels with Special Guest Lucinda Williams were on the Jimmy Lyons main stage, "celebrating 80 Years Young". This concert was at 3:20pm, our only outdoor concert during the daylight hours. After being so very cold in the evening shows, it was hot in the sun! Kim got up first and headed to shade, then T, A, and S followed to stand in the back. S & A eventually headed up to the "bleacher seats" along the side which were under a cover. They were very comfortable, protected from the sun and rain (if it ever rained), and elevated above the crowds on the ground. We may consider these seats next time around.
We then heard Anat Cohen, the Downbeat Poll Winner for jazz clarinet, on the Jimmy Lyons main stage with her Tentet playing songs from her latest album "Happy Song". Gotta say, this was one our favorite sets, high energy, tight, impressive, she sometimes was playing one-handed! You just don't hear clarinet much anymore.
The Bill Frisell Trio was at the Pacific Jazz Cafe. We dropped in at the Cafe to pickup some of this set before heading on to the main stage.
Norah Jones capped the evening and the festival on the Jimmy Lyons main stage, her second appearance in two years. She did many of her standards, ballads, all in a subdued, quiet form, with very little introduction or talking between songs. It was a little too subdued for our tastes. In addition to her trio with Brian Blade and Chris Thomas, she had a Hammond B-3 organ onstage providing beautiful accompaniment (and we never found out who was playing the organ!).
---
September 24, 2018 Monday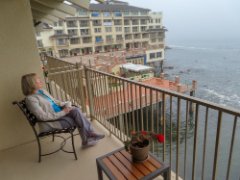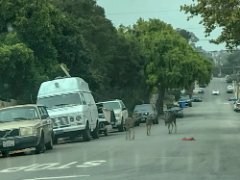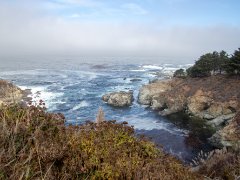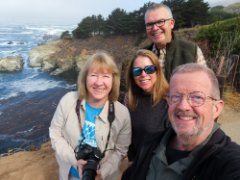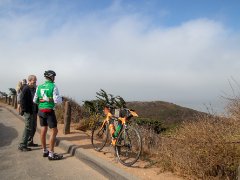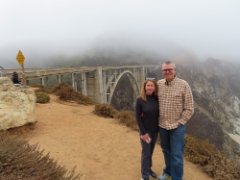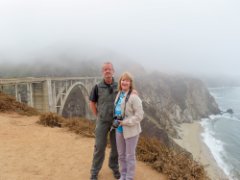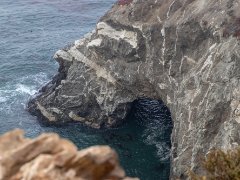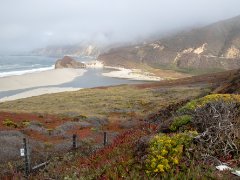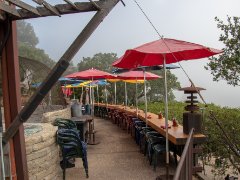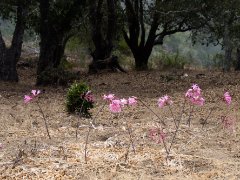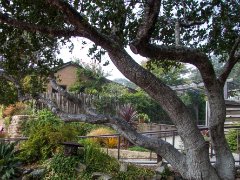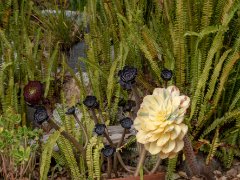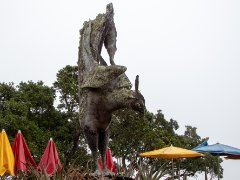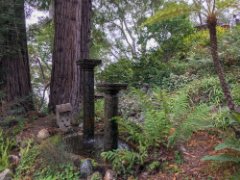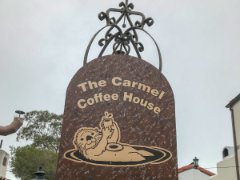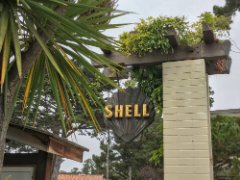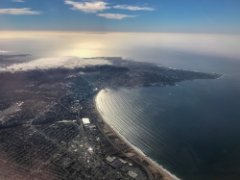 Breakfast on our own today (at Tidal, oatmeal, bananas, vanilla lattes) then cleanup, prep for the trip home, pack, checkout, have the car brought up. We had time today to drive to Nepenthe for lunch, at Big Sur on Highway 1, the Pacific Coast Highway, before heading to the Monterey Airport for the flight to Phoenix at 4:13pm. On the drive we saw fog, ocean breaking on the rocks, seals, gulls, Point Lobos Lighthouse, crazy golf greens right on the ocean sand, mansions on the coast and on the hillside overlooking, folks on a 3-day bike rally supporting Arthritis. At one of the stops Stewart talked with one of the bikers. He was from Seattle, a first-time for this ride, they were on their third day, 30 miles along Highway 1, about 250 riders total. They were spread way out all along the highway tackling the wind and hills as best they could, all in the same windbreakers to make them easy to identify. Nepenthe is a restaurant built into the hill overlooking the Pacific. Chairs were lined up against the rail table outside beautifully decorated, zen-like to eat while enjoying the stunning view. However, for us it was foggy and a bit cold, couldn't really see very much. Arriving about 15 minutes from opening, they gave us a beeper and we wandered down the hill to a gift and coffee shop. It was not crowded on this Monday morning, we may have been the first to arrive and be given a pager, so we had our choice of seating first trying out of the outside seating (too cold and too small for Todd's long legs) we then moved inside to more comfort. It was a wonderful leisurely lunch.
Decided to drive into Carmel By The Sea for gas and coffee on our way to the airport. Turned out to be very crowded downtown, a touristy area, but easily found a place to park. Stewart practiced his parallel parking ability, rusty but workable. The coffeeshop was closed for remodeling so we decided to hit the retro Shell station then on to the Monterey regional airport. MRY has one road in, one parking lot, one terminal, one gate. Small and comfortable, not crowded at all. The TSA was very thorough making us take all the little toiletries out of the luggage, examined everything. We decided they were bored and were willing to manually examine everything thoroughly, not like at DFW where they relied more on the x-ray and automation to move people through quickly. We loaded the small plane and jetted to Phoenix in plenty of time to say goodbye to Kim & Todd then load onto our flight back to Dallas-Ft.Worth. All the flights were uneventful, easy, first class. Arriving back at DFW International at 11:30pm we called an Uber which arrived quickly and drove us home to some very happy cats. Two rounds of combing, pets, and furry massages, we finally shooed the cats out of the bedroom and crashed for the night.
What a fabulous trip! Good friends, great jazz, a wonderful hotel, in beautiful Monterey, with spectacular weather. Looking forward to the next time!
---

end