---

2018 Family Vacation in Colorado
at Above The Clouds
July 30, 2018 Monday - August 5, 2018 Sunday
Anne and Stewart French
A year ago Doug & Manasi and Melanie & Brad came by to visit. We decided to plan a family vacation for 2018. So we headed upstairs to the media room, then Airbnb, Vrbo, Homeaway, lots of thought as to exactly where, eventually led us to a place in Evergreen, Colorado called "Above The Clouds" (ATC), a Homeaway.com property. At an altitude of 8343 ft it perches on the top side of Bear Mountain looking west. A huge property, 8 bedrooms, 8500 sq.ft., plenty of room for all the family.
Able to attend : Anne & Stewart, Trina, Trese, Doug & Manasi, Emily & Andrew, Melanie & Brad.
ATC property manager was Cristine Arnold. Stewart had been in contact with her many times prior to the trip to get everything lined up properly.
---
Monday July 30, 2018
DFW to Denver International Airport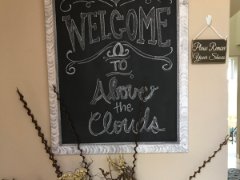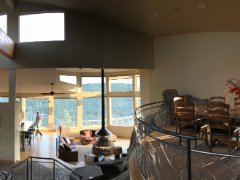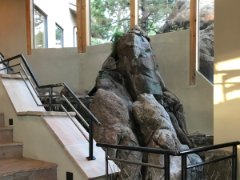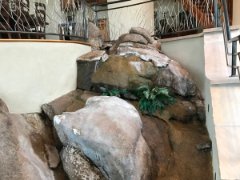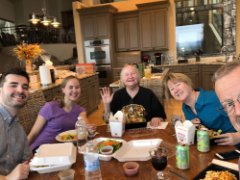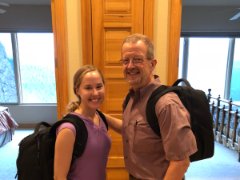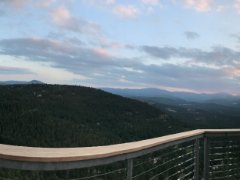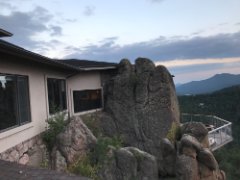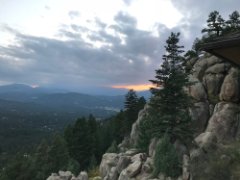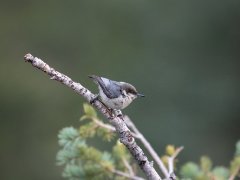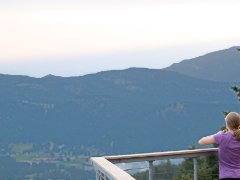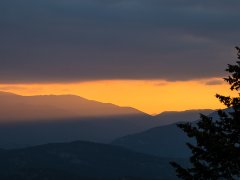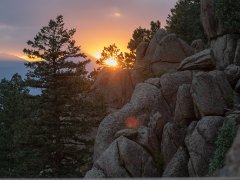 We Uber'd to DFW airport. Our flight was American Airlines DFW to Denver, First Class. So easy and comfortable! We decided to not have checked bags since ATC had two laundries, we would do laundry about Wednesday to refresh everything. Emily & Andrew flew into Denver airport just 30 minutes after we arrived, so we met up at Southwest baggage claim. Then 40 minutes later Trese arrived, meeting us at United baggage claim. Got our rental SUV, a Hyundai Santa Fe, and headed west to Evergreen, about an hour drive. Waze was having problems with the directions to ATC, so we relied on Cristine's written directions.
Click here to view the Welcome Newsletter.
On the way we stopped at Safeway and picked up some breakfast needs, then next door for some wine. Dinner was on E&A tonight and we picked up Vietnamese food from a local restaurant, giving us two big boxes of food, drinks, carryout, along with our luggage, we completely filled the SUV! Cracked ourselves up. The SUV smelled marvelous with the carryout, we were all getting hungry. Heading south out of Evergreen we started climbing some switchbacks, but following the directions was easy.
We found the house and got settled in. First thing you see is the chalkboard Welcome sign in the massive main hall with 3 bedrooms, around the corner stairs lead up to 3 more, and a long hall to the north wing of the house's "guest wing" with 2 more. Left down the stairs to the living room & back deck with panoramic views of the mountains to the west. The house is built into the mountainside with waterfalls that flow through the living room, down the boulders, under a glass step at the base of the stone stairs. We did a tour, picked our bedrooms, ate our dinner, and started hunting: glasses, cups, paper towels, light switches, waterfall, fireplaces, sound systems, media room, phantom screens, on and on. The sound of the waterfalls and views of the mountains helped us start relaxing and getting into the swing of things.
Melanie & Brad showed up later, did a tour, and picked their bedroom, the guest wing. We ended up sitting outside on the deck looking at the stars, Venus, Jupiter, Mars, Saturn, were clearly visible, much later the moon appeared. It was all just stunning.
---
Tuesday July 31, 2018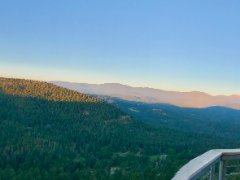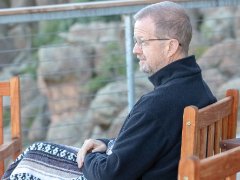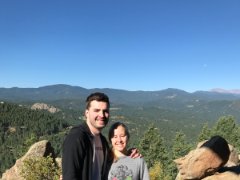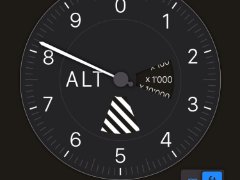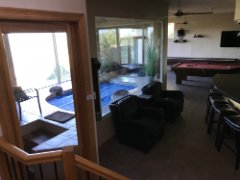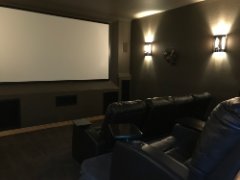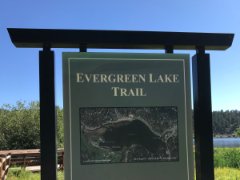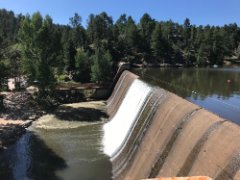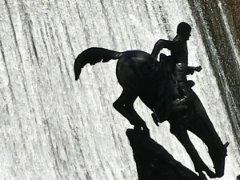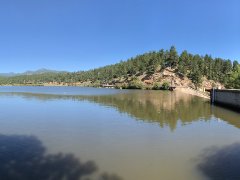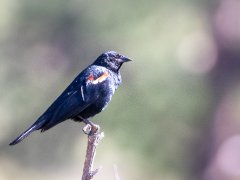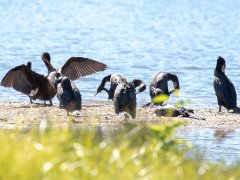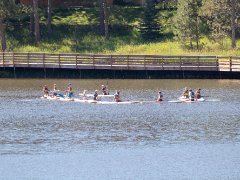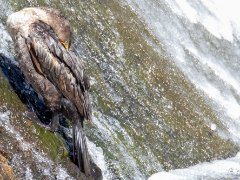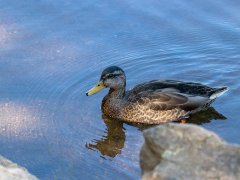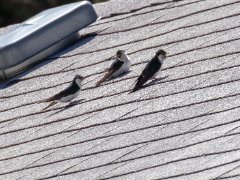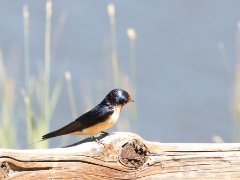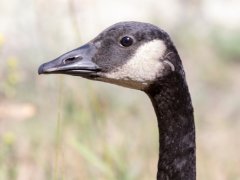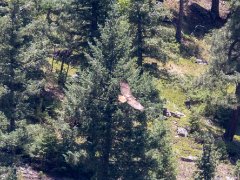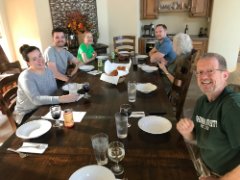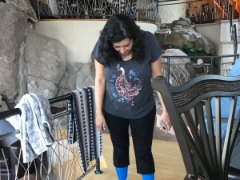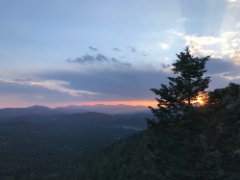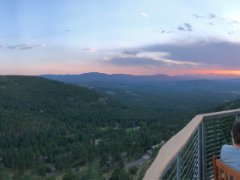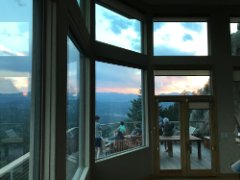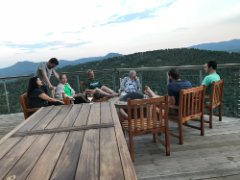 Stewart woke up at his regular time, 5:15am, started a fire in the master fireplace, it was cold this morning! It was wonderful coming from Dallas 100+ degrees. A beautiful clear morning looking west, sun coming up east brought the sunrise from the tops of the mountains down toward the valleys Coffee & breakfast as people slowly started drifting in from their rooms. Stewart and Andrew experimented with the Mr. Coffee espresso machine. It worked very well! A surprise. The cappucino was very hot and tasty.
Breakfast music today : Nico Muhly, The Reader.
We continued hunting for kitcheny things. Many, many drawers filled with things, big Pantry filled with things, 2 garages filled with things. Later, S&A, E&A, Trese, decided to head over to Evergreen Lake and hike around it taking photos and getting a little exercise. Doug, Manasi, & Trina showed up at ATC about 3pm, did a tour, picked their bedrooms, and got settled in.
We then headed out to the back deck for conversation, enjoying the beautiful weather and view. While sitting on the deck we were visited by Hummingbirds and Pygmy Nuthatches, who were living in the "9th bedroom" (a hole in the outside wall looking out on the back deck). The Hummingbird came so often, hovering in front of us just out of reach, that we began hearing it's call long before it appeared. We'd hear the call and quiet down hoping the Hummingbird would stop by and say hello, which it often did!
Melanie & Brad's friend Will dropped in for a visit that evening. Trese made excellent dinner, chicken Provence, a chicken, veggie, pasta casserole w/ Herb de Provence. It smelled marvelous as she prepared it and served it up in the large dining room. Later we headed down to the game room for pool, shuffleboard, and the bar.
---
Wednesday August 1, 2018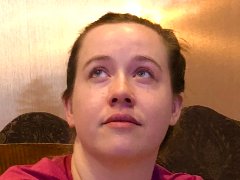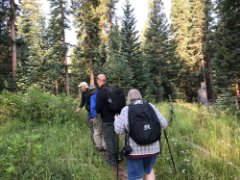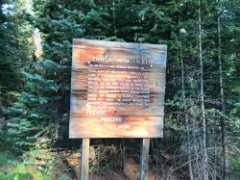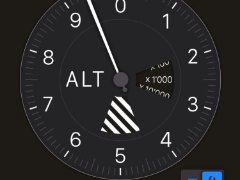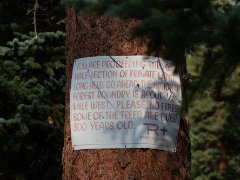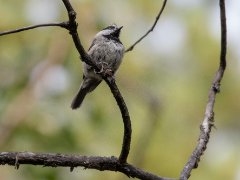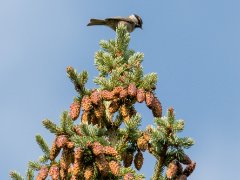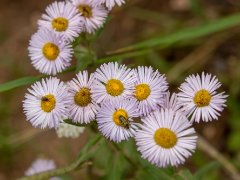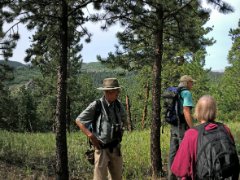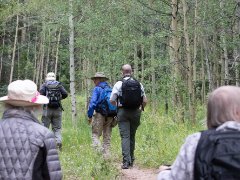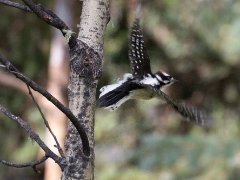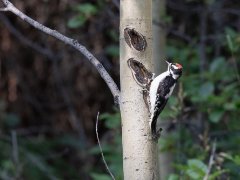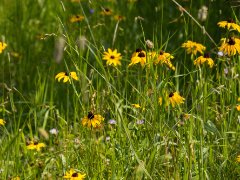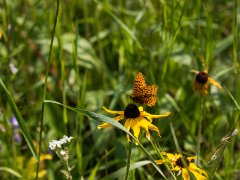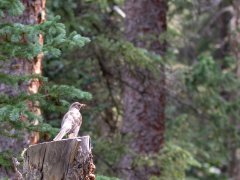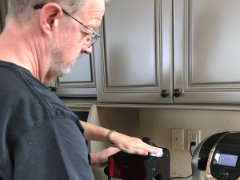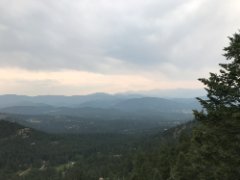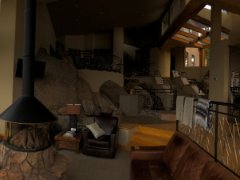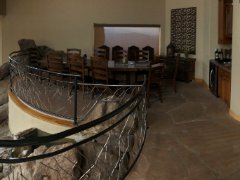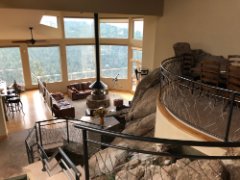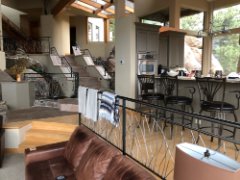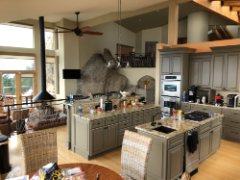 Stewarts up early, cleans up the kitchen, takes out garbage, makes coffee. He's in a routine now!
Setting the right tone : Danish String Quartet, Last Leaf.
It's a quiet, beautiful morning with clouds over the mountains, a light mist in the valleys, calm. Perfect to sit on the deck and enjoy a cuppa while waiting for the Hummingbirds and Nuthatches to visit.
Today S&A, Trina, Trese were scheduled to go on a birdwalk. We discovered this walk by chance googling around on the internet. Hosted by the Evergreen Audubon Society, we met at the Evergreen Library. We loaded up some snacks and lunch fixins, the walk was supposed to last till about 1pm or so. Chuck Aid was our leader, the other guests were Dick and Ed, in their 70s, hardcore bikers (bicycles) earlier in their lives, now living in Colorado for many years doing Audubon work and enjoying their retirement. We drove two cars west from Evergreen. The road got progressively more primitive, pavement, gravel, dirt, with some serious hills heading up into the mountains to a campground. It was a 2.7 mile moderate difficulty hike through the pines and aspens up to a meadow. We heard 12 bird species, saw some of them. Chuck had a "parlor trick", he could make Pygmy Owl sounds! This drew many noisy, upset birds to see what that was, protect their nests. We heard these birds (and saw some of them) : Red Beasted Nuthatch, Mountain Chickadee, Junco, Audubon's Warbler, Red Crossbill, Pygmy Nuthatch, Clark's Nutcracker, Pine Siskin, Yellow Rumped Warbler, Robin, Warbling Vireo. We also saw and heard many squirrels.
We got back to ATC about 12:30pm. Anne, Trese, Trina, later Brad, Emily & Andrew watched Idiocracy in the media room.
D&M made amazing Chicken Tikka Masala for dinner, with cabbage+okra & Naan. It smelled and tasted wonderful. We all headed back to the game room for pool and shuffleboard, Brad introduced us to the "real" rules, Melanie was using different rules, "Cornhole". Anne and Trina got in the spa for some synchronized swimming.
Just a note for Wednesday, Stewart contacted Cristine & Lowell about a leak under the kitchen sink, and D&M's blinds not working correctly. Doug had to get up with the sunrise so he wouldn't get sunburned. Lowell planned on coming and working the issues while we were in Colorado Springs tomorrow (Thursday).
---
Thursday August 2, 2018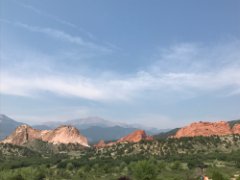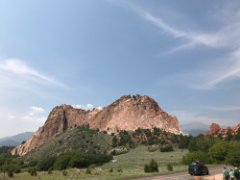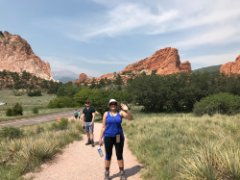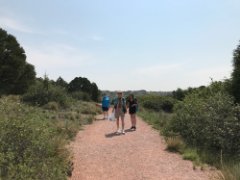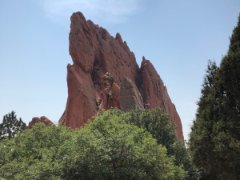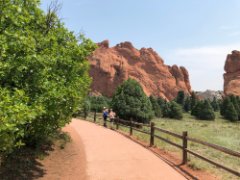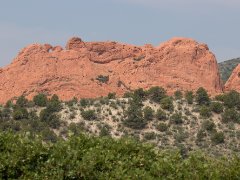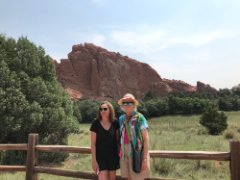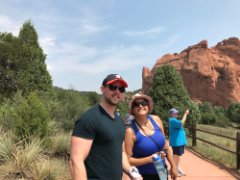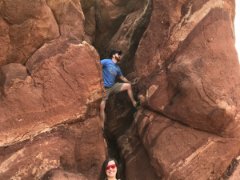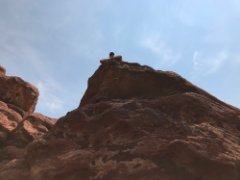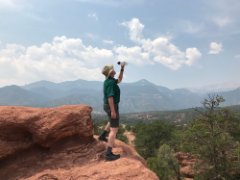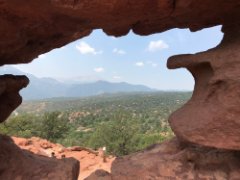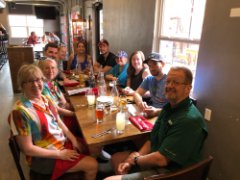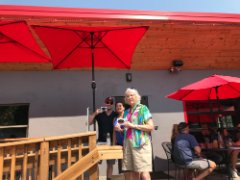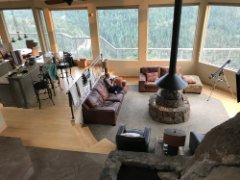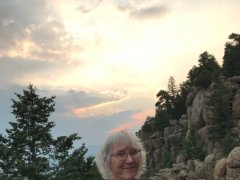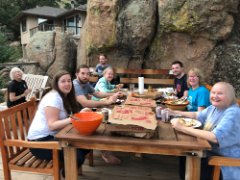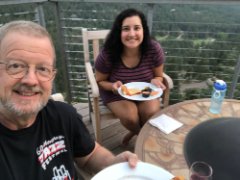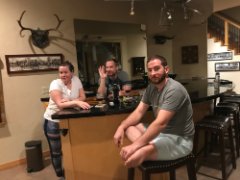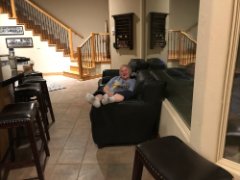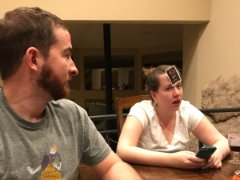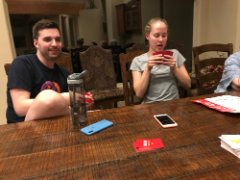 Stewart's routine : wake at 5:15am, cleanup the kitchen, take out garbage, make coffee, eat breakfast.
Quietly helping us relax : James Taylor, Before This World.
We all had a big day planned for today, Garden Of The Gods in Colorado Springs. We prepped, it was going to be a sunny, warm day with as much hiking as we wanted. We drove 3 cars, about 1.5 hours, parking in the crowded parking lot. Lots of discussions about hiking vs. taking the shuttle. We also were meeting Trina's friend of many years, Terri, who now lives in Colordao Springs. Terri managed to get the whole day off today, so she met us early at the visitor center and hiked with us. We decided to take the shuttle, but the wait was long, so we abandoned that and instead walked over. A&S hiked 3.8 miles through the monoliths, sometimes with B&M, D&M, E&A, Trina, Trese, Terri, we kind of broke up into like-minded groups after a while. It was warm in the 80s. We dubbed one of the trials "Horse Shit Trail". There was horse poop _everywhere_! And horses, too, taking people on a mounted tour along the trail. Generally, then whole place was beautiful but very crowded. At the end of the hikes we gathered at the Visitor Center deciding where to eat lunch. B&M suggested lunch at Cerberus brew pub just a few minutes away. It was a fantastic lunch spot, great food and drinks. After, just a few minutes away, we dropped in for Coffee at Roscoe's Coffee House (a mammoth Donkey!). After very strong, tasty espresso drinks S&A, Trese, and Trina decided to drive home to ATC, stopping at Safeway for salad fixins and wine.
B&M, D&M, E&A, drove on to Cave of the Winds, a touristy site we had talked about visiting for the cave tours and the rides ( The Terrordactyl ! ). But when they got there they discovered the next cave tour was an hour later, and the tour was an hour long, so they loaded up and headed home, arriving back at ATC before we did. B&M provided Pizza tonight from BeauJo's Pizzeria. It was just fantastic and we ate it on the back deck overlooking the mountains. After dinner it was rousing games of "Exploding Kittens" and 10,000. Later we headed downstairs to the gameroom for pool and shuffleboard again.
---
Friday August 3, 2018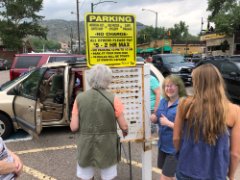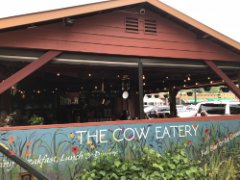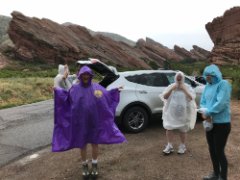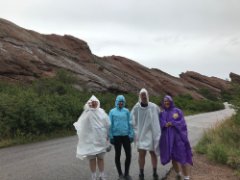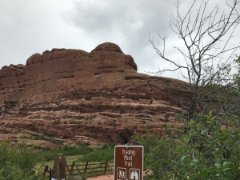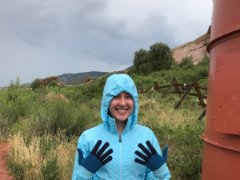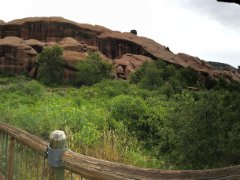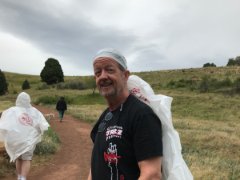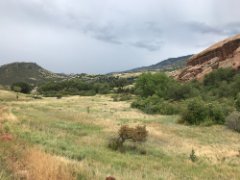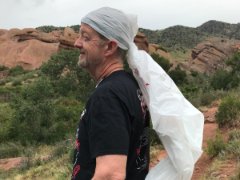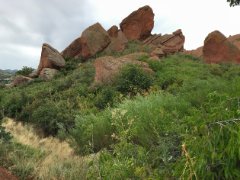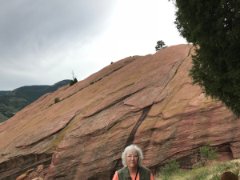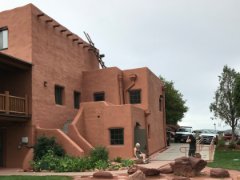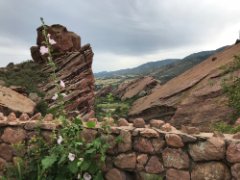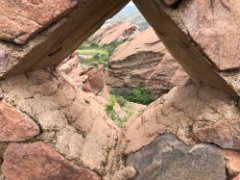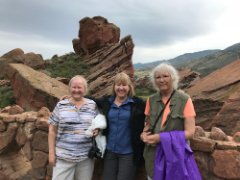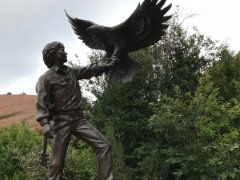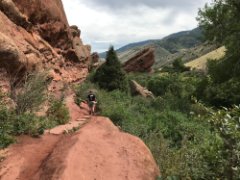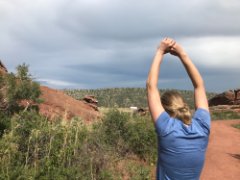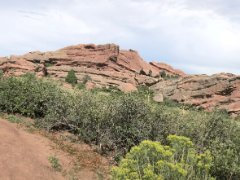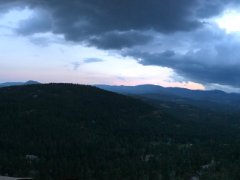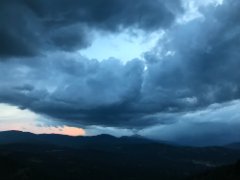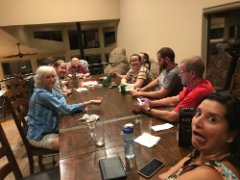 Stewart's morning again - up, cleanup the kitchen, take out garbage, make coffee, eat breakfast. Playing quietly in the background : Earl Klugh, Handpicked.
After breakfast S&A, Trina, Trese, and Emily decided to head over to Morrison, CO and Red Rock to check out the town and do some hiking and exploring. It was overcast and rainy in Morrison and fairly crowded. We decided to eat in downtown at the The Cow Eatery restaurant on their covered back deck, watching it rain steadily.
When the rain let up a bit we headed on over to Red Rock and dug out our rain ponchos. Not intending to actually hike through the rain we headed onto the trail, then the rain let up, we took off our ponchos and just kept going, up to the Trading Post, and on around back to the car. It was so cold with the rain and breeze. Emily's fingers were turning blue so Anne loaned her some nice gloves which helped a lot. Trina had to stop and dump the rocks out of her hiking boots, beside the "poop tank". The hike was moderate to difficult but short. We saw several Stellar Jays (birds) on the hike.
We had been talking about driving up to the Buffalo Overlook where there was reported hundreds of buffalo in the meadow (at times). So after the Red Rocks hike we drove up there and looked around. No buffalo. We saw a park ranger and he told us they had moved the buffalo to a different meadow, on the south side of I-70 near the Genesee freeway exit, so we jumped back in the car (following some other folks we met there) and went hunting. No luck. The buffalo were nowhere to be found.
We arrived back at ATC where everyone else had a wonderful quiet afternoon reading, napping, enjoying the beautiful scenery, recovering from the night heavy drinking. A storm blew in that afternoon with dark clouds, breezy, cool, rain, some lightening. It was awe inspiring at sunset to see the sunlight through the heavy clouds, god fingers, rainstorms and mist in the distance over the mountains. B&M cooked up a batch of "breakfast for dinner" tonight with scrambled egg casserole, bacon, tortillas "fresca" (uncooked). It was _so_good_! More games of "Exploding Kittens" and 10,000 then back downstairs to the gameroom for pool and shuffleboard.
---
Saturday August 4, 2018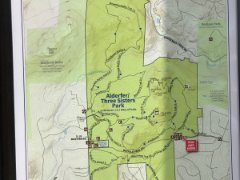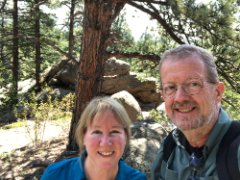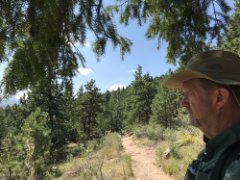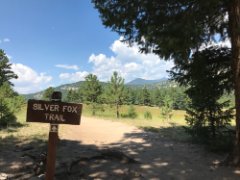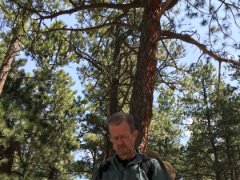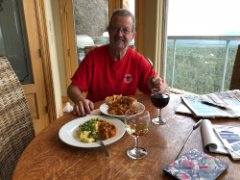 Stewart's up, cleaned the kitchen, took out the garbage, made coffee, everyone slowly staggered in and ate breakfast. Mood was set with Iron & Wine, Our Endless Numbered Days. Everyone packed, gathered their sheets, towels, garbage and dealt with them as needed. B&M, D&M, E&A, and Trina were all flying home out of Denver in the late afternoon today, so they planned a trip to the Denver zoo. Brad and Melanie had a hard start set for 8:30am, to meet some friends for breakfast. E&A rode with them to a different breakfast spot then ubered to the zoo later. D&M, E&A, Trese and Trina loaded up later and headed for the zoo. Trese's flight wasn't until (very) early Sunday morning so she had picked a hotel with a shuttle to the airport to stay overnight Saturday.
We had decided not to go to the zoo today, instead heading to Alderfer/Three Sisters Park. This park is 12 minutes from ATC and has many miles of easy, moderate, and difficult hiking through trees & meadows, up and over rocky hills. We hiked about 3.5 miles doing all three difficulty levels. It was stunning scenery and good exercise. Being a Saturday morning it was a little crowded, but not enough to affect the hiking (or parking) at all.
Later back at ATC we cleaned up and relaxed on the back deck, reading our books & getting naps. Dinner was a raid of the fridge, leftover salad fixins, pizza crust with Chicken Tikka, a 3 egg omelet with jalapenos, goat cheese, and cilantro, smothered in left-over salsa and Colorado honey. With our wine we retired to the gameroom for some pool and hot tub, then polished the evening off in the media room, "The Bourne Identity", which neither of us had ever seen before.
( The house is spooky with only the two of us laying in bed in the dark, the wind howling outside, hearing the creaks and shudders of the large house ).
---
Sunday August 5, 2018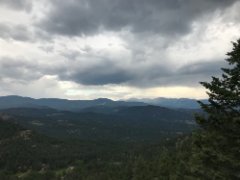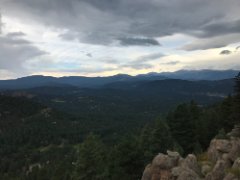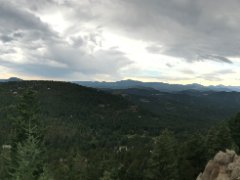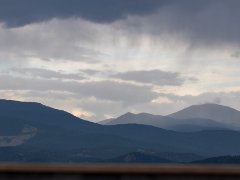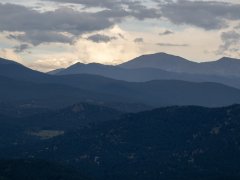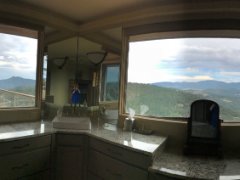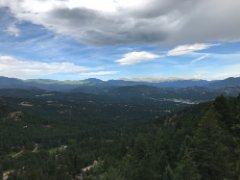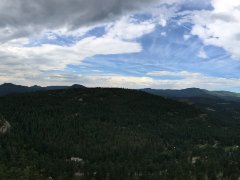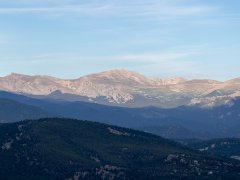 Stewart's up early, makes coffee. Anne joins him for breakfast on the back deck to watch the sunrise.
Last chance tunes : Al DiMeola, World Sinfonia
Stewart makes a vow to use every bathroom in the house before we leave. Also gives him a chance to make sure nothing was missed! Anne walked the property and took many more "my remembers" photos. We made a final check of all the bedrooms, bathrooms, game room, etc, cleaned up the kitchen, took all the remaining garbage to the dumpster. Really just followed the checklist provided by Cristine. At about 10am we said Good-Bye to ATC and reluctantly headed out to the Denver airport. Waze was exactly right on time. We arrived at the airport, turned in our rental SUV, passed through security and within just a few minutes loaded onto the American Airbus 321. The flight was and easy 1.5 hours. We called for an Uber XL on the app and it showed in about 3 minutes, with "Greg" driving us home telling us about his new water recycling business startup that he was working. The cats were so happy to see us!
When we got home we noticed something interesting. From door-to-door, our house to Above The Clouds, uber, flights, rental, drive it takes about 5 hours. This is very close to the time it takes to drive to Houston to visit family. hmmm...
---
Things we accuse Will of (because we certainly didn't do any of these things, and he can't defend himself ! ) :

He stole the sheets off the beds.
He broke the wineglass.
He took 8 squares of toilet paper off Trina's roll.
He broke the kitchen sink.
He broke D&M's blinds.
He broke the subwoofer.
---
Notable things we saw :

A WWII Willy's Jeep flying along the mountain road.

A young guy on a "mountain unicycle" bouncing across the rocks on a trail by the road.

A specatular storm blew in on Thursday late afternoon darkening the skies over ATC. We could see lightening in the distance as it blew in.

Several hawks flying above the trees and below the ATC decks.

Our favorite Hummingsbird visited several times every day, sometimes hovering right beside our heads!

Check this one out. A&S drove into town Saturday afternoon to explore a little, but had to turn around and head back. The Dam Duck Derby was happening. It was a madhouse! Adults and kids were overrunning the place, and absolutely nowhere to park. They were shuttling people in from parking lots in fields far away.

We had a leak under sink on Wednesday. I msg'd the property manager Cristine about it. She immediately contacted the maintenance tech, Lowell. We decided Lowell could come out to ATC early tomorrow and take a look, which he did, and fixed the problem. He also saw our written checklist of things we noticed that were broken or needed a bit of work. He immediately started working them off! Got D&Ms blinds down (they were stuck up), got our bedroom fireplace working again, ordered parts for some of the others. Very fine service, kind of amazing. ----- end