---

2017 Backroads Hawaii Bicycle Vacation
September 8-23, 2017
Anne and Stewart French
---
Garmin Tracks
Backroads Day 1 - Kealakekua Cycling
Backroads Day 2 - Captain Cook Cycling
Backroads Day 3 - Volcano Cycling
Backroads Day 4 - Hilo and Paniolo Cycling
Backroads Day 5 - Hawi Cycling
Backroads Day 6 - Kamuela Cycling
---
September 8, 2017 Friday
DFW to LAX, LAX to Kona, HI, American Airlines
Night at The Sheraton Resort in Kona, HI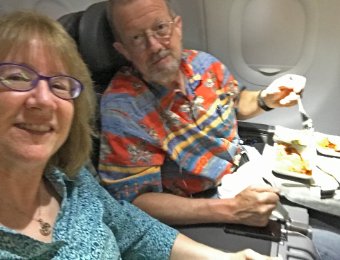 Hawaii is our 12th Backroads Cycling vacation. Often we opt to leave head out at O'Dark Thirty to arrive before dark at our destination. This time we decided to leave the house at a more reasonable hour, 2:30pm, trading the start time for the arrival time, 8pm in Kona. We took Uber for the first time to DFW airport. At Manasi's suggestion Stewart set it up ahead of time for pickup at 11:30am. Although they won't confirm until the day of the trip, there are literally thousands of Uber drivers in the DFW area so the risk of being stranded is pretty minimal. Stewart got a text at 11:25am that our UberX was on it's way, 8 minutes. Our driver, Robert, arrived, loaded our luggage, and headed to DFW. Great conversation (kind of amazing, really) the whole way. Robert clarified for us that we really needed to setup UberXL next time with the amount of luggage we had (2 carry-ons, 2 big check bags, and 2 backpacks). Robert told us not to depend on UberX to have enough space for two people and luggage for an extended trip. UberXL is specifically for this. The problem was that the early reservation app didn't offer that option so we should just do it on the day of the trip and specify XL. Robert dropped us at gate A11 and we headed in right to the First Class desk to drop off our two checked bags. Totally amazing service from American Airlines, we walked around the corner and right through security. We had done the TSA Pre-Check clearance process earlier in the year so we were (and should always be) pre-cleared. A person could get used to this kind of service! We then got some lunch and coffee at the airport.
In flight, Anne watched "Boss Baby" (it was entertaining) and Guardians of the Galaxy, Stewart watched "Jupiter Rising" (HaHaHaHa!! Couldn't get all the way through it).
When we arrived on the Big Island it was very dark out already. Too bad we couldn't see the islands as we landed or really check out the cute open-air airport. Seems like walls were optional here. SpeediShuttle was waiting for us at the Kona Airport and shuttled us in to the Sheraton Resort. We had an ocean front room on the 4th floor and immediately checked out the balcony with a counter height table and two tall chairs that gave great visibility over the high railing. From there, we could hear the tropical birds in the palm trees and ocean waves lapping the shore. So relaxed already.
---
September 9, 2017 Saturday
Kailua-Kona, HI
Night at The Sheraton Resort in Kona, HI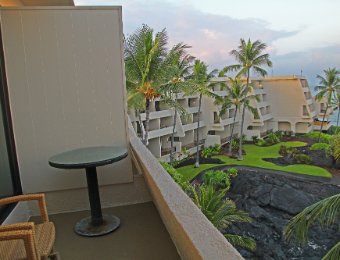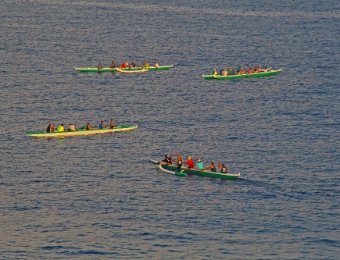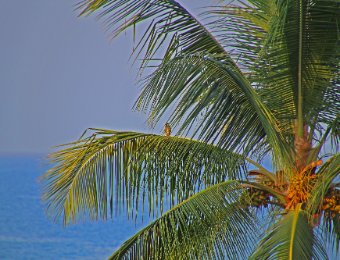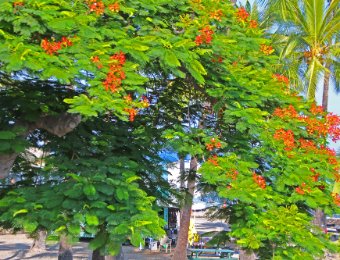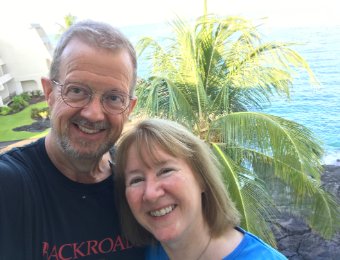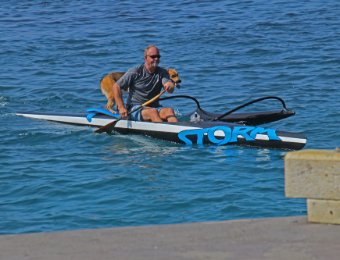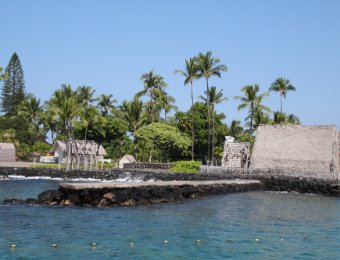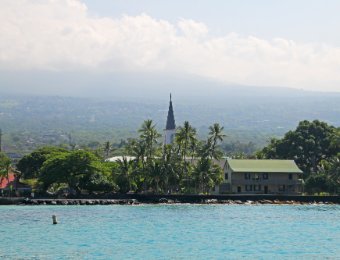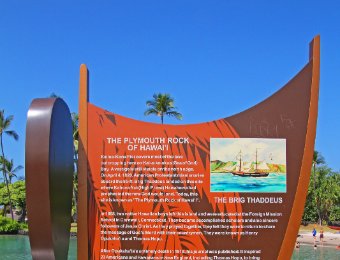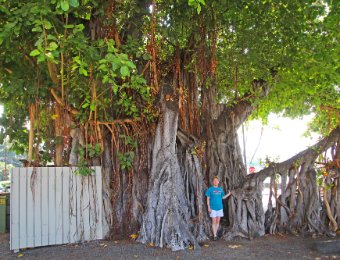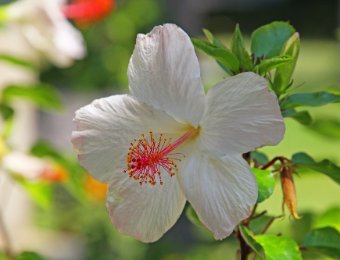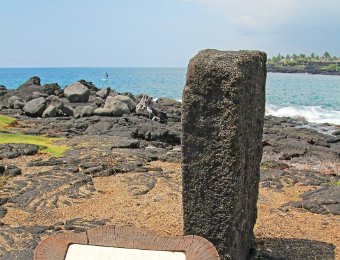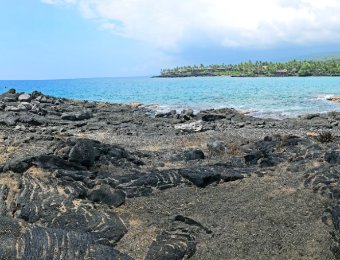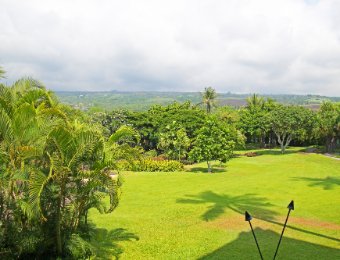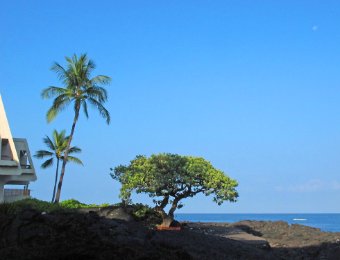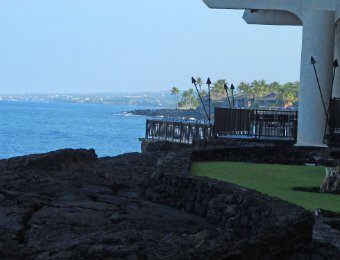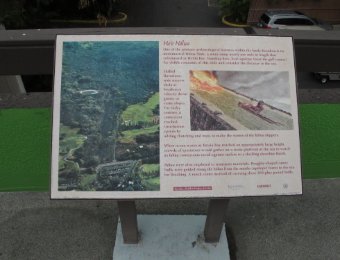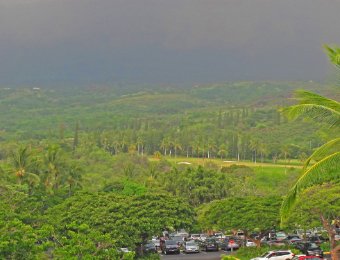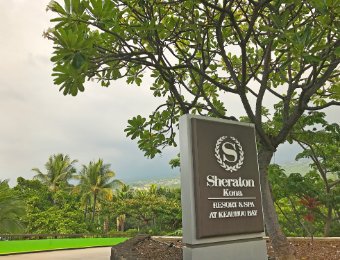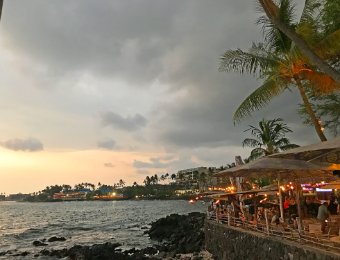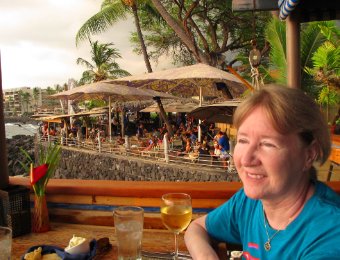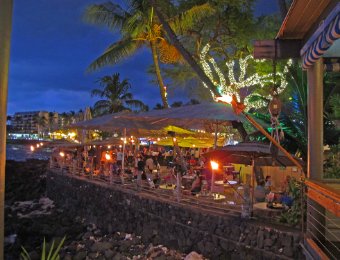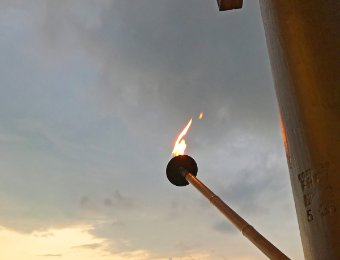 Anxious to get a jump on our first real day in Hawaii, we bought an early breakfast of oatmeal, bananas and coffee at the Sheraton coffee shop, Keauhau, and ate it at one of the poolside tables. This was the "indoor" pool even through again walls were optional. The balconies of the 4 towers curve in to overlook this pool and its humongous waterfall crafted of stacks of lava rock. The Sheraton also has an outdoor pool with a beach fronting the ocean and the two are connected via a curvy channel that usually had kids and parents floating in it. After breakfast, we opted for the free periodic shuttle service that left the Sheraton every 2 hours and shuttled north along Ali'i Drive to Kailua Pier in Kailua-Kona, stopping all along the way to pick up and drop off. We took the 9am all the way to the pier, catching views of the turquoise ocean, the many beach goers jamming up the few beaches we passed, lots of solar panels on the condos and, well, lots of condos. Once at the pier, we walked to get a good view of King Kamehameha's Ahu'ena Heiau (a grass hut temple out in the bay), watching crabs on lava rock, and chatting with two men from Tucson there on vacation.
Nearby, we toured Hulihe'e Palace, a victorian mansion restored as a historical monument for the Hawaiian royalty (Ali'i). It had very cool furniture, feather decorations, canoes, portraits, Koa bowls and tables. Koa is a beautiful deep brown Hawaiian wood and is often seen around the island. The museum also had a long sled used by royalty as a game where they slid down the mountain for a mile over mud and grass over lava rock. The tour guide gave us lots of info on the history and families. Although it was called a palace and was quite ornately furnished, it was really not as big as a standard McMansion in Frisco, TX these days.
On the recommendation of the Sheraton concierge, we grabbed lunch at Foster's Kitchen down the street. It is on the 2nd floor and has a wide balcony with a fantastic view of the bay and Ali'i Drive and a comfortable breeze. The server there was from Berkeley and had worked at Backroads in the 1980's and was very personable. The food was fresh and deliciously presented. We then walked across the street to get coffee from the Kona Marketplace and sat at a table on the bay, a cool outdoor shopping area, similar to pier 39 in San Francisco. Anne looked for a Hawaiian shirt but didn't find anything but cotton. The temperature was in the 80's and the air was heavy with humidity so that wouldn't be much better than the t-shirts we were already wearing. As we walked, we kept seeing these small yellow birds, some with red heads and larger birds with yellow rings around their eyes. We're anxious to find out what these are at the bird festival after the Backroads trip.
While waiting for the shuttle back to the Sheraton we met another Backroads guest, Lynne Foster, from Chicago. We chatted about the upcoming trip and her dog back at home. Only later did we find out it was her birthday!
Back at the Sheraton we got cleaned up and went for a walk around the grounds, seeing historic lava rock house foundations, animal pens, and an adorable wedding chapel with an open view out to the ocean. Walked further and stopped at Ray's On The Bay to relax and read our books in the warm breeze.
Later we Uber'd in to eat dinner at Huggo's (another concierge recommendation). We had a table right next to the ocean and watched a stunning sunset while live music played on the veranda of the restaurant next door.
---
September 10, 2017 Sunday
Backroads Day 1 - Welcome to the Big Island
Night at The Sheraton Resort in Kailua-Kona, HI
---
Leaders: Katie, Josh, Sky
Guests: Lynne, Ness, Anthony, Andy, Lynn and Mark, Joan and Gary, Pat and Chris, Anne and Stewart
---
---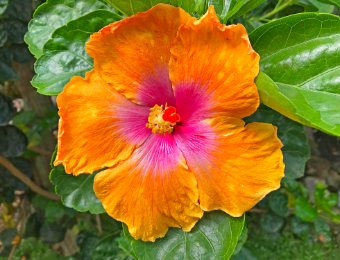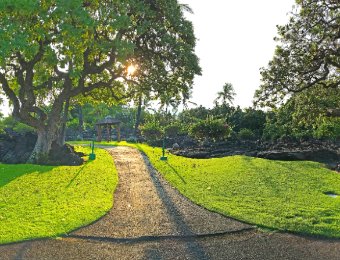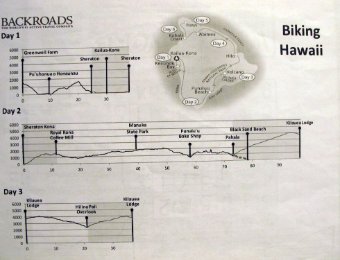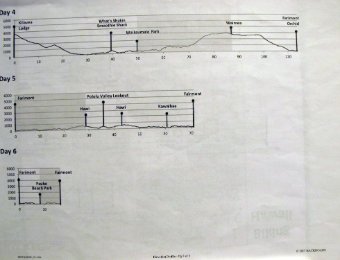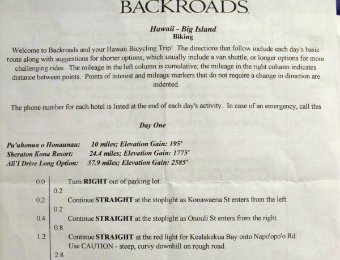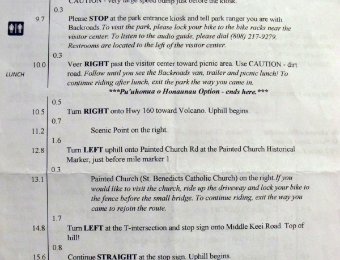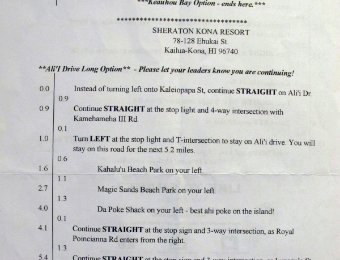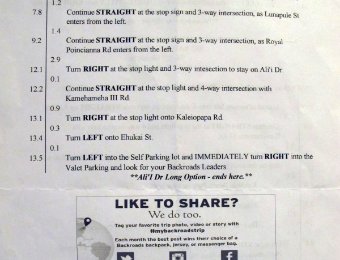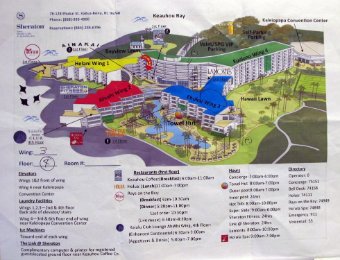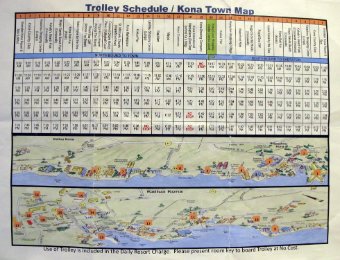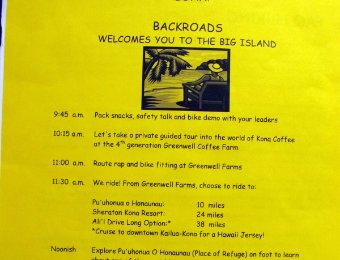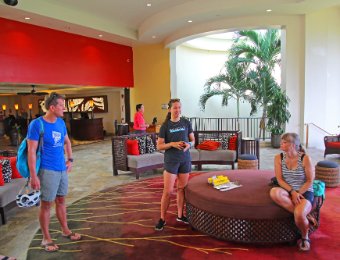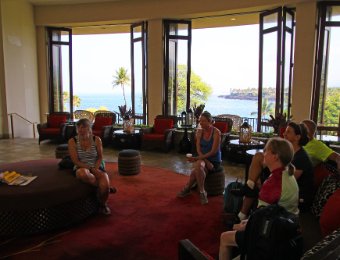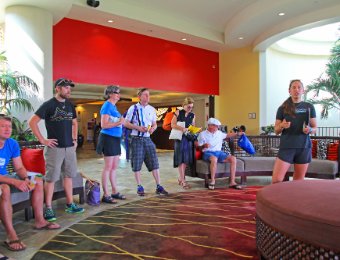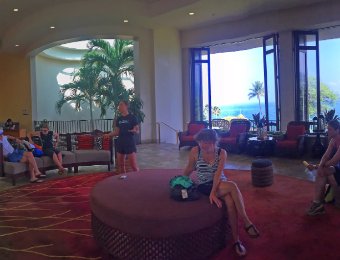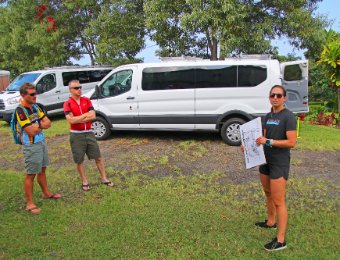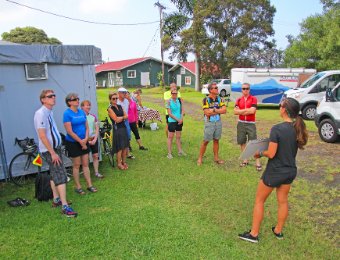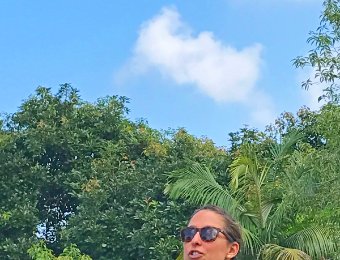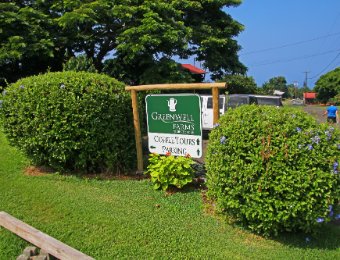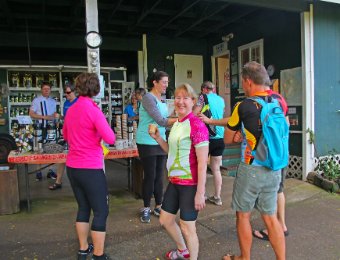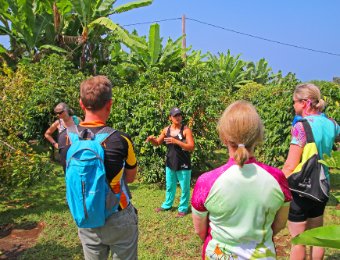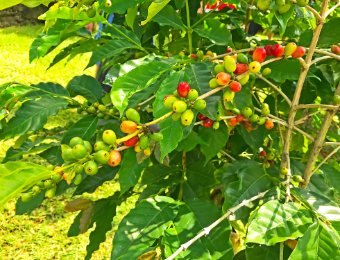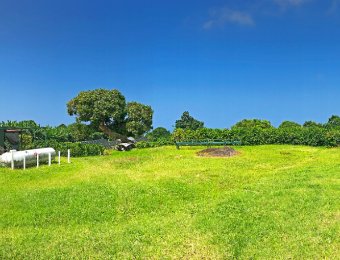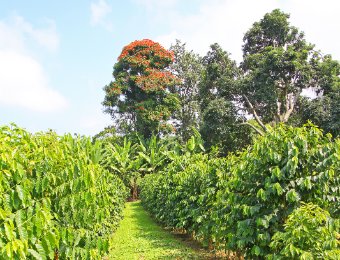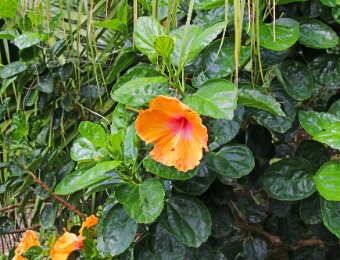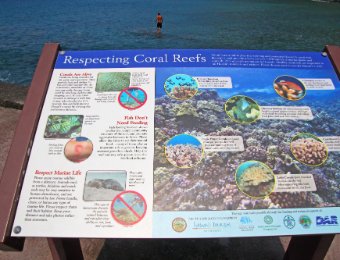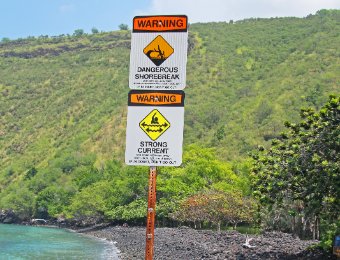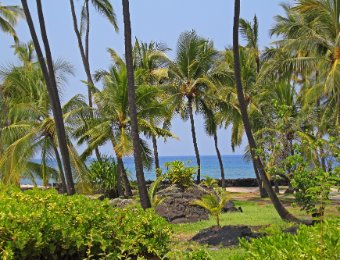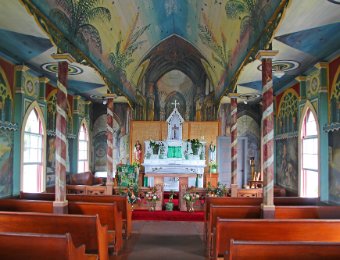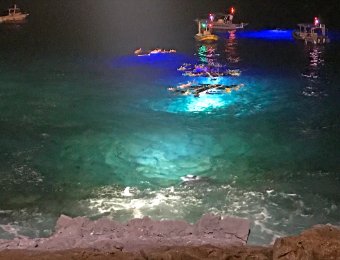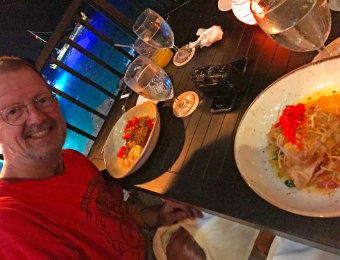 Opting for a fuller breakfast (but not too full), we grabbed the Continental Breakfast at the Sheraton's full restaurant, Ainakai. This restaurant has a fabulous full buffet with a continental option. Stewart made Papaya yogurt from fresh papaya and greek yogurt. Kona coffee all around!
We then walked the grounds looking for the convention center where the Hawaii Island Festival of Birds would be hosted next weekend. It's a nice set of meeting rooms lining the outer perimater of the grounds and an auditorium in a separate building. The landscape was enthralling. Lava rock framed ocean views and hosted a wide variety of flowers including hibiscus, trumpet vines, plumeria and bamboo orchids, along with many we couldn't begin to name (pink, yellow, orange, magenta and white), some uplifted, some reaching out, some dropping fronds.
At 9am all the Backroads leaders (Katie, Josh, and Sky) and guests met in the lobby for intros and the first route rap. We met Anthony from Dallas (two Backroads trips in a row we meet a neighbor!), Ness from Australia (short for Vanessa), Lynne from Chicago, Pat and Chris from Maryland, Andy from Albuquerque, Gary and Joan from Michigan, and Mark and Lynn from Boulder. We all then loaded up in the two vans and shuttled to Greenwell coffee farm and roasters.
Greenwell hosted us on a tour of the fields and equipment. They described how the coffee beans turned red when it was time, and how peaberry was the small very round bean that was binned to sell separately with a smooth, somewhat fruity flavor. We sampled 100% Kona coffees, Yum!. The leaders got us all fit onto our bikes, put on our pedals, got our front packs installed, Garmins turned onto the correct routes and we headed out.
Day 1 took us south to Keokua and started with a long uphill, steep for 3 miles, then less steep uphill for next 6 miles. As we pedaled resolutely up the incline with Ness from Australia (now living in Vancouver but had also spent extended time in Africa), Anne got a flat. Luckily, leader Josh was quick to catch up with us and swapped his wheel for Anne's and we were back on the road. There was thick, dense vegetation/foliage all along the uphill climb. Two road-runner type birds ran across in front of us, found out later they were probably Plovers. There were Long vista views of the coastline with 1000 ft drops. And periodically roosters crowed deep in the forest and chickens would wander out of the brush and scurry back in as we passed.
Backroads had setup a picnic lunch for us on a lava rock beach hugged by massive palm trees. There was an amphitheater at this "place of solace" and we ate a bite and enjoyed the views. There were birds galore, many yellow finches, canaries, myna birds and mongooses everywhere. These ferret-like creatures were brought in to eradicate rats but unfortunately they are not nocturnal so their paths didn't cross much, and with no predators they proliferated and today are found everywhere. Some think of them as rats version 2, but we thought they were cute at first. Found out later they were effective at eliminating a lot of native tropical birds so now they are less cute.
We tried to find spots to stop for photo ops, but the route was very steep, and a cloudy very light rain, almost fog, was building. We took the long option today and biked back into town, all the way to the pier along Ali'i Drive. The view from the bike was far different from the shuttle as we sometimes had to dodge cars pulling into the bike lane and car doors swinging open. But the road was flat and the people were entertaining. We chatted with some locals waiting for the bus near the most beautiful huge banyan tree, then turned around and made our way back to the Sheraton.
Backroads hosted a happy hour at Ray's On The Bay, so we grabbed some appetizers as we met up with the guests and discussed our various rides. Then we had dinner on their patio and were lucky enough to snag the table closest to the Manta Ray viewing. The Sheraton shines a bright light into the water that draws the rays, massive sea creatures at least twelve feet across. We saw several rays swimming in the lights, turning somersaults to show their white underbellies, and many people snorkeling on special rafts to "swim with the rays".
---
September 11, 2017 Monday
Backroads Day 2 - Kona Coffee and the Punaluu Bake Shop
Night at The Kilauea Lodge in Volcano, HI
---
---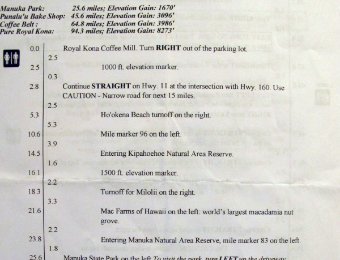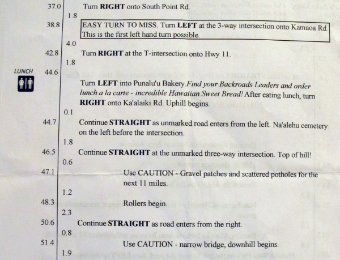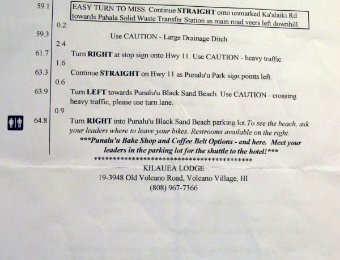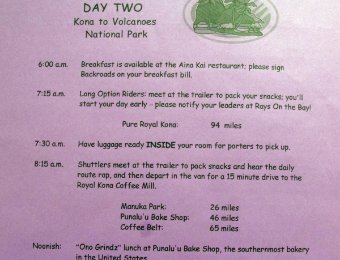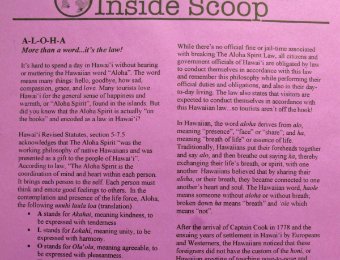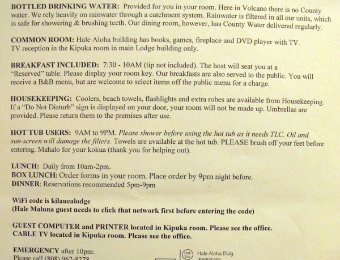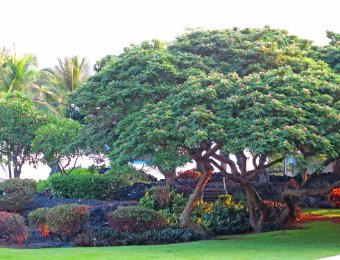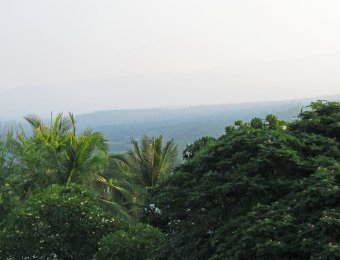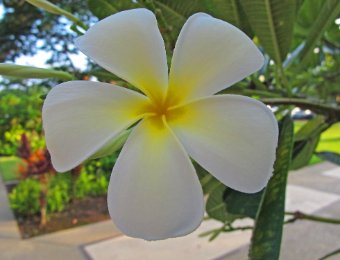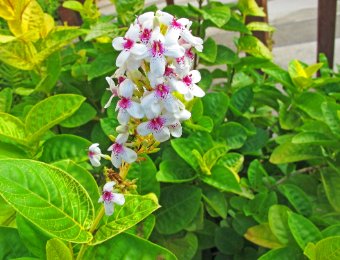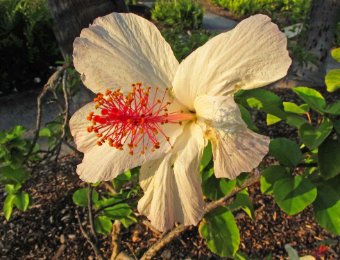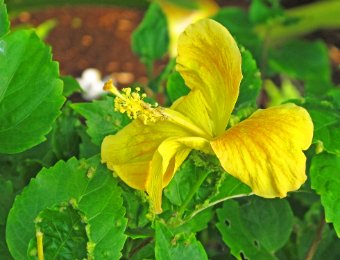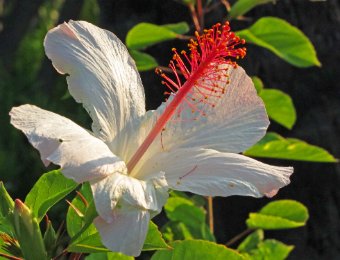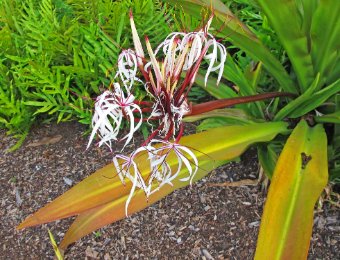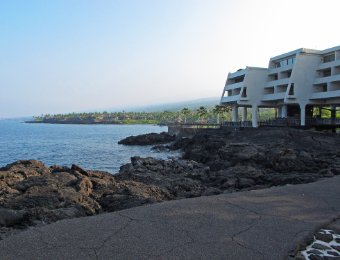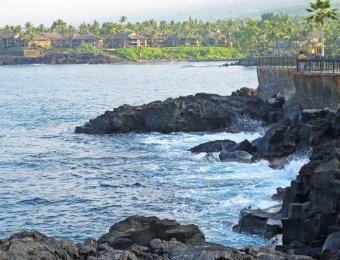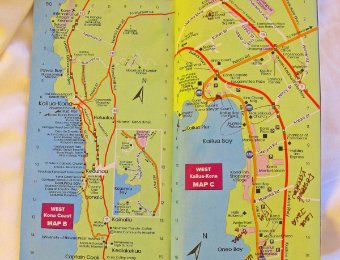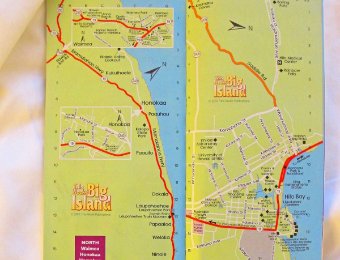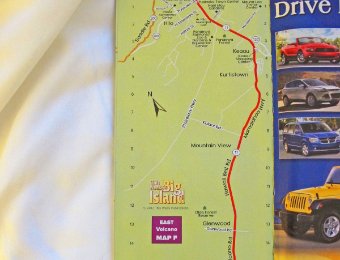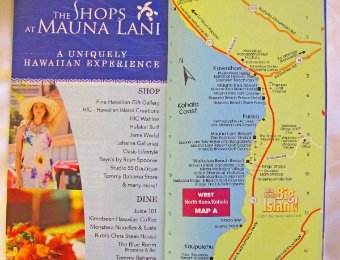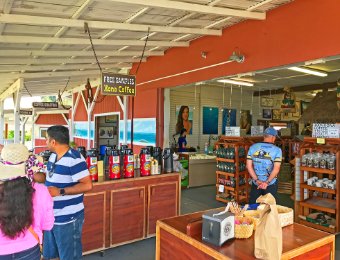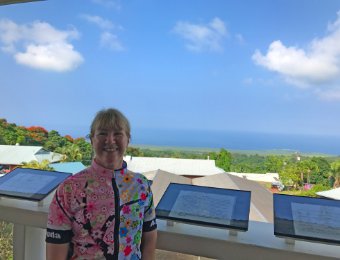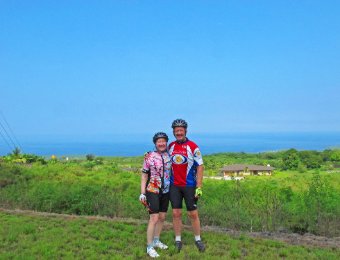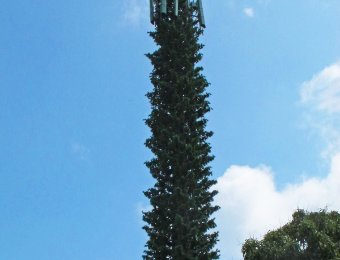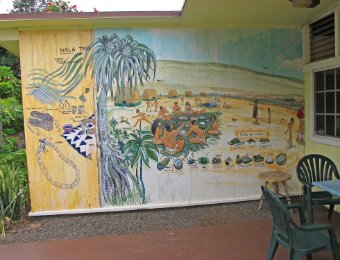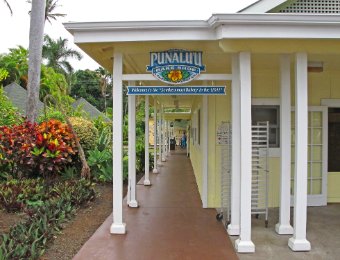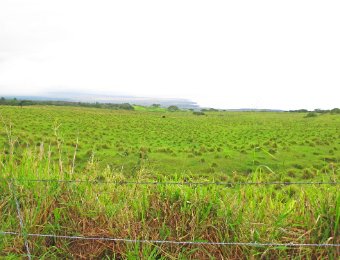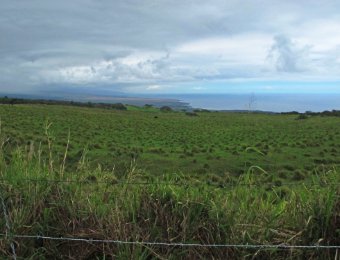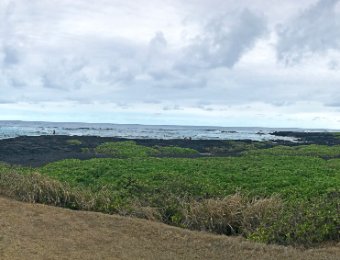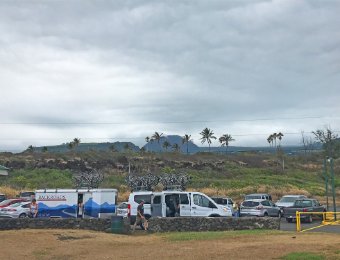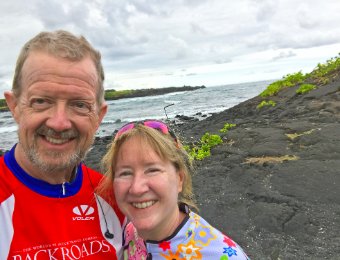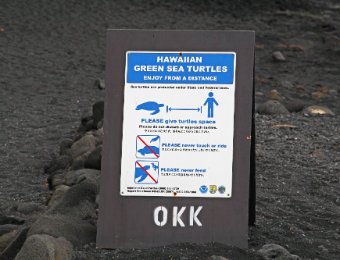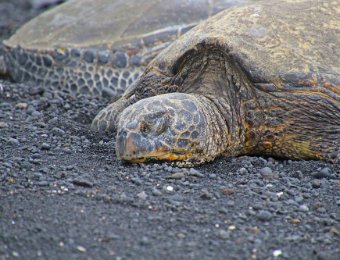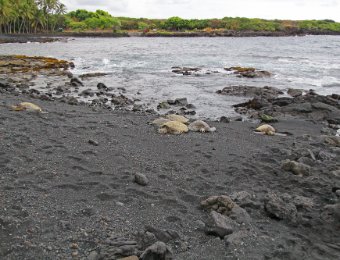 Day 2 started at the Kona Coffee and Bake Shop. The leaders loaded us up and shuttled us to start where we went upstairs for more Kona coffee sampling (and downstairs for the bathrooms!), then hopped on our bikes and pedaled off.
We biked the first 26 miles past Ho'okena Beach and Kipahoehoe Nature Preserve, plus huge macadamia nut farms right up to "The Wind Tunnel" where we met the Backroads van. At this point starts a 14 mile climb through the lava fields into a consistently strong headwind. Everybody opted to bypass the Wind Tunnel and shuttled to lunch instead.
Lunch was in an outdoor pavillion behind Manukau Park and Punalu'u Bake Shop. We had placed our orders before the first shuttle ride and sandwiches were being made as we stopped in the bake shop for beverages. Anne opted for iced coffee (Kona, of course!) We pushed some tables together and chowed down, glad to have opted to add fresh avacado as the leaders had recommended to dress up the otherwise mundane sandwiches. But then we were treated to the Bake Shop's specialty when Josh brought out a wide variety of their Hawaiian sweet breads: cream filled, mango, pomegranate, chocolate... all delicious. They were sliced into bites so we could try several of them and we were glad we had more exercise ahead to work off those very donut-like confections.
Back on the road, we took the "bypass", 11 miles of potholes and gravel patches, uphills and rollers, through huge macadamia nut farms, cattle pastures, and amazing scenic views southwest across the fields and the ocean.
We ended up at Panolu'u Black Sand Beach, where we saw the A-Bros (Anthony, a financial person from Dallas Los Colinas, and Andy, a gastroenterologist from Albuquerque, who always biked together) heading back from visiting the Green Sea Turtles on the beach.
From there we all shuttled into the Kilauea Lodge in Volcano, HI. OMG! Our Room 11 was humongous! Warned of "rustic" lodging, we were blown away. This was the nicest place we stayed on the whole trip. It had a wrap around private covered balcony with a wide view of the lush, verdant, Hawaiian vegetation. As we arrived, a light rain was falling through the trees and the tropical birds were singing. Anne captured what she could on video as we settled in, making a vain attempt to spy or just identify by call all of the amazing birds around us. As evening fell we heard "Hoo Heee... Hoo Heee...", very clear, very close, what bird is that? It was a lost cause with the density of the foliage but who cares? We could have stayed there forever. (Turned out to be Coqui frogs!). We also fell in love with the heated towel rack. The rain was fairly constant and the temperatures dropped from the high 80's to low 70s and later into the 60s, maybe lower. Layers started piling on.
We were woken a few times in the evening to the sound of a baby crying? Not, it was the "outside" cat who was persistent until Lynn (of Mark & Lynn from Boulder) took the initiative and let it out. We found out later, the cat's name was Meat Loaf. A sign urged us to "Please encourage visiting cat to enjoy the outdoors".
The sidewalk here was studded with colorful glass pebbles planted at various spots among the crushed gravel. Nice touch.
Every day after the ride beers were available from the Yeti near the fireplace where we all congregated after cleaning up. Stewart played the "Cat Whisperer" and Meat Loaf got lots of pets while we all commiserated on the cruel inclines and found out about others' histories a bit.
Tonight's dinner was at Kilauea Lodge restaurant. It had a wide expanse of windows with a view out to the now red glowing "vog" (valcanic fog) coming up from the steam vents. Stunning! Unfortunately, it was very loud and hard to hear the conversations. We enjoyed what conversation we could with Josh, Lynne from Chicago, and Lynn and Mark from Boulder.
---
September 12, 2017 Tuesday
Backroads Day 3 - Volcanoes National Park
Night at The Kilauea Lodge in Volcano, HI
---
---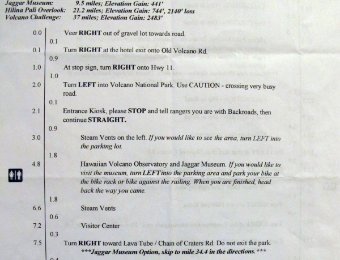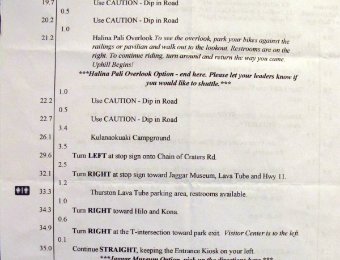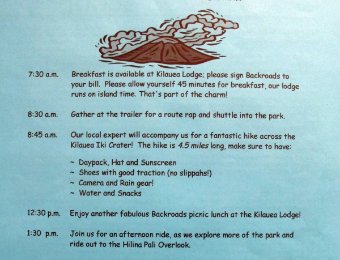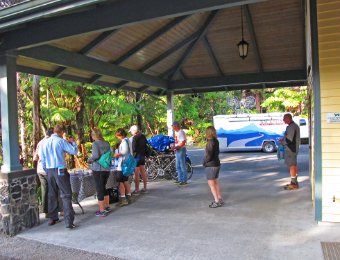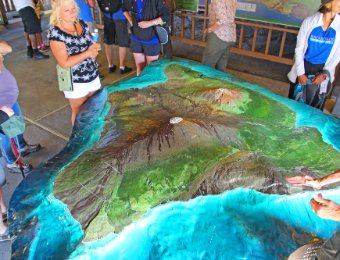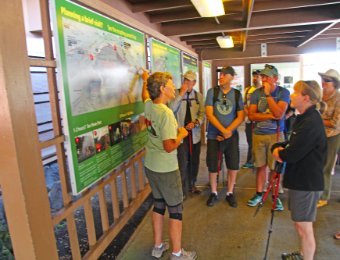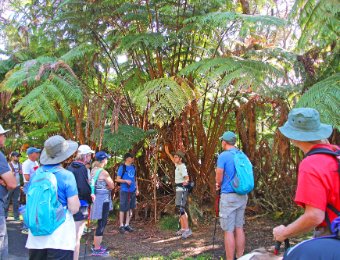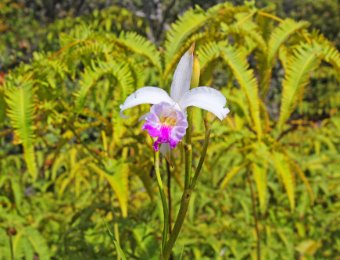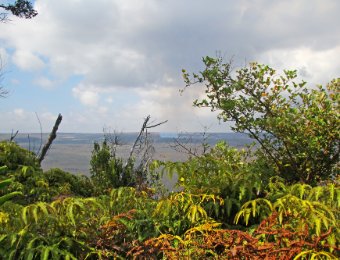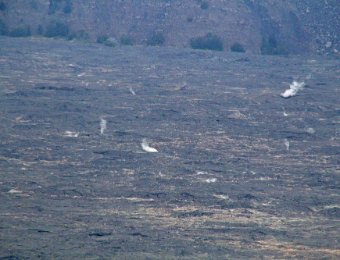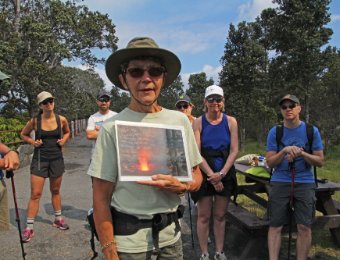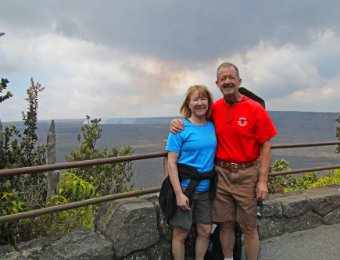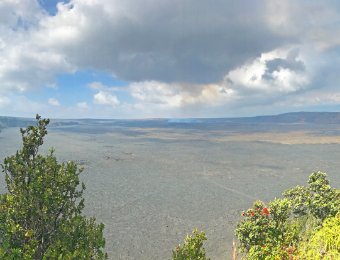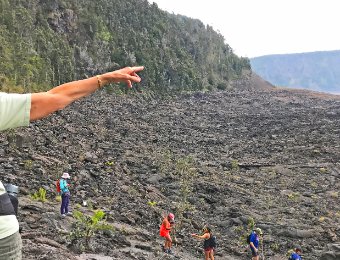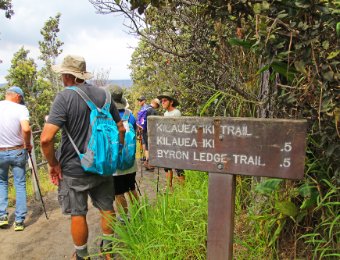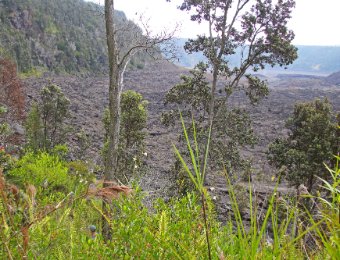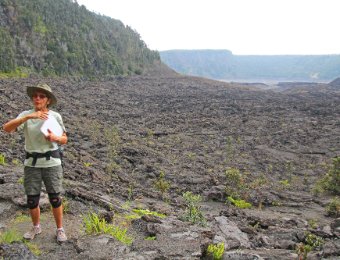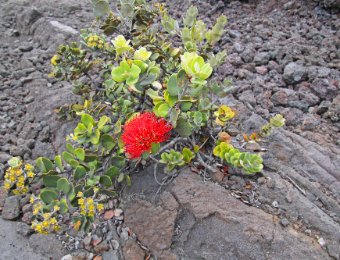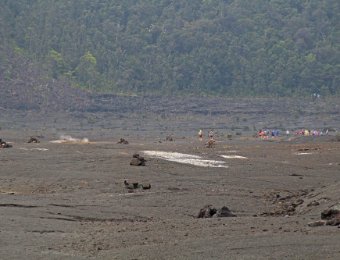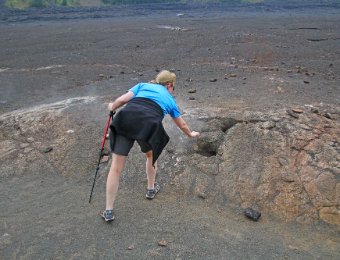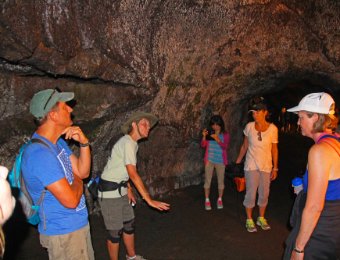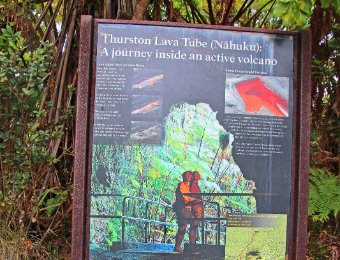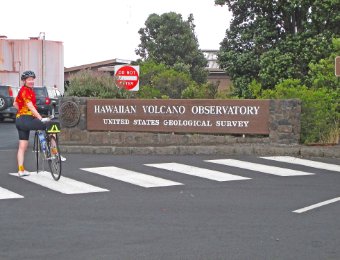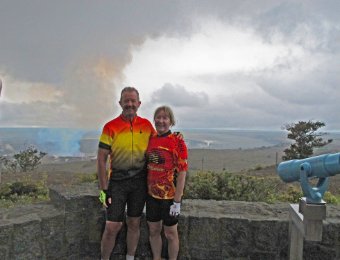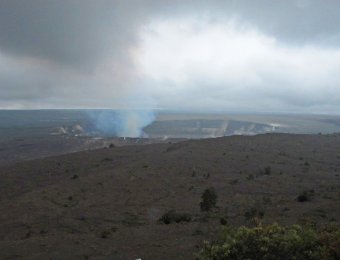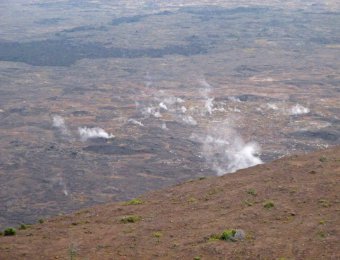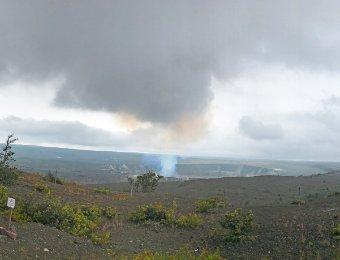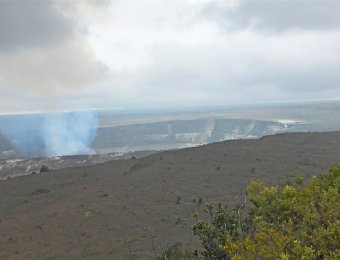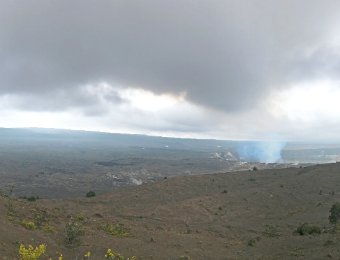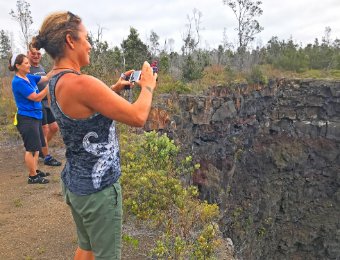 vv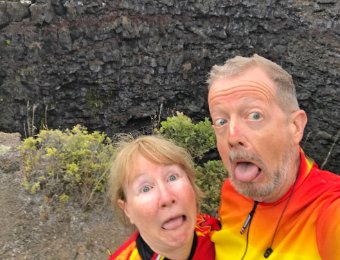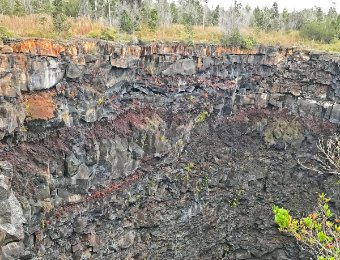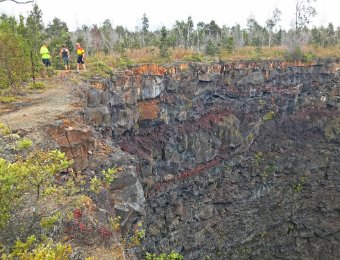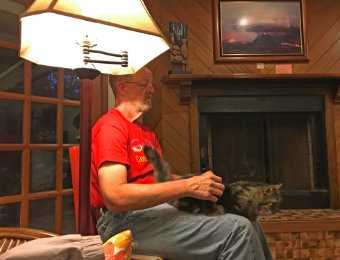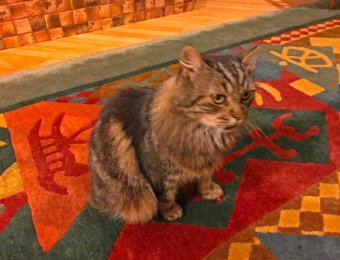 After coffee on the beautiful balcony, yeah, the beautiful balcony *sigh*, we had breakfast at the Kilauea Lodge in a long room in the basement with other, non-Backroads, guests. Apparently, this was the day they decided to re-finish the floors in the restaurant so down to the basement we go. It was another great breakfast with fresh papaya and pineapple and good coffee. The day started with a 4-1/2 mile hike. We met our guide, Charlene, at the park information center where she used a topographical map of the Big Island to show us the various volcano locations and identified the youngest, oldest, dormant and active volcanos. Next, Charlene guided us across the caldera into the flat lava "lake" with many steam vents, aka magma bubbling beneath our feet! Charlene was a wealth of knowledge and also a great photographer. At one point, we saw a Tropicbird flying close by. Charlene got very excited having gotten beautiful photos of one recently, told us all about it. We begged and she relented and sold us all souvenir photos.
We learned there are two types of lava : A'a lava and Pahoehoe lava. A'a laval cools quickly, moves quickly, forms into chunks. Pahoehoe lava cools slowly, moves slowly, forms ripples. The hike passed drill holes where measurements were taken earlier in the century to find liquid rock (400 ft down!). Charlene let us wave our hands over the steam vents but warned us not to hold them there. Other tourists saw us and started holding their hands over the steam vents. We chastised them like we were experts :). We climbed the six switchbacks out of the crater, then went to explore the Thurston Lava Tube, a cave-like formation created by the flow of molten lava underneath an already hardened lava flow. Luckiy this one was extinct so it was already hardened and no longer flowing. It was partially closed for lighting renovation so we squeezed past guests coming up the one-way stairs. Tree roots grew down through the cave ceiling, while rainwater puddled in the walkways, both easily working their way through the porous lava rock.
Later we biked through mild to moderate rain from the Lodge to Jagger Museum on the rim of the Kilauea volcano to see displays of lava and volcanoes with many other tourists taking selfies and panorama photos. We saw a pull-off for viewings of large steam vents along bike route but didn't stop since there were bus loads of folks there already.
Near the end of our route, the sky was darkening when suddently the A-Bros came flying back with their rain gear on shouting something unintelligible. We ignored them and pedaled on as the rain started. Luckily, not much further down the road we met up with the Backroads van. Katie explained the road was closed due to a fire plus it was raining cats and dogs just a little further ahead. So we loaded back into the van, and after some negotiations, Josh drove us to "Devil's Throat", a short hike from the road. It is a giant hole in the ground, like a pestle made of lava rock jammed into the earth, at least 50 feet straight down and 100 feet across. Standing on its edge was totally freaky. Holy Crap!! Josh assured us Backroads would not have allowed us to see this had any children been present since there was no railing at all. What a fantastic unplanned surprise.
Dinner was at Volcano House restaurant. We could see the amber glow of the lava through the steam venting up through the rock out in the crater. Our dinner companions this evening were Joan and Gary from Michigan, and Chris and Pat from Maryland. The live music was very good, a guitarist, sometimes solo and sometimes along with music tracks. Although he looked like he descended from Hawaiian royalty he played 70s and 80s rock music, triggering "wait wait don't tell me" conversations.
---
September 13, 2017 Wednesday
Backroads Day 4 - Hilo and Paniolo, Cowboy Country
Night at The Fairmont Orchid on the Kohala Coast
---
---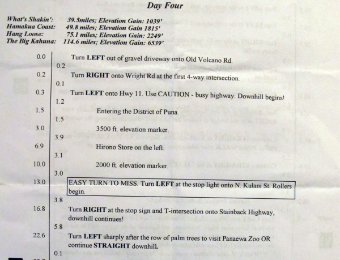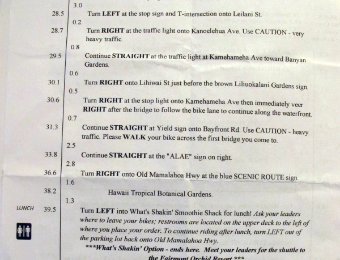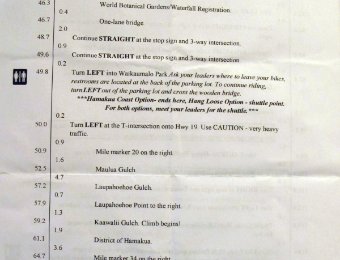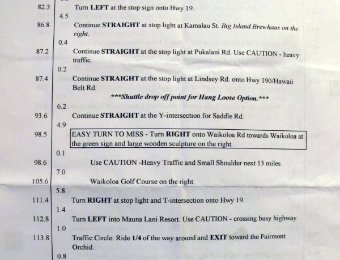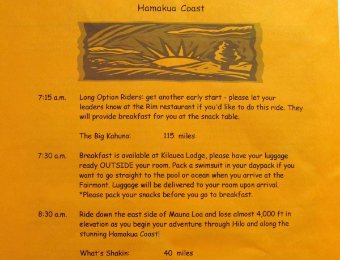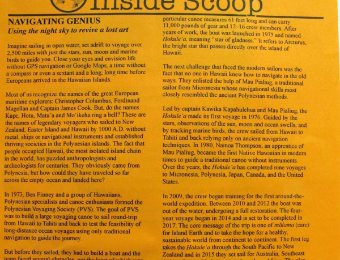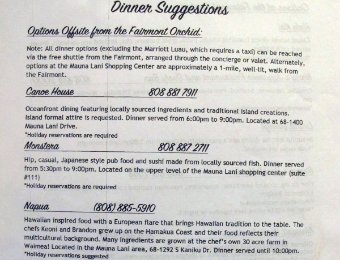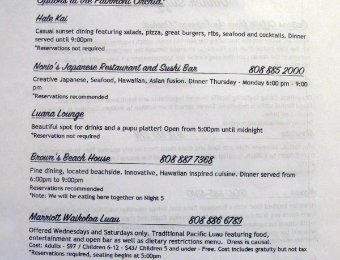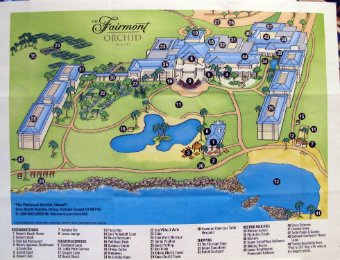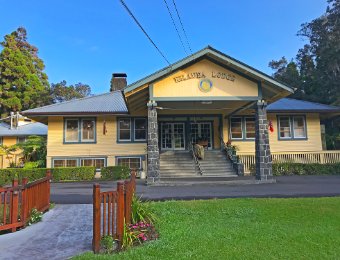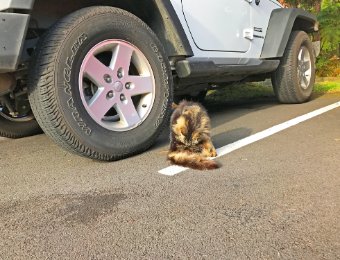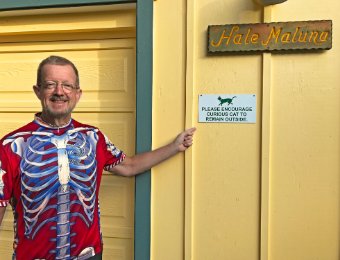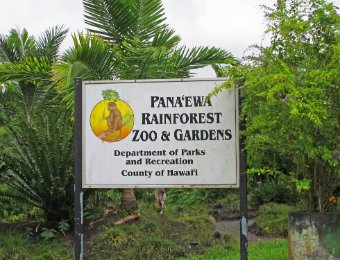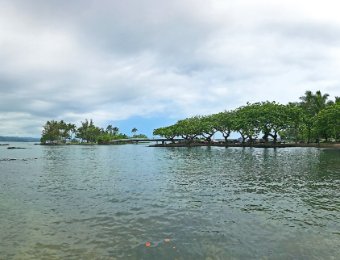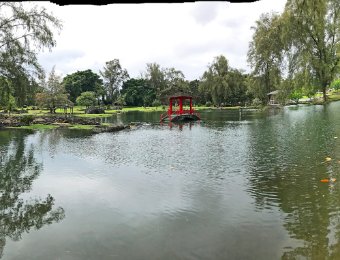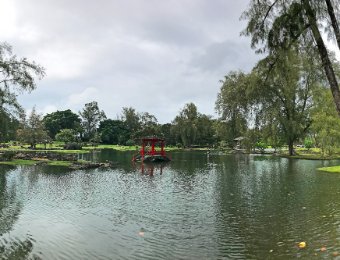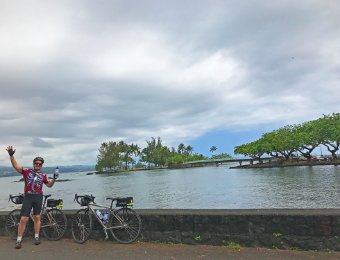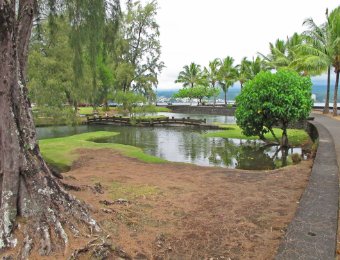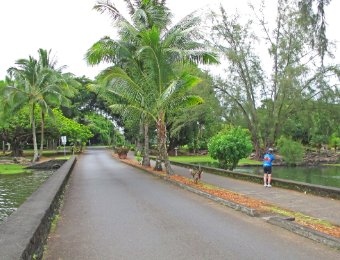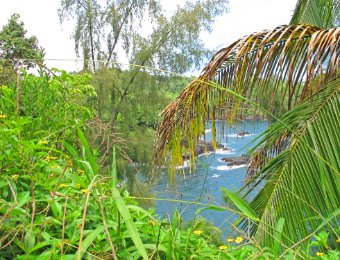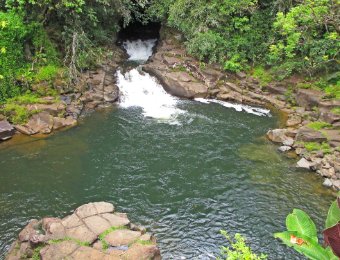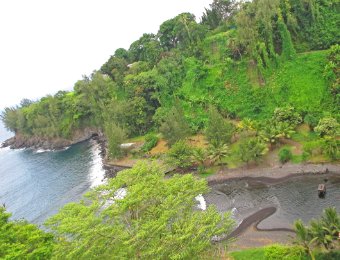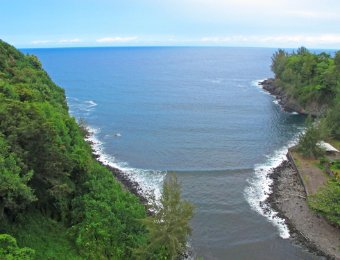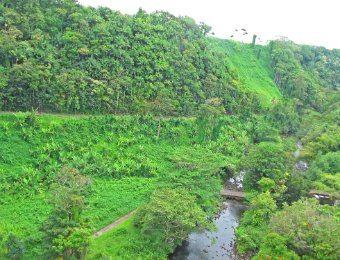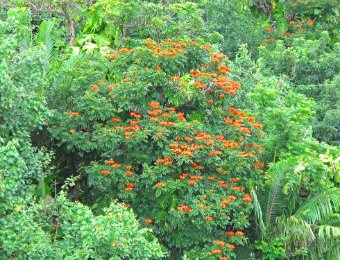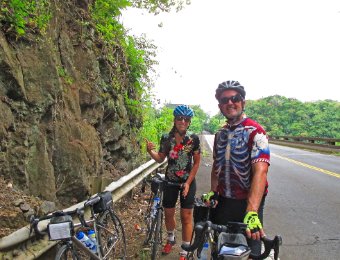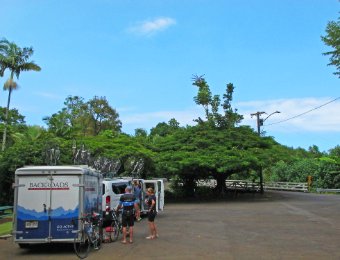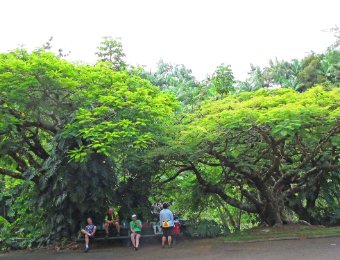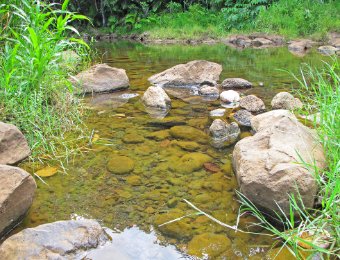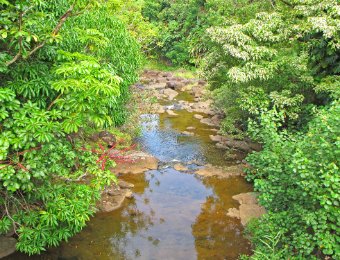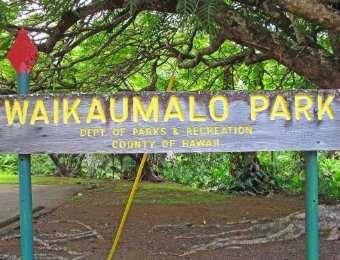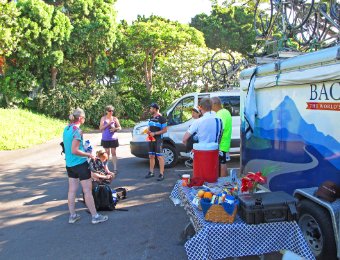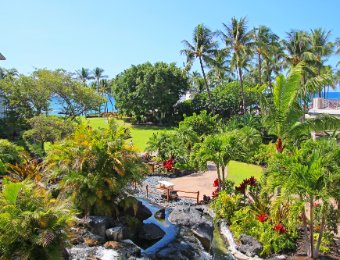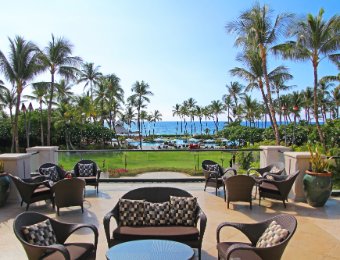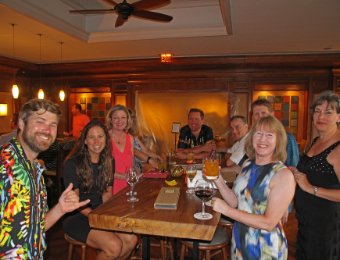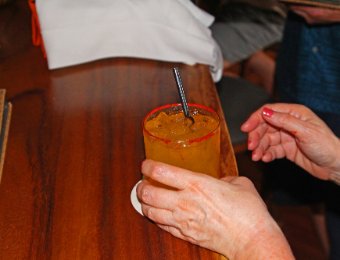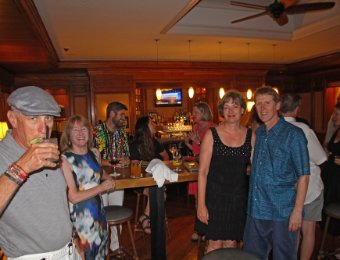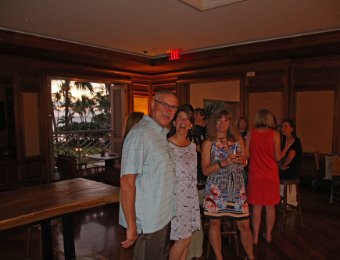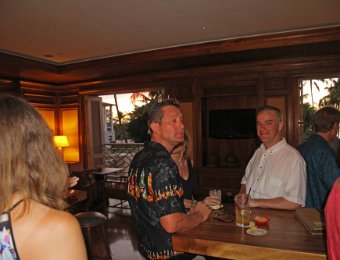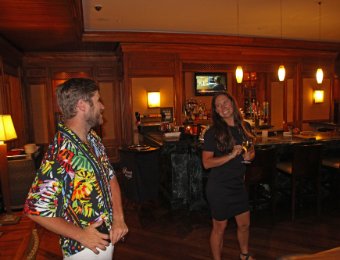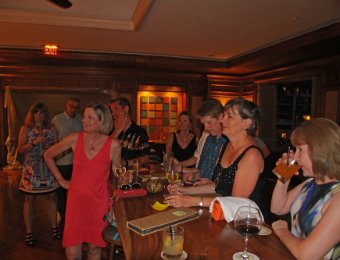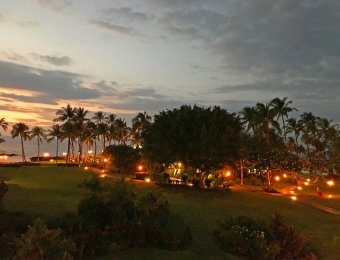 Todays ride was from Mauna Loa to Hilo, from south central to the east side of the island. We scanned the Backroads paper directions to get oriented knowing our Garmins would guide once we got on the road. But there was no need for guidance. The directions started "Downhill begins." Thirty miles later, turn left before you hit the ocean! And it was a lonnnnng gradual downhill! We averaged 25-30 mph without pedaling, with good road surface, wide shoulders, nothing scary steep and no stops. We eventually stopped at Panaewa Zoo to use restrooms and snack a bit. It was a beautiful park, where we could see pea-hens as we pedaled in, and bearded wild goats climbed the lava rock fields. The van was at the zoo giving some people the option to be shuttled from this point but we hadn't even broken a sweat yet so we biked on.
There was so much incredible vegetation and ocean views biking on this side of the island. We entered Hilo on Banyan Drive, a boulevard lined with the magnificant giant trees that send many roots down from the branches into the ground. Entering the Botanical garden in downtown, with the ocean to our right, and ponds surrounded by trees of nearly flourescent greens, we stopped multiple times to grab photos. We met up and rode with Katie through town and she guided us to "What's Shakin", a Smoothie Shack for lunch. We joined up with the other cyclists and enjoyed some smoothies, along with delicious sandwiches with toasted buns and avacado.
In the restroom line we met a Dallasite who had biked down Haleakala on Maui. She was taking a photography seminar on the island along with several others from all over the country.
The temperatures were climbing and the scenery was more arid here so we opted to shuttle the long uphill to the Fairmont Orchid. This route took us past Waimea, surrounded by verdant rolling hills covered with cattle, in the heart of cowboy (paniolo) country. We heard about Parker Ranch, which covered most of the area (250,000 acres) was once owned by one family, reminiscent of the King Ranch in Texas (825,000 acres).
We arrived at the Fairmont Orchid and checked in, our sweaty selves lining the reservation area while we took in the immense, marble floored lobby and stunning views out to the aqua ocean, the sculpted landscaping draping black lava rock. Hmmm, beautiful but a bit hoity. Signs warned that "resort attire" was required in the lobby and at first we thought we'd have to wear ties to breakfast but later realized they just didn't want barefoot guests in thongs traipsing through all day.
Dinner was on our own tonight. At Katie's suggestion, we headed to the local grocery store for sushi and wine. We were shuttled there and back by a driver that drove like a bat-out-of-hell bouncing us all around the van (we were sitting in the back, the last to load. He helped us in through the back doors of the van when the socialite sitting in the single seat closest to the side doors wouldn't move to let others straddle her to get into the back row. After all the others had been dropped off, we didn't think he realized we were still back there!
---
September 14, 2017 Thursday
Backroads Day 5 - Kohala Coast
Night at The Fairmont Orchid on the Kohala Coast
---
---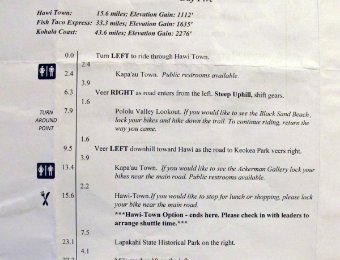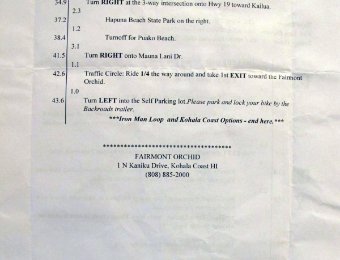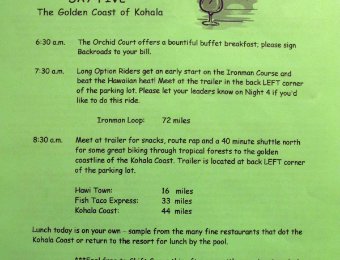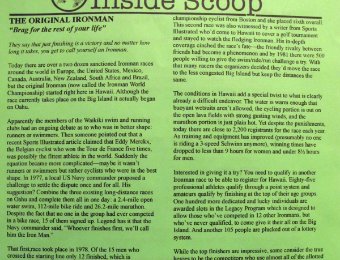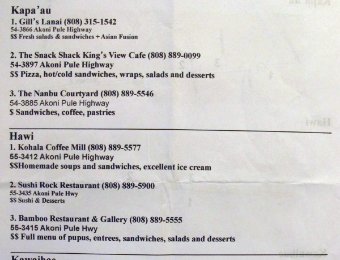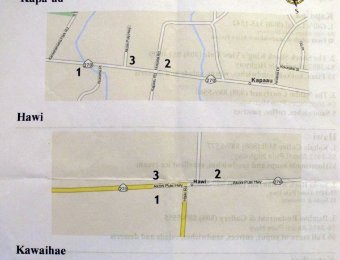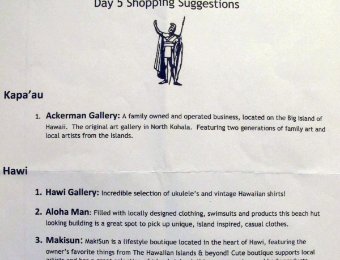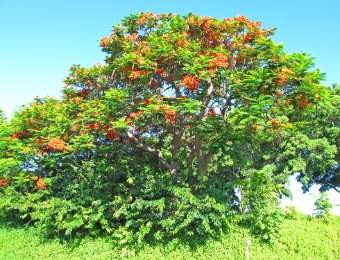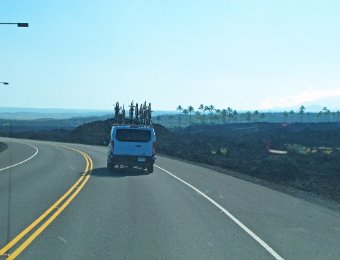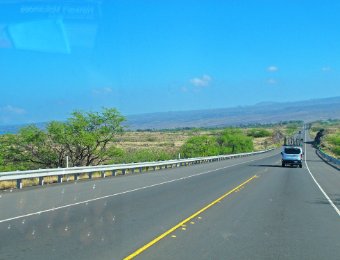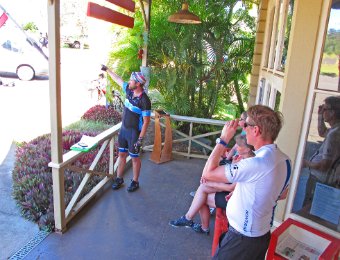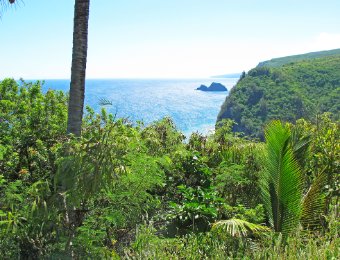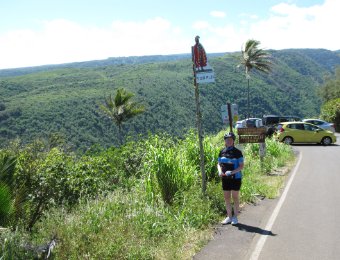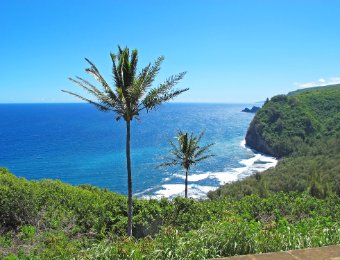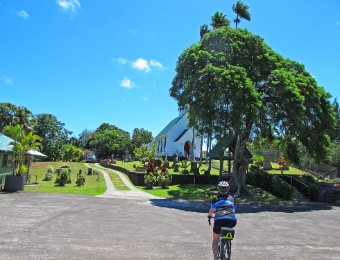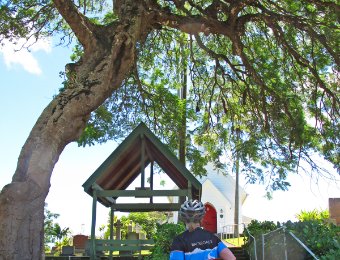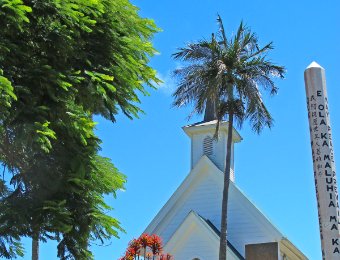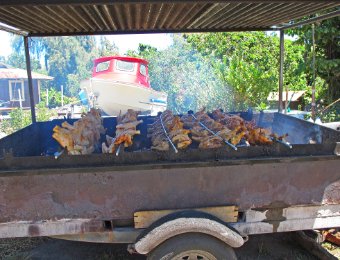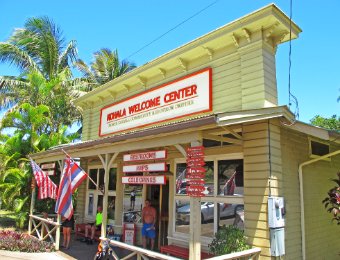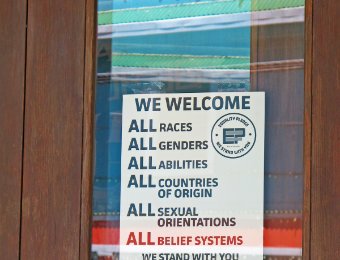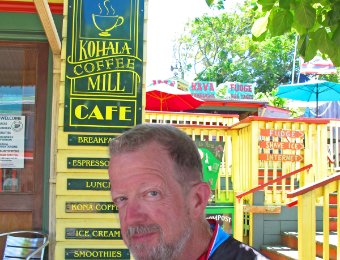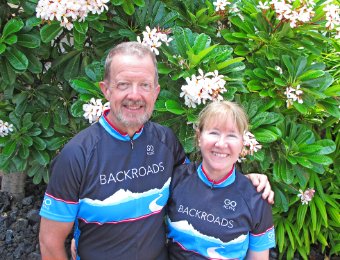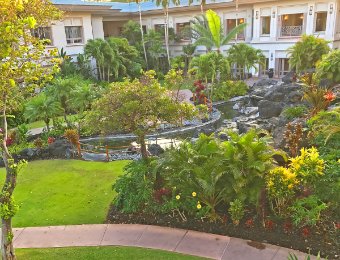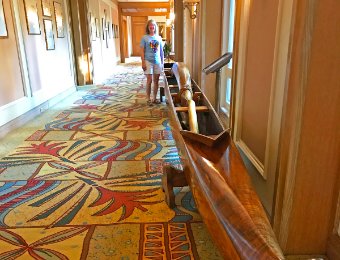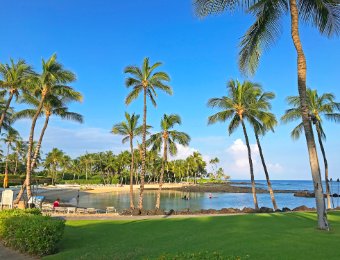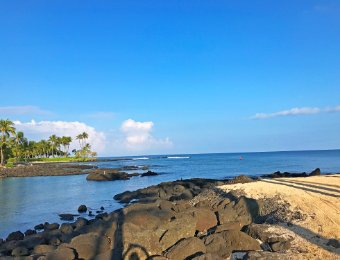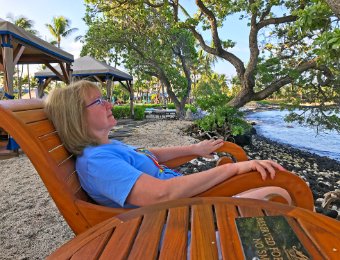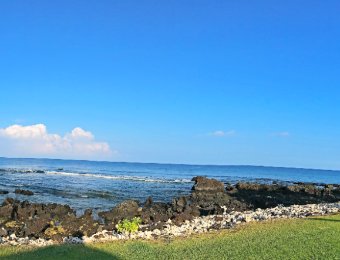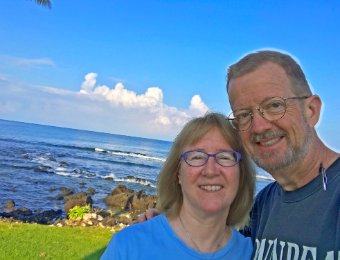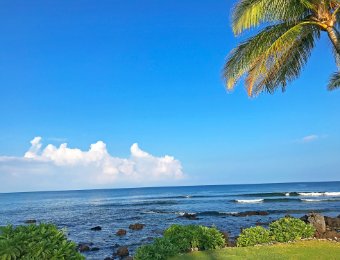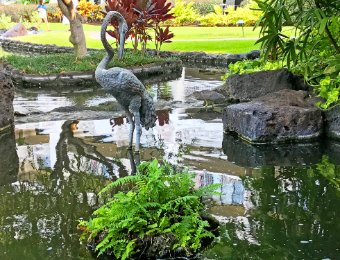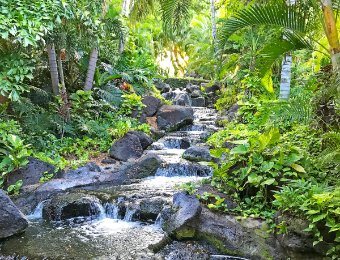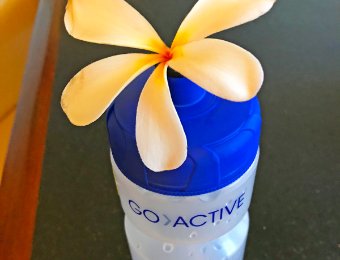 Breakfast was the magnificient buffet at the Fairmont. The room was lined with counters full of oatmeal, granola and croissants and a cook taking omelet orders while a cold bar offered sliced fruits (papaya, guava, mango and even a pomegranate smoothie in square glasses). Three rows of buffet tables were covered with hot options: frittatas, sausages, pancakes, ham, bacon, and breakfast tacos. Then there was an entire section of Japanese foods. All topped off with more wonderful Kona coffee,
The tables were set up on the patio overlooking the ocean and birds took up strategic overlooks on the large umbrellas covering each table. There were large Myna birds, sort of like grackles but with beautiful yellow eye rings, and lots of house sparrows. A Myna would perch at the umbrella peak while the sparrows spread out around the edges. Curious. While we were eating, a Japanese woman brought her food and sat it on the table under an umbrella, then thought of something and headed back to the buffet. The birds immediately went crazy with 10-15 swooping down and eating everything they could get off her plate as fast as they could. Wait staff came quickly and took the food away, shaking their heads. Turns out you must cover your food if you must leave! The poor Japanese woman was so confused when she returned and her food was gone. Great morning entertainment.
Today's ride was an out and back to the scenic Pololu Valley Lookout through the beautiful rain forest. Steep rollers meandered through hanging vines and waterfalls splashed through the trees. Try as we might, we couldn't see them through the thick foliage. Even stopping to grab some photos, the waterfalls proved elusive, so we pedaled on. It was difficult to capture the essence of the rain forest since it was largely uphill making stops more difficult to negotiate. Once out in more open terrain, we started to encounter steeper, longer climbs and their welcome subsequent downhills. We had some trepidation since the leaders had warned that there were several 8% grades and one "a bit steeper". We knew we were climbing 8%-ers with relative success, but didn't know where the challenge was located. As we approached the overlook we, we found out. A short decline and then click-click-click-crap I'm out of gears! Stand up, angle back and forth for the least incline possible and huff-puff-heave-ho! Finally it was over as we sumitted the top, both making it without having to walk. Thank god for that extra granny gear!!! Stewart's Garmin recorded the 22% grade!!! Luckily it was on the short side or we would have been looking for an Uber!
The overlook was well worth the ride as it afforded a nice view of a small bay off the Pacific, white waves tinged with cerulean crashing against the black lava rock, nestled in the steep lush mountainside. This is the trick with scenic overlooks that we always forget on these Backroads trips.... they are always preceded by a ridonculously steep cycling challenge.
We cycled back the way we had come, getting to experience the 22% grade on the downhill side, you know, the kind where your front wheel disappears for a while. Stayed upright!! I made sure to warn Josh to check my brake pads. They got an intense workout today.
The van was parked at Kohala Welcome Center just outside the town of Hawi where a street vendor was roasting chickens on a homemade roaster. It smelled terrific! Even though Backroads had given us lots of options, we chose to get chicken plates right here and walk up to the Kohala Coffee Mill, sit outside to eat, and drink their wonderful coffee smoothies. We definitely should have split a meal here as we ended up with like 20 lbs of crusty roasted chicken, and each meal also included macaroni salad, rice, and an apple fried pie dessert. It was as delicious as it smelled.
We enjoyed the table on the sidewalk as long as we could, watching shoppers popping in and out of the little stores lining the main street. Joan and Chris stopped by and showed us the ukeleles they each had bought as gifts for their families. This got Anne in the mood to stop in the little homemade jewelry shop on the way back to the van and pick up some lava earrings.
We were back to the hotel early enough to shuttle over to the nearby shopping center where we stopped into a fun little coffee shop for some mochas. The owner told us Comic-Con was in town and some Star Trek celebrities had just left the store so we kept an eye out for more as we explored the shopping center, coffees in tow. (Alas, no luck).
One great find there was a shop called Jams World where Anne was ecstatic to find two great rayon Hawaiian print shirts, one off the half price rack. They are so light weight and flutter in the breeze, perfect for the humid heavy air we had encountered most of the week. And they'd be fine for hot Dallas summers for sure!
As our last night together, Backroads hosted a happy hour in the Fairmont Lounge where we enjoyed tropical cocktails and recounted our week of cycling. Anne's was orange - mango/papaya - in a red sugar rimmed glass. We had been warned to dress our best on this evening so Backroads could keep being invited back so Anne actually wore a dress and Stewart his dress slacks with a colorful collared shirt. Dinner was outside at the Fairmont's Brown Beach House with Gary and Joan, Chris and Pat. Pat told us she was a doctor in general practice and Pat is a software developer. The meal was sublime: surf and turf ribeye and lobster, for both of us. We somehow never lose any weight on these trips despite all the exercise.
---
September 15, 2017 Friday
Backroads Day 6 - Last Day of Backroads trip
Night at The Sheraton Resort in Kona, HI
---
---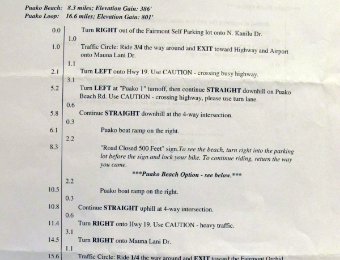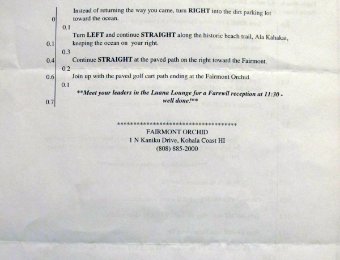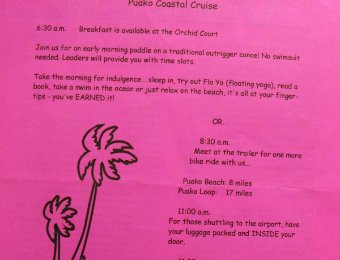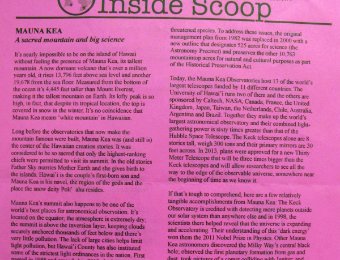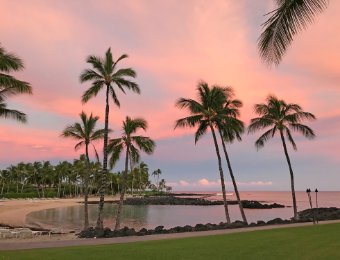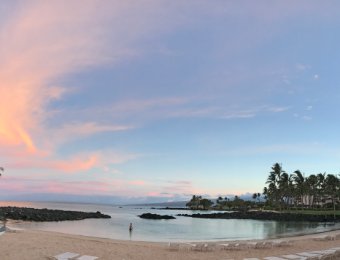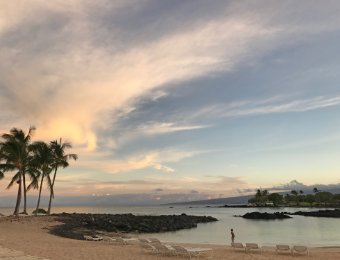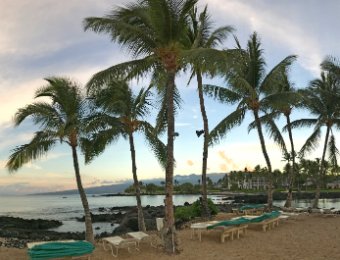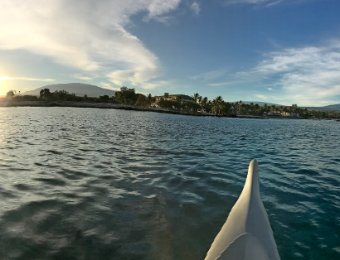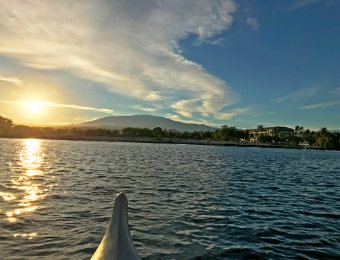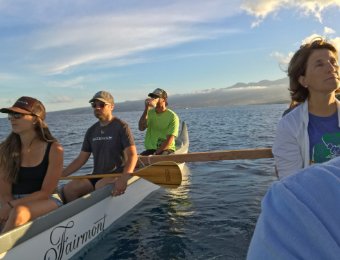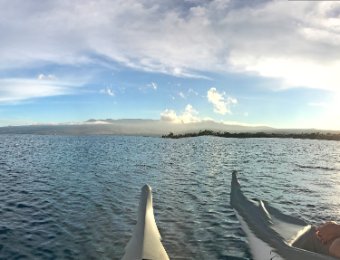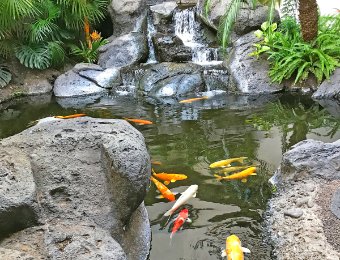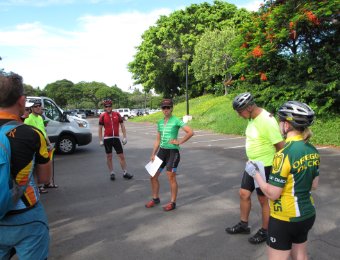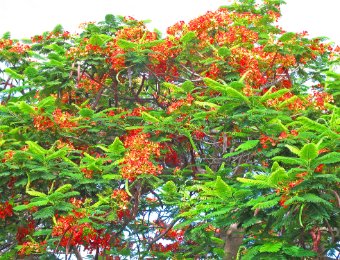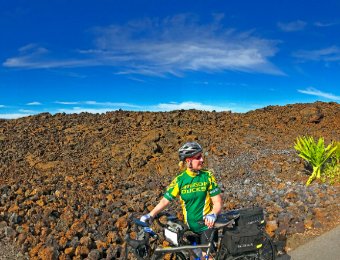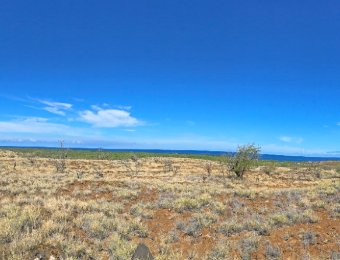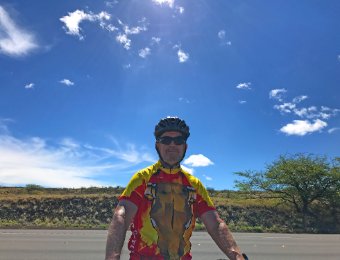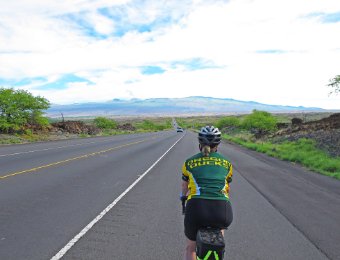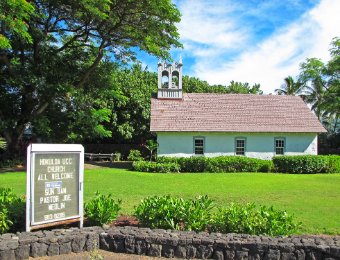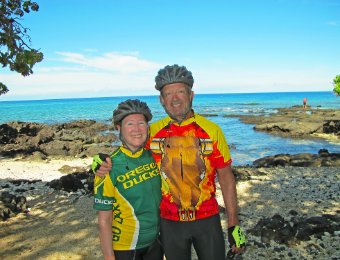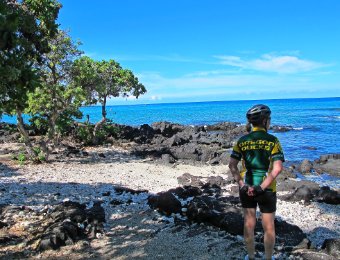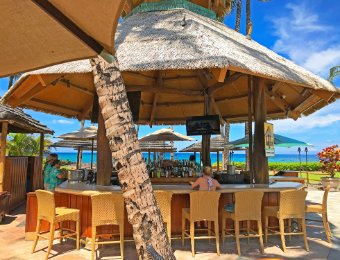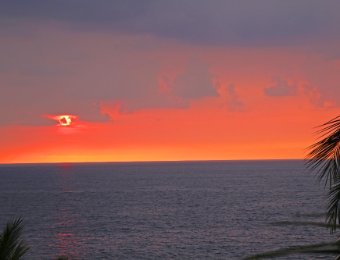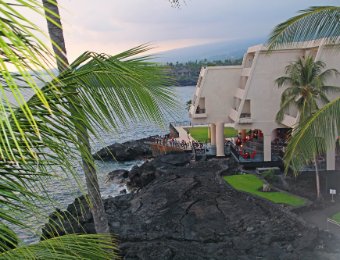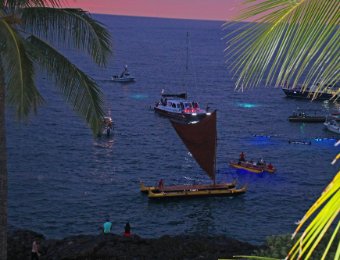 At daybreak Anne took the option of a zen-like longboat ride with some of the other guests. We met on the Fairmont's beach and snapped lots of photos of the gorgeous sunrise over the ocean, with a solitary swimmer gracing the tranquil bay, while we waited for our host. He arrived, instructed us to leave our footware behind, and guided us in pushing the longboat out into the bay. It was amazing! The water was crystal clear, the sand protecting us from the lava rocks, and the temperature was perfect. Once we'd pushed it out a way, we all jumped in, got some training in rowing together while the guide took up the back and handled the steering. He took us far out into the bay, pointed out each of the volcanos visible on this clear morning and began his morning ritual. All was silent until the surprising long low tone of a conch shell greeted the day. Next our guide chanted in Hawaiian, a beautiful sound that evoked serenity in the placid waters. He then explained the meaning of the Hawaiian words, the expression of gratitude for the new day, for the sky and water and mountains and the people of the land. It was difficult to pick the oars and make ourselves leave that place of peace. Anne caught up with Stewart at breakfast. He had opted to finish his packing casually whereas Anne had finished most of hers the night before. Once again the Fairmont buffet was outstanding as we opted this time for granola fruit cocktail, egg spinach cheese "pizza", and, don't forget, Kona coffee.
Our last day's ride was intentionally short to get us back in time for airport shuttles. It was another out and back heading north along the Kohala coast leaving directly from the Fairmont. Extremely smooth road surfaces through black lava fields stretched for miles. We had a pretty good headwind on a major road outbound, which turned into a tailwind back. Beautiful ocean views escorted us along the highway until we turned off after a long downhill into a beautiful neighborhood, meeting several "natives" out for a stroll with their dogs. The subdivision had many small one story houses, some concrete, some raised on pillars, others using the downstairs for garage only, as if the water regularly floods this area. The Backroads van was at turn around point on a beautiful black rock beach. We walked among the palm trees and took in the sights, hoping to imprint this scenery into our memories forever. Then we refilled our water and got back on the road, enjoying the tailwind and the wide shoulders and, oh yeah, the views: lava fields, feral goats crossing the roads, and bikers out training for the ironman.
We were the only guests that biked back to Fairmont as others had opted for a short hike out to some petroglyphs. We headed out hoping to beat the van back and did, but only by a few seconds as they pulled into the parking lot as we started stripping our gear off the bikes.
Our last lunch consisted of appetizers at the Fairmont Beach Lounge where we said our goodbyes. Three of us shuttled back to the airport. We parted ways and hailed a taxi to get back to the Sheraton Resort. It was not a great experience as the driver was cranky and it was expensive, demonstrating why Uber is better! The room was not ready so we had a light lunch at the Sheraton Poolside Cafe and eventually made our way to our room, a nice suite with two ocean front balconies to choose from. Our suite had two doors, the "back door" opened just across from the Sheraton Club Lounge. Our suite key gave us access to cold drinks, wine, appetizers, breakfast, coffee, and a beautiful patio overlooking the ocean. Okay, we admit it, we had paid for an upgraded room for our last few days in paradise.
Pretty done with resort food, we discovered that Dominoes would deliver pizza to the hotel so ordered one, sat on the patio, ate pizza and drank wine, and watched as the boats dropped tourists into the water to watch the manta rays. The seas were pretty rough tonight with the boat sterns gyrating 5-6 ft out of the water. It was too dark to see how the people eventually got back onto the boats, but it must have been a trial.
---
September 16, 2017 Saturday
Hawai'i Festival of Birds at The Sheraton Resort in Kona, HI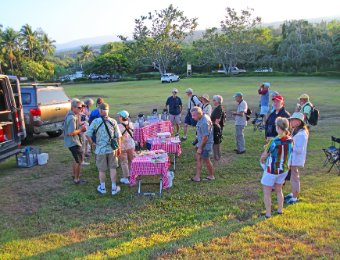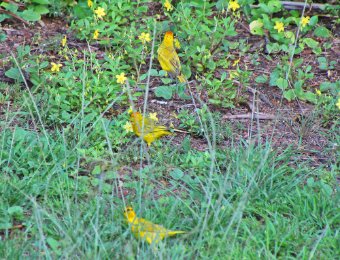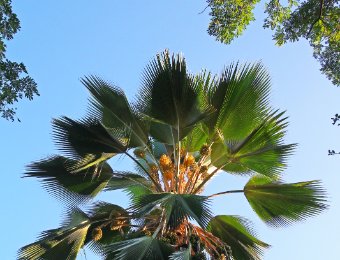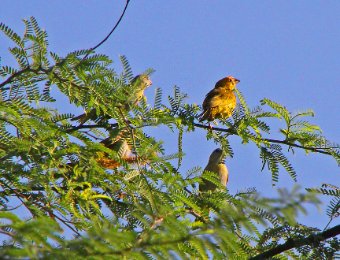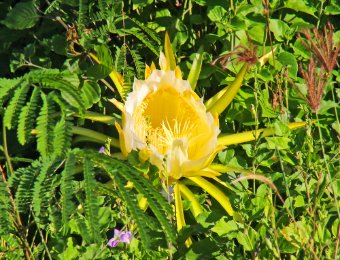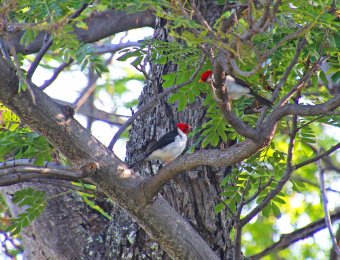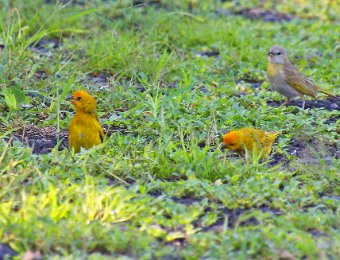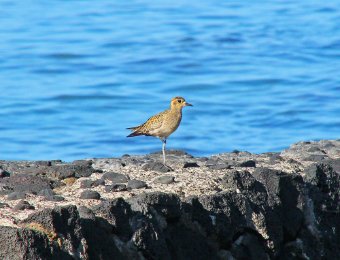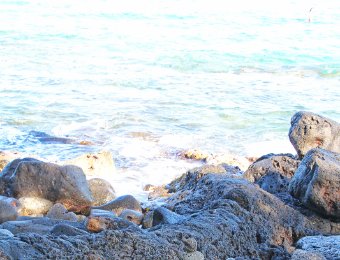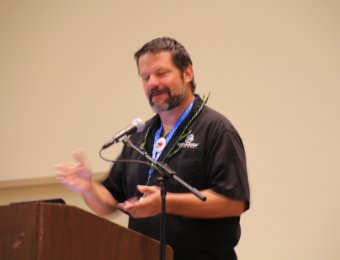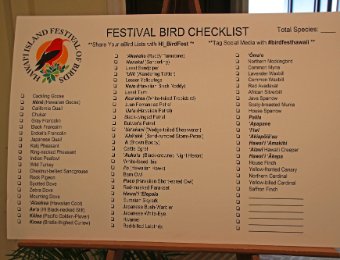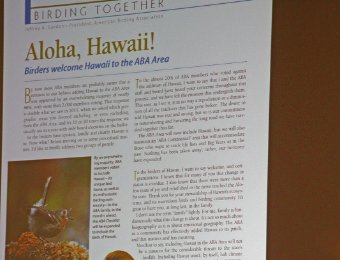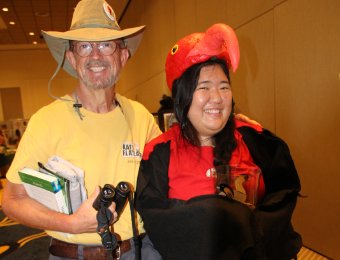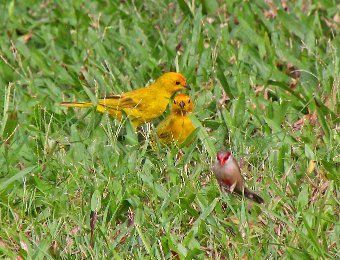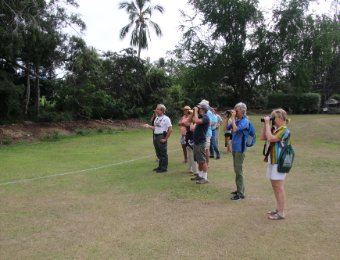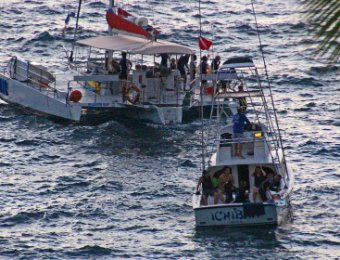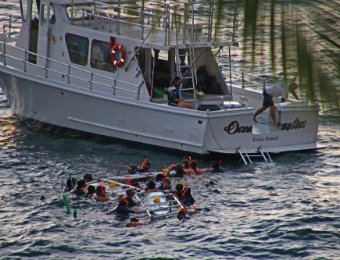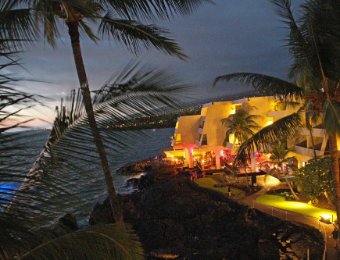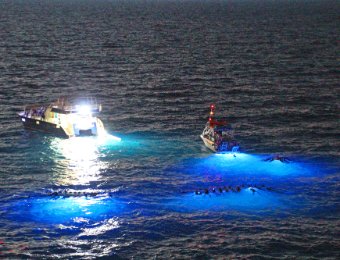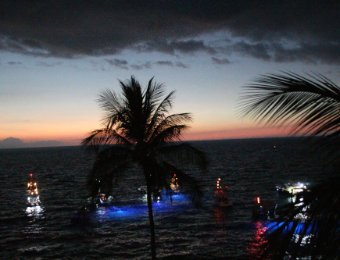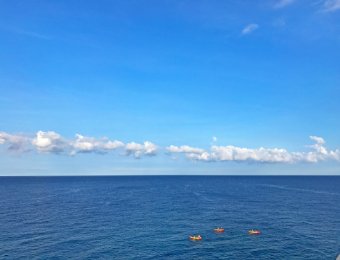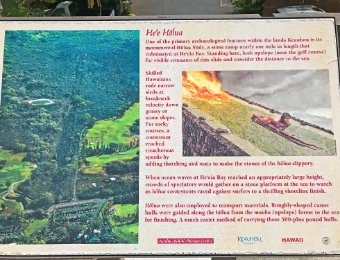 It was weird, we had three options for "free" breakfast this morning, the extravagant hotel buffet that was "included" in the room price, the Sheraton Club Lounge also "included", or the continental breakfast offered at our sunrise bird walk we had signed up for. We chose the bird walk so we could meet and talk with other enthusiasts.
We met outdoors in a parking lot near the convention center. A folding table was set up with an assortment of fuit and croissants along with coffee. We chatted with the guests and met our guides who described the plan to walk the grounds and described the types of birds we should see. Over the next two hours we did a slow saunter, spying the ubiquitous (here anyway) Mynas and House Sparrows but also identified for the first time Japanese White-Eye, Saffron Finches, Zebra Doves, Spotted Doves, and Common Waxbills, and later as we walked the water front, a Golden Plover and a Black Crested Night Heron. After the bird walk we listened to some of the festival speakers including the head of the American Birding Association. They made a plea for activism regarding the border wall since it is destined to bisect several endangered bird habitats. We spent some time walking the convention center looking at art, clothing, volunteer opportunities, and many other bird-related activities and products. Our entry fee included a nice bamboo t-shirt featuring "the iconic 'I'iwi (Scarlet Honeycreeper), a bird found in Hawai'i and nowhere else in the world" per their paperwork.
For lunch we headed to the Club Lounge near our suite to see what was available. Turned out the staff was starting to clean up after breakfast so we helped ourselves to the leftovers. Scrambled eggs, oatmeal, melons, coconut/raisins/macadamia nuts. It was a perfect, light lunch.
We had signed up for a seminar "Birding 101" given by Kenn and Kim Kaufman. Kenn is the author of several famous field guides, including one on North American birds which is the first bird guide we ever bought and is still one of our favorites.
Here are some of the Kaufman books on Amazon.
The talks highlighted the need for good binoculars, a decent field guide and lots of patience. Kim pointed out the key to identifying birds is to stare at them for hours, leaving the apps behind. After the presentation part, Kenn and Kim took us on a bird walk, similar to the one we had done in the morning but hitting on some more unusual spots. One was the Fairmont mattress dump area where Kenn had been told some interesting birds hang out. Unfortunately it was the wrong time of day to see a lot so we mostly recorded similar birds to the morning walk but got to ask lots of questions, like how the hurricanes affect birds (some get in the eye and have a fairly calm ride but end up thousands of miles from where they started).
Kim Kaufman is the director of the Black Swamp Observatory in Toldeo, OH. Anne and Kim hit it off right away since Kim grew up in Findlay, OH and Anne in Delphos, so close they played each other in basketball, Kim encouraged Anne to contact Kim next year and plan attending the "Biggest Week in American Birding Festival" hosted by Black Swamp in May. Kim said she can hook us up with some great bird guides. Cool!
Dinner was at the Sheraton Club Lounge (again). They had fajitas (!) offered up, with all the fixins, and "free" wine. Our last night in paradise was spent on the two patios looking at the ocean, attempting to get at least one photo that really captured the moment.
---
September 17, 2017 Sunday, LAST DAY IN PARADISE!
Kona, HI to LAX to DFW, American Airlines
Our flight out left at 2pm, so we scheduled SpeediShuttle to pick us up for the airport. We also grabbed some sandwiches and fruit at the Sheraton gift shop for the airplane. We did this because the flight attendent on the way there said there was little chance of stocking meals at the tiny Kona airport. Turned out they had plenty of food on the plane! It was not a problem, at least in first class.
We arrived back at DFW at 5am and contacted Uber again. This time was less ideal. We had collected our checked luggage and headed to the curb a few minutes before he was showing arrival. But he didn't come for 10-15 minutes, somehow getting reset to just a few more minutes every so often. Guess he was lost. Oh well, we were still on island time. Got home just in time to say Hello! to the cats, wake them up, and give them their morning breakfast. Laundry and cat naps filled the rest of the day as we slowly start getting things back to normal. Photos and this log came later, much later.
Welcome Home French Family, Welcome Home!
---

end