---

2016 Thanksgiving in Houston
November 23-26, 2016
Anne and Stewart French
---
Wednesday November 23, 2016
We were in no hurry to get out today. With Thanksgiving tomorrow we only needed to drive to Houston and get checked in to our hotel, the Hampton Inn on 290, near Trina's house. We had stayed many times at this hotel and knew the way, although 290 is in constant repair and construction. About half the time the exits are closed and we have to "spiral in".
Stewart had called and got us a room with a frig. Melanie had shared a google spreadsheet that everyone could update with the food they would be bringing. We had volunteered to bring cranberry sauce (fresh and canned), cole slaw and hot sauce, and peach pie. That peach pie was a culmination of 4 experimental pies done the week before. Two were sour cream based, two were cream cheese based. The final we brought was a cream cheese based pie, what we thought was the closest yet to Joyce's peach pie.
We got started driving about 10am. Traffic was easy all the way except for a stretch near Madisonville where it backed up for about 20 minutes or so. Never really saw what the problem was, and there was a lot of "wave motion" in the heavy traffic as we got near Conroe and Houston.
After checking in at the Hampton and putting our food in the frig, we headed over to Trina's house for some jigsaw puzzle working and to see Trina's surprise. She had painted pictures of Tootzak and Seebie on wood and varnished them! They were perfect for hanging on the front porch. They are so beautiful.
We grabbed up Trina and headed over to Pho Huy for a Vietnamese dinner. Back at the house we found out that Bobby was heading down this evening, Brandi to come home from work later tonight, and the shopping and cooking of turkey to start. More jigsaw puzzledom while we waited for Bobby, a plumber came over about 8pm to fix a stopped up sink, and we watched the movie "House Bunny". Trina was so lucky to get a plumber to show, and he fixed the problem straight away with his snake.
---
Thursday November 24, 2016 - THANKSGIVING DAY !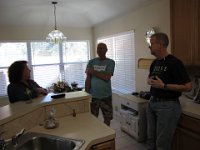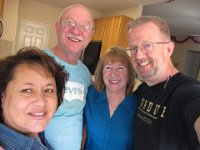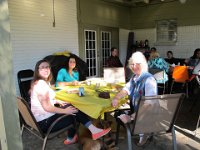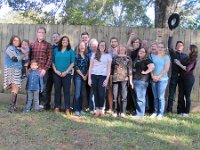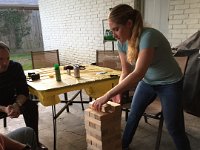 Anne called her brother Tom first thing this morning to see if we could come by for a visit, see his extensive remodeling. No prob, so we headed over about 9am after breakfast. Tom and Priscilla had made a lot of beautiful changes. New tile floors, new furniture, paint, art, fence, doors, appliances. Everything was very nice. We spent some time helping to setup the TV Uverse connection, fiddling with the new phone, new range, and marveling at the fancy frig and clothes washer. We are so glad we could spend some time visiting with them.
About 10:30 we said our goodbyes and drove over to Melanie and Brad's house. They had said "anytime after 10am" in the inviation, but unfortunately, nobody was home! Anne called Trina and found out that M&B had drove over to Brad's parents to pick up some chairs, so we headed back over to Trina's. Brandi and Trina were busy cooking turkey and potatoes in the oven, Bobby had brought some homemade venison sausage (he showed us a photo of the dear he shot to make the sausage!), it was in the oven too. We worked some more on the jigsaw puzzle and chatted then drove back over to M&Bs. They were back home, so we brought in the food and set it up on the counter and started chatting. Over the next hour or so everyone showed up.
Melanie, Brad, Trina, Doug, Manasi, Russell, Glenda, Everett, Auggie, Brandi, Bobby, Joanie, Kacey, Emily, Andrew, Mia, Jonathon, Anne, and Stewart. And for 19 people, we had an insane amount of food. Stewart got a little bit of everything until the plate was full and still didn't get any mac and cheese.
Here's a list of the food we can remember. The house smelled so good.
Turkey, ham, venison sausage, dressing, green beans bundles wrapped in bacon, potatoes, cole slaw, cranberry sauce, peach pie, bundt cake, coconut cream pie, fudge, broccoli casserole, mac and cheese, brussel sprouts, yammy yams, tamales, salsa, guacamole, pecan pie, mimosa, salad, blondies, beer, wine, butter beer. A few were doing shots of something.
M&B had setup tables and chairs out back on the huge covered patio. There was plenty of room for everyone to sit, chat, eat, play. Also out back was a trampoline that came with the house. Many folks joined Everett and Auggie to play on the trampoline, help tamp down the food and make room for more.
After dinner we decided a neighborhood walk was in order. M&B live in a beautiful treed neighborhood just a few blocks from a nice park. It has a real northern California feel to it. Melanie, Trina, Emily, Andrew, Anne, and Stewart walked down to the park. There was a fun playground there with unusual equipment, offset spinners, standing teeter totters, hang & slides, climbing walls, etc. We tried them all out to see how they worked. It was fun (and a bit sweaty)!
We took two group photos, one in front of the fence, the other around the trampoline. Trina didn't get a Christmas family shot so Kacey suggested she take one of the group shots and, using a Sharpie, X-out everyone not in the family. Kind of a mob hit-man approach to a Christmas family photo.
We had brought a Giant Jenga set so in the afternoon we set it up and played. It was all going great until AugZilla made an appearance and knocked it all to hell. He just loved doing that! We'd set it up and he'd knock it all down, roaring, grinding his teeth, shaking his little fists kinda like a miniature Hulk. Cute as a button.
Brad brought out his very cool Drone and chased Everett and Auggie around the front yard. Everett loved it, Auggie seemed to have mixed feelings.
Russell brought a unicyle hoverboard, a thing one could step up on and shoot down the street, lights flashing. He showed us how it worked then Melanie took a shot at it looking like a scene from The Titanic, then Doug and Anne gave it a try. Everybody enjoyed it and nobody fell, thanks to Russell for the training wheels and handholding to keep everyone steady.
Things started winding down in the evening so we helped pack up and headed south to a Holiday Inn Express near Doug & Manasi's house. Emily is staying with them for her third clinical (co-op position from school). We checked in and crashed pretty quick.
---
Friday November 25, 2016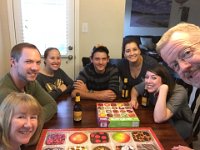 Up early Friday we ate some breakfast at the hotel then Emily picked us up to go over to her LA Fitness in Pearland for a "Body Works plus Abs" class. Turned out to actually be a Boot Camp class. It was a perfect start to the day, burning off some of the calories from Thanksgiving. Doug and Manasi had planned lunch at Black Walnut down in the medical district so after Boot Camp we showered and headed over to their house.
Trina and Bobby had driven over to D&Ms that morning, Andrew met us there, and we sorted ourselves into fewer cars and drove to Black Walnut. We had a great, leisurely lunch with gellato and coffee to top it off then back to D&Ms house for record setting jigsaw puzzling. Eight people, 1000-piece puzzle completed in under 3 hours. We were very proud of ourselves.
Brandi and Bobby took a side trip to go to a mobile home dealer. They have a plan forming to move a double-wide onto land Bobby owns as temporary housing until Bobby gets his shop-house built. So they were scoping out options. Unfortunately the dealer was closed for the holidays, so they will have to try again later.
Trina headed out a bit early too. Manasi had a work telecom, then we all piled into two cars and headed to dinner at the Indian restaurant "Shiv Sagar". Stewart got to listen to Manasi order at the counter across from another Indian woman, both speaking in mixed Indian/English. Every now and then Manasi would look at Stewart and ask if he'd like that? "Like what??!" Couldn't understand a damn thing. It was so much fun. After dinner we walked next door to an Indian grocer that sold bags of flours, nuts, other things, all in an unusual industrial format. Very interesting place. Stewart tried instant Chai (Yuk!) and Anne bought some roasted channa (chick peas) that tasted similar to rice cakes.
That evening Emily dropped us back at the Holiday Inn where we crashed kinda early, again.
---
Saturday November 25, 2016
Again this morning, after breakfast, Emily picked us up and we headed over to a Cycle Class at LA Fitness. After class we packed up, checked out, and headed over to Stewart's brother's house in Friendswood, about 30 minutes away. Morgan and Mary Jane met us at the door with all their "loaner" dogs going crazy in the kitchen. Their two kids, Cliff and Meredith, had their homes devastated by the storm in Baton Rouge several months ago and are just starting to stand back up. There was so many homes destroyed that the rebuilding is taking months and months. Cliff is back in his home but it is mostly camping out there, while Meredith is still waiting for construction. Both their dogs are staying with M&MJ while this is being worked out. It is extremely difficult for everyone.
We relaxed at the kitchen table and chatted for a couple hours. They have some beautiful flowering plants out back, Yellow Trumpet Flower and Butterfly Weed. Anne got a couple sprigs to take home (these are now in pots on the Norton bedroom on the windowsill waiting for spring!). All the Butterfly Weed were loaded with catepillars! While standing outside looking at the plants several Monarchs winged by to see what we were doing! We had a nice light lunch there before packing back up and heading home.
---
end