---

2016 Backroads Nova Scotia, Canada Bicycle Vacation
August 6-14, 2016
Anne and Stewart French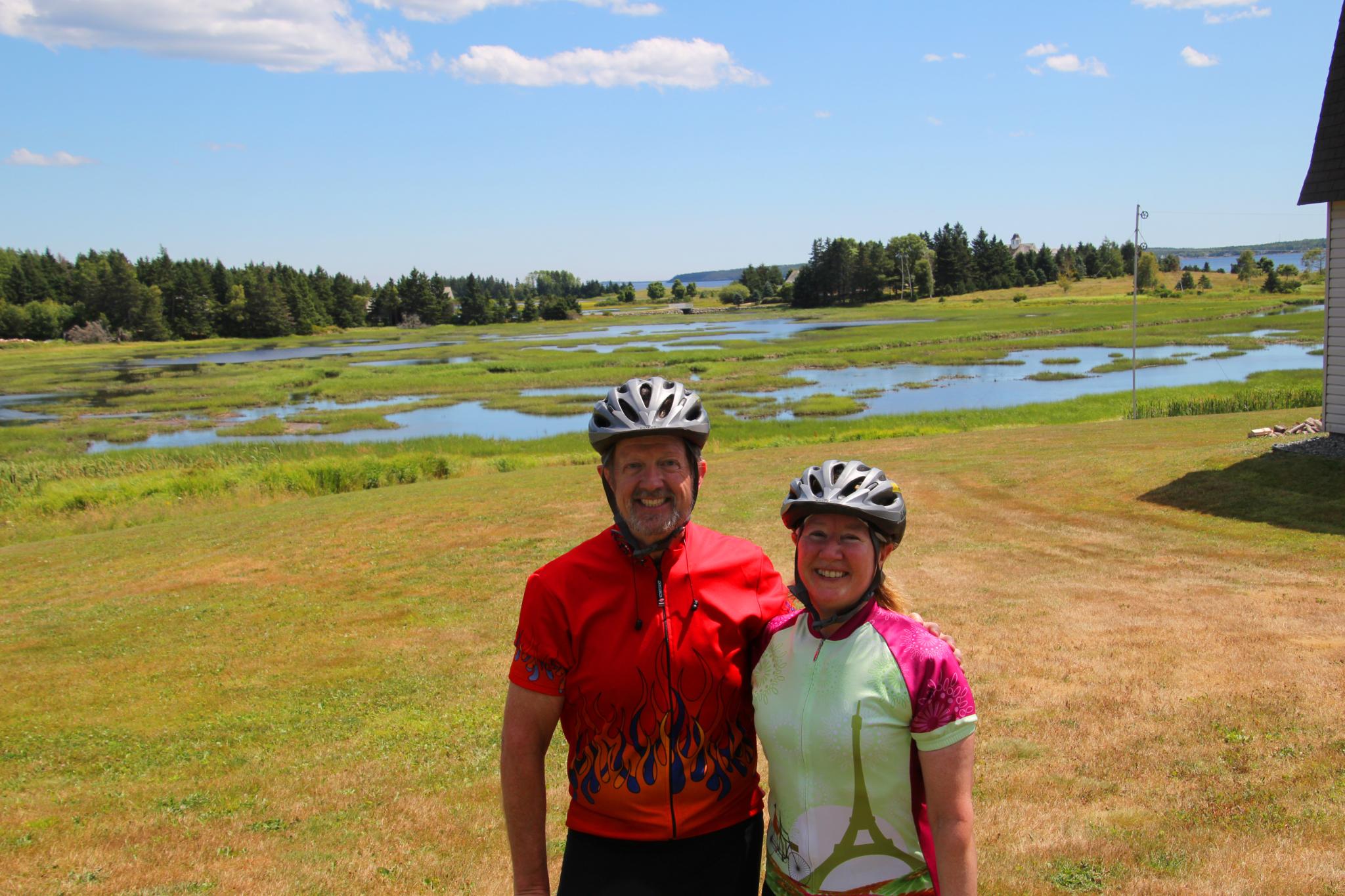 ---

Click here for our Movies (on youtube.com)
---
Backroads Nova Scotia Maps
---
Garmin Tracks
Backroads Day 1 - Nova Scotia Coastal Tour (ugh! Forgot to start my Garmin today!)
Backroads Day 2 - South Shore Extended Route
Backroads Day 3 - Port Royal Route
Backroads Day 4 - Back Tracker Route
Backroads Day 5 - Fundy to Gelato Route
Backroads Day 6 - Walk The Dikes to the Acadian Memorial at Grand Pre
---
August 6, 2016 Saturday - DFW to Toronto to Halifax
Lodging: Westin Nova Scotian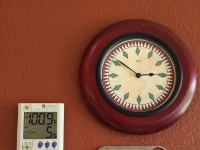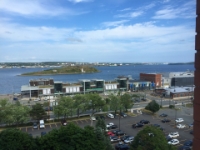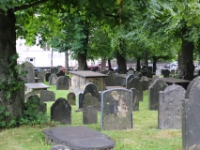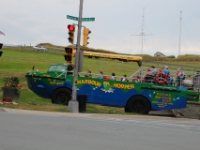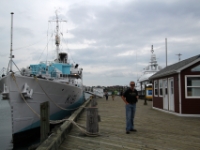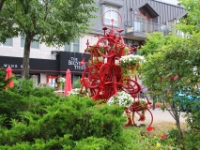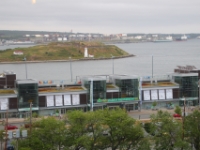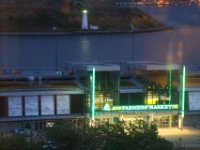 We got up at 2:45am to deal with international travel. There was almost no one on the road, but the security lines were long even at 4:00am. Mostly due to Delta. Right beside Delta was Canada Air, almost deserted. The single guy running the counter also ended up being the guy who took our luggage, and then, eventually, ran the counter at the gate for the flight to Toronto! Kind of a one-man-show.
Anne had TSA Precheck but Stewart didn't so we waited through the security line together. Stewart had put his bicycle pedals in his backpack and that threw the TSA people a bit, he had to get the backpack inspected separately.
So, lessons for next time:
Get NEXXUS TSA Precheck ahead of time
Don't put pedals in carry-on luggage
We arrived in Halifax at 3pm and took a limo to the Westin in downtown. Our limo driver was very helpful and chatty pointing out the sites, the bridges, telling us about some of the beaches we should visit.
The Westin room had a view of the harbor but was near the elevator. We tried changing due to noise but they were full. Luckily our noise cancelling headphones and foam ear plugs solved that problem. Stewart asked the front-desk to help us on our return, after the Backroads trip was over we'd be back to the Westin for two more nights, and she said that she'd make a note.
We went out walking the waterfront where a beer festival was going on, people everywhere, and lots of people glued to phones, apparently in a Pokemon gym. We tried to get dinner at the Bicycle Thief but first seating was at 10:00pm so we stopped in next door at Little Oak, an open-air cafe, had a nice small meal, and watched the rain spatter and top.
---
August 7, 2016 Sunday - DAY 1 Backroads Biking Nova Scotia
Welcome to Nova Scotia Coastal Tour, 37.2 miles, 1,583 ft elevation gain
Lodging: Lunenburg Arms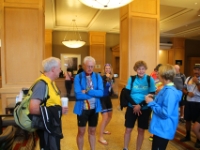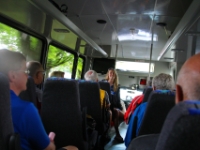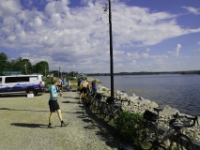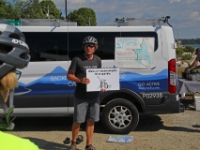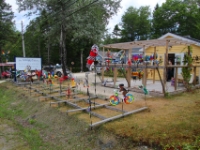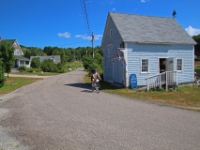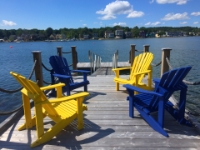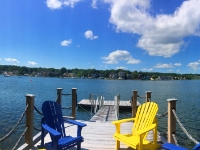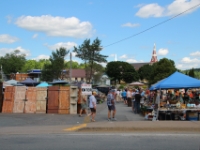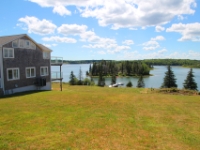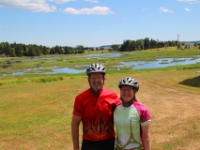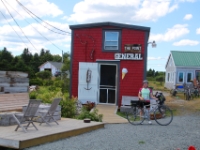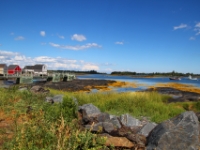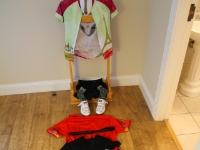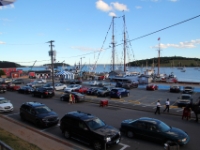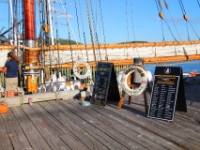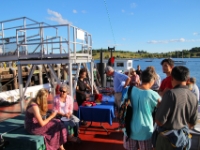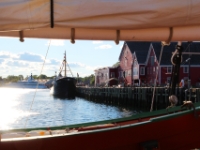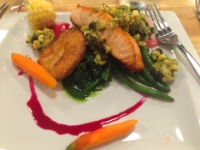 We met our biking buddies and the Backroads guides in the Westin lobby at 8:30, including Harry Light and his wife Van, and Harry "heavy" Mason who was from Dallas! What are the odds? Our two Backroads Trip Leaders were Kenton Lambert, from Goderich, Ontario, and Josee Martin from Canmore, Alberta. Josee has a long Acadian family history (more about the Acadians later). Our Backroads Support Leader was Casey Carswell from also from Canmore, Alberta. We're not sure the difference between the titles, they all three worked so hard to keep everyone happy, healthy, and well fed.
Backroads had hired a separate shuttle and driver to shuttle us the 1.5 hours to the start of the ride at Gold River. We were already in our biking gear and had brought down all our luggage which they packed into one of the Backroads vans. During the shuttle Josee gave us some local info, nuts and bolts of riding the area, and some history. One of the more interesting bits was an introduction to the new Garmin 1000 trip computers that we would be using. They had pre-programmed all the routes into these Garmins so that we could, at any point, click to continue a route and have it guide us on (or back onto!) the chosen route. Although a bit glitchy at times, we found them extremely effective. They would ping when getting close to a turn, then ping-ping when it was time to turn, a big arrow showed what direction while the map had the details. We also had the printed route instructions like we always had before. The printed instructions were very nice because they told us of things to look for and scenic places to stop. The combination of the two was really a nice solution. At Gold River Backroads had set all the bikes up, put our pedals on, had assigned us helmets, trunks, and Garmins. We loaded our stuff onto the bikes and into the trunks, jumped on the bikes, and biked Gold River to Lunenburg with two out-and-back options. Generally, we chose to bike all the options. Temps were in the 70s when we started out, and the roads were rolling hills, some fairly challenging. The road surfaces were very rough, lots of potholes and patches, without much shoulder. But the drivers were the nicest, friendliest people ever. They would stop for us, let us go first through intersections, wave, talk to us. Harry Mason joined us in a pace line for a time but we were on different wavelengths and soon parted ways.
Lunch was in Mahone Bay, a great little town where a swap meet was going on. We over-shot the lunch spot but Casey chased us down and brought us back to the gazebo for lunch. There was two out-and-back options on the route, Blue Rocks and Second Peninsula, that we took to scenic turn-arounds.
We ended the ride at the Lunenburg Arms Hotel for the next two nights. Backroads had setup a very nice reception on the pier with wine, finger foods, and conversation. It was clear, warm, and dry on the pier, a really beautiful evening. The reception was held right beside the docked Bluenose II, an undefeated racing and fishing champion, and an international Canadian icon. We broke into small groups to walk to dinner at Lincoln Street Food just down the street.
---
August 8, 2016 Monday - DAY 2 Backroads Biking Nova Scotia
South Shore Extended Route, 35 miles, 1,531 ft elevation gain
Lodging: Lunenburg Arms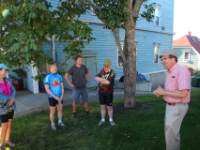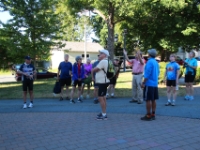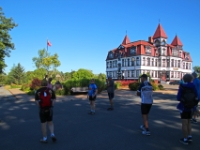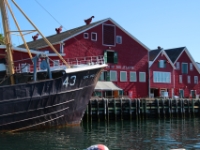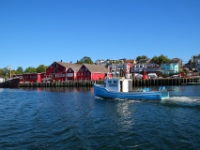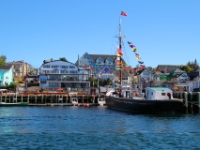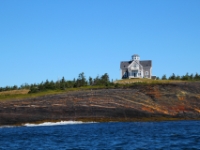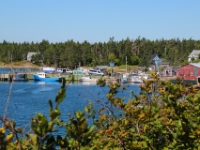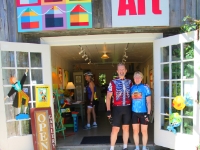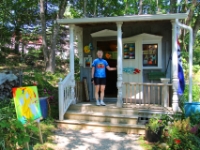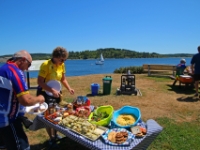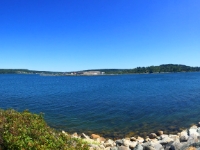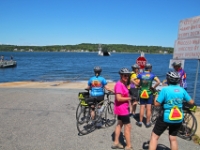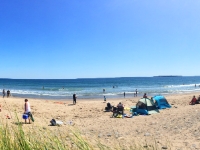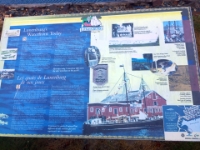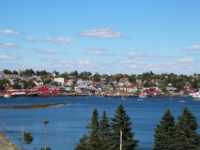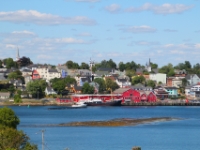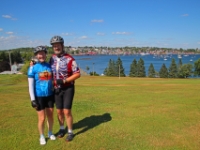 Breakfast was in the Lunenburg Arms dining room. We met our guide, a classic Nova Scotian, outside the Inn for a guided walking tour of downtown. He walked us (quickly!) past the houses, churches, businesses, waterfront, to see the Lunenburg Bumps, the Lunenburg Academy, the historic St. John's Anglican Church, the Lutheran Church, Presbyterian Church, Baptist hall, and the historic Lunenburg waterfront. We toured in our biking gear because, after the tour, we reported to a boat in the marina for a 1.5 hour boat tour of the coastline around to our ride start on Bush Island. Our boat ride was hosted by Kevin who told us all kinds of sea stories, most of which were true (if he had to say so himself!). As our boat arrived on Bush Island we could see the Backroads vans parked near the shore, and could hear Barrett's Privateers playing to greet our arrival. How very Canadian!
We did our Day 2 Route Rap by the vans there then hopped on our bikes. It was a very rough, narrow road to leave Bush Island, then improved a bit. Just before lunch the route led to the Painted Saltbox Gallery where we met Peter and Tom, the artists, who welcomed us with Willie Nelson when they heard we were from Texas! Their gallery was striking with the art, colors, landscaping, and personalities. Picnic lunch was on the beautiful grounds of the Fort Point LaHave Museum - canons, lighthouses, incredible LaHave river views.
After lunch the route led back into LaHave where we caught a ferry ride across the river to catch route 332. About half-way into the route we headed out to Hirtles Beach, where on such a sunny, warm day, the beach was crowded with people. There was Joel in the water splashing around in his bike bibs, having the best time ever! The biking got hard near the end as we rode into Lunenburg, with two 17% grade hills leading up to incredible views of the harbor from the Bluenose Golf Course.
Dinner tonight was around the corner, and up the hill, to the Rime Restaurant.
---
August 9, 2016 Tuesday - DAY 3 Backroads Biking Nova Scotia
Victoria Beach Route, 50.6 miles, 1,664 ft elevation gain
Lodging: Hillsdale House Inn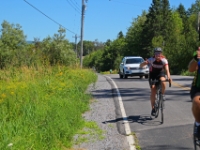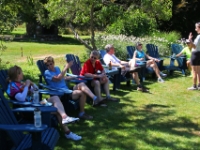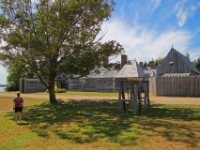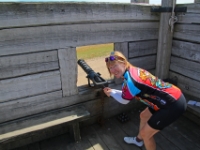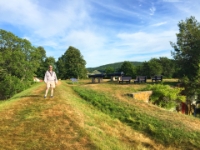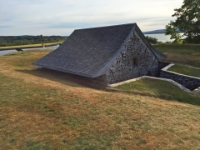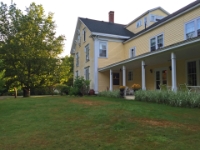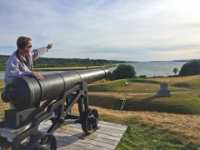 Packed to move this morning, from Lunenburg to Annapolis Royal, over on the north shore, near the Bay of Fundy. The morning Route Rap was by the vans then we loaded up and headed out, a 2.5 hour shuttle ride ending at Valleyview Provincial Park in Bridgetown. A long downhill then through rolling hills led to a late lunch at our inn for the next two days, the Hillsdale House. BBQ lunch was served by a local chef, Paula Buxton, on the back porch where a line of adirondack chairs were shaded by large trees. Mild temperatures, cool breezes, sunny, we had a great lunch then headed out to continue on the Victoria Beach Route. Promptly lost, we fiddled our Garmins, looked at the maps a bit, then turned around and came back to the Inn. Casey provided some directions, reset our Garmins and off we went, back on route. Port Royal National Historic Site was on this route, a reconstruction of the 1605 fort established by Samuel de Champlain. Anne got a chance to try out her "Cracked 4-Pounder" canon here while singing Barrett's Privateers under her breath.
Our room at the Hillsdale House was on the top floor, very small, sloped ceilings, clawfoot tub with a strange wire shower structure around it, kinda last century. Best described as "quaint", it was also a bit dangerous. Anne bumped her hip hard multiple times on the edge of the table next to the foot of the bed, and had to duck her head low to get in and out of bed because of the sloped ceiling.
Dinner was "on our own" for the evening with Backroads giving us some suggestions. We made reservations at The Garrison House Restaurant and headed out a bit early so we could walk through Fort Anne, Canada's oldest National Historic Site. Scottish, French, First Nations and English settlers clashed over this prize for centuries on the banks of Nova Scotia's Annapolis River.
At dinner we ran into Tom and Charlotte already seated and ordered, so took a table near them to chat. We placed our order, then noticed when theirs arrived that we had each ordered the same dishes. A pleasant oddball coincidence!
---
August 10, 2016 Wednesday - DAY 4 Backroads Biking Nova Scotia
Special "Back Pocket" Route, 50 miles, 3,893 ft elevation gain
Lodging: Hillsdale House Inn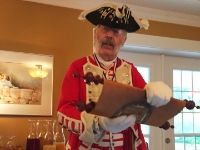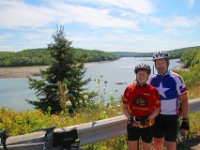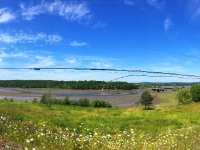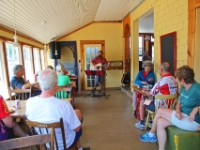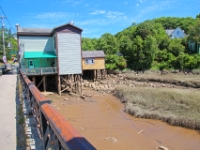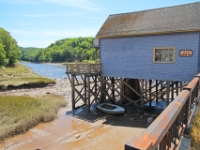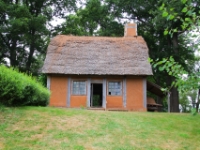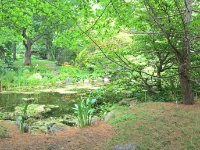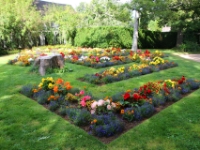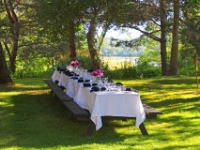 Up early, we went down to the kitchen, picked up some coffee, and headed out onto the covered porch out back. It was cool and crisp, perfect for a day of bicycling. At Breakfast they brought in a Town Crier, this guy dressed in period garb, with a scroll filled with news. He started his show by calling out the Dow Jones Averages for the day then proceed to give us a history of the town, of the Criers, and interesting period stories. Turns out there is a Guild of Town Criers in Nova Scotia keeping the tradition alive since 1974. After the Route Rap we rode along the Annapolis River with Kenton. The tide was going out and the river was way low. It was very strange seeing all the mud along the river, the building built way up from the mud with waterlines up by the top of their pilings. A very, very steep downhill led to lunch at Nathaniels in Bear River. Backroads had arranged live music by a folk singer in the cafe where we relaxed and enjoyed a great lunch. We had chosen a custom route called the "Back Pocket Route" that looped around and back to Bear River. Backroads had programmed this custom route into the Garmins and it wasn't on the printed directions. That turned out fine, we had no problems with our Garmins. Back at Bear River we paused a bit then climbed back up over that very steep hill. Stewart thinks he saw 17% grade again on that climb.
The ride led back to the Hillsdale House where we showered and took a wonderful nap. The Historic Gardens were just a short walk away where we could just say "We're with Backroads!" and they would let us in for free. It's amazing that, with the harsh winters, these gardens grow back every year. They are so lush and beautiful. Back at the Inn everyone sat outside in the adirondacks, drank wine, and played croquet. That night dinner was fresh Lobster at a long outside table while being serenaded by a violinist. Our Backroads guide Josee taught us how to crack the shell (hard) and what parts to eat (all). After the meal Stewart took 5 of the silver napkin rings and put them on his fingers. Since Josee was sitting on his right he made her hold up her hand and transferred the rings all at one time, finger to finger, to her hand. Josee then passed them on down the line, becoming a "thang", much harder to do the more wine you drank!
---
August 11, 2016 Thursday - DAY 5 Backroads Biking Nova Scotia
Fundy to Gelato Route, 52.1 miles, 2,152 ft elevation gain
Lodging: Victoria's Historic Inn & Carriage House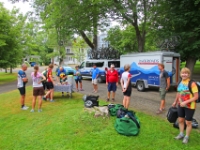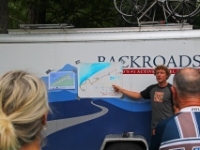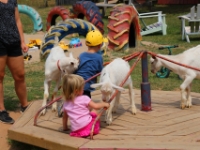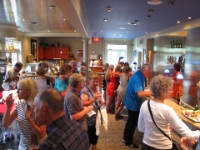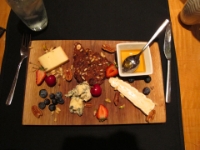 Once more we had to pack everything up to move to our final inn then head to breakfast in the dining room. There were three routes again today, we did the long one, 52 miles, with 2,200 ft elevation gain. All the routes started with a shuttle ride to Mt Hanley, along the Bay, where we rode before turning inward. The ride was rolling hills, some quite steep, with rough road surface. At one point was a long exhilerating downhill that leveled off in a beautiful valley. That was when we noticed our Garmins showing "OFF COURSE"! Half way up that hill we had come down was the turn we missed. Ugh. Turn around and slog back up, turn right, then take a little break. The route from there to lunch was beautiful rolling hills, with blue skys, clouds starting to build a little. It ended at the cheese and gelato shop Dempsey Corner Orchards where we had a very nice lunch.
The Orchard was a very cool place, where one can pick their own cherries, berries, plums, corn, beets, or maybe play farmer with their baby goats, calves, and lambs. Good thing we had decided to shuttle back from here because the temps dropped, wind started howling, and the rain started. We all jumped into the vans and shuttled to the Victoria's Historic Inn & Carriage House. Our room for night was amazing, a suite, living room, bathroom, and bedroom. Very spacious and comfortable, with a more modern bathroom. A shower and a short nap were again in order, then off to the evening wine tasting reception at Domaine de Grand Pre winery before dinner at their Le Caveau Restaurant. Anne had salmon, Stewart leg of lamb. Dessert was chocolate and a cheese plate.
---

August 12, 2016 Friday - DAY 6, Backroads Biking Nova Scotia
The last day
Lodging: Westin Nova Scotian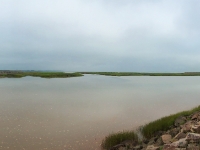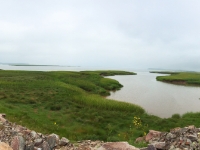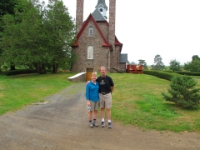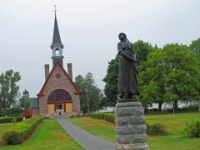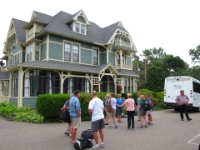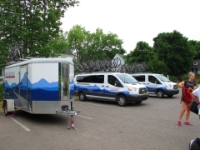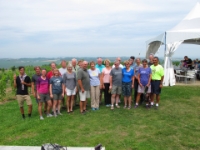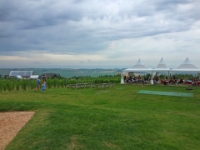 Man, our suite was really, really nice at Victoria's Historic Inn & Carriage House! We woke leisurely and headed downstairs for coffee from the kitchen, then out onto the screened-in porch. Breakfast was at 7:15am. Our options today were a short bike ride or a hike, we chose to hike to the Grand Pre National Historic Site. The 6 km hike took us along the man-made dike system, salt marshes, mud flats, with expansive views of the Minas Basin and Bay of Fundy. A resonance between the tides and the size/shape of the Bay caused the tides to be world record setting at 52 feet ! It was striking how that much water moves in and out of the rivers and bays.
We walked with Van and Harry most of the way, good conversation, to Acadian Interpretive Center honoring the Acadian people who where forcefully relocated by the British in 1755. The Longfellow Poem "Evangeline" memorializes the tragedy.
Lunch was at Luckett Vineyards, sitting outside under a large tented gazebo, on a hill overlooking the rolling vineyards that stretched off to the bay. They served up very good sandwiches and salads, a kale caesar salad, spinach salad, various meats on homemade breads, ball jars of custard and fresh fruit. After lunch we took group photos then shuttled back to Halifax and the Westin Nova Scotia.
Tonight we got a corner room on the 6th floor with large views of the harbor on two sides! It was an Amazing room that totally made up for the noisy penalty room we had the first day of the trip. That night we walked to a small Vietnamese restaurant and had Pho for dinner.
---
August 13, 2016 Saturday - Free Day in Nova Scotia
Lodging: Westin Nova Scotian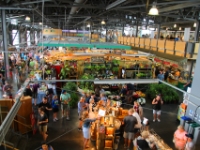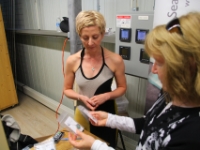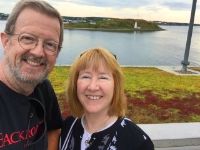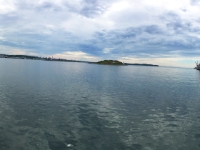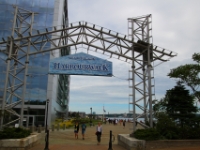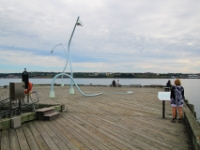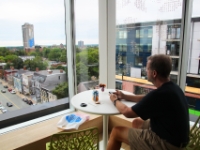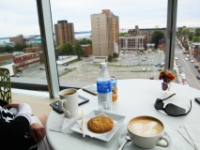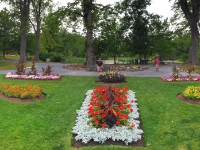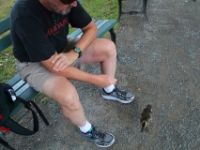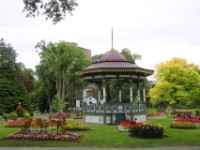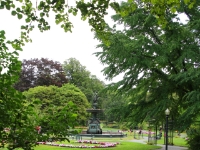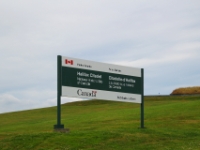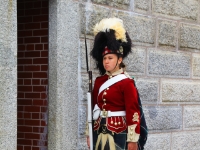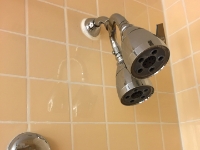 Did we tell you how nice the room was at the Westin? Wow. Today we decided to do a walking tour of Nova Scotia.
First to the Halifax Seaport Farmer's Market via "the shortcut".
Okay, so we headed out of the Westin in the general direction of the Farmer's Market, which is behind and to the right of the hotel, behind the bus/taxi station. Turns out a fence blocks access to the Farmer's Market from there, we could see it over the fence! A fellow was sitting outside at the bus station smoking and heard us talking about it and said "Come on! Follow me! I know a shortcut." He took us into the bus station to the elevator and we went down into the basement. All the time he was chattering about Hannibal Lector as we walked the damp unadorned concrete basement hallways. It was creepy beyond belief and he knew it! He was having the best time ever as he led us to a back door that emptied right out at the Farmer's Market. That was _so_much_fun_. The Farmer's Market was packed with people, fresh veggies and fruit, small shops, art, etc. Anne bought some jewelry at one of the small shops then we left out the north side to walk the waterfront up to the Maritime Museum.
The Maritime Museum has historic exhibits of the Titanic, the Halifax Explosion (look this up, it is totally fascinating!), Sable Island, and lots and lots of shipwrecks and military battles.
Our biking bud Van suggested that we visit the Halifax Central Library if we get a chance, that it is beautiful and worth it. And it was! Packed with people, we headed to the cafe on the top floor, with an incredible view of Halifax, good food and coffee, and very relaxing.
The Halifax Public Gardens were next, a beautiful park in the middle of the city, up the hill from the Library. This led up the hill further to the Halifax Citadel National Historic Site of Canada.
The Citadel was built in 1749 to protect Halifax from "invaders" (oddly there were never any invaders, but the Citadel persisted and grew over the decades). We took a tour and got to see a demonstration of muzzle loading rifles, the canon setups, the defensive structures and grounds.
Tonight we walked to a fantastic pizzeria, had a few beers, ate some pizza, got a small one to go then headed back to the room. Tuned into the Olympics tonight to watch a lot of Canada-centric olympic coverage. It was great.
Our flight left early the next day, so the same limo driver picked us up at the Westin and took us to the airport. He wanted to know everything we did and enjoyed hearing about it.
What a great Backroads Vacation!
---

end