---

Elizabeth Fraser and Tom Denton Get Married !
September 3-5, 2015
Anne and Stewart French
---
Maps of Picton and the surrounding area.

Large area map

Where Anne and Stewart roamed

Downtown with Small Pond Arts visible
---
Thursday September 3, 2015
Travel from Dallas to Picton, Ontario, Canada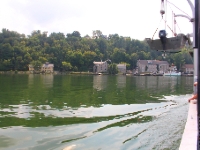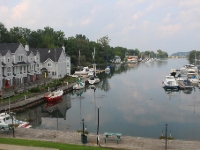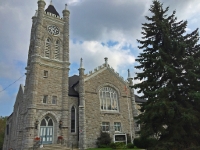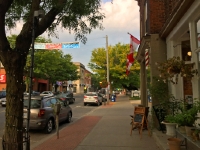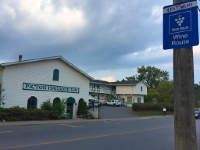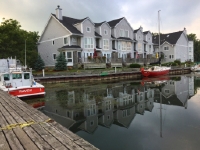 We were up at 3am and out by 3:30 for our 6am flight from DFW to Toronto. Arrived in Toronto 10am to a hazy view, and headed for Customs. S's passport wouldn't scan, so we had to get in the regular line to see a real human. Turns out this was quicker than the kiosk and much friendlier! Our flight to Kingston was at noon on an 18 seater Beechcraft prop plane. Arrived about 1pm in Kingston, a tiny airport. We went to the Avis counter, an unmanned one-person booth in the lobby with a one-way phone to the Avis business in downtown Kingston, to wait for our car to arrive. We had requested an SUV thinking we could help shuttle people, got a Jeep Patriot, a very small SUV.
Our drive to Picton was via highway 33, a scenic route along Lake Ontario through Bath and Glenora. Near Picton we got to take a ferry across the inlet. There was lots of greenery, very lush, golden rod everywhere, just a few trees (maples) starting to change to bright reds and oranges. Arrived at the Picton Harbor Inn about 3pm to find Tom and the Fraser clan standing in the parking lot! We had not actually met Elizabeth before (although we are friends on Facebook), so we met Elizabeth, her parents, David and Nancy Fraser, his brothers Sandy and wife Lorna and Peter and wife Donna Lynn. T&E were heading out to a cider tasting so we firmed up plans for the evening's dinner. Up to the room, quaint and a bit worn but fine, beautiful view of the harbor from our 2nd floor balcony, we grabbed a much needed nap.
About 4pm, we walked into Picton to find coffee at a lovely little coffee shop, the Bean Counter, where we grabbed a table and had a nice mocha and reese's bedecked cookie. At 6:30, all cleaned up, we walked up to Porto Bella to meet T&E and E's parents, David and Nancy, for dinner. They were amazing, so social and articulate. He teaches and researches agribusiness at the University of British Columbia in Vancouver. He bikes to work daily and works to ensure the ethical treatment of animals by food businesses. We mentioned having heard of the work of Temple Grandin and amazingly enough, they have worked together on a number of occasions! (my new lame claim to fame). We discovered Elizabeth has 2 brothers, Evan (oldest, wife Christine, with 3 children) and Nick (partner Rob) and a sister, Chris (partner Ian?). Turns out T&E met on the internet but had actually attended events together without knowing it since they are so like-minded such as Bike Music, a festival with bike powered amps that travels from place to place hauling instruments on cargo bikes.
The meal was delicious, Anne's Salmon Salad and Stewart's pecan chicken and the shared brambleberry pie (blueberries, blackberries and strawberries) with ice cream plus local wine (Sugarbush) and beer. Walked back to the room with T&E so they could plant a note about the shuttle at the front desk, then off to bed by 10pm
---
Friday September 4, 2015
Picton, Ontario, CA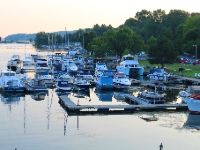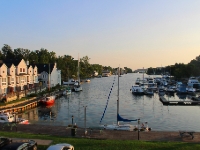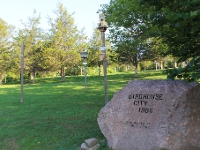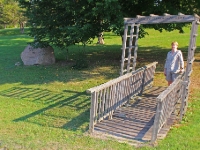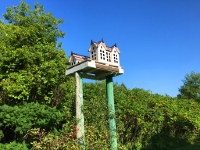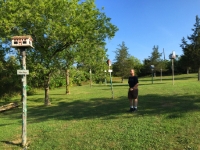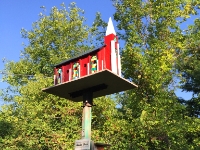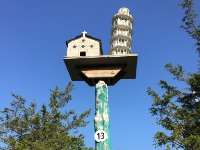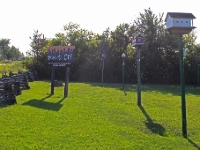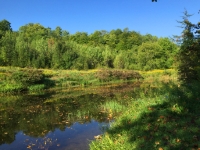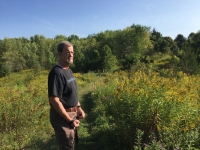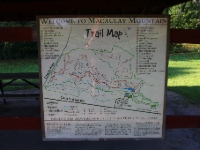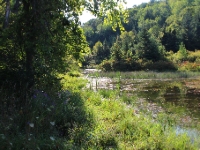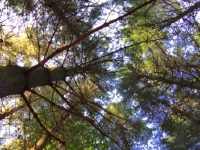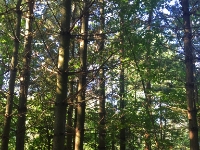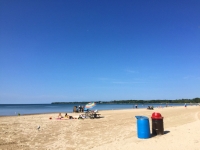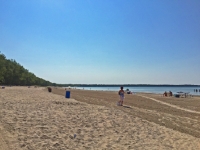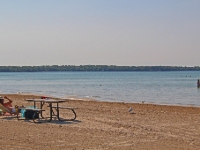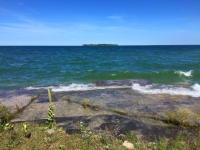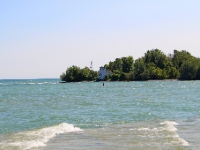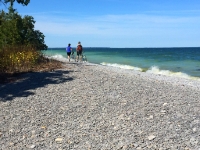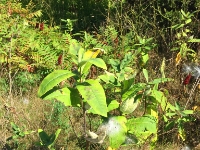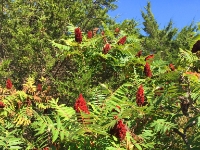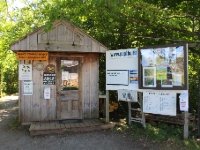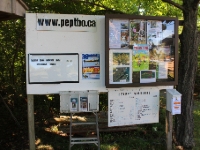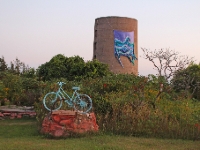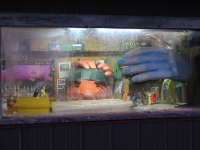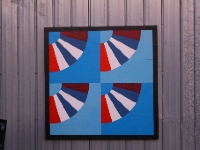 Breakfast at the Picton Harbor Inn Lighthouse Cafe turned out to be surprisingly good. Poached and over easy eggs, toast and orange/tomato slices. Ran into Donna Lynn and Sandy on our way out. Unfortunately, one of Sandy's brothers had passed last week and the funeral was 5 hours away so they were off to driver there, attend the memorial and drive back in time for the wedding on Saturday.
On to find hiking adventures, first at Macaulay Mountain Conservation Area, checking out the forest of birdhouses on poles, then walking the lower areas that had been cleared well, wary of reports of ticks. Next to Sandbanks Provincial Park, a great camping and beach destination on Lake Ontario with a spit of land dividing the great lake from East Lake. We hiked a trail along the major artery in looking for other trails, but it was whirling sand devils and the view of the lake was blocked by the dunes. So on to lunch.
We drove back to Picton and found a table outside at the County Canteen, a nice upscale eatery on the main street. Anne's fish tacos were maybe the best ever (roasted tortilla, light crispy tilapia, tasty sauce). The "local" (Toronto) beer was good too.
Our final trek was to Prince Edward Point National Wildlife Area, said to be a great birding center. We had slathered on the sunscreen and bugspray at Sandbanks so might as well make use of it. The ride out was scenic, passing breweries, fromageries, with the sky having cleared to a complete azure blue, small whitecaps on Lake Ontario's vivid deep green-blue waters occasionally visible through the deep vegetation. It was mid-afternoon and warming quite a bit when we arrived (high 80s) and all was very calm. No birds except a few large sea birds gliding far above the lake. we walked the trails along the lake and saw just a few other humans, a few toting bikes, others lolling on lawn chairs. The edge of the lake had large brown rocks, carved with oddly straight lines although their placement seemed natural. The water above them was tan, abruptly changing to darker brown at their edge, then light green further out where another ledge must have given way to very deep water since the color changed to deep blue/green. Back to the room and a much needed shower to get rid of the bug spray and sunscreen, then off to the BBQ at Small Pond Arts.
Elizabeth greeted us on arrival and introduced us to friends Stuart and Cede, Ian and Chris (E's sister), then lots of others including James who is running Bike Music and will be providing power for some of the wedding activities. The BBQ was amazing in a large tent, corn on the cob, strawberry spinach salad (a family favorite with the recipe from the Canadian Garrison Keillor guy, Stuart Mc??) and grilled peppers and portobello mushrooms. A dry run was performed, although sadly Kath and kids did not attend. Ben had been turned away at the border so Kath and Brenda were making their way on their own to Toronto, to stay overnight at E's sister Chris' house. They will take a train into Picton on Saturday hopefully in time for the wedding. After the rehearsal there were wonderful butter tarts and chocolate coconut (birds nests?) for dessert, then back to the room to let David and Nancy recoup. They looked a bit tired and E was clearly getting a bit overwhelmed by it all.
---
Saturday September 5, 2014
Picton, Ontario, CA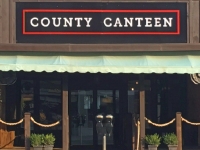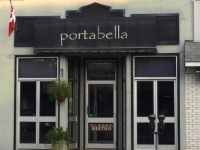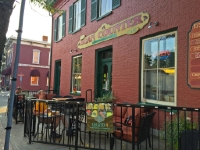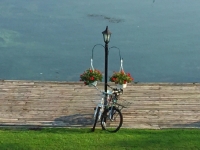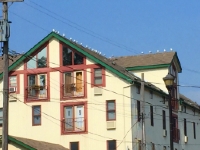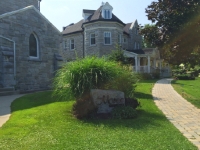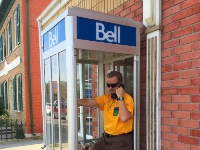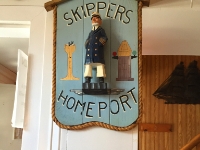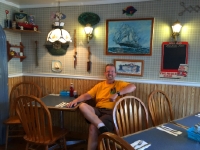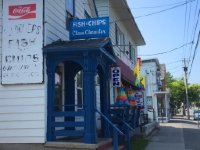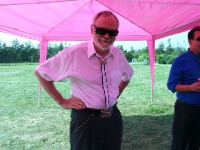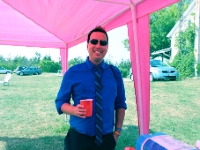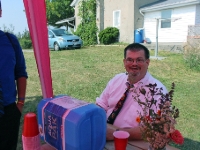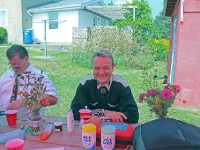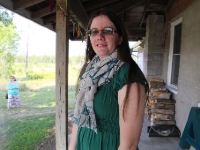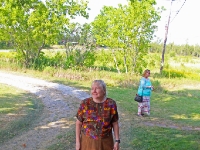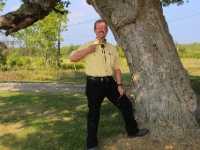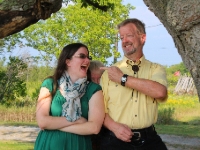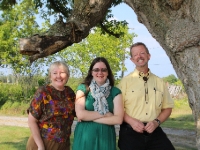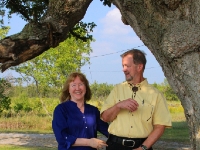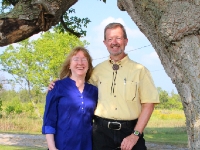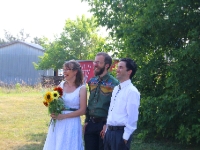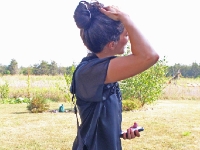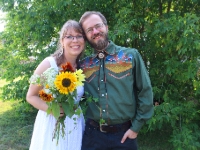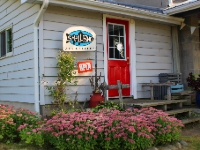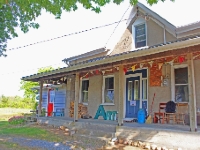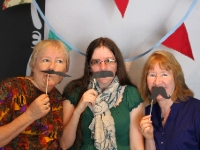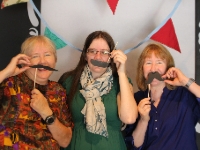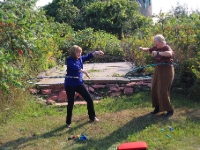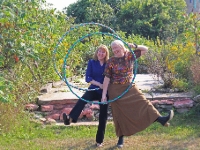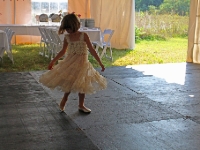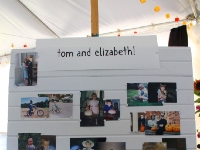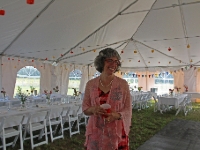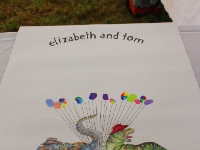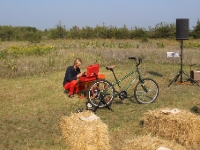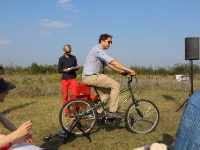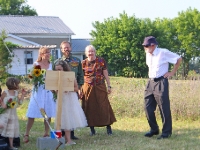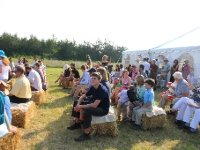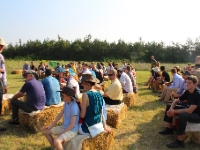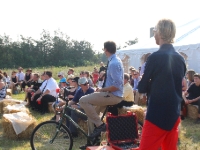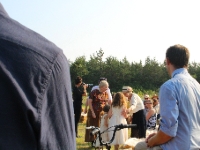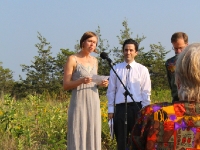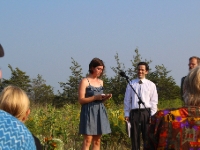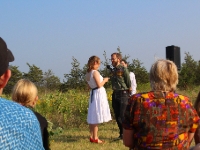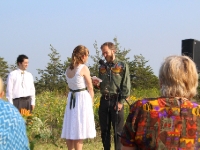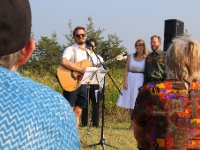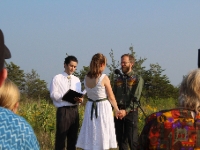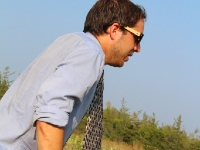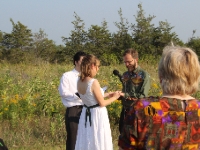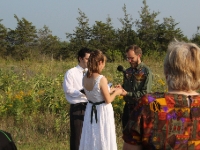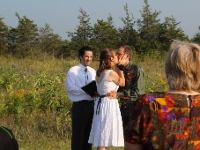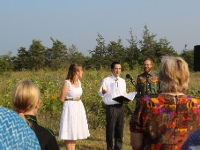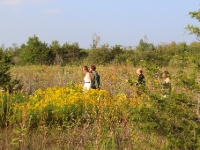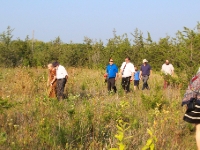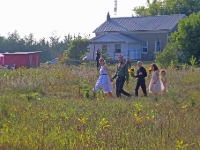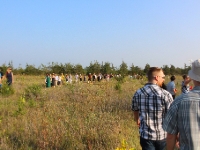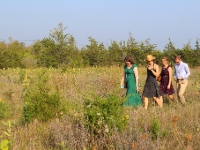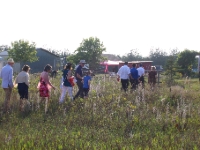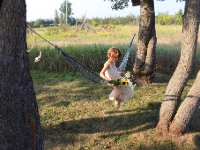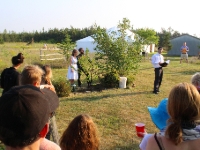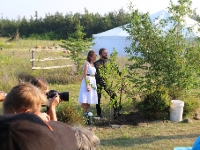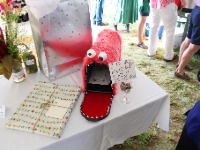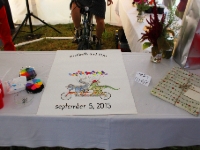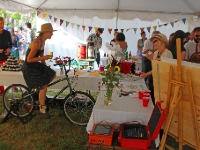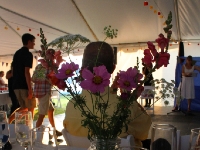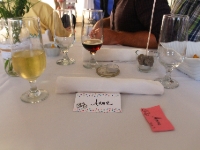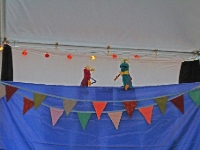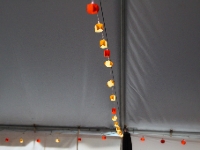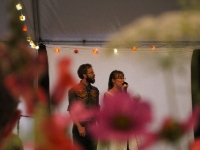 Walked into town for breakfast at the Bean Counter, ate scone, muffin and bananas on the patio with cyclist and passers-by. Everyone here is so friendly! Took it easy this morning, just reading books on the balcony overlooking the harbor, watching the tourists feed the birds, the sailboats come and go, the guy cleaning and cleaning his yacht until the windows were spotless.
Then got ready for the wedding and headed to the parking lot to wait in the sweltering heat for the cab to take us to the Small Pond Arts for the ceremony and festivities. Turns out the parking was taken up by all the campers so those of us not camping had to take the cab. And, despite near 90 temps and very high humidity, there was no air conditioning in the cab so all the windows came down and we climbed in, rumpled our fancy duds and blew out our coiffures and headed to the wedding. Got that stick out of our butts pretty quick. Other than the heat, the venue was perfect! There were guest wranglers showing everyone around and we were immediately introduced to Ceda and Stuart (one of the two other Stuarts). She is an amazing puppeteer who had requested advice for long marriages as a secret addition to her contribution to the ceremony (more on that later).
We then wandered and caught up with David, son (E's brother) Nick and partner Rob, Evan (E's oldest brother), then Gabby, Nina and Finn (Evan and Christine's children), Chris (E's sister) and her partner, Ian, and many others gathering in the tents around the much sought after water jugs. A wrangler found us and handed us cards with our names on them, our table number and on the back, the name of another person to seek out at dinner with a question to ask them. For example Anne's was Jocyln Hand-Murphy and she was to ask about the Otesha Project.
We asked about Kath's arrival and she had finally made it and had been whisked into the house to get dressed. Finally she and Brenda came out on the porch and we got to hug them and they hugged everybody and then we got herded to the back of the gallery where family pictures were being taken. There were many of Tom & Elizabeth with her family, then with Tom's family, just the moms and dad and then the siblings and so on. Everybody looked mahvelous!
The guys outfits were amazing as they had gone with the cowboy theme that Tom started, having had a bicycle themed cowboy shirt stitched at a place in Austin that gives old timey sewing machines new life. Elizabeth had a sash with the same design wrapping her simple white dress. Just beautiful. I had my bicycle scarf but it was green and my shirt was blue so I gave it to Brenda who had a green dress and she immediately twisted it into an infinity scarf. Nice! Kath's multi-colored top, brown skirt and short black boots looked great too and she gave Brenda her brown flats. After a while Brenda decided the shoes were too confining and off they came, so she spent most of the wedding barefoot, which was perfect with this crowd.
We wandered the grounds and checked out the craft room with mustaches for all, and the activity area with juggling pins, hackey sacks and hula hoops. Kath & Anne did a pretty good turn with the hula hoops but the juggling was painfully lame. We picked up some hard local cider and wine, some wonderful appetizers, and wandered through the tent where they had a mailbox to gobble up the plethora of cards, and a large white poster board with a picture of two dinosaurs wearing cowboy hats riding a tandem bicycle with balloon strings tied to the handle bars. There were colored sponges nearby where people could "sign" the guestbook by leaving a colored thumbprint as a new balloon. Ingenious!
We stopped to chat with Elizabeth about the amazing lights strung throughout the main tent. They were oragami and it turns out she and her friends had folded 500 of them over the last several days. Then this very morning they had attached a watch battery to each and every one, and the LED inside had started glowing. They will run for about a week and the gallery is taking them when the wedding is over. So cool! We also asked about the beautiful place settings. They had a local wildflower florist drop off tons of flowers that day, and a friend had come up with 20 or so decorative jars to use as vases, so they filled them up and distributed them around the tables, along with hand-painted place cards also done by friends. So the whole incredible setup was a tiny fraction of the cost of the wedding industrial complex typical outlay, and even more stunning for the love that went into it.
We were ushered out behind the tent where the ceremony was about to get underway. We found napkins tucked into the rope wrapped around the hay bales so we spread those out to protect our tushes and got comfortable, watching their friend James setup the bicycle to power the amps for the speeches and songs to come. A cyclist climbed aboard and the generator was cranking. Then flutes started playing and the wedding party made their way from the back to the front. Kath, David and Nancy, Gabby, Nina and Finn, and finally Tom & Elizabeth came through the hay bales to the front of the audience, to join the emcee with the big black book. This was Ian (another Ian) officiating the ceremony, a friend of Tom's from way back, who we had seen vigorously writing on the porch earlier. We found out he had transcribed his notes from note cards to the big black book on the advice of his wife who felt the book was more official looking. She was right! Ian introduced the wonderful speeches by Tom & Elizabeth's friends, and the song sung by a guitarist in suspenders (all powered by the stalwart cyclist). Then Elizabeth said her vows to Tom, Tom said his vows to Elizabeth and then they made the audience stand and recite vows to them (we promise to always stay in touch...etc). So fun! And their vows to each other were so touching and heartfelt I really hope we can see them written up somewhere. I cried through the whole thing. Finn came up to provide the ring and Ian guided each of them through the recitation of the shared vows, they exchanged rings and had their first kiss as husband and wife. Then the fun started... they wandered off into the field and beckoned us to follow them.
And we did, zig-zagging in our finery through a path that had been blazed for us. The sunlight caught the light filtering through Elizabeth, Gabby's and Nina's skirts as they reached the end of the path. Then Tom & Elizabeth lined up behind a small tree that had been set into a hole with a pile of dirt and shovel nearby. Ian stepped up and said a few words, then Tom shoveled some dirt onto the rootball and Elizabeth watered it in. A tree grows in Picton! Then it was off to dinner in the big tent with the oragami lights now starting to show up as the sunlight began to dim. The dinner was catered with wonderful gluten-free, sustainably harvested, environmentally conscious food. Tom introduced a friend from the coop he had shared who gave a talk encouraging us to consider our food, its origins and consequences, along with other strife in the world and to put our effort into making the world a better place. Justice!
The food was amazing and our table mates were fun, offering suggestions for Kath's improved route home via Sarnia vs Detroit. I looked around and found Jocelyn Land-Murphy who explained that the Otesha Project was a bunch of folks cycling from town to town and putting on plays about environmental issues. Cool! Puppets then came out (Ceda and Jull) who gave lots of advice to Tom & Elizabeth about how to have a long and happy marriage (eg, ride bikes and always ride each other's pace), plus much silliness and slapstick. Great fun. Then a surprise, at least for Tom. Elizabeth was apparently in on it. A projector was set up and videos from friends all over the world who were not able to attend were played back to back. Most were very funny (a guy from Mars, some staring non-blinking, etc) and all were very creative with heartfelt well wishes for Tom & Elizabeth, including several from the Kenya maths camp folks Tom had worked with a few years. Here's me crying again. Part-way through the projector went off but it was because the cyclist powering the amps (now inside the tent) had failed to pedal enough so she could watch the video :). Hilarious. She picked up the pace and the show went on.
As we worked our way through dessert, Tom picked up a guitar and sang: "Whenever you leave you leave a little piece behind." So Tom, so intense and so true. Then it was dance party time. Tom cut some major rug and Brenda got her turn on the bike powering the music. We wandered around and chatted with Kath some more, watching the full dance floor showing signs of lasting all night. Alas, the heat and increasingly militant mosquitoes finally got the best of us. We said our goodbyes to Tom, Kath and Brenda and grabbed a cab ride back to the Picton Harbour Inn.
---

end