---

2015 Easter Hill Country Bicycle Tour
April 2-5, 2015
Anne and Stewart French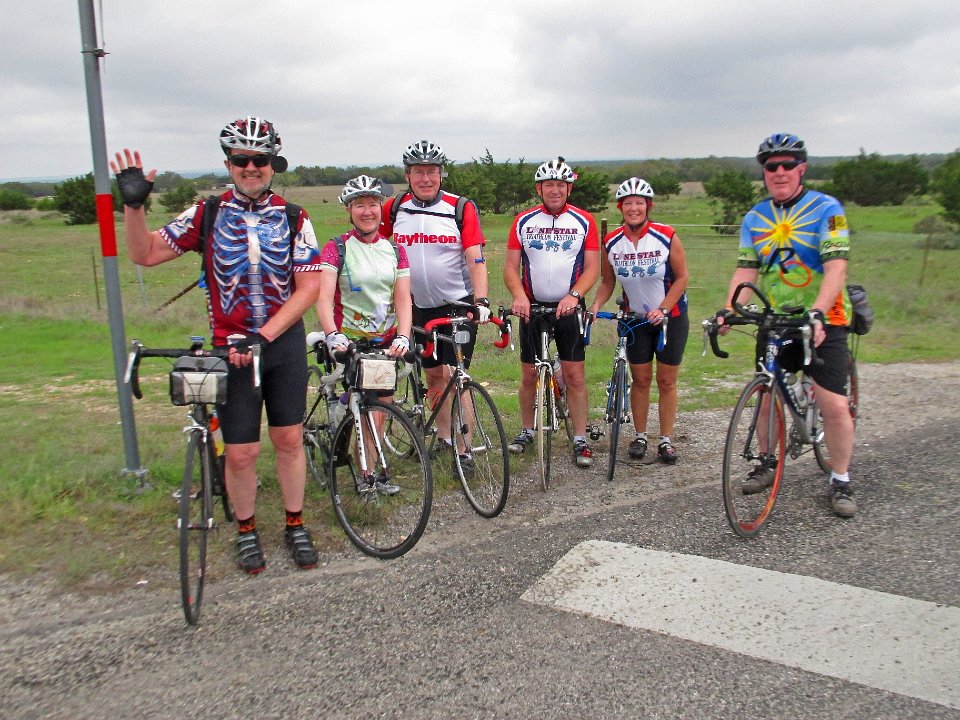 Click here to visit the Photo Gallery!
---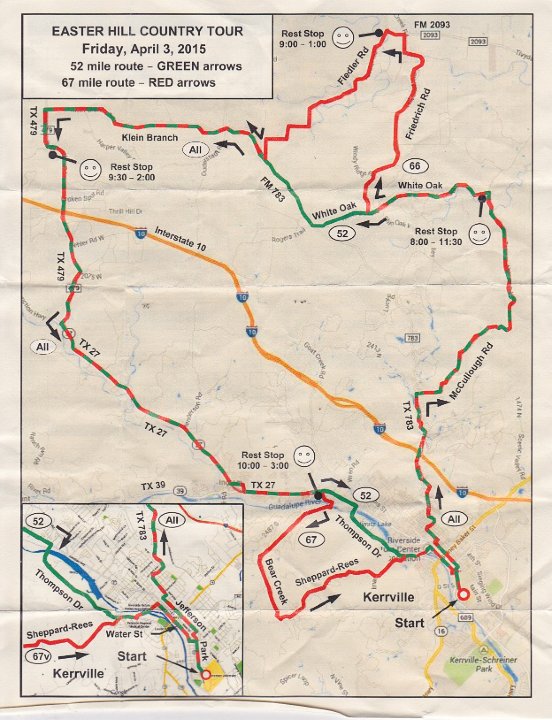 Friday and Saturday's Maps Around Kerrville, TX
---
4/1/2015 Thursday
Planning for the 2015 EHCT looked a little dicey when the Jouberts opted out due to a scheduling issue with a construction project and then Niles couldn't make it since his sister's wedding was the same weekend in Dallas. But Coondog was on his way, John was planning to join us, and Charisse thought she'd be able to make it over from Austin on Saturday.
We started out for the Hill Country about 10am, listening to the audio-book "As You Wish", the story of the making of "The Princess Bride" narrated by Carey Elwes (Dread Pirate Roberts) and interspersed with audio reflections by Rob Reiner, Robin Wright, Shawn Wallace, Mandy Patinkin, Billy Crystal, Carol Kane and many others. We love that movie and it made the trip fly by.
We stopped for lunch in Waxahachie (Crepe Myrtle Capital + Gingerbread City + something else probably Most Nicknames City), then took Google's recommended route through the Balcones Canyonlands National Wildlife Refuge, with very steep descents and wide Texas vista views of live oaks and prickly pear, a perfect route to open the door to springtime in central Texas. With all the recent rains, bluebonnets blanketed the country side, with occasional spreads of Indian paintbrush and lots of mustard.
We arrived in Kerrville about 4:30 and checked into the hotel Almost as soon as we arrived Coondog called from Shreiner University, he had just gotten to registration. So we unloaded our junk and headed off to Schreiner University and registration. We met up with Coondog and his Arlington/Ft Worth buddies, Beth and Jackie Robinson (yes, that's his name). They drove their RV down and graciously shared their extra room for Dave to "camp" with them. They had met several years back when the FW Bicycle Association was taking their turn sponsoring the EHCT and Beth and Jackie were supporting the rest stops.
John Msg'd that he was stuck in traffic in Burnet so we went on to dinner at Francisco's and grabbed tables outside on the corner of Water St and Sidney Baker. It was a sunny day but not too hot so it was comfortable. John joined us later just after we ordered dinner. Good food, good conversation getting to know Beth and Jack. Anne and Beth high-fived over turning 60 this year though of course neither looks anywhere near that age (full disclosure: Anne is writing this). Jackie had an a-fib issue on a hilly ride last year so they plan to take it easy this time. Dave said the Iowa winter was so bad he hasn't been able to train, so he was planning to go easy too. The routes on Friday included 36 and 52 mile options which overlap for the first 20 miles so we decided we could hold off route decisions until the next day. We agreed to meet at Schreiner at 9am and headed off to our digs, us to the Hampton, John to Quality Inn and Dave to Beth and Jack's RV with them.
---
4/2/2015 Friday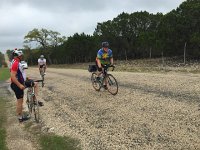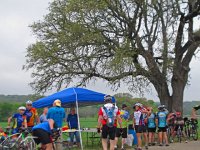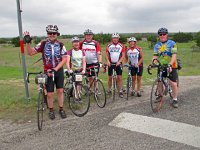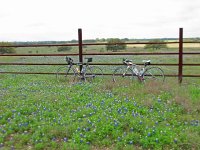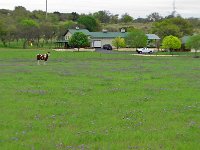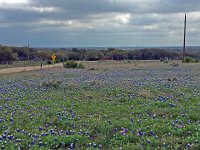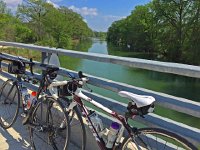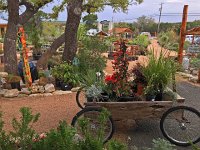 After breakfast at the Hampton, we met up with the crew at Schreiner University at 9am as planned. Skies were overcast and forecast predicted rain early afternoon. We were feeling little droplets like we were in the clouds, and sunglasses clouded up regularly. But the rain held off and we had a great ride through the Kerrville countryside, all prickly pear and strewn rocks, massive live oaks dripping with spanish moss, and fields of lilac verbena and Four Nerve Daisies, but despite the plethora of bluebonnets on the drive down, there weren't any on this part of the route. The rest stops were 15 miles apart, a little wide but manageable.
The steepest hills happened in the first ten miles, as well as the llama ranch we typically passed at the end of the route. This year we did the route the opposite direction. Some of the hills had steep downhills with warning signs of curves and cattle crossings at the bottom of the hills. Since Anne is the most cautious descender in the world since her famous mishap a few years back at Crater Lake, she took it slow enough that she could have come to a complete stop at any point on the downhill. But crossing the cattle guard near the bottom of the hill, two women stood on either side of the road, one announcing a bad accident up ahead and the other looked at Anne and then pushed her bike across the road right in front of her! What the #!@@!? Luckily, as described, Anne was able to slow even more and avoided decking her despite her need to be schooled.
Sure enough, there was a bad accident around the next bend with a woman laying on her side, holding her shoulder while emergency vehicles gathered around her. We soldiered on and immediately focused on the rolling countryside, the rugged landscape and beautiful wildflowers, yucca and prickly pear all around. There were actually 15 cattle guards on this route and signs warning of cattle roaming free.
Later, as Beth and Anne were climbing a small hill on a narrow gravelly road, a truck came barrelling toward us out of nowhere, startling Beth who oversteered toward the shoulder and caught Anne in the butt with her handlebar. Luckily both stayed upright, no harm done. It even gave Anne some practice on leaning into the touch Robbie McEwen-style, which may even come in handy some day.
There was a contest underway for best rest stop but the most we saw at the first one was one woman wearing bunny ears and glasses that sported a bunny nose and whiskers. Soon after the 1st rest stop was the turn-off point for those doing 36 miles vs 52 miles. We stopped for a photo op and got a Jamaican couple to take the photo, the only pic with all of riding together. At that point, we split in half with Dave, Beth and Jack opting for the shorter route while Stewart, John and Anne took the 52 mile route.
Almost immediately on the 52 mile route, the fields were blanketed with bluebonnets. There was also a long downhill and tailwind, and we covered the next 4 miles at 23 mph with no effort. Then the hills kicked up so we stopped for some flower photo ops and saw a herd of llamas deep in a low spot of the hills. Later, the 4 nerve daisies and verbena took over the flower show, and welcome rest stops offered peanut butter and jelly sandwiches. The hills moderated to challenging but alternating rollers so not as bad as the early hills. The last ten miles flattened out with more traffic but wide shoulders and good road surface so we breezed on in to town feeling pretty good. We caught back up with John at Schlotzky's for a well deserved lunch.
After a nap, we hit The Cafe at the Ridge for dinner, a quirky mix of quick stop, garden center and cafe with live music and great pie. The 36-milers had discovered this on their way back, halfway down a down-hill ("Hey, let's stop here ." "Whaaaat???")

Anne really enjoyed her tilapia with fried green tomatoes and poached pear (wow) plus the Texas Ranger pie, a chocolate pecan pie to die for. The jalepeno cornbread was also a great find. We'll be back for the shopping. Billy, the owner, schmoozed all the tables and talked us into trying the pie by pointing out there were only 4 left. We looked back at the cooler as we finished our pie and saw it totally restocked. Trickster!
---
4/3/2015 Saturday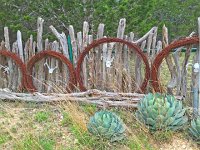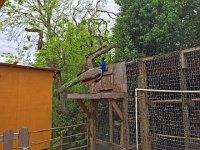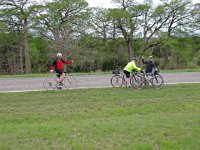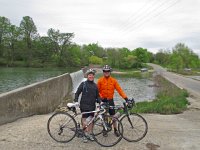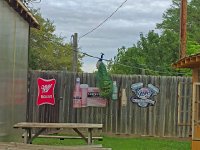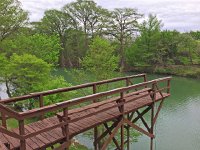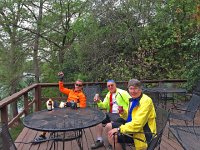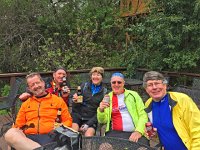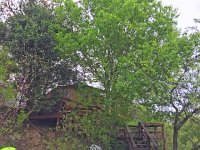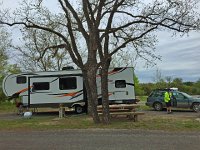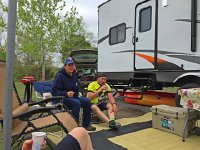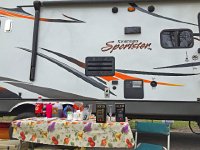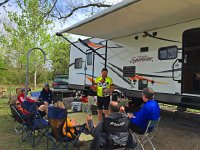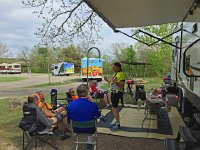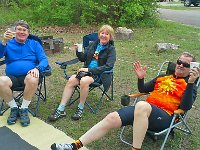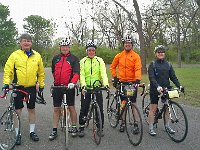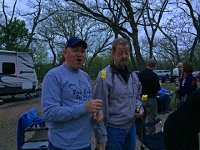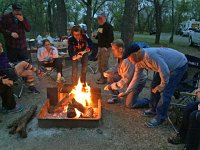 Anne got an early Msg followed by a phone call from Charisse saying she would have to bail on the EHCT this year since her son had developed a rash on his face and she was taking him to the hospital. Totally understand but too bad on both fronts. Hope he's okay.

This did provide some flexibility in start time and we connected with Coondog to get their plans. The weather was cool and windy (54 degrees) and the chance of rain would reduce later in the morning, so we decided to delay until 10am to start. Also, Jackie and Beth had moved their RV to the Kerrville-Shreiner Park which was basically on the route, so we decided to start from there, do the loop and finish at the RV for some beers and chilling. That meant taking the 36 mile route with Dave's Place being about 10 miles from the end.

Beth opted out due to cold and great books waiting to be read, so it was just the five of us, Anne, Stewart, Dave, Jackie and John. We met at the campground and marvelled at the nice digs (not actually roughing it here), then headed into the hills of the fancy neighborhood we always look forward to on this ride. It didn't take long before we hit the 10% grade but on the way up, Stewart realized he had forgotten his Camelbak and John had no water at all. We debated turning around but Jackie and Dave offered up their extra bottles so we went on our way. Anne and Stewart took off when Anne realized she had to pee and they were 11 miles from the rest stop at Camp Verde (it was 18 miles from the start!). The lines at the port-a-potties were long and more frustration ensued when Anne realized no one was using the left-most toilet and sure enough there was no one in it. But with that taken care of, she was able to enjoy the Roller Derby Rest Stop with everyone else. Dave joked with the derby-ites that Anne had been practicing her hip-check just yesterday.

Then on to the yearly highlight of the trip: Dave's place on the Guadalupe. We stopped in Centerville for the obligatory photo of the bike line-up in front of the waterfall, with Coondog declaring he was going to have to make a calendar out of these shots.

Then we pulled up at Dave's, surprisingly tidied up with new wood and no sign of the off-color plaques that used to greet us along the side wall where we parked our bikes (eg: "Beer: Helping Ugly People Have Sex since 1862"). [Hmmm, looking back at last year's photos, it was cleaned up with no signs then too. Short memories!]

After ordering our white beans and jalepeno poppers, we took our beverages of choice (new grapefruit and ginger flavored Shiner Ruby Red for some, Dr. Pepper for others) and headed out back to the deck. We grabbed a table and begged for a group photo from a few women also enjoying the views, then sat and shot the crap for hours. The deck sports a long walk-out that looks like it might be used for cannonballs given enough beers (or shoves) to brave the 25 foot drop. But the view of the Guadalupe is so serene it's hard to get up enough pep to even imagine that happening. We saw canoists and paddle-boaters lazily making their way, while a few other folks joined our growing circle. Our food arrived and we enjoyed the white beans with lots of ham ($2 for a bowl big enough for a meal) and the bottle caps were really crispy. Julie and Evan were also cycling, having come in from Austin. Two other fellas joined but it got hard to hear the conversation as someone kicked on some really hard rock on the juke box upstairs and cranked it up to eleven. We discovered who when long leather chaps made their way down the ladder, followed by another pair, then another. These folks were big and somewhat intimidating, until we realized it was just another lesbian motorcycle gang like last year. We greeted them, asked about their ride, and we all teased each other for even considering ever leaving this place.

But we finally got up the gumption to say our goodbyes and get back on our bikes. Julie and Evan continued on the ride with us. Anne and Julie bonded over bad downhill crashes and subsequent adherence to slow controlled downhill rides. They also discussed encouraging women in STEM careers (Julie teaches math at a community college) and were just getting into discussing the French's cycling vacation in the Canadian Rockies when we arrived back at the RV Park. So, true to form, Jackie invited them to the Robinson campsite. They accepted but wanted to make a quick trip back to their room to clean up first. Anne, Stewart and John had no such qualms. It was chilly enough that we hadn't really sweated. We unloaded the bikes and reconnected with Beth who made it to chapter 12 in her book. She had loaded up the table outside the RV with chips and dip and several beverage options. Lots more gabbing ensued as we got acquainted with the site, the Danish tourists in cowboy hats next door, the young girls cycling past multiple times, and the friendly neighbors offering views of their RV. Evan and Julie returned and Jackie regaled them with stories of the RV purchase experience and they headed over to check out the neighbor's digs.

As dinner time neared, we discussed having made reservations at the Depot but Jackie had hot dogs and hamburgers at the ready. Evan and Julie had to beg off so we said our goodbyes, exchanged Facebook connectivity, and look forward to running into them next year at Dave's. Anne and Stewart cancelled the reservation, went back to their room to clean up and put pants on (chilly!) and pick up some lettuce, tomato, fruit, and oh yeah, since it was Easter, yellow peeps and Cadbury chocolate eggs.

Once back at the campsite, we had the most amazing delicious burgers and dogs (including bacon!), then leaned back with something cold and yakked some more. Coondog reported that the neighbors had a fire going and were making smores. He decided we could do 'em one better by making "Peep Smores", so we grabbed the marshmellow goodness and chocolate eggs and invited ourselves over. They gladly provided the skewers so Stewart and Jackie immediately impaled a few of the unsuspecting peeps and held their feet (well, ears) to the fire. Jackie even held one of the chocolate eggs in the fire. Then he combined the chocolate and the charred peep into a graham cracker sandwich and, voila! Peep Smore. It was said to be delicious! Stewart and Coondog followed up with more flaming peeps and a devious time was had by all.

We returned to our campsite where a TV had been set up outside and was showing the Wisconsin/Kentucky Final 4 basketball game. With Stewart having gone to school in Kentucky and Anne in Wisconsin, you'd have thought they would have cared more but neither is that into college basketball. Some neighboring campers were glued to the TV but showed their respect for ettiquette by lining up behind the string of LED lights ringing the Robinson campsite. Of course, they were also invited in, as was Boozer, a roving chocolate lab that ignored the LED ettiquette and sniffed up everybody. Sadly, with an early exit planned for Sunday, Anne and Stewart said their goodbyes and headed back to the hotel to see undefeated Kentucky get defeated after all. Seemed fitting for the KY fans to join our misery in having to leave behind another fun-filled Easter Hill Country weekend.
---

end