---

2014 Backroads Vermont-Quebec Bicycle Vacation
September 5-14, 2014
Anne and Stewart French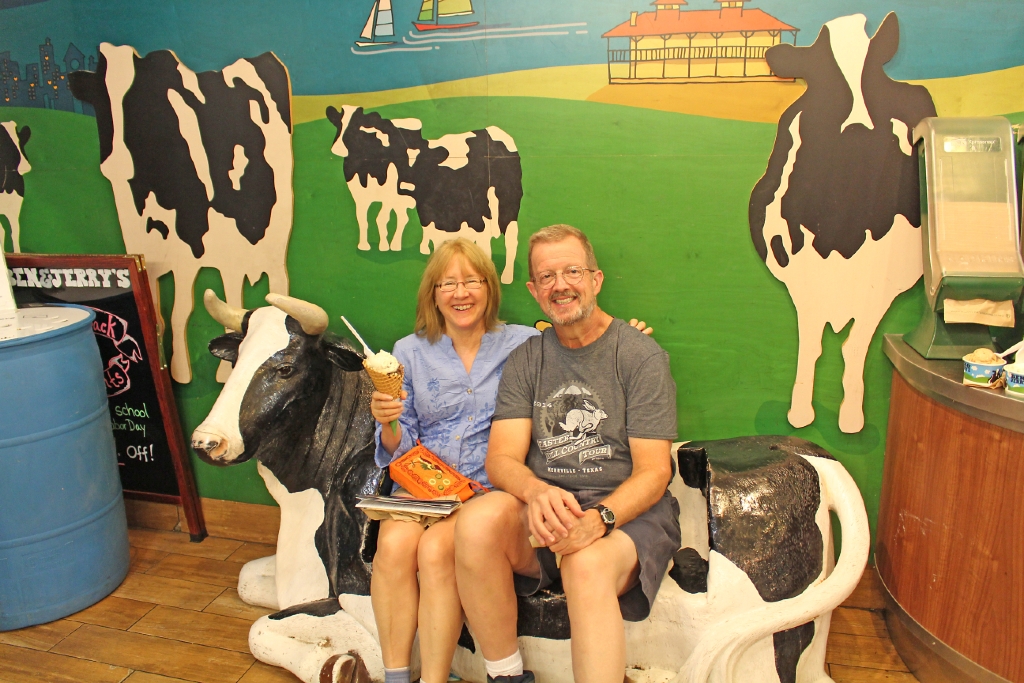 ---

Click here for our Movies (on youtube.com)
---
Backroads Vermont-Quebec Maps
---
Garmin Tracks
Backroads Day 1 - Stowe Valley
Backroads Day 2 - Lake Elmore
Backroads Day 3 - Northeast Kingdom
Backroads Day 4 - To Canada and Beyond
Backroads Day 5 - Eastern Townships
Backroads Day 6 - Walk Into Town
---
FRIDAY SEPT 5, 2014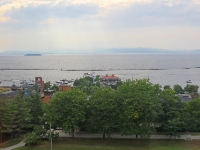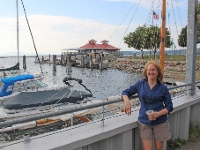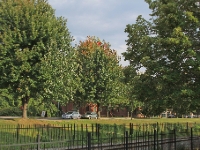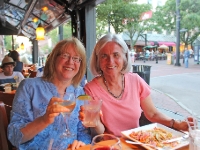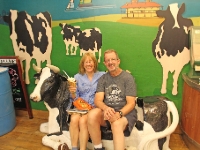 We were up at 4:30am, said good-bye to our cats Tootzak and Seebie, ExecuCar (Super Shuttle partner) was here at 5:30am and we were off to DFW Delta Airlines. The flight was easy through Detroit arriving in Burlington at 2:15pm.
Inger, Anne's college roommate, met us at the airport in Burlington. Inger now has a full head of beautiful white hair (!), and eastern accent is as strong as ever. It was so great to see her again ( 21 years since our first Backroads Vermont trip! ).
Inger's royal blue Prius had just enough room for big & little moose, little blue rolly carry on, and 2 back packs (and Stewart in the back). She dropped us at the Hilton and left to get a hair cut. We decided to switch rooms to get a better view overlooking Lake Champlain (and what a view it was!) then went out for coffee and a hike. Iced coffee because it was high 80's and humid. Sticky! Up to Church St which was full of quirky cool little shops and the lake front was pretty and lively, with trees just starting to change color, and industrial multi-person swings. There was a regatta going on and a ferry coming and going. Lots of folks hiking and biking, with some pretty steep climbs.
Dinner was at Sweetwater on the covered patio, salmon for Anne and tuna for Stewart and Inger. Great time catching up on Philip and Katy and our "new" house, while our server described his time in Plano (what're the odds ?!!). Then on to Ben and Jerry's where we sat outside and watched the street music and dance scene unfold.
As we walked back to the hotel Inger showed the lot where Ben and Jerry's got started in their garage.
---
SATURDAY SEPT 6, 2014
Burlington, Vermont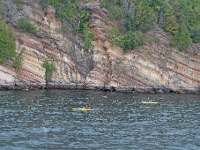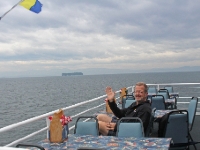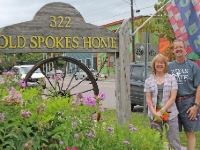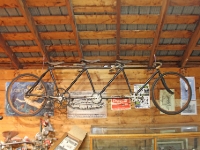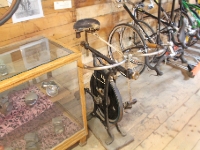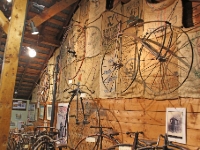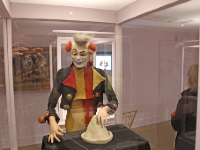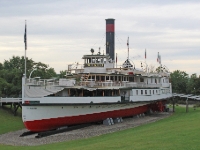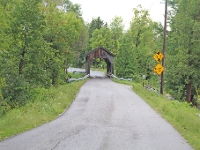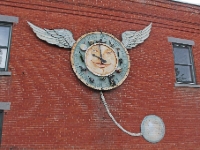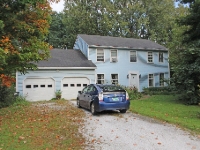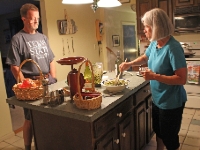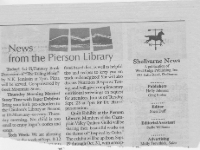 Woke up to find Stewart under a a sheet and towel, too cold for sheet alone and too hot under the comforter. This turned out to be a recurring theme. Lucky for the big cushy towels. ( Thanks Weird Al, for reminding us these are "First World Problems"! ) The Hilton was good at supplying us with what we called and asked for, a mid-weight blanket, a shower mat, some hard foam pillows. Nice service. Then to breakfast at the "Skinny Pancake", an awesome crepery, just down the hill toward the waterfront.
Signed up for a 10am Spirit of Ethan Allen cruise on Lake Champlain which turned out great. Cool, breezy, overcast with the sun peeking through now and then, just enough people to "make" the cruise, so the upper deck was almost exclusively ours.
Inger took us then to visit the Old Spokes Home, a vintage bicycle museum on the upper floor, really the attic, of a bicycle shop, with a tin roof, We just got inside when the skies opened up and it poured rain. The roof was uninsulated so it sounded incredibly loud up there. So glad it didn't happen while we were on the cruise. The old bikes were amazing, with wooden wheels and a stationary bike that looked like a torture device.
For lunch Inger took us to the Fiddlehead Brewing in Shelburne. Tasted Brett Berried Alive beer and Fiddlehead IPA, took a bottle of the blueberry to Folino's woodfired pizza place next door. Delicious!
Next up was the Shelburne Museum : Monet, Degas, quilts and automatons. Toward the end of the day, just before they closed the museum, we went on a personal tour of the engine room of the Ticonderoga, a restored 220-foot steamboat, led by Inger's neighbor. The Ti was moved two miles overland from the lake to the Shelburne Museum in a remarkable engineering effort.
Inger then drove us around Shelburne and the vicinity, looked at a fun clock and shortest covered bridge in America. Ended up at Inger's house to meet Amy, her sweet blind yellow lab, and enjoy salad with veggies from her garden and pesto pasta and some wine and great conversation. Inger gave us suggestions for Smuggler's Notch, Jay Peak, and Quebec City which we noted and started planning for. Sad to say goodbye to Inger at this point but we will definitely have to stay in touch more.
---
SUNDAY SEPTEMBER 7, 2014 - BACKROADS DAY 1
Burlington and Stowe, Vermont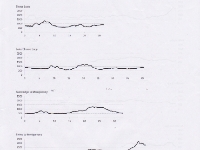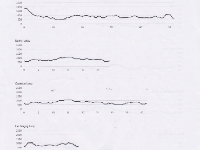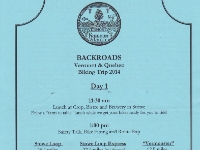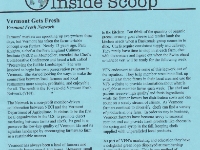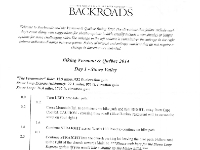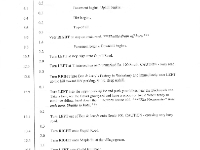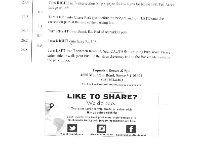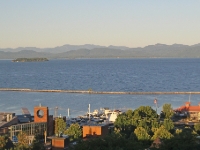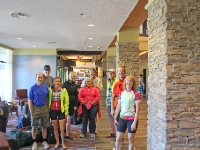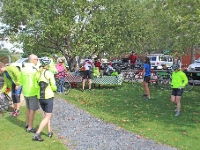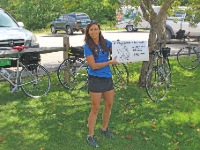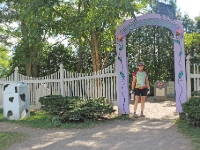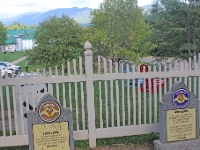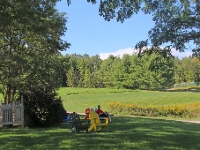 Back to the "Skinny Pancake" for crepes, granola and yogurt, toast, dark roast coffee for a very good start to a busy day. Today was moving day so packing everything up was in order. Always a difficult chore when it "explodes" out of the luggage against the room walls. We met our trip cohorts in the Hilton Lobby at 10:30, then the Backroads leaders came and introduced everyone, handed out some info sheets, and got acquainted.
Everyone then loaded up the two vans for our shuttle to "Crop", a farm to market restaurant in Stowe. Lunch was outside as the trip leaders got our bikes ready, then we all got fitted to the bikes, heard our first "Route Rap" with our trip leader Katy's safety talk. Our first cycling was on the Stowe bike path where we put in 26 miles including some challenging hills. Anne downshifted late and had to hop off an 18 percent grade, tried again, jammed her chain and had to hoof it a bit. Passed a party barn on the bike path on the way back that turned out to be a dog agility camp. Rode the Stowe bike path till it ended, turned left and downshifted for the climb into TopNotch Resort. Dropped stuff at the vans and headed to our clean crisp European inspired rooms. Everyone gather at "Notch Bar at Topnotch Resort and Spa" for a wine and cheese reception, more introductions and conversation, then we shifted to dinner at "Flannel". Stewart had rib eye and Anne had salmon. Great chats with Mary and Mike, she working 12 hour days in HR for a rapidly growing company. Evan (one of our three Backroads trip leaders) sat across from us, giving local tips since he's from the area.
---
MONDAY SEPTEMBER 8 2014 - BACKROADS DAY 2
Stowe, Vermont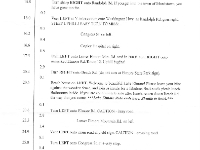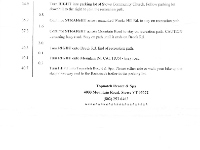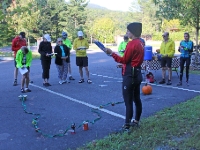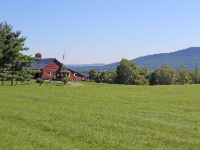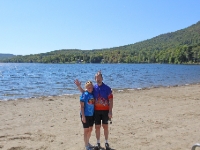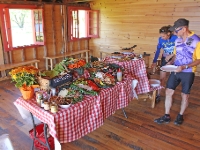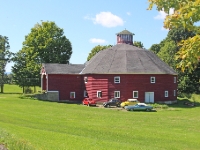 Coffee in the room was Keurig Vermont Green Mountain coffee (not out favorite). Breakfast was again at "Flannel" with David (a trial lawyer) and Susan (retired high school teacher) from Augusta, Georgia (fun fact, David is representing four of James Brown's 17 children in an estate dispute). The Route Rap featured Katy's elevation demonstration with a strap straddling a pumpkin (representing Top Notch), two apples representing the rolling hills, a coke can to a decent climb, finally dropping into a bowl which was Lake Elmore.
The ride to Lake Elmore was 40 miles with 2700 ft of climing, a few more steep climbs than expected but mostly nice. Lunch was an excellent Backroads picnic with locally harvested healthy stuff including a large apple pie with crumble crust. Lake Elmore was a beautiful clear lake with deep blue skies, perfect to eat and relax a bit before getting back on the bike.
Dinner was at Michael's on the Hill, a restored and expanded cottage with window boxes and nice views of the hills. The lighting was dim and we we used our cell phone flashlights to read. Every course was elegantly displayed and included, again, lots of local ingredients.
---
TUESDAY SEPTEMBER 9 2014 - BACKROADS DAY 3
Stowe and Jay Peak, Vermont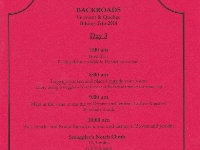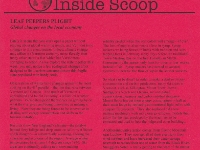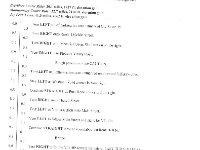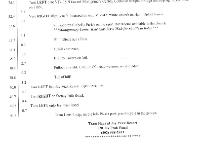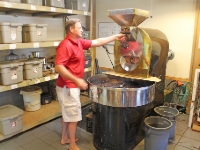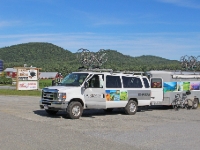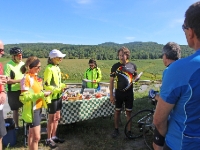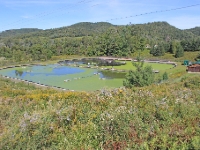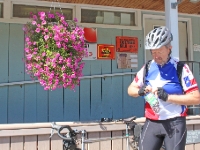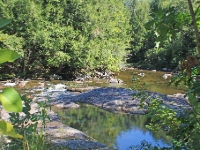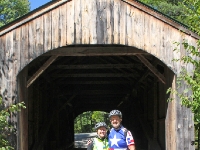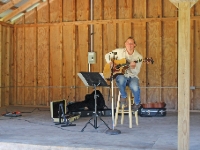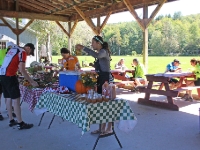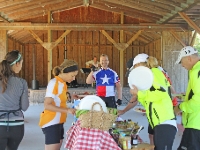 There was an option at the beginning of the ride today to do Smuggler's Notch, a 16 mile climb up and over the mountain. We opted out of this on Inger's recommendation (twisty turny dangerous) and Evan's casual comment that it included a 30% grade (wha???). Most guests shuttled over the mountain in the van and got to see the 30% grade, the switchbacks, then very narrow roads with no shoulders, and were happy with our decision. The van met up with the riders that had "opted in" for the notch at Brown and Jenkins coffee roasters where we got a guided tour of the roasting process. Here was the perfect place to get the bikes ready, get our route rap, and get on the road for the 41 mile option. This ride had lots of rolling hills, some brightly lit, wide shouldered, smooth surfaces where Anne could let loose for the first time since Crater Lake. Temps were in the 70's though a north wind was chilling.
We stopped at a store and picked up some Vermont beef jerkey, Evan had been talking about it on the ride, and a short nature break was in order anyway. Across the street was a sign that said "Chicken Pie Supper Sept 10". Mmmm... sounds good, but we'll be long gone by then.
There was an old church before the (infamous?) uphill to Jay Peak Resort began, a perfect place to stoke up on snacks, rest a little, then get on with it to the 10+ % grade for 7 miles. Youuuuccchhh! (Our Garmins quit showing grade because we were going so slow. Waaahhh!) We pulled over at the top, just over an hour later, to marvel that we were still alive, then on to the downhills. They were over rough terrain in the dark shadows. By staying in the drops and staring at the road, Anne regained some of her confidence on these roads too. She's cured! Thanks, Backroads!
Destination for the evening was "Tram House" at Jay Peak, a hotel at the foot of a ski resort. The Tram was right outside our window and lifted people up to the mountain top to ski down, very large and fancy. We had a huge 1 bedroom apartment with kitchen, separate living room, bedroom, and bath. Very nice.
Oddly, the place was deserted. Evan later told us we were the only people there, in the off season. One of the restaurants, the Foundry, was open, and a small provisioning store. Dinner was on our own so we headed to the provisioning store for wine, then to the Foundry where we took home Stewart's prime rib sandwich and Anne got a nice garlicky mozorella tomato flatbread (ok, pizza).
The trip leaders suggested we be on the lookup for chickens. We didn't get it until we got a whiff of the thousands of chickens near the road at the Chicken Farm. Would've stopped and taken a short movie but for the smell. Ack! Pedal faster!
We saw lots of different farms on the ride including a Circular Barn, designed for heating efficiency, got some photos of it along with those 1973 Volkswagen Super Beetles sitting out there just waiting to get hot-rodded up (Stewart had a 1972 Volkswagen Super Beetle so he was keen on them).
---
WEDNESDAY SEPTEMBER 10 2014 - BACKROADS DAY 4
Jay Peak, Vermont to North Hatley, Quebec, Canada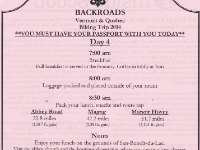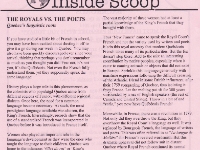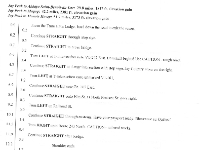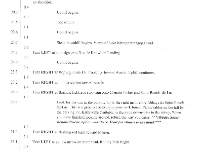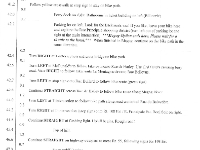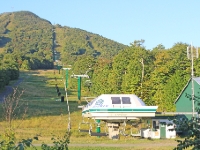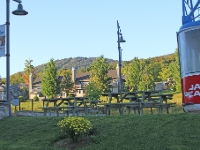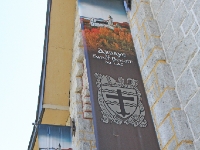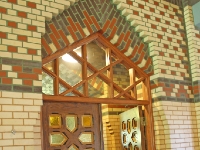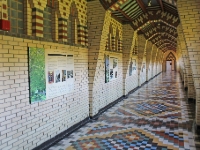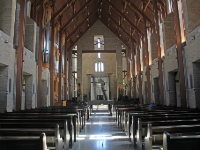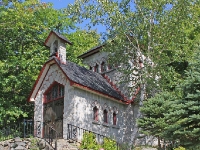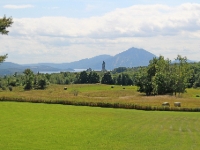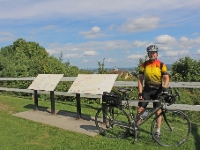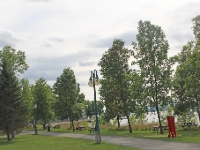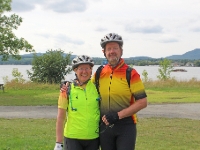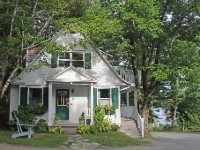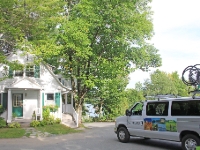 Big day today, crossing the Canadian border, moving to a new hotel, "The Wall" to climb at the end. We got up, got dressed to bike, packed our stuff up and sat it outside, then headed to a sunny breakfast at the Foundry with Mary & Mike, David & Susan.
Anne walked over to the hotel to look for Liz Nelson's art, a good friend of Inger's who has had two paintings in the lobby and two in the Conference Center. Alas, Anne was unable to find paintings with her name, although several did not include the artist's name.
Next was today's route rap, today we had to make ourselves a picnic lunch. Anne was worried about the steep, poor roads, and the shadows leaving the Tram House, so we shuttled down to the base of the hill, the Jay Country Store, about a mile or so.
Canadian Customs was as about mile 10. Stewart saw the Backroads van sitting back off to the right and headed toward it. Well, that was a mistake, the van was already through customs on the other side of the fence. The guard yelled at him and he stopped and backed up to the Stop Signs and started over. Luckily the guard did not strip search or arrest him (which apparently has happened before) !!
The terrain today was Rolling hills, some steep climbs and downhills, heading toward lunch at the Abbaye Saint-Benoit-du-Lac, an incredibly beautiful abbey monastary set in the idyllic Qeubec countryside. Unfortunately, about 4 miles from the abbey the roads were closed for construction. We could almost see the abbey from the roadblock. The trip leaders improvised quickly, loaded us into the van, and drove us on about a 20 miles detour to the abbey. With careful fiddling of our Garmins we were able to keep the mileage pretty close to the original route. Once at the abbey we walked the grounds and took a walking tour of the inside before settling down on the lawn for lunch.
It was warm today, with a light tailwind, we rode with Gary & Suzan on a very nice scenic ride with views of Lake Memphremagog. Stopped at a scenic overlook and took some photos.
Near the end of today's ride, off in the distance, we saw "The Wall", a very steep, straight uphill that would take us to Manoir Hovey, our hotel for the night. We could have shuttled but decided to ride it, a few riders did, most shuttled past it, waving to us as we struggled. Once at the hotel we settled into our room, a beautiful restored room in the Coach House, with a massive bath and a porch that looked out over the lake.
Dinner was on our own at 6:15pm at the hotel restaurant, very good, very French.
---
THURSDAY SEPTEMBER 11 2014 - BACKROADS DAY 5
North Hatley, Quebec, Canada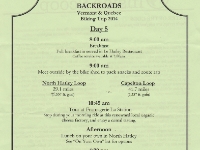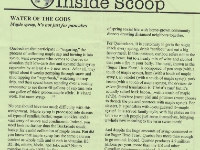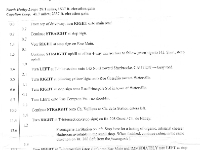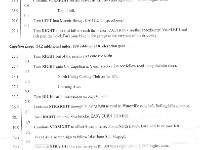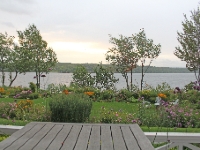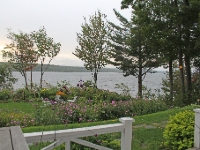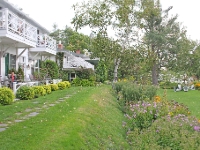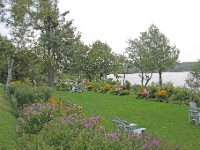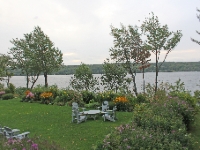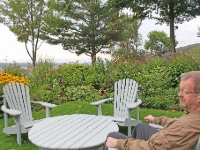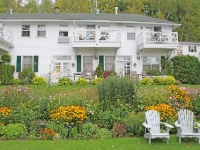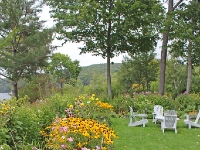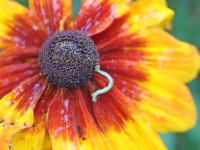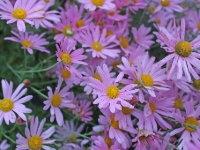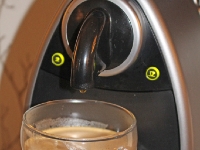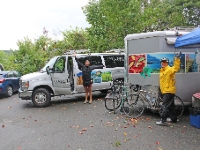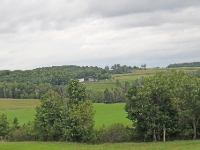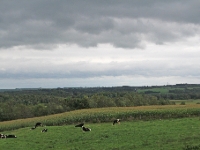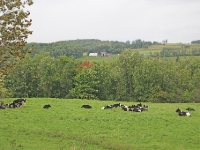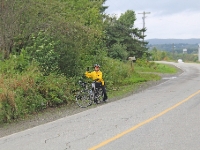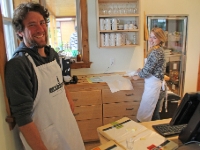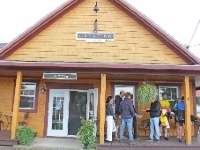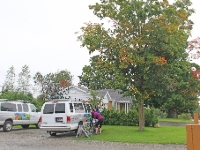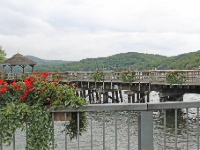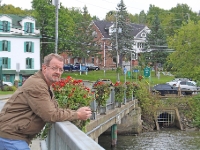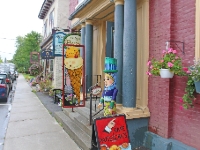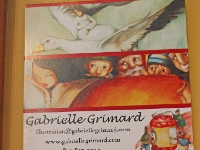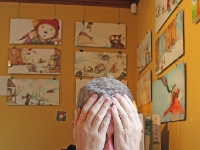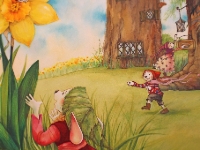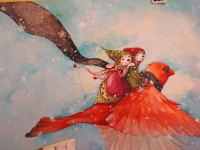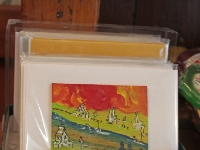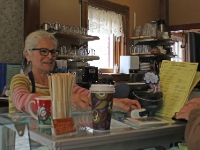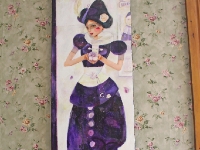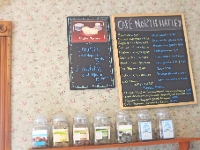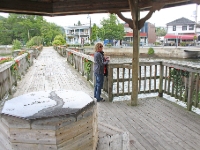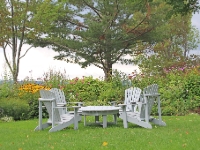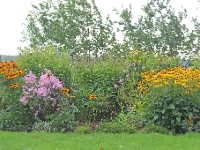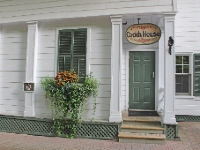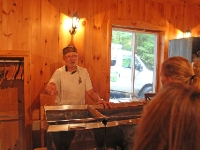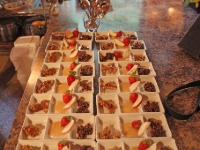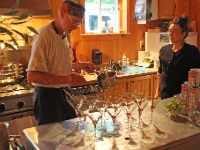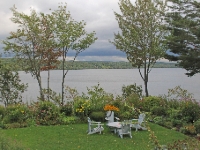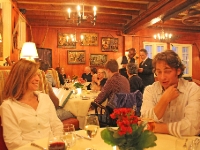 Woke to the threat of rain. Stepped out on our porch and enjoyed coffee (mmmm Nespresso!), while listening to the wind blow and the rain spit. We had a cover over our patio so it was possible to sit under it as the rain came and went. With breakfast not until 8am Anne had plenty of time to wander the grounds and take a lot of photos of the amazing gardens and the lake. Flowers were everywhere.
It was raining pretty hard when we went to breakfast so many of the guests decided right then to opt out of riding today. But the rain let up to a sprinkle by the end of breakfast so we decided to ride a shortened route, from Manoir Hovey to La Station Fromagerie where the leaders had arranged a cheese tasting. There were five of us that rode today, the rest shuttled to the Fromagerie. Anne checked the radar and saw a break between waves of rain, maybe enough to get the 12 mile ride in?
We headed out, Anne in her long tights, arm warmers, rain pants, and rain jacket, Stewart in his arm warmers, with the rain jacket in his trunk, along with the camera and a gallon ziploc to hold all the electronics if it started raining for real. It was a nice ride, rolling hills, breezy, spit rain a little. At about mile 8 we stopped to take some photos of a beautiful farm with Ben&Jerry's cows. At this point the wind started really blowing, rain picked up then became torrential, wind was probably 30-40mph. Stewart jumped off his bike, ripped off his arm warmers, snatched his rain jacket from his trunk and put it on, pulled the hood over his helmet and cinched it tight. Anne also got hers up and cinched.
Ugh. That didn't work so well, the headwind was so strong that the hoods became sails and pulled right off his helmet. He gave up and got hammered by the rain. We had both planned ahead and had some clear sunglasses for the rain, and they helped a lot to keep the rain out of our eyes as we struggled into the headwind and rain.
We had maybe 4 miles to go, into the wind and rain, when we both realized that we were in our granny gears on flat terrain struggling to make progress in the wind. We laughed and kept pedaling. The van passed us three times, Eilee driving with Susan riding shotgun, waving, yelling encouagement, asking if we were done yet. It was Stewart (not Anne!) that waved them on! How hard could 4 miles be?!?
It probably took us 30-40 minutes to get to the Fromagerie. Everyone else was already there was cheered us in, we were the last. We peeled off our rain gear and threw it down. We were done. They had sliced Mcintosh apples with honey waiting for us on the porch.
Evan had a cheese tasting with the owner and his wife setup for us and we tasted 3 cheeses, soft, medium, and a very good hard cheese that was their hallmark. Even Anne liked it and she doesn't like cheeses. We considered bringing some back but the customs regulations were tricky. The Wet Ones (us 5 riders) talked Even into giving us a ride back to the hotel to change before going into the town of Hatley for lunch. We stripped out of our wet riding kit and changed into dry walking clothes then Evan drove us into Hatley for lunch. The rain had stopped by then but the wind was still blowing white caps on the lake. Stewart popped into a little store with an ATM and picked up some Canadian money, then we walked down to Cafe North Hatley where a charming woman, Susette, sat us in a little room at a window that looked out over the lake, with original artwork on the walls. Susette spoke French with a New York accent, switching between French and English instantly when she heard us. The art was by an illustrator of children's books, the proprietor's daughter, Gabrielle Grimard.
The food was excellent. Anne had the best quiche she ever had. After the difficult bike ride we were very relaxed and took our time. Some of the other guests came in as we finished and bought coffee, so we headed to the front to talk with Susette and get some coffee of our own. Susan saw some beautiful little hand painted postcards that Anne just loved, and picked up three to take back. Turned out that Susette had painted those and was so excited to be selling some to us. We then walked to the center of town and out onto the pier, took a bunch of photos, and enjoyed the feel of the little town, Hatley.
The whole lunch thing was a wonderful experience. We wandered across the boardwalk on the lake and enjoyed the windy view back of town, then rendezvoused with the vans and some shuttled back to Manoir Hovey while others hiked back.
We rested a bit then met the van for a trip to a "Sugar Shack" where maple syrup was made. It was high in the hills surrounded by sugar maples, the van had to go up a narrow rutted dirt road, in a canopy of trees back to the Shack. The owner and his wife met us and gave us a tour of producing maple syrup, tapping the tree, drawing the "water" from the tree, cooking it down to various syrups and taffy. Then they gave us each some samples to eat that were marvelous, we even sampled the "water" to understand what it was like when it came out of the tree. We loaded back into the van and headed back to Manoir Hovey where we spent some time on the porch relaxing.
Anne got to use the fancy tub with the jets (and sprayed the entire bathroom with the handheld!). Later we met the entire biking group for happy hour at 6:15 at the Tap Room with drinks and conversations with Suzan the designer and Gary the Endodontist, who we also ate dinner with along with Evan.
The food was "beautiful". The first food delivered was 3 bowls with 4 little nuggets sitting in the wide empty bowls (?) Then the server went away and came back with small pitchers of mushroom soup that he then poured over the little nuggets. The faces on the Americans when those nuggets came out was memorable.
We headed back to the room and tried to work on this log a bit, but were totally cooked. Stewart couldn't even put a sentence together. To bed, then!
---
FRIDAY SEPTEMBER 12 2014 - BACKROADS DAY 6 - The Final Day
North Hatley, Quebec, Canada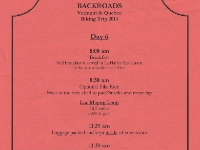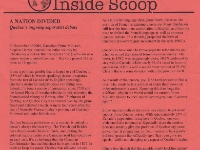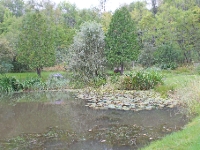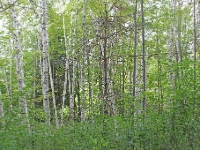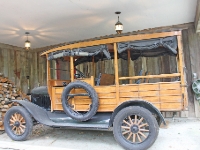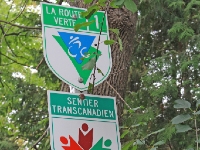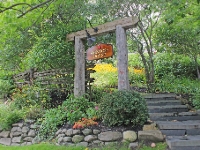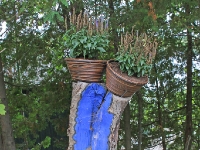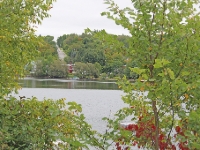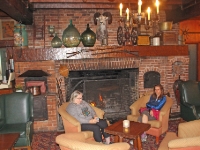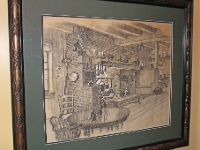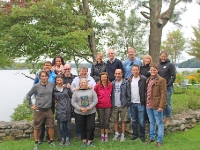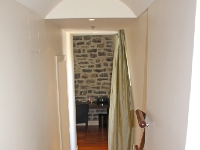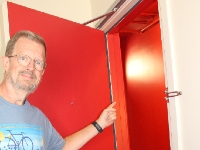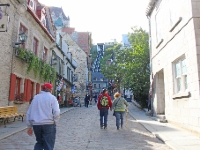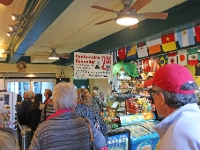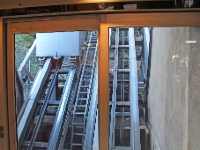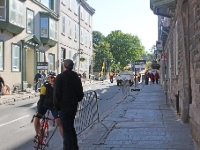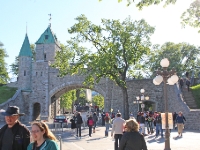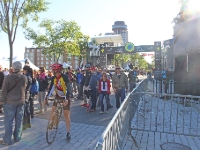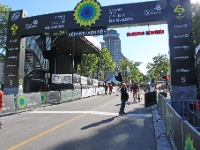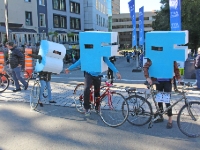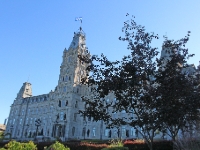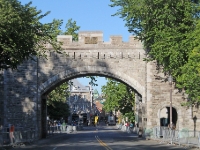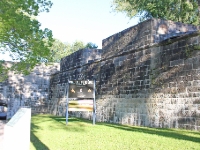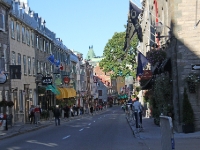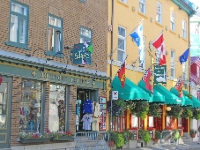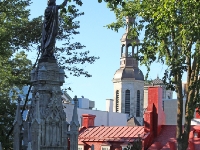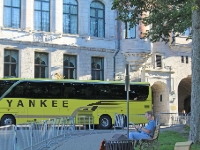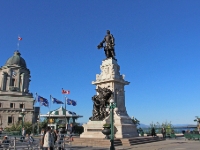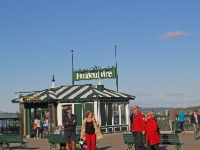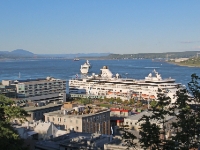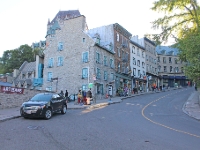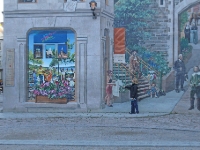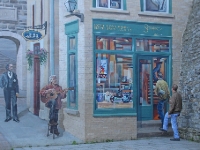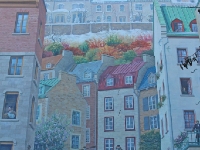 This was the last day of biking, a short loop, clean up, pack, then shuttle to Quebec City (for us, others were shuttling back to Burlington, VT). We decided to forego the biking and take a hike into town. There is a nice path that angles up to the main road from Manoir Hovey, in among the trees, with views of the lake. The weather was very nice, cool, clear. We hiked into town, looking at all the houses, some for sale, some under renovation, the landscape, the lake through the white birch trees.
Back at the room we packed everything up and left it for pickup and headed to the Tap Room again for lunch. It was a bit too cold to lunch outside. After lunch and conversation we headed to the front lawn of Manoir Hovey to take our group photo. What a fun group to bike and hang out with!
There were 8 of us shuttling to Quebec City, David & Susan, Robert & Jason, Charlie & Ione, and us. All except Charlie & Ione loaded into a van and headed out for a 2 1/2 hour shuttle. Turned out there was a bicycle race going on in Quebec City today, The Grand Prix Cycliste de Queubec ! Traffic was heavy near our hotel, the Auberge St. Antoine, and some of the roads were blocked off for the race. Our driver got us in between the busses to the front door and we checked into our room. The room was kinda wild. Split level, stone walls, bedroom and bath lower, dressing room and living upper. Our bedroom was directly over the main entrance, but so well insulated that we heard nothing as people came and went. Everything was clean, new, had heated floors in the bathroom, Bose sound system (2 of them!), Nespresso coffee maker. Wow! Cool place!
Also, there was an exterior door in the bedroom that, when opened, led into a dark, totally red room (redrum, redrum, ...) with a staircase down. We discovered later that this was the fire escape.
We quickly headed back out to find the finish line of the bike race. Concierge told us where it would be, up on top near the Citadel in Upper Town. Access to Upper Town is through the Funicular (google image it!) or through a series of staircases. We hoofed it to the funicular, lifted up, and walked briskly across town to the finish line. We knew right away we were too late, there were people streaming away from us, and pro bikers meandering along the streets on their bikes. Still we found the finish line and crossed it, walked among the vendors, watched the pro bikers and they put everything away in prep to head to Montreal for the next days racing. On the walk we ran into David & Susan, our biking buddies! They were staying at a different hotel, but just happened to be heading to the funicular at the same time. (This was a recurring theme in Quebec City for us, running into our friends.) We headed back to the hotel's resaurant, Panache, and had a very nice (expensive!) dinner overlooking the waterfront, a cruise ship visible in the distance.
---
SATURDAY SEPTEMBER 13 2014 - Quebec City, Canada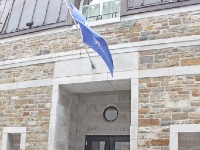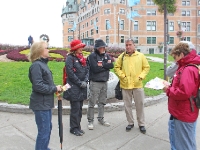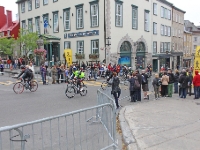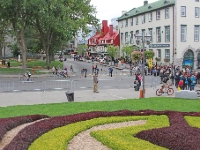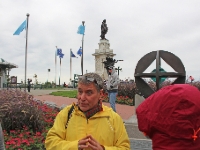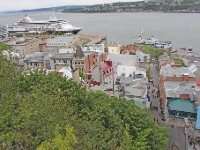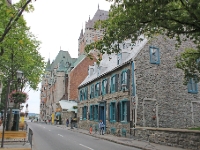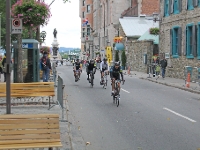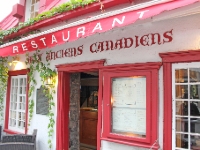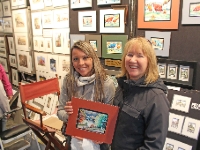 Big day today, lots of hiking and sightseeing. We had free breakfast at the hotel. After being seated and ordering who walked in and sat right next to us? Our biking buds Robert and Jason! They had a flight out later that day back to Los Angeles. Turns out we ran into them three separate times during our visit to Quebec, in that day and a half period before they left for the airport.
Today we signed up for a walking tour of Quebec, in English, for 1:30pm. So before that we headed next door to the Canadian Museum of Civilization (Musee de la Civilisation), with exhibits Frame-X-Frame (many award winning short films and animations), This is our Story (a history of Quebec), Masters of Olympus, People of Quebec - Then and Now, and many others. We flat ran out of time to see them all!
From there we hiked up to Starbucks (Yes, there is a Starbucks in Upper Town, and it accepts Anne's iPhone app for payment!) for a quick lunch before the guided tour. The tour had about 12 people from various places, Australia, Germany, British Columbia, New Jersey, and Texas. Our tour group walked Upper Town, got introduced to the Citadel, the massive Chateau Frontenac Hotel, perched on top of Cap-Diamant, the Anglican and Catholic churches, the Parliament building, the alley full of local artists. There was a serious threat of rain today and at this point it started for real. The borrowed umbrella came in handy as Anne purchased some art from a local artist, but we lost the tour group as they wandered off in the rain.
We were walking back to Lower Town when we ran into our other biking buddies Charlie and Ione! What another amazing cooincidence. They had "winged it", not having a hotel room when they arrived, they got one for Friday night but had to move for Saturday night, were heading to the room to pack up and move across town to their new digs.
The Musee de Civilisation was open until 5 so we hiked back over there and took in a few more short films before they kicked us out. Dinner was at one of the restaurants our tour guide suggested, Restaurant Aux Anciens Canadiens in Upper Town. Although crowded we got a nice table against a stone wall, quiet enough to review today's results of the Vuelta a Espana bicycle race across Spain, and enjoy a great meal. The tour guide had also pointed out a good place to buy a bottle of wine, so we hit the ATM and got some Canadian dollars and picked up some wine. Back to the room, under our borrowed umbrella, with a glass or two of wine to toast Quebec City and top off the day.
---
SUNDAY SEPT 14 2014 - Quebec City to Dallas Ft. Worth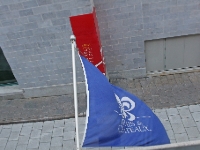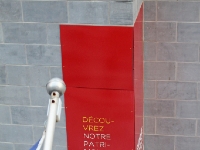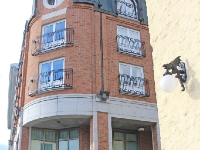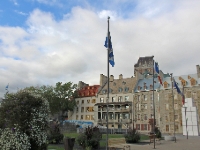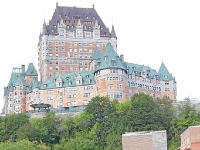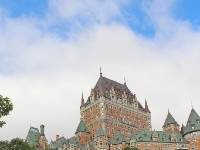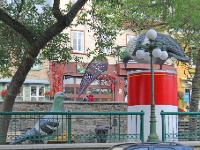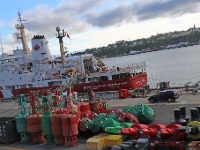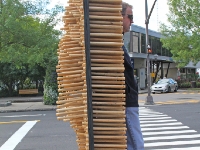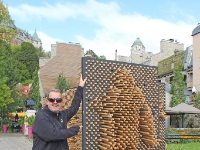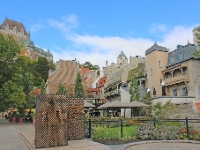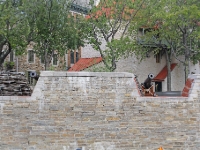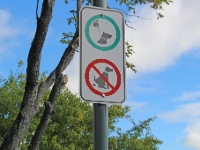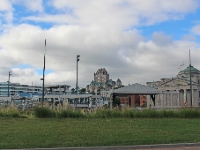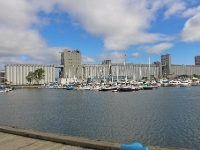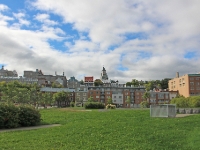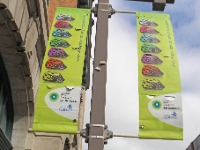 Up not-so-early for a hike along the waterfront before a cab took us to the airport. The waterfront has a very nice bike/hike trail that has reserved lanes for bikes going each way, and a separate lane for hikers. The trail ran all along the waterfront for miles. We hiked in both direction for a while, taking photos of pretty much everything we saw, talking with people, making "art".
At about noon our cab arrived to take us to the airport. The airport is very small and only has one terminal, all gates are accesible from it. It's about a 20 minute ride from the hotel to the airport through the more livable section of Quebec City (not the historic downtown districts).
Something really has to be said about JFK International Airport. We went through customs here before the Delta flight back to DFW. There was an enormous line of people, zig zagged in cattle chutes, maybe 200+ people (don't really know, couldn't see across it all), with more streaming in all the time. We got in a confused line, US residents, catching a connector, with checked baggage. There were other lines for other people, good luck finding the correct line. Once in line it moved very very fast, everyone was walking along, back and forth through the chutes, until arriving at the front and getting assigned a kiosk. It was very efficient, the handlers were getting people to their kiosk as fast as possible, really impressive. At the kiosk we filled out the online form, it scanned our passports, took our pictures, did some automated comparison thingy, then approved us to get into the line to pickup our luggage, then into the line to exit this area. From there we had to re-check our bags and head over to Terminal 2. Good lord, good thing we had a 2 1/2 hour layover! Anne was totally drained by now, it's 4:30pm, no food since breakfast, we picked up some yogurt and fruit at a side stand and ate it quick before the call to board the plane. None of our four flights served a meal. Another First World Problem!
First time ever, we contracted Dallas Execucar for pickup/dropoff at the airport from our house. The driver picked us up at the house early Friday morning and dropped us at Delta's DFW terminal, then was waiting for us at the baggage claim Sunday night, 9:30pm with a "French" banner and drove us directly home. No more Super Shuttle or Park-n-Ride for us!
This trip was among our favorites and Queubec City is at the top of our fave cities list. Definitely worth a trip back, perhaps in the fall when the leaves are changing.
Leaders: Katy, Evan, Eilee
Guests: Mike and Mary, David and Susan, Gary and Suzan, Robert and Jason, Bob and Julie, Charlie and Ione, and us, Stewart and Anne.
---

end